One of the Arkansas Razorbacks' greatest assets going into the 2017 season if not its greatest is senior quarterback Austin Allen.
Allen started all 13 games last season and proved to be a playmaker for the Razorbacks not just a caretaker. The 6-1 senior from Fayetteville led the Southeastern Conference in passing yardage with 3,430 yards and ranked 20th in the nation.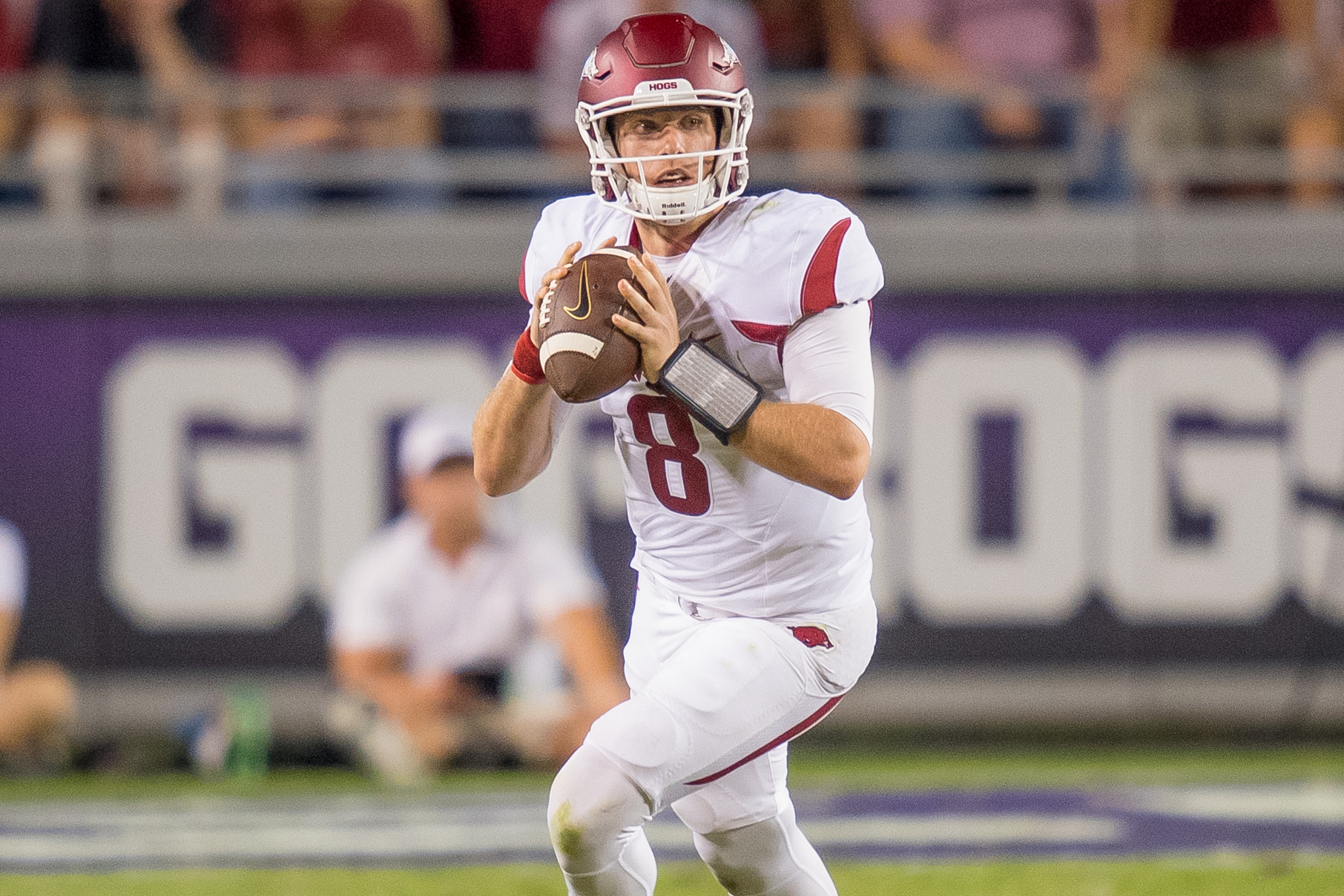 Austin Allen / Photo: Arkansas Razorbacks.com
Allen completed 61.1 percent of his passes, and threw for 25 touchdowns, which was second in the SEC and ranks fifth on Arkansas' all-time single-season list. He threw 15 of those touchdowns against ranked opponents, which tied for the most in the Football Bowl Subdivision.
Those were Allen's superlatives. However, like many first-year starting quarterbacks, Allen had some tough times. The Razorbacks had difficulty with pass protection all season with an inexperienced offensive line that also had trouble opening holes for Arkansas' running backs in short-yardage situations.
Third-and-three became primarily a passing down for the Razorbacks by midseason, and defenses teed off on Allen, sacking him 35 times for 264 yards in losses. Rushing to deal with the pressure Allen also threw 15 interceptions.
It did not help matters that Arkansas' defense gave up 31.1 points per game, forcing the Razorbacks to go all out in an attempt to keep up with opponents. Arkansas head coach Bret Bielema and offensive coordinator Dan Enos did not have the luxury of protecting the first-year starter. Allen was thrown into the deep end of the SEC waters and had to swim for his life.
With that experience under his belt, many feel that Allen, who is working as a counselor at the Manning Passing Academy for the second year, is poised to have a stronger senior year.
There's an old adage that a great quarterback can lift a team like a rising tide, but that a poor quarterback can sink a team like an anchor.
There is a lot of truth in that thought, but no matter how well a quarterback plays, he is just as much at the mercy of his teammates' play as they are at his.
Since 1959 the Razorbacks have had 21 seniors start at quarterback, and the results are mixed. The Hogs have had truly talented senior quarterbacks suffer through losing seasons, and decidedly average quarterbacks ability-wise guide Arkansas to successful seasons. Some Razorback senior quarterbacks played on teams that overachieved, and some played on teams that failed to measure up to preseason expectations.
Here's a run down on how Arkansas' senior quarterbacks have performed over the last six decades.
1959 — James Monroe was primarily a distributor of the football during Coach Frank Broyles' second season with the Razorbacks, with tough running back Jim Mooty toting the note. Monroe completed 19 of 30 passes for 202 yards with three touchdowns and three interceptions. The Hogs lost back-to-back games to Texas and Ole Miss before finishing the season as Southwest Conference co-champions with the Longhorns and then defeating Georgia Tech, 14-7, in the Gator Bowl. The Associated Press ranked the Hogs 9th in its final poll prior to the bowl games.
1961 — George McKinney likewise was a facilitator for the Razorbacks, making sure Lance Alworth got plenty of touches. McKinney completed 32 of 68 passes for 426 yards, 6 TDs and 5 interceptions. Ole Miss and Texas scalped the Razorbacks again that season, but the Hogs were once again co-SWC champs. However, the Razorbacks lost a tough one to Alabama, 10-3, in the Sugar Bowl to what at the time was considered Bear Bryant's best Crimson Tide team. Arkansas was 8-3 and finished 9th in the AP Poll prior to the bowls.
1962 — Billy Moore is the only Arkansas quarterback to earn All-American honors. He did so by leading the Razorbacks in rushing with 673 yards and 14 touchdowns on 31 carries, and passing for 560 yards and five touchdowns on 51-of-91 passing with two interceptions. Arkansas lost 10-7 to the Longhorns to place 2nd in the SWC. The Hogs were ranked sixth in the final AP poll before losing to Ole Miss, 17-13, in Sugar Bowl for a 9-2 season.
1964 — Fred Marshall might not have been the most talented Razorback quarterback but he definitely was one of the smartest and toughest. Marshall is the only quarterback to guide the Hogs to a national title. He completed 50 of 94 passes for 532 yards and four touchdowns with eight interceptions. The Razorbacks won a classic battle over the Longhorns, 14-13, at Austin, and then shut out their final five regular-season opponents. The Hogs capped their undefeated season with a 10-7 victory over Nebraska to win the Cotton Bowl. Arkansas won the Football Writer's Association of America national championship, but finished 2nd to Alabama in the final AP Poll prior to the bowl games. The next season the AP began publishing its final poll after the bowl games.
1966 — As a junior in 1965, John Brittenum led Arkansas to a SWC title and a 10-1 season, but the Hogs couldn't manage their third SWC title in a row his senior year, falling to Baylor and Texas Tech in upset losses. Brittenum completed 76 of 143 passes for 1,103 yards, 7 touchdowns and 7 interceptions. The Hogs tied for second in the SWC, and would have gotten a bowl bid, but the seniors voted not to accept one since they couldn't go to the Cotton Bowl.
1967 — The Razorbacks went 4-5-1 with Ronny South as their senior quarterback. It was the first losing season Broyles had at Arkansas since his first year on the job. South completed 84 of 142 passes for 1,159 yards and 11 touchdowns with 8 interceptions
1970 — Bill Montgomery arguably had the most successful career of any Razorback quarterback. In his three years of eligibility, Arkansas never won less than nine games. Arkansas tied for the SWC title with a 10-1 record in 1968 and finished second to Texas with a 9-2 mark in 1969. His senior year, Montgomery completed 110 of 195 passes with 10 touchdowns and 9 interceptions for a school record at the time 1,662 yards, but the Hogs again went 9-2 with bookend losses to Stanford and Texas in the opener and the regular-season finale. Arkansas finished the season ranked 11th by the AP, but like in 1966 turned down a bowl bid.
Continue Reading at Fayetteville Flyer