Mascots are wildly entertaining, outgoing and deeply loved by fans. Children and adults alike squeal with excitement when spotting their favorite mascot and flock to say hello or have a picture made. A team mascot has the ability to change the atmosphere of a game and get a frustrated crowd back on their feet to rally the home team.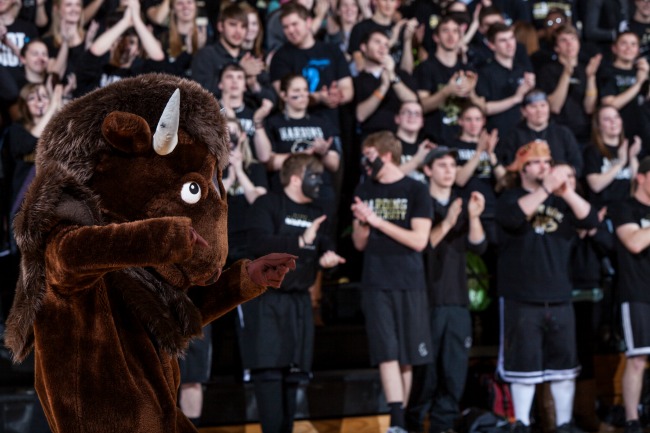 "I enjoy mascoting because I can make people laugh. I like to bring happiness."
Asperger's Syndrome is an Autism Spectrum Disorder (ASD) that is often referred to as "high-functioning" autism and is characterized by high intelligence and a severe struggle with social skills. Individuals with Asperger's may struggle when speaking with others, miss social cues and can react with inappropriate emotions. This can create a lot of anxiety in people with Asperger's and cause them to avoid social situations altogether.
Therefore, most people wouldn't associate the outgoing nature of a mascot with an individual with Asperger's. Yet that perfectly describes Harding Universities Buff the Bison.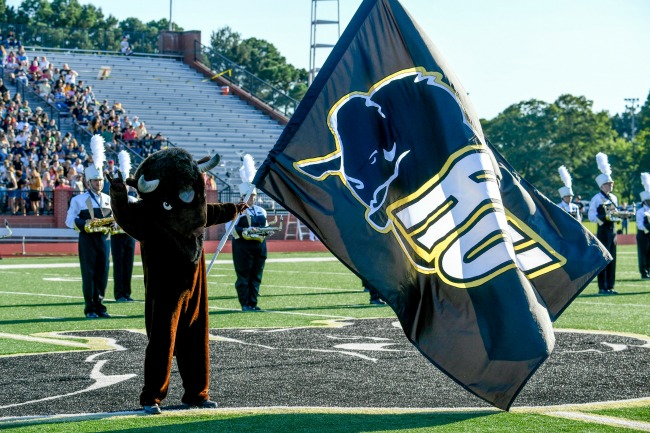 The true identity of a mascot is traditionally shielded in effort to remain true to the character so I didn't learn Buff's human name, but I was able to learn a little bit about him. Buff the Bison is a 29-year-old junior general studies major at Harding University. He has served at Buff the Bison since 2010.
Buff is diagnosed with Asperger's Syndrome. He is highly intelligent but has some social anxiety and can't pick up on social cues. Being Buff is one of the ways that he learns to deal with some of these struggles.
Robbie Dunning, Buff's coach said, "He becomes Buff the Bison and doesn't have to worry that he will say the wrong things at the wrong time."
Dunning expressed that Buff becomes a totally different person once that mask is placed on his head. He truly becomes Buff and all of the anxieties he typically faces in social situations melt away.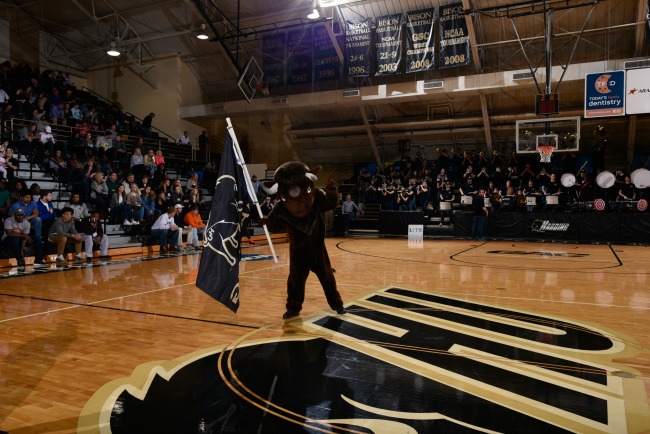 It is not uncommon for people with Asperger's to be encouraged to find a niche where they excel and pursue it with gusto. For Buff, he discovered his passion for being a mascot about 14 years ago and has even been nationally ranked.
When Harding was looking for a Mascot, Buff was looking to attend a college with a Christian environment and the pieces just fell together. Robbie Dunning oversees his schedule and makes sure that all of his needs are being met while he is in costume.
As it turns out, overcoming the social issues are the easy part of being a mascot.
The temperature inside of Buff's costume can rise to 40 degrees higher than the outside temperature. In addition to keeping up with Buff's busy schedule – he performs at Football, Men's and Women's Basketball, and Women's Volleyball games – Coach Dunning has to make sure that Buff is staying healthy while performing his duties as mascot. Buff's diet is limited in the days leading up to an event and hydration and rehydration is critical throughout.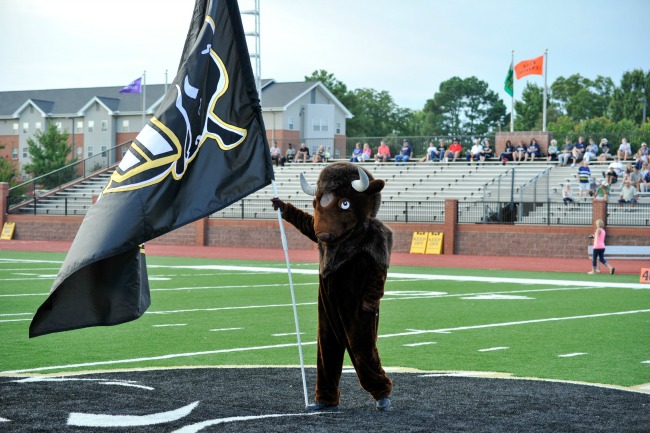 Buff hopes to go back to being a professional mascot after he finishes school. He has considered Disney as a possibility but his dream is to work for a professional sports team. Being a mascot is where his passion lies.
All photos are taken by Jeff Montgomery and were provided courtesy of Harding University.