Ready for one of the best smelling festivals of the year? The 2nd Annual Bacon Bowl, presented by Petit Jean Meats, is right around the corner.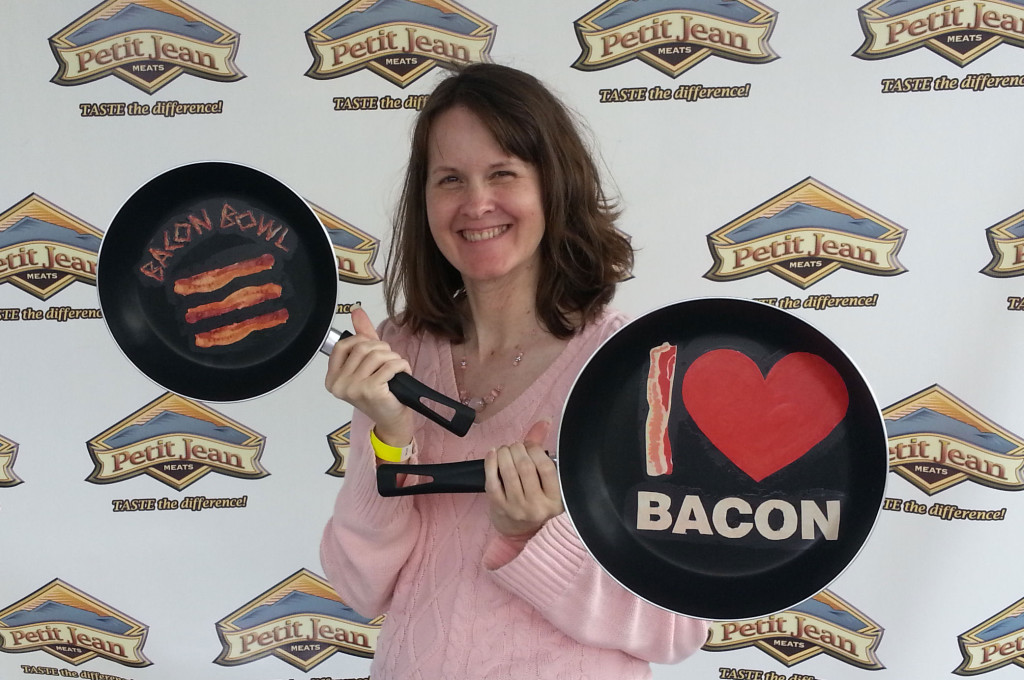 Scheduled for the morning of Saturday, September 13, this year's event will be held in downtown Bentonville in Lawrence Plaza – and within walking distance to the town's Farmers Market and to the annual phenomenon known as the World Championship Squirrel Cook-Off, which will both be going on at the same time.
But let's get back to the bacon! Once again, Bacon Bowl 2014 promises to let attendees get their fill of this "not just for breakfast" meat in all sorts of delicious forms.
The star of the event is a cooking competition by chefs and amateur cooks from all over the area who make very fancy (and great tasting!) bacon-inspired entrées and/or dessert dishes for a group of judges AND for the public to sample and vote on.
For just $10 at the gate or $8 if ordered ahead of time, attendees can get a wristband that acts as their sampling ticket. This lets them basically wander from booth to booth trying out all kinds of "bacon-y" goodness.
I went to the inaugural event last year, which was held in Fayetteville, with my Dad. He's as big a bacon lover as I am – and we tried everything! From bacon-wrapped meatloaf and bacon-wrapped chicken in white truffle oil to chocolate covered bacon and even a surprisingly tasty bacon bananas foster, we enjoyed it all (and even went back for seconds!) And yep, we definitely got very, very full.
Festival director John McClure, from Mac & Cheese LLC in North Little Rock, told me that celebrity judges will include Adam Poch from Season 13 of the Big Brother TV program. Poch, who is known as the "Heavy Metal Teddy Bear," became very popular on the show because of his huge love of bacon.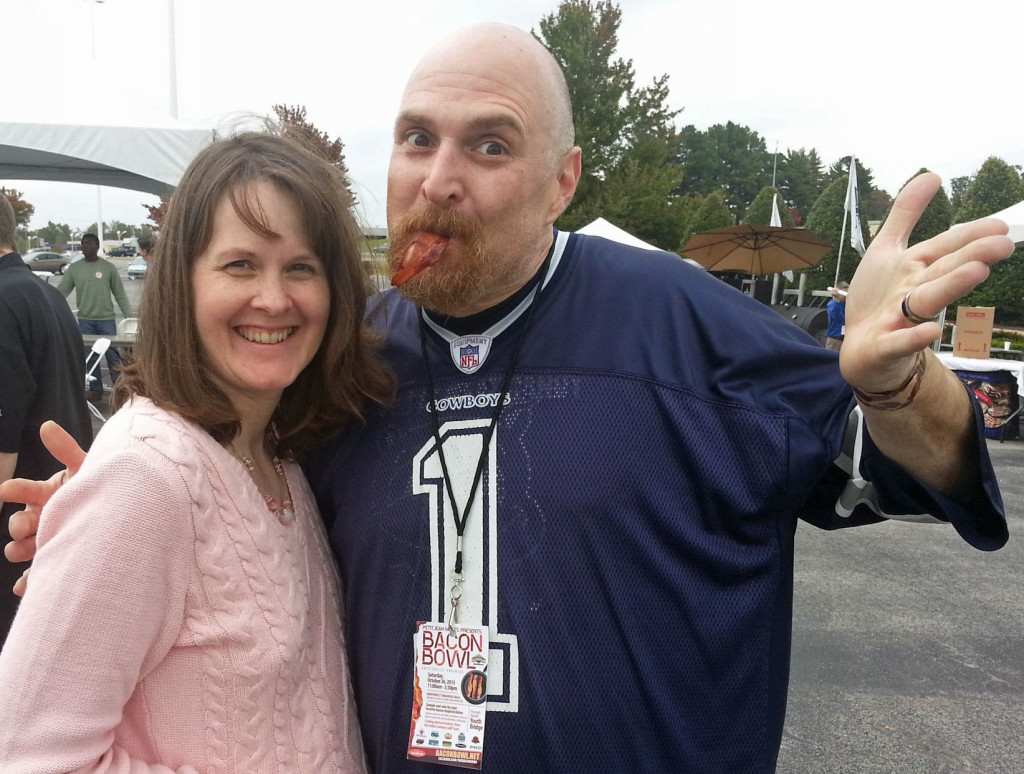 "Adam travels all over the country for food events. So we're honored to have him here once again. He's really trying to help us build the Bacon Bowl," said McLure in a phone conversation.
There is a $150 entry fee for any team that would like to enter the contest, but electricity, a 10′ x 10′ tent, chairs, and a team banner will be provided on-site. Even more important? Petit Jean Meats will be providing all of the bacon for the contestants to cook with.
McClure noted that cooks can register at BaconBowl.net up to September 5 – or until available spaces sell out. "So teams need to sign up fast!," he urged.
Winners of the judges' overall award will have the opportunity to represent Northwest Arkansas in the Bacon Division of the World Food Championships, to be held this November in Las Vegas.
In addition to the cooking competition and public sampling, the event will also offer live music and its very popular "Pig-Out" bacon eating contest.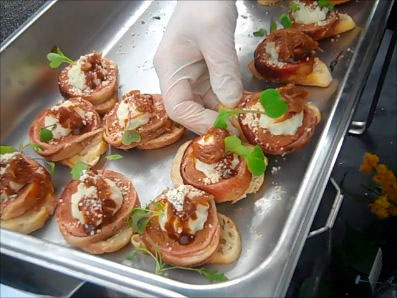 "We're all working together to create a Saturday morning that people won't soon forget," said McLure. "We're going to take what we did last year and really build upon it."
I already have a group of five friends excited and ready to head over for this year's event, including a couple who are seriously thinking about that bacon eating contest.
They'll probably be mad at me for divulging this, but here's a tip for anyone who is thinking about entering: DON'T try to eat a huge mouthful of bacon at first. That's because the salt slows down the ability to swallow quickly. Better to eat 1 or 2 pieces at a time, Big Brother's Adam Poch shared while we watched last year's contestants.
Good luck to those who enter any of the contests! And to everyone else: get ready for a gloriously tasty festival day at Bacon Bowl 2014.
NOTES:
The event is scheduled from 9am to noon
Adult tickets are $10 at the gate, $8 if purchased at the Bentonville Convention & Visitors Bureau
Kids 6 and under can get in free and still sample the bacon dishes and vote for their favorites
People who want to just watch the activities can also get in free, but cannot sample without a wristband
Proceeds from the event will again go to Youth Bridge