Welcome to Arkadelphia, Arkansas – a small college town at the foothills of the Ozark Mountains. Its mix of unspoiled beauty and recent economic growth make it a great place to explore.
If you've ever traveled down I-30 between Little Rock and Texarkana, you've no doubt seen the two exits for Arkadelphia. Maybe you've stopped for gas, and wondered "What else is there to this little town?"  Well, if you travel off the interstate and explore, you'll find it to be a great place to spend a weekend with your family.
What started as a railroad stop long ago became an education hub for the state, with both Henderson State University and Ouachita Baptist University calling Arkadelphia home. It's now booming thanks to community revitalization. But this town isn't just for the co-ed crowd; there is plenty of family fun to be had.
Explore the Great Outdoors
All around Arkadelphia you'll find unspoiled beauty. One of the best spots to take your family for beautiful views, a picnic, and adventure is Lake DeGray. The Lodge Resort offers views of the lake and mountains, along with bicycle and hiking trails. There are also interpreter led programs, tours, and cruises.  Some of the best ones for the entire family are the Reptile Meet and Greet, craft sessions like the Pine Cone Birdfeeders, and Disc Golf Crash Course.
You can have a unique camping experience in one of the YURTs (Year-round Universal Recreational Tent) which are equipped with electricity, wood floors, windows, and a locking door.  YURTs also have firepits and grills – hello s'mores! The best part is that YURTs can sleep six, so your whole family can camp together in one. Just note that linens are not provided, so BYOSB (bring your own sleeping bag).
When the weather is warm, check out the Arkadelphia Aquatic Park. This park was given a Top Facility Award in 2004 from the Arkansas Recreation and Parks Association for its awesome waterslides, fountains, play pieces, and water features.  And with daily admission at just $6, you can't beat that price for a full day of family fun in the sun.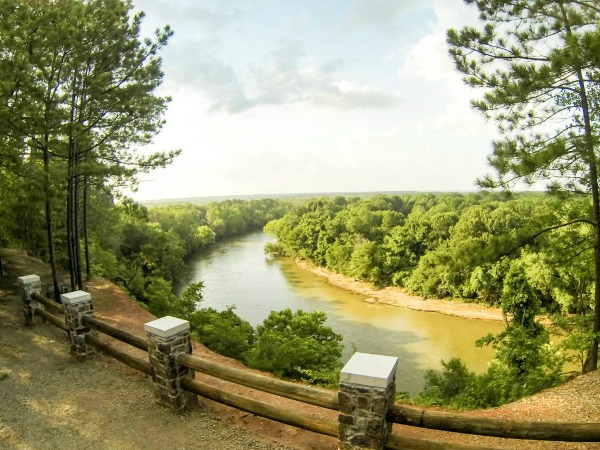 If you want a different view, head into town and check out the new DeSoto Bluff Trail.  This newly-paved trail offers gorgeous views of the bluffs below. There are also informative signs along the trail telling you about the area.  You can find the trailhead on North 10th Street, just north of the colleges.
Gaze at the Stars
Being in a college town has its advantages, and the planetarium in Henderson' Reynolds Science Center is definitely one of them.  For just $3 per person, you can experience an immersive show that's both entertaining and educational.  Shows rotate, so you could explore anything from Saturn to the Solar System, or even the Christmas Star depending on when you visit. If your kids (or your husband!) is into Star Wars, Star Trek, or astronomy, don't miss this immersive experience. The full dome video projection brings planets to life.
Cheer on Your Favorite Team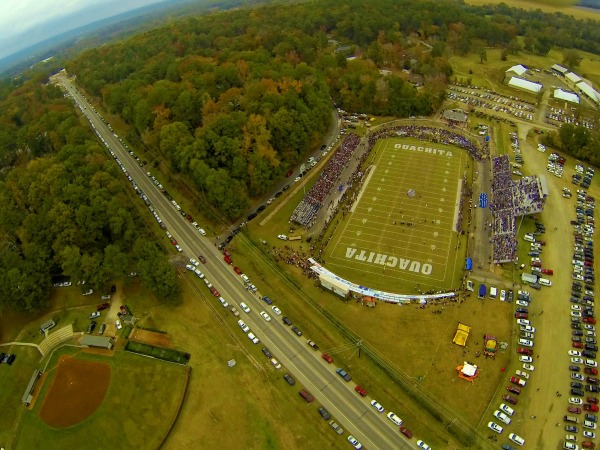 With two colleges in town, there is always a sporting even taking place.  These are family-friendly events because they are smaller venues, so you always have a great seat. Whatever sport your family loves – swimming, soccer, football, basketball, softball, wrestling, baseball, or volleyball – the atmosphere at the games is electric. While professional athletic events or games at bigger schools can be too rowdy to take your little ones, the games in Arkadelphia are very family friendly. The iconic game in town is the Battle of The Ravine, the football face-off between Henderson and Ouachita.  If you're lucky enough to be in town for this showdown, go early to the tailgate where college groups will be painting faces and playing games with kids.
Discover Downtown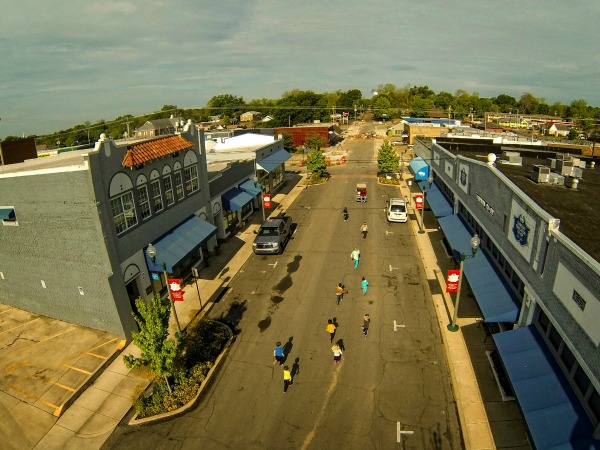 One newly revitalized area in Arkadelphia is the downtown stretch of Main Street. There are places to eat, shop, and play. Craft Landing and the Smithzonian Art Center are both great places where you can complete a fun project together – from painting ceramics to creating a masterpiece painting. There are also awesome events like a Christmas Parade, Crawfish Boil, 5ks (like the children's one pictured above), and Holiday Open House to check out throughout the year. If your kids need a place to run and get out some energy, Clark Park (next door to the Honeycomb Restaurant on Main and 8th) has some great green space and colorful murals.
See a Show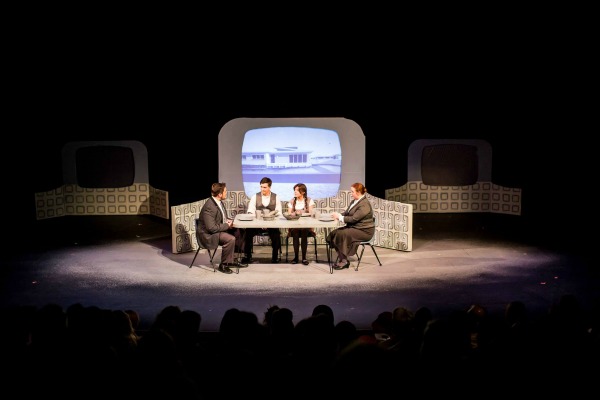 Along with sports events, the universities offer awesome theatrical experiences. Both schools have vibrant music and theater programs, so you could take your family to musicals, children's plays, jazz band concerts, and more. Recently, Ouachita Baptist University put on a children's theater production of "The Giver", and tickets were only $10 per person – and cultural experiences like these will be great for your family. You can contact the box offices at both Ouachita Baptist University and Henderson State University to find out about upcoming shows.
Journey down to Arkadelphia for a weekend with your family. You'll make some great memories.
Photos courtesy of Wesley Kluck