Laura Terry and Phoebe Lickwar are both artists who live and work in Fayetteville, Arkansas. Together their work will be featured with Art in its Natural State, coming up soon on Petit Jean Mountain.
A graduate of Auburn University College of Architecture, Design & Construction, as well as Savannah College of Art and Design, Laura now works as an associate professor of architecture at Fay Jones School of Architecture and Design.
Phoebe is a graduate of Harvard University, Harvard Graduate School of Design, and the Rhode Island School of Design. She now works as a landscape architect, photographer and associate professor of landscape architecture at the Fay Jones School of Architecture and Design.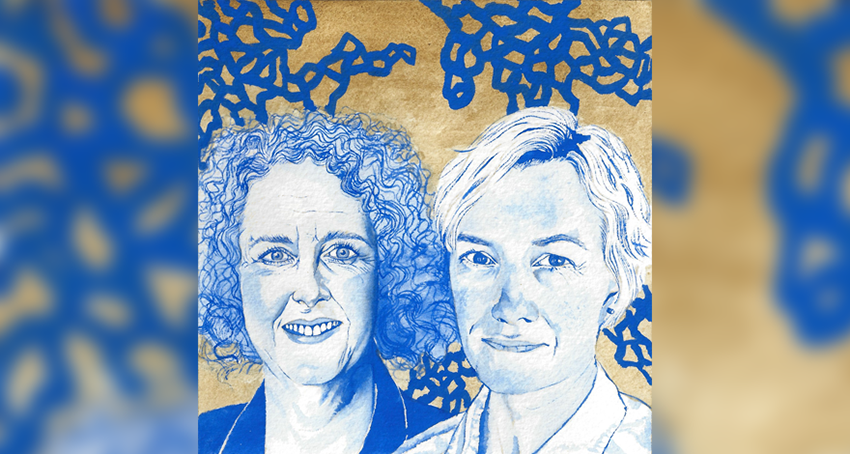 Medium of Choice
Laura creates beautiful paintings and drawings and says she is "interested in the patterns of nature, of seasons, and of human intervention." What she paints is directly influenced by the result of how patterns shape the world she lives in.
She says she has always been inspired by landscape and recounts a time in her life when the marshy landscape of Georgia, including the Spanish moss-draped oaks she drove through on her way to work, inspired her art.
Laura says, "My early work was an attempt to capture the natural landscape and its relationship with the human-made, agricultural one. Since I moved to Arkansas, and specifically to rural Washington County where my husband and I now live, the Ozarks and their claustrophobic compressed views have inspired the work."
She and her husband enjoy wandering out onto their acreage, collecting all sorts of "treasures," including snakeskins, raccoon teeth, possum skulls, chrysalides, eggshells, and feathers. One of her favorite treasures is a monarch butterfly. She states that "These are all reminders that we cannot be selfish on this earth; we share it with species that far outnumber us. They deserve the planet more than us."
Laura is currently in Rome teaching for a short time at the University of Arkansas Rome Center.
Phoebe says becoming an artist and designer wasn't a choice for her but rather "a way of being in the world." Growing up with a mother who was an artist and classical pianist, Phoebe was exposed to the arts from a very early age.
She says she remembers filling sketchbooks with pastel and charcoal drawings. Eventually, she began to use a Polaroid OneStep land camera, and at the age of 13, she built her own darkroom in her family's basement and taught herself how to develop film. She says, "I was completely seduced by the mystery of photography, the way images emerge as if by magic, tied to the real world but distinctly separate from it."
While at Harvard, she took a course on Japanese gardens and it was there that her interest in landscape as a cultural medium began to blossom. After ten years of working as a photographer, she moved to creating landscapes and began her work with landscape architecture. She primarily designs gardens and civic spaces and uses photography as an analytical tool in her design work.
Highlights of their Work
Laura says she and her husband recently drove east along the 35th parallel from West Fork, Arkansas, to the Great Smoky Mountains.
"The drawings and monoprints that resulted from that experience focus on four aspects of the landscape: ground (or rock), water (the river), mountains, and sky."
Laura's work, celebrating Southern culture and landscape, has been exhibited in Savannah, Atlanta, Minneapolis, Los Angeles, and New York.
Phoebe says she thinks "a designer's favorite work is always the most recent because we are forward-looking creative types." The project she's enjoyed most has been Into the Woods!, a garden she just finished up for the 2018 Chaumont-Sur-Loire International Garden Festival.
In 2016, Phoebe was selected to work on the National World War I Memorial at Pershing Park. She recounts that the most painful project she's ever worked on was the National September 11 Memorial in New York.
What Do They Hope People Understand About Their Work?
When asked about what message her work may aim to share, Laura said her work has never really had a provocative or political message. However, she does hope to make people stop and think about the world around them. On her recent trip to the Great Smoky Mountains, she spent some time reading John McPhee's Annals of the Former World, and it greatly impacted her. She now believes her work does carry a message.
She says, "As an artist and someone who is keenly observant of the landscape, then I have a responsibility to advocate for it. But I am also an educator, and being an artist and an educator offers me extraordinary opportunities. If my art can illuminate a subject or bring to the forefront a concern, then I have an obligation to use that art for the greater good."
Her art is about beauty, but she strongly feels that beauty doesn't exclude a powerful message that makes people stop and think.
For Phoebe, she says the intent of her work is "to forge intimate connections between people and place through history, ecology, and culture. Each project achieves this in a different manner, but the primary goal is to create experiences that expand awareness and understanding of place and time to enrich daily life and support long-term stewardship."
She says while her work is iterative and collaborative, and requires a team to carry out landscape projects, the idea is always maintained. It may transform, but that original message is carried through to the completion of said project.
When asked about the artwork that will be displayed with the Art in its Natural State event, they both make a connection between their work and protecting the environment. They want to educate people about the fragile state of our earth, how everything and every species on earth are interconnected and depend on each other to live.
Art in its Natural State on Petit Jean Mountain
You are invited to attend the kickoff event for Art in its Natural State on Saturday, April 28, beginning at 9 a.m. Admission is free; however, the Winthrop Rockefeller Institute asks those who want to attend to register for the event here.
A reception, which requires tickets (purchase at the link above), will be held in the evening beginning at 5:30 p.m. It will be an opportunity for attendees to meet and mingle with the artists, eat, drink, and enjoy entertainment by the Arkansas Symphony Orchestra's Rockefeller Quartet and country/folk artist Bonnie Montgomery.