School's out for the summer, and while most kids look forward to those long days without teachers and homework, summer also means children miss out on essentials schools provide, including hot meals and the chance to check out books from school libraries. Staff at the Fayetteville Public Library recognized the problems kids can face in the summer and created Books and Bites to fill in the gaps.
Books and Bites serves children from two summer day camps in Fayetteville, the Yvonne Richardson Center and Lifesource International. The day campers are brought to the library three times over the summer. In its first year as a program, library staff and volunteers helped the kids make a healthy snack each visit. The second year, they expanded the program to include a hot catered meal from an area business.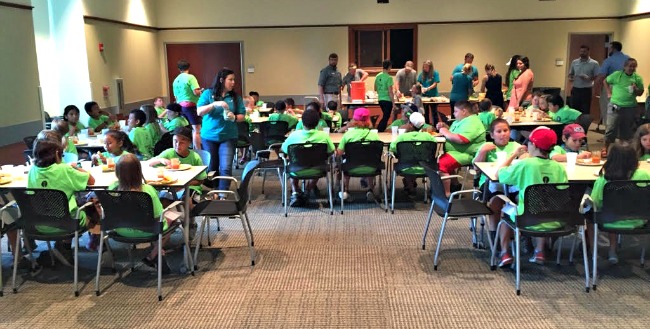 Lolly Greenwood, Director of Youth and Outreach Services, says the focus of the meal is "healthy, hot and substantial." Kids are encouraged to return for seconds and thirds. Farmer's Table provided the first meal of Books and Bites 2017 and the day campers enjoyed chicken strips, macaroni and cheese, broccoli and fresh fruit parfaits. Each restaurant that participates creates a hot meal that is nutritious, but one the kids are sure to enjoy.
The children also participate in a variety of educational and entertaining programs, usually led by community members. One of the favorite programs is led by Michael Felix of Mid-America Karate. Michael gets the kids moving, teaches a few self-defense moves and karate moves, and talks to the children about how to use karate. He emphasizes discipline and respect and how those who practice karate are expected to treat people well.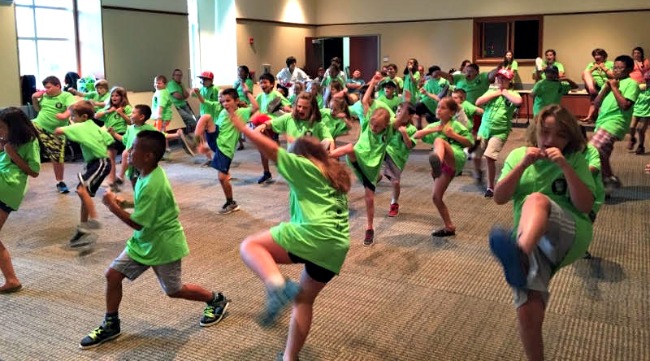 Papa Rap brings his musical talents and enthusiasm to Books and Bites and gets kids moving, dancing and playing musical instruments while singing his positive songs that often center on self-esteem and togetherness.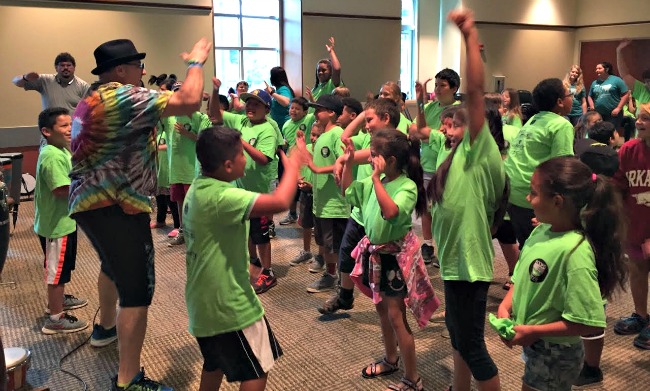 Another recent activity involved a game of "Guess the Ingredient." Lolly introduced ingredients one at a time to a group of teen program participants. The ingredients were added together at the end to make salsa and the teens enjoyed chips and salsa. The focus on food is intentional. Many of the participants come from food insecure families. Books and Bites allows them to have a hot meal or nutritious snack, but it also teaches the kids about food choices and how to prepare healthy foods.
After Books and Bites ends, each participant goes home with a Books and Bites bag filled with fresh produce, recipe cards, two books and other fun items that encourage activity, like frisbees and jump ropes, and a Books and Bites t-shirt. The campers attend three sessions and always take a bag of goodies home with them.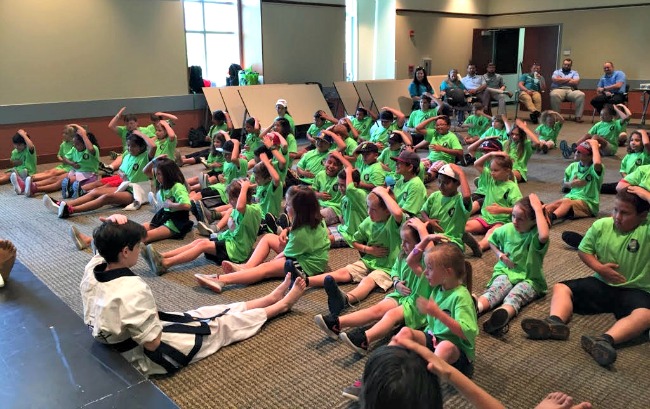 The fresh produce included in the bag is one of the unique aspects of the program. The food comes through partners Feed Communities and Cobblestone Farm, two Northwest Arkansas non-profit organizations whose missions include providing food insecure families with access to fresh food. Books and Bites participants take home food picked locally that week, ranging from squash, lettuce, radishes, spinach, and peas to tomatoes, corn, and peppers. The bags include recipes to help families know how to prepare foods they may not normally purchase.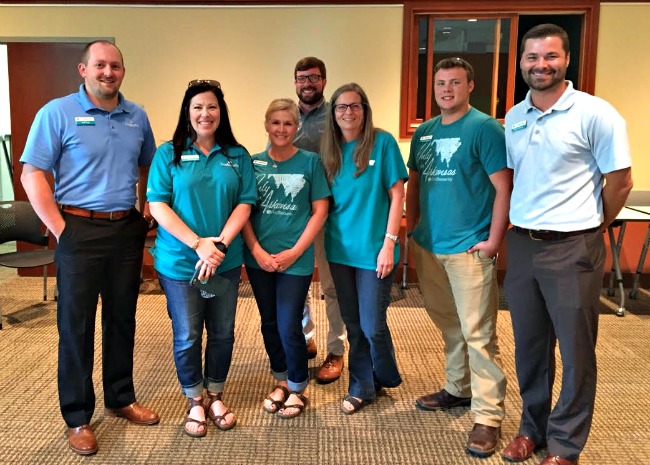 The Books and Bites program is run through a grant through First Security Bank, which also supplies volunteers for each event. They set up, serve food, talk to kids, clean up and pass out book bags. In 2016, Books and Bites expanded outside the library summer program for the first time. Seventeen volunteers visited Azbell Elementary in Fayetteville.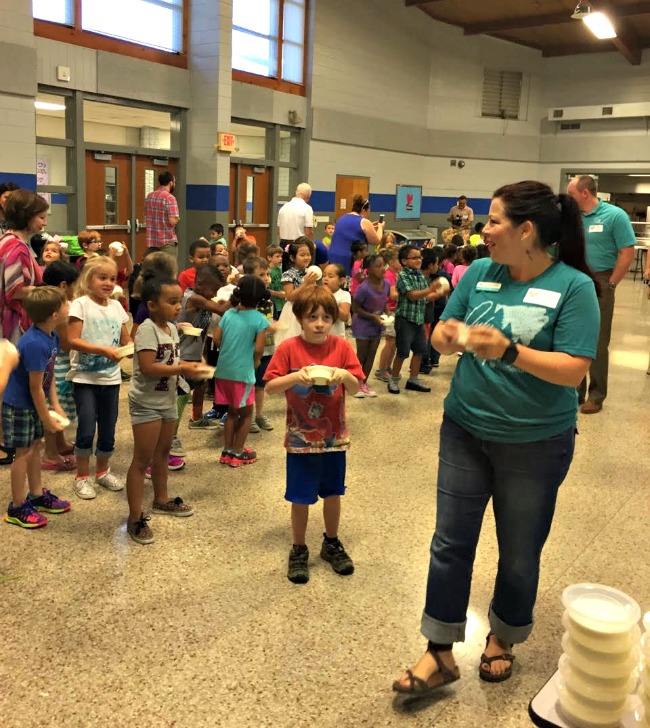 They helped students make butter by hand and spread it on bread for a snack while they discussed food choices and how to prepare healthy snacks at home. Students left school that day with the signature Books and Bites bag stuffed with books and healthy snacks. On a second trip to the school, every family received a turkey for the upcoming Thanksgiving holiday.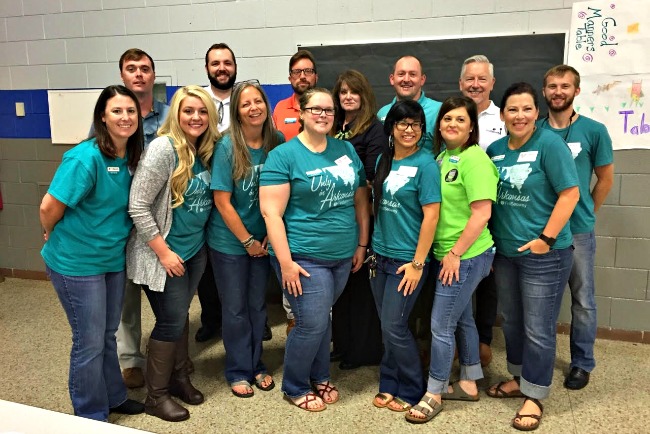 Lolly emphasizes Books and Bites' purpose is to "empower these kids to know they have choices, whether it relates to food, or career, that they can make positive choices." As Books and Bites addresses food insecurity this summer, kids will have a great time learning, reading and making great choices for their futures.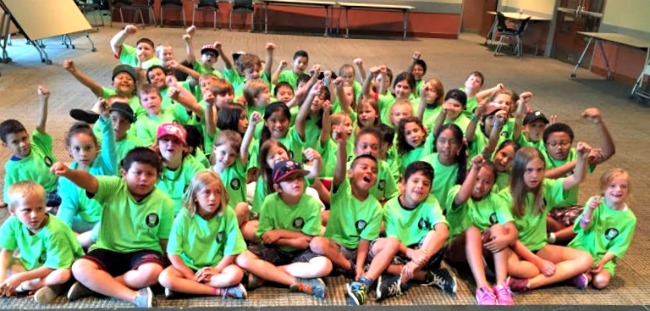 Photos provided by Books and Bites program of the Fayetteville Public Library and used with permission.