When Al Lopez first visited Northwest Arkansas from his native country of Puerto Rico, he couldn't have imagined the future this pocket of the United States held for him. Nearly thirty years later, Lopez, better known as Papa Rap, is a fixture in Springdale and the surrounding area.
Lopez is a lifelong musician, his love of music coming to him early when he found schoolwork just couldn't hold his attention and he longed to be moving and singing instead. On his first trip to Northwest Arkansas working in visual merchandising for J.C. Penney, he naturally connected with a few local musicians. Though Lopez loved the area and suggested moving, his family wasn't quite ready to take the leap with him. In 1994, Lopez returned to record an album with those musical contacts made on earlier trips. By this time, Northwest Arkansas was experiencing an influx of Latino families and struggling with the problems that come with rapid growth and cultural divides.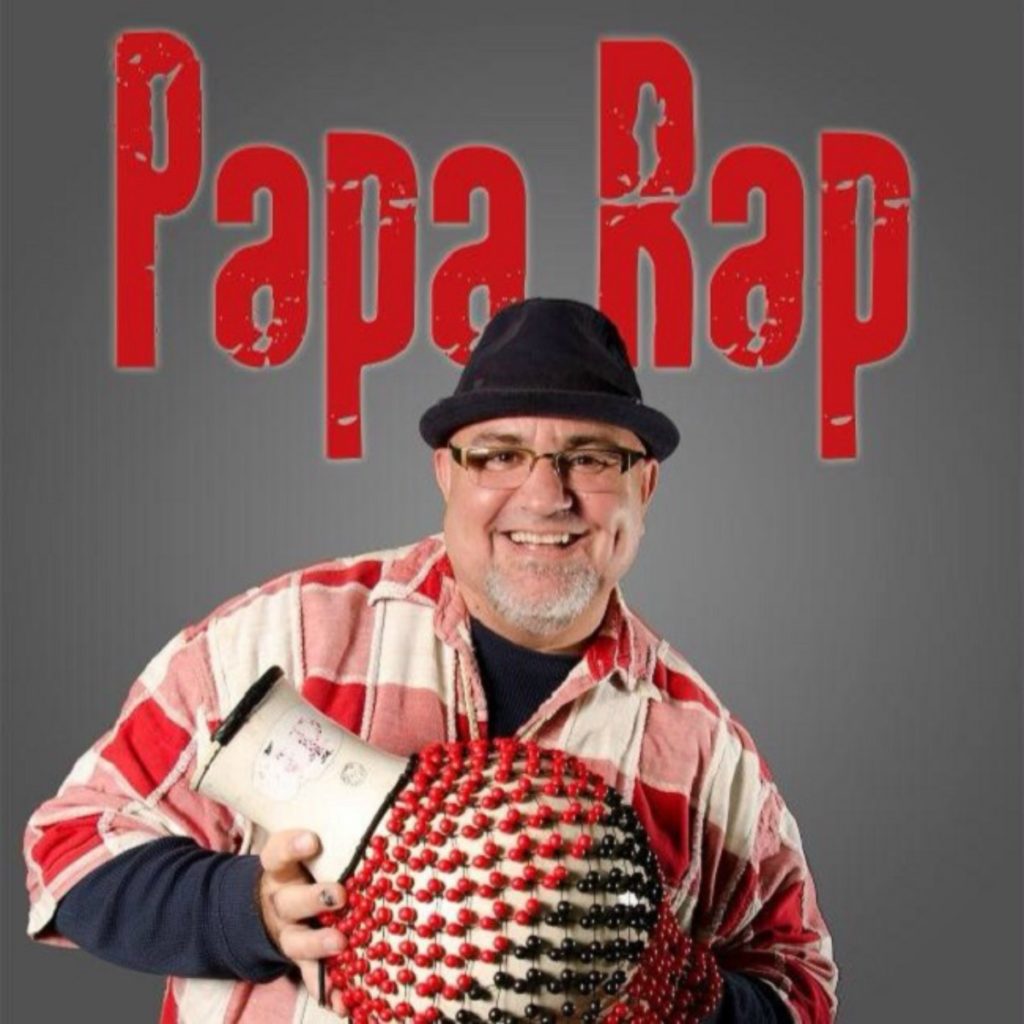 Lopez realized he needed a temporary job while he recorded his album. He accepted a position as an interpreter for the Rogers School District, not knowing he was about to stumble onto the path that would guide his steps for the next twenty-two years.
"When I started to work, I realized there were already problems with kids not getting along – kids who were Latino and kids who were white and who'd been here their whole lives," Lopez recounts. "I used my music in order to build that bridge. The main message was, 'It's going to take time to become friends, but why can't we work on common ground issues?'"
He'd already chosen the name Papa Rap to use with his music in Puerto Rico. He used the same persona in Rogers and formed a performance group among the high school students. Together they began visiting elementary and middle schools, singing, dancing and carrying Papa Rap's message of getting along. The same kids who'd struggled to coexist started to find common ground performing together. "The thing in common they all had was they wanted to skip school and go to elementary schools," Papa Rap laughs.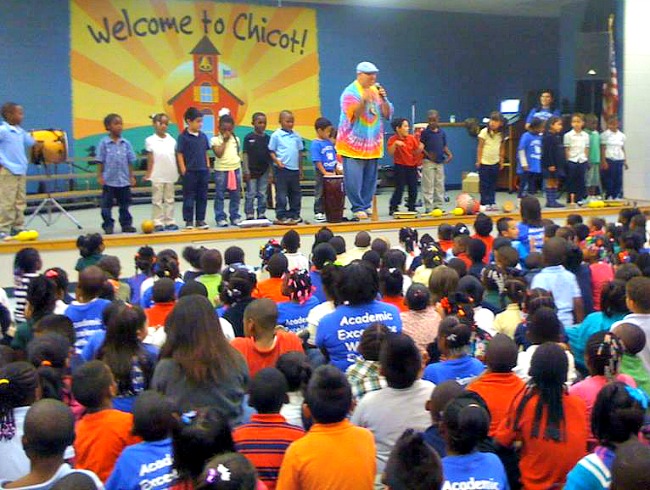 It was a small step, but a significant one for those students and Papa Rap. "I discovered my niche here and that I can use my music in order to do that. I've been trying as much as I can to use my music as a bridge builder."
Papa Rap joined the Springdale School District in 2000 and has been a growing presence in the area ever since. Most Springdale students can remember a time he visited their school with congo drums in tow and turned a dull day into an explosion of music, drums and bilingual lyrics. Singing in Spanish and English, Papa Rap breezes through complicated issues like immigration, language acquisition, violence and bullying.
"What's up? Que Pasa? What's your name? Como te llamas? Where are you from? De donde eres? Let's be friends! Seamos amigos!" he chants.
He asks for volunteers to play the congo drums. The kids don't know he's already spoken to their teachers and asked that they send those students who might be struggling a little and need an outlet for their energy, harking back to his own school day struggles.
Today those school performances are only a small part of Papa Rap's job. The larger role he's taken on is helping Latino parents connect with the schools. For the last fifteen years, he's been a staple on Spanish radio station La Zeta's Sunday night broadcast. For two hours, parents can call in  with questions and Papa Rap will discuss issues like parent-teacher conferences, conflicts with teachers or administrators, and other concerns. His main focus is connecting parents with their schools to bridge those cultural divides and create trust.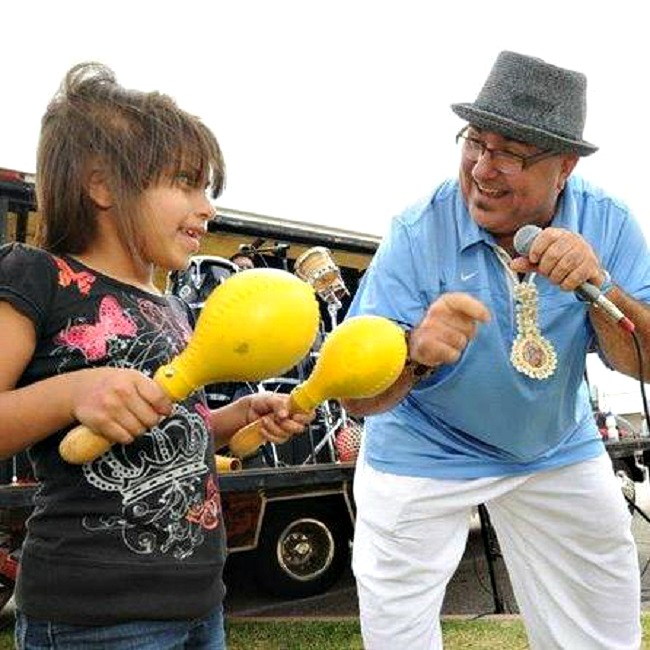 Connecting people is what Papa Rap is all about. Along those lines, he co-founded the non-profit organization OneCommunity in 2009. The mission? To bring the growing diverse community together through common ground and common goals. It's the same message Papa Rap started with in 1994, amplified through yet another outlet.
OneCommunity created ArkanSalsa, an art and music festival held in downtown Springdale in October that focuses on bringing people together through food, music and fun. They are also active in the schools through Summer Reading Clubs, bilingual books clubs where parents and their children can come to the school once a week during the summer and read a book together. "It's a good way to help parents learn the language better as well as the kids," Papa Rap explains. The program targets the Latino and Marshallese communities in Springdale, though all are welcome.
Another program Papa Rap helped develop is called Parents Taking Leadership Action. The PTLA  brings together a small group of parents in select schools and emphasizes how the parents can work with their schools and their children and become leaders within those schools.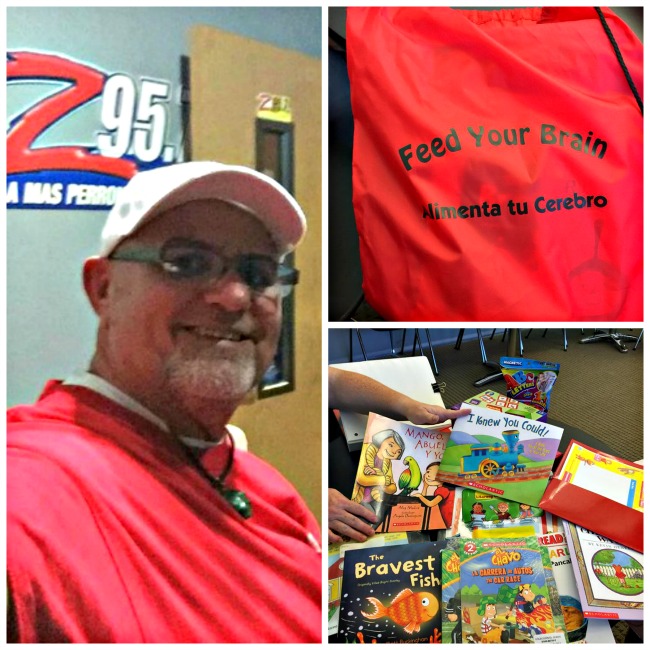 Though his role within Springdale and Northwest Arkansas has grown beyond his music, Papa Rap remains a musician at heart. His future plans include writing a series of songs for Pre-K through 3rd grade in Spanish and English that focuses on reading concepts, reinforcing what children are learning in school and teaching another language at the same time.
He would also love to see a dual language program implemented in the district and even across the state. "This area could really be a model for the entire nation," Papa Rap explains. Still, he feels he's not the one to implement such an undertaking. "My vision is to say this over and over until we find the people who can do this. There's a lot of people out there with a lot of talent who may not do things the way I do them, but they can be the Mama Raps and Papa Raps."
Meanwhile, Papa Rap will continue to do what he loves best and create music centered around the message of understanding and togetherness.
"Seamos amigos," he sings while the drums pound away. "Let's be friends."
To learn more about Papa Rap, visit paparap.net and onecommunityar.org.
Photos courtesy of Papa Rap and used with permission.