Who doesn't love a good bookshop or a secondhand store that sells loads of books? I know I could get lost for hours when browsing.
Lately, I've been on the hunt for a particular author who is a distant relative. Her books are a bit more difficult to find and usually quite expensive when we are able to find them. While I didn't have much luck, I did find other treasures as I browsed through just a few Northwest Arkansas bookshops.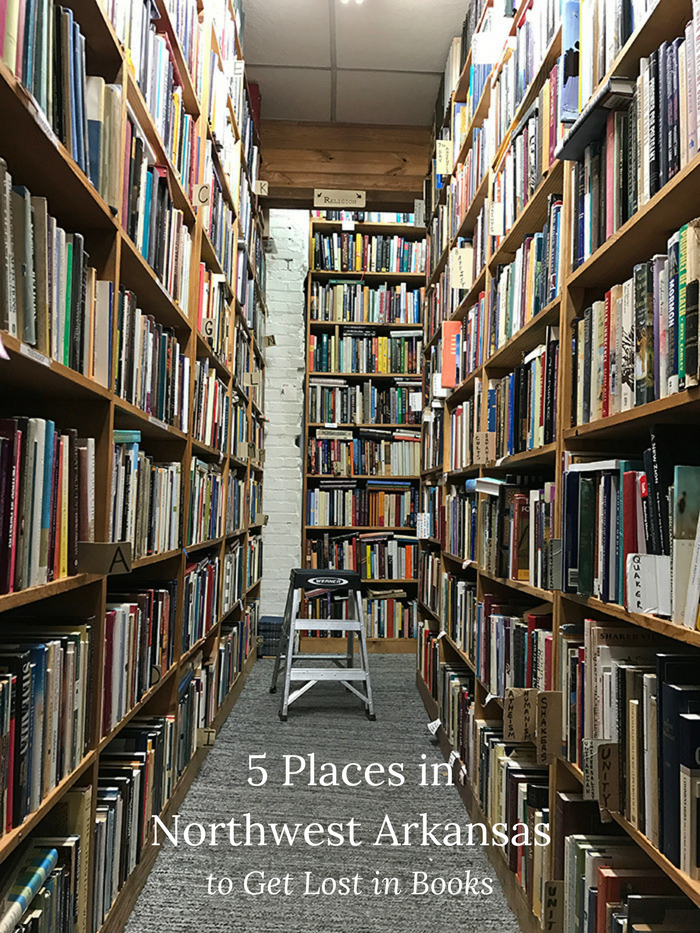 #1 – Trolley Line Bookshop in Rogers – This bookshop is a bookworm's paradise. It's stuffed to the gills with secondhand and out-of-print books. Even the front window displays are chock full of books and book displays. As you walk in, there is an extensive Arkansas collection, as well as an inviting children's section. I made my way to the back corner of the store where I found the classics. There are a few places to sit and read. The owner has also placed decorative knick-knacks and collectibles around the store, as well as clippings from newspaper and magazine articles.
As I walked up and down the aisles, I occasionally tripped over books because stacks of them even line the floor. I kept thinking, "I really should go now," but I couldn't bring myself to leave. Trolley Line is one place you could totally lose track of time and browse the afternoon away. It's cozy with lamps and books and all sorts of nooks and crannies.
#2 – Dickson Street Bookshop in Fayetteville – Dickson Street Bookshop has been open since 1978 and is still owned and operated by the original owners.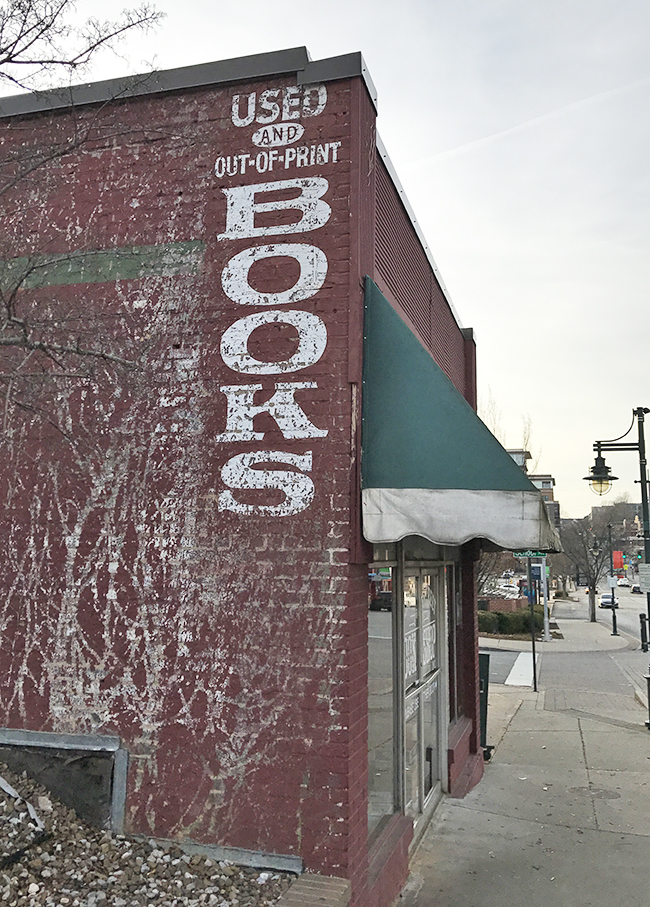 We recently took a trip down to the bookshop; it had been on our list of places to visit for some time. As we walked in the door, I think all of our mouths dropped to the floor. I have never seen so many books in my life. Floor to ceiling, they are everywhere as far as the eye can see. It almost feels like a magical shop that suddenly expands as you walk in the door. All books are secondhand or out-of-print, and they are organized into different sections. I found myself browsing the World War II/Holocaust section while my guys browsed through cookbooks, automotive, and classics. This bookshop is a feast for the eyes and heaven to any lover of books. Stepladders stand in every section, and radio classics play overhead as you browse. Hang on to your kids because you really can get lost in this amazing bookshop.
#3 – The Friendly Bookstore in Rogers – Yet another store that kinda made my mouth drop open was The Friendly Bookstore close to downtown Rogers. Volunteer staff from the Friends of the Rogers Public Library run this store. Sales actually help to supplement the Library's budget. Most of the books I browsed ranged in price from 50 cents to a dollar. Not only is it a great place to find secondhand books, homeschool materials, and movies… It's also a great place to donate used books and magazines. All books are organized into sections and easy to find. I was very excited to find an extensive children's section.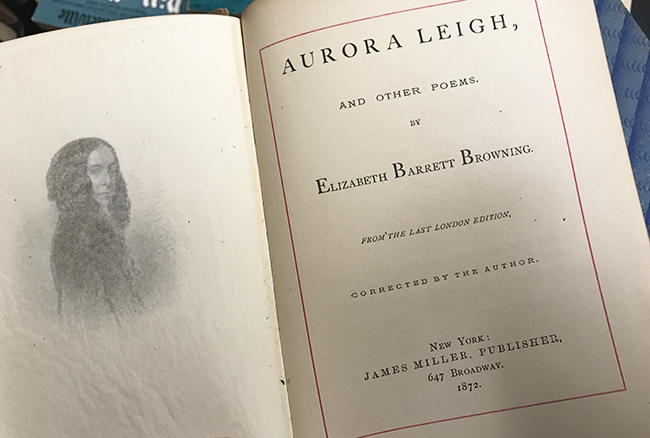 #4 – Nightbird Books in Fayetteville – Walk into Nightbird Books and you'll instantly feel the relaxed and calming atmosphere. This particular store sells new books for both children and adults, but they have quite the selection. They also have a café, and you'll find a floor to ceiling birdcage with beautiful birds inside. With comfy chairs, it's a great place to grab a cup of coffee, sit, relax, and read for a while.
#5 – Somewhere in Time Antique Mall in Rogers – While not a bookshop, per sé, this antique mall has booths with shelves of classic books. While Christmas shopping with my husband this past Christmas, I may have gotten lost in one particular booth that had shelves and shelves of classic novels, as well as non-fiction, vintage school texts, and children's books.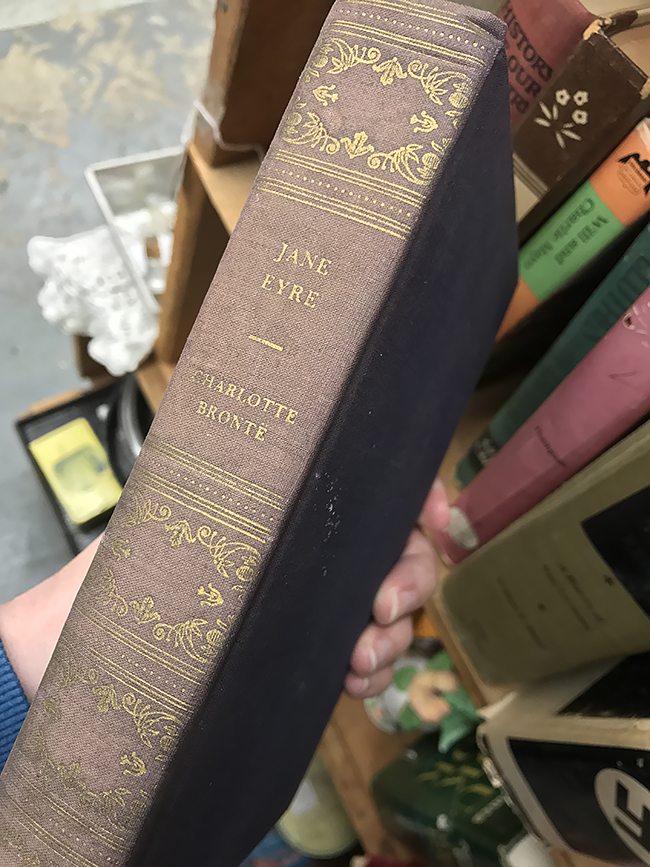 I walked away with a classic copy of Jane Eyre, its pages brittle and showing their age. Somewhere in Time is yet another place to lose yourself in browsing.
Are you a book lover? Could you get lost for hours in your favorite bookshop? If you're ever in our little corner of Northwest Arkansas, these are just a few of the many places to lose track of time and browse the hours away.