This classic story of the great American dream begins like so many—once upon a time and with the humblest of beginnings. But unlike others, this one hits close to home for me because it involves Northeast Arkansas. The company central to the story— American Greetings Corporation—creates happiness, laughter and love everyday. A true fairytale if ever I've heard one.
In 1906, Jacob Sapirstein, a young Polish man, immigrated to America in search of a better life. Within a few days of being in Cleveland, Ohio, he secured a $50 bank loan and began selling penny postcards to local merchants. One week later, he paid off the loan. The year was 1906. His business became American Greetings Corporation.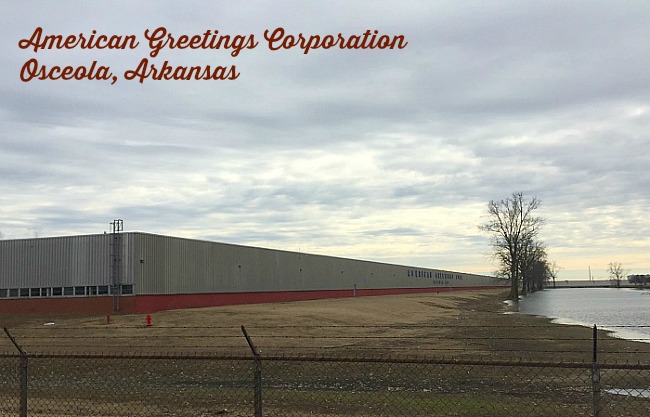 I grew up only a few miles from American Greetings' location in Osceola. AG (as we locals call it) always seemed a bit mysterious. The fenced building spread low along the delta landscape and wrapped around its own lake. Even as a kid, I knew AG was a major employer for our corner of the state, but like many things right in my own backyard, I didn't give it a whole lot of thought. It was simply part of Osceola. Until recently, I'd never stepped foot inside.
At long last, I wrangled an invitation to tour American Greetings. I confirmed stories I'd always heard such as employees really do ride bicycles inside. They buzz around in golf cart-type vehicles, too. Internal transportation is a necessary thing because the plant occupies nearly 2.6 million square feet, or sixty acres. Sixty acres is the equivalent of fifty-four football fields.
That's a big chunk of real estate.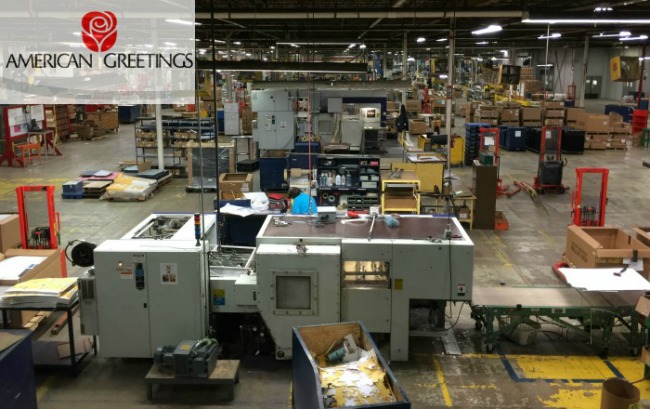 Do you remember the first time you read Charlie and the Chocolate Factory by Roald Dahl? I do. It was one of those can't-put-it-down-even-to-eat-supper sort of books that transported me from farm tedium to sensory wonderland. The pages of Dahl's classic filled me with sights and smells I'd never experienced, real or imagined.
American Greetings Corporation felt the same to me. For a couple of hours, I held my very own golden ticket and enjoyed a personal look inside the magical world of greeting card factories. Take it from someone who becomes excited over paper products and buys lots of cards, the tour exceeded my expectations even without a chocolate river.
Each massive machine operates as its own city, managed by an employee more than willing to show off his or her particular part of the overall production—cutting, stamping, dyeing, and sprinkling glitter on cards. Glitter, of course, is only a half notch beneath pixie dust.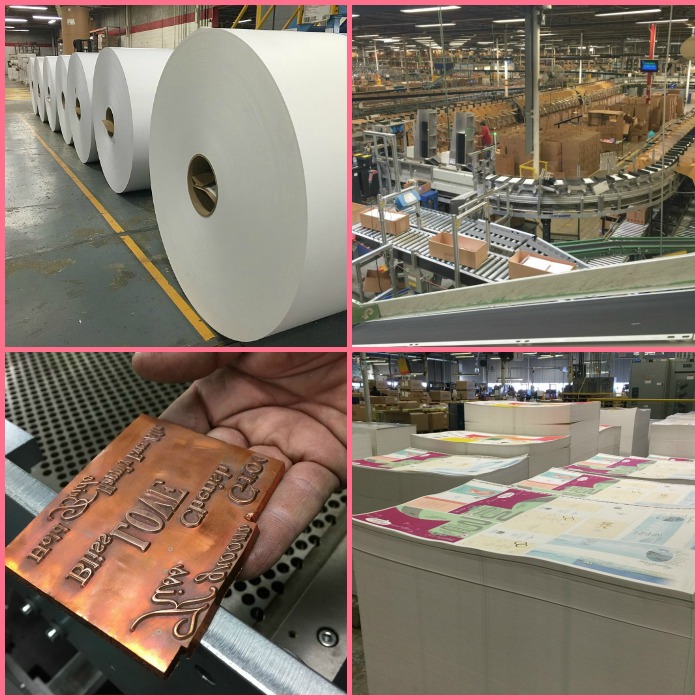 During my visit, enormous white rolls of paper, the size of round cotton bales, efficiently morphed into boxes of Mother's Day cards and next year's Christmas greetings. There were certain areas of the American Greetings factory I wasn't allowed to photograph because of trademarks and other such high-level coolness. I'm not going to tell you there was a secret Inventing Room like that in the Chocolate Factory, but there might have been.
American Greetings History
The story of American Greetings Corporation includes all the elements of the classic American dream. Jacob Sapirstein's company, originally Sapirstein Greeting Card Company, quickly grew into a profitable family business. The company survived during the The Great Influenza when Sapirstein became ill, and even flourished during The Great Depression when folks bought greeting cards in lieu of gifts. Later after World War II, as people became more mobile, greetings cards became the most popular way for staying in touch with loved ones.
The Osceola factory opened in 1961 primarily as an order filling facility. Northeast Arkansas provided a prime location with convenient river, rail and trucking transport. Over time, the facility has expanded and grown to handle both manufacturing and distribution. At one time it was the largest manufacturing facility under one roof in Arkansas. Ten miles of conveyor belts run through the factory.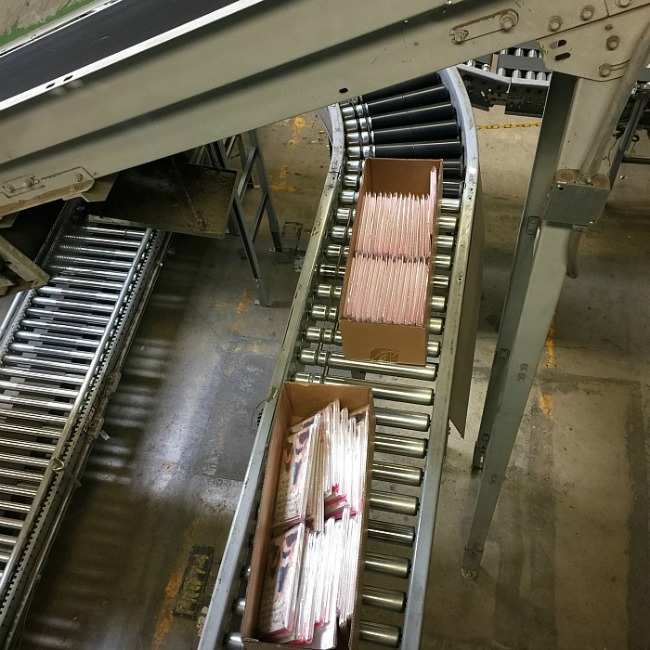 I grew up with American Greetings, and you probably did too. Remember Holly Hobbie? The Holly Hobbie card debuted during the tumultuous 60s providing us with a "nostalgic sweetheart" and a throwback to a more peaceful time. We met Strawberry Shortcake in the 1970s. By 1981, this spunky character had generated $500 million in retail sales with 600 different Strawberry Shortcake products. Miss Shortcake was followed by the Care Bear sensation.
In 1986, at the age of 101, founder Jacob Sapirstein saw his company reach a $1 billion total sales milestone. The company has continued to grow, expand, and evolve with a huge global and cyberspace presence. Today, American Greetings has the largest collection of electronic greetings on the Web available at AmericanGreetings.com.
Employee Dedication
One of the best things about touring American Greetings was witnessing the manufacturing process first hand. Companies that make things we can see and use, and that employ the area citizens, keep our country moving forward.
American Greetings in Osceola employs 1,331 associates. Many are second-generation employees. The level of dedication was noticeable from the friendliness of the employees to the number of employees with longevity and perfect attendance records. Thirty-one associates have over ten+ years of perfect attendance.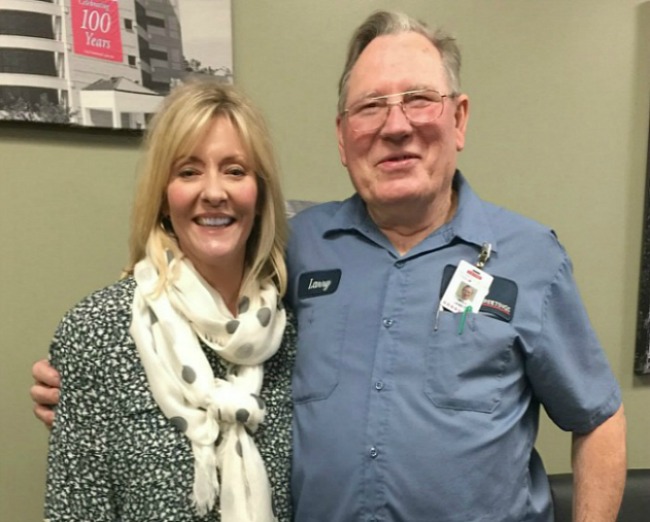 Larry Caldwell is the associate with the most seniority. Other than working in the cotton fields while a student at Missco High School, Larry's entire working career and a significant portion of his life has been spent at American Greetings. Fifty-one years to be exact. He started on the docks in receiving, moving goods from the boxcars that brought in inventory. "Receiving was the hardest job," Larry said. During his tenure, Larry's worked every shift in various departments. Now he works 1st shift in the engraving department. "People make my job easy. And computers and technology make me feel guilty for even drawing a paycheck." Larry added with a chuckle.
If you've received an American Greetings card within the past few years, odds are good that Larry touched it. And after having met him, I think that makes it even more special.
The company's major greeting card brands are American Greetings, Carlton Cards, Gibson, Recycled Paper Greetings, and Papyrus. Look for these brands the next time you buy a card and remember there's a great chance it was manufactured and/or shipped from Osceola, Arkansas.