Driving around the downtown square of any small town, I seek out original architecture. Old historic buildings are my favorite. These buildings, designed and constructed by town visionaries at the turn of the last century, mark the original soul of a town. One such building in Osceola (Mississippi County) is the Patterson Building.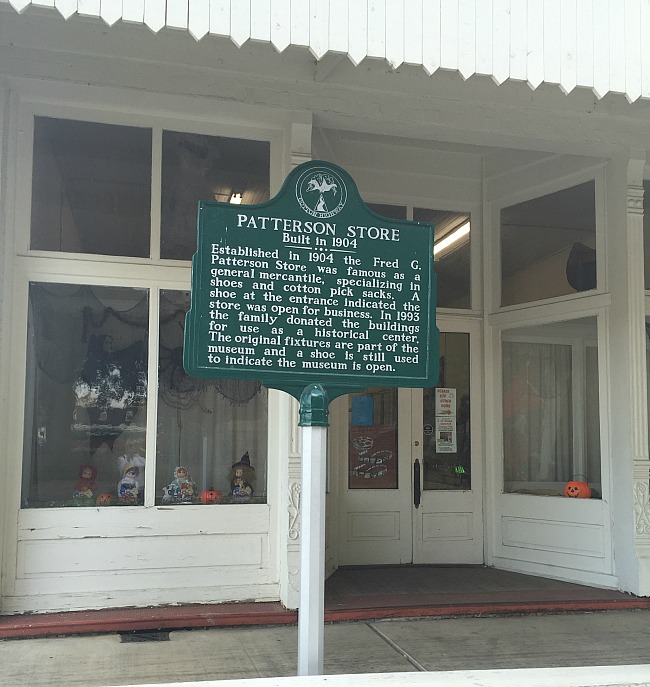 Old buildings make me nostalgic.
I grew up on a farm only a few miles from Osceola, and going to town on Saturday was big. There were certain things a kid could count on in town, like waiting for the Saturday morning train to pass and counting the boxcars in the process. I didn't realize it at the time, but Osceola was located on the main line of the St. Louis and San Francisco Railroad (now part of Burlington Northern-Santa Fe). That train we watched was important to early Osceola commerce.
Another Osceola constant involved the old men who sat side-by-side on the plank bench outside Patterson's Dry Goods Store. They spent all day there, chewing tobacco and generally doing nothing so far as I could tell. They were fixtures, as old as the building itself. I found comfort in the knowledge that they would always be watching over the shady courthouse grounds and nodding to busy ladies running Saturday morning errands.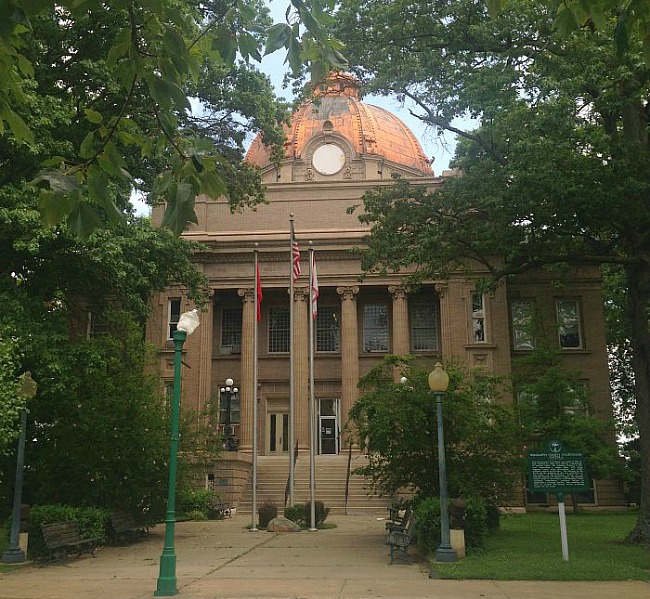 In 1901, Fred Patterson originally paid $250 for the 1902 Building to house his dry goods store. After two successful years in business, he paid an additional $250 for the 1904 Building next door. The new space offered a few feet of additional square footage, which his expanding business needed. People traveled from all over Mississippi County and the bootheel of Missouri to buy cotton sacks, men's work clothes, and ladies' hats and shoes. Every purchase was carefully wrapped in paper and tied with twine.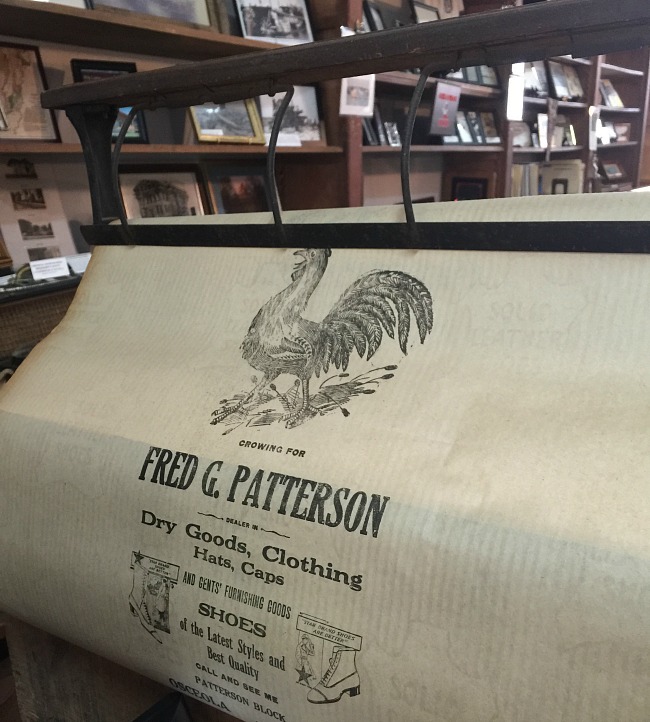 Patterson had a unique way of letting town folk know when he opened for business each morning. Rather than place an "open" sign in the window, he lined shoes on the front stoop—one of every type style shoe sold. He never worried about thieves because who needed only one left shoe?
For over 80 years, the 1904 building served as the Patterson's Dry Goods Store. When Patterson died in 1964, his son, Henry, continued to operate the store without interruption until 1987.
Today, the old men are gone and those benches out front have long been vacant, but like the nearby Mississippi River, the building endures. In 1993, Patterson's daughter, Lonetta, donated the building to the city with the caveat that it must always be used as a historical center and museum.
And so it has been.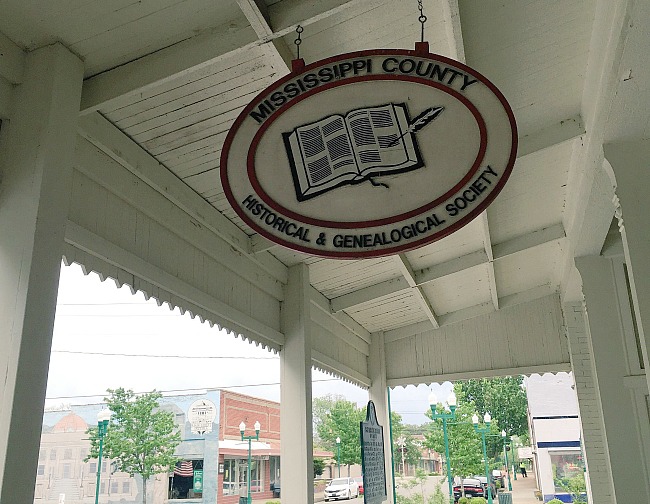 The Mississippi County Historical Society and Genealogical Museum is truly a museum within a museum, a time capsule with original fixtures, stools, flooring and shelving. Nearly every inch is stuffed with the history of Mississippi County, including artifacts, rare photos and collectibles donated by citizens. Many of the original items sold by Patterson are on display as well, such as lace up boots and ladies' hats. After Patterson's death, original store inventory was discovered well preserved inside his barn. As items went out of fashion, Patterson simply moved items to his barn for storage. The original Patterson wrapping paper and twine is on display as well.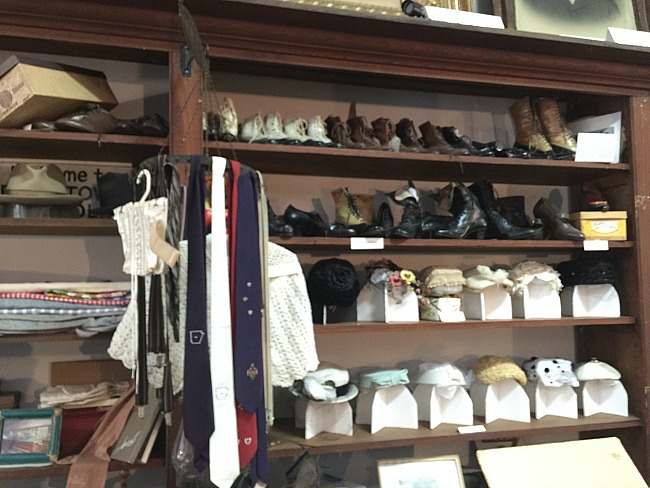 Museum President Glyda Thompson, a natural storyteller, is always enthusiastic to share her knowledge of the area's rich farm history, as well as the role Mississippi County played during the World Wars. When you visit the museum, she'll see to it that you receive a personalized tour and as much attention as your schedule allows. Business artifacts and area school memorabilia are on display. Medical equipment from the town's first doctors and dentists line shelves.
Rare photographs of the Mississippi River, area German POW camps, and construction of the historic Osceola courthouse are available for viewing.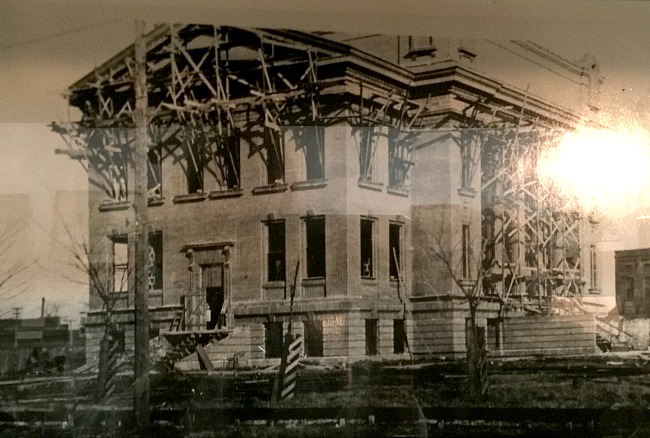 The Patterson Building, located at 209 W. Hale in Osceola, is a must see stop on the Great River Road. Visit not only for the museum contents, but also the building architecture and history. Admission is free, yet donations are much appreciated. The museum is open five days a week whenever you see the old shoe out front, the charming Patterson tradition that continues to this day.