I and two of my college roommates—Tiffany, who lives in Washington, D.C., and Megan, who lives in central Arkansas—decided to attend Fayetteville Roots together last year as a way to get to spend time together, enjoying live music and good food. We reserved 4 Day VIP tickets as soon as they were available (which gave us nearly front row seats at the Main Stage). It was the first time any of us had visited Fayetteville. Certain experiences stand out; most are specifically related to Fayetteville Roots, but some are general Fayetteville experiences.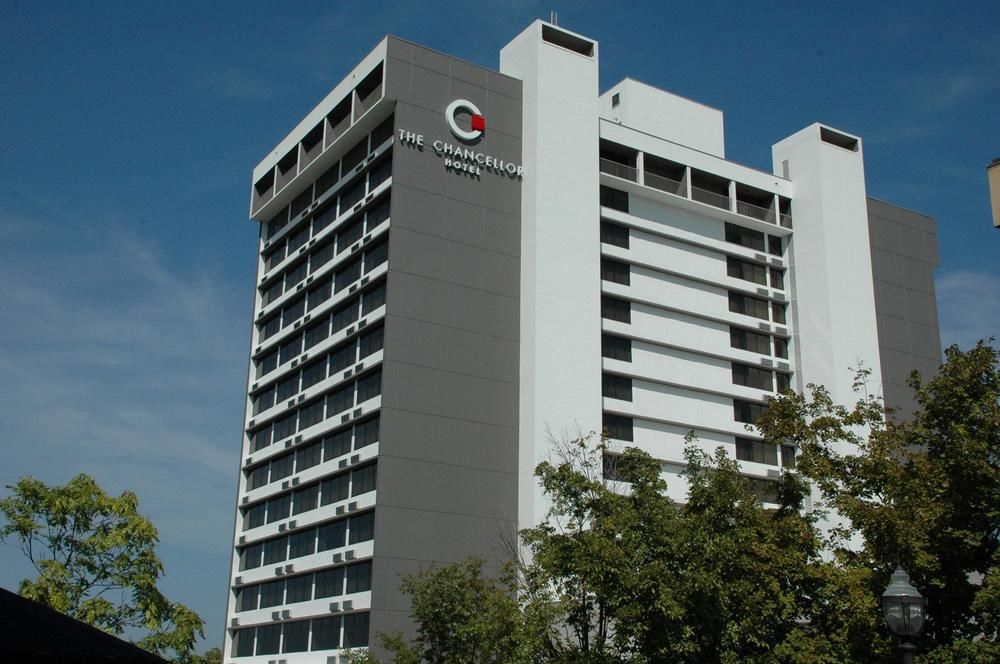 The Chancellor Hotel
The Chancellor Hotel in downtown Fayetteville is at the heart of Fayetteville Roots goings-on. The hotel houses the musicians, jam sessions occur nightly in the lobby and special rates are offered for those booking rooms in conjunction with Fayetteville Roots tickets. The rooms were comfortable, the staff was helpful from "what's the wi-fi password?" to "where should we eat?" and the hotel was a convenient walking distance from all the festival venues. Not only that, but in staying at the Chancellor Hotel throughout the weekend we would encounter Chris Thile and Sara Watkins, see J.D. McPherson and Pokey LaFarge and share an elevator with Fiona Apple.
Garner Farm
Hershey and Denise Garner began supporting Fayetteville Roots early on. Now, each festival begins with music, food and drink at a Friends of the Festival party as they provide their lovely land, including an attractive pool and pavilion area. The solar powered Garner Farm stage (constructed with Richter Solar Energy) had folding chairs arranged before it with lights strung overhead. Last year the event was highlighted as a shooting star streaked overhead during John Fullbright's performance.
The Main Stage
Located in the Fayetteville Town Center, the Main Stage is the primary location to see shows. During the early shows, plenty of seats, including the front row, remained woefully unclaimed, while seats were generally unavailable for the headliner acts. A dozen photographers roamed the space around the stage sniping pictures, and fans were permitted to come to the foot of the stage and stand, dance or sit for closer viewing. We were allowed to have food and drink at our seats, and tables were located at the rear. Cards were provided to reserve seats at the Main Stage, but I witnessed several cases of people moving others' cards aside. The venue was air-conditioned (I was cold, but I'm sure the performers appreciated it) and comfortable seats were provided, which is vastly different from many other music festivals.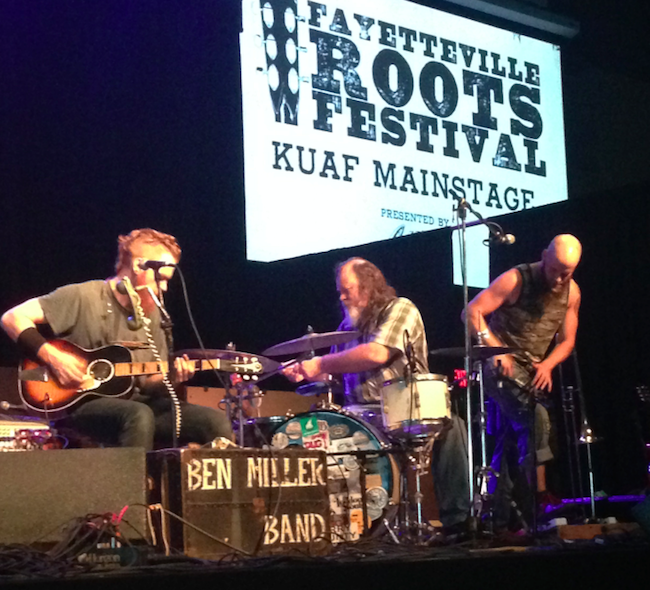 George's Majestic
When the show at the Fayetteville Town Center main stage shuts down, it picks back up at late night venues including Maxine's Taproom, King Fish Dive Bar and George's Majestic Lounge. Last year I attended several shows on two different nights at George's Majestic and I was smitten with the historic club (first opened in 1927 as a bar, restaurant and store, and the oldest live music venue in Arkansas) on Dickson Street. Fayetteville Roots already offers an intimate music experience for festival-goers, but in a club like George's Majestic we could be (and were) just a few feet away from performers who know how to rock—and everyone was dancing.
Dickson Street Food Trucks
Leaving George's Majestic late at night (or, to be more precise, early in the morning as it was 2:30 am) and walking back to the Chancellor Hotel, we came to a courtyard where several food trucks were open, catering to university students. We got food from one called the Fricken Chicken (next to the Blazin Asian) and appreciated the kindness and humor of the woman serving us, even as she dealt with a belligerent drunk student.
Smokey & the Mirror
It's impossible to talk about Fayetteville Roots without talking about Smokey & the Mirror. Formed by Bernice and Bryan Hembree, two of the founders of Fayetteville Roots (along with Jerrmy Gawthrop), they bring a soulful folk sound to the stage and are a pleasure to hear, to say nothing of the skillful way they manage and arrange the festival. I must add also that Bryan is accessible—I had booked my ticket separately from Tiffany and Megan, so we were concerned we might not have seats together. Bryan was kind enough to personally sort it out for us.
Festival Food & Drink
At the Garner Farm the meals (smoked meats and jerks, potato salad), drinks (including small batch craft beer and specialty mixed cocktails) and snacks (such as fried pies and ice cream) were provided by many excellent local businesses. During the days of the festival, some of these companies, including Ozark Beer Co., Pink House Alchemy Craft Cocktails, Onyx and Bordinos Restaurant and Wine Bar continued to provide refreshment in the evenings. The best meal I had during the festival was a plate of barbeque pulled pork with spicy peach sauce and tangy Arkansas apple slaw—but I almost couldn't eat because I was enjoying The Steel Wheels' performance so much.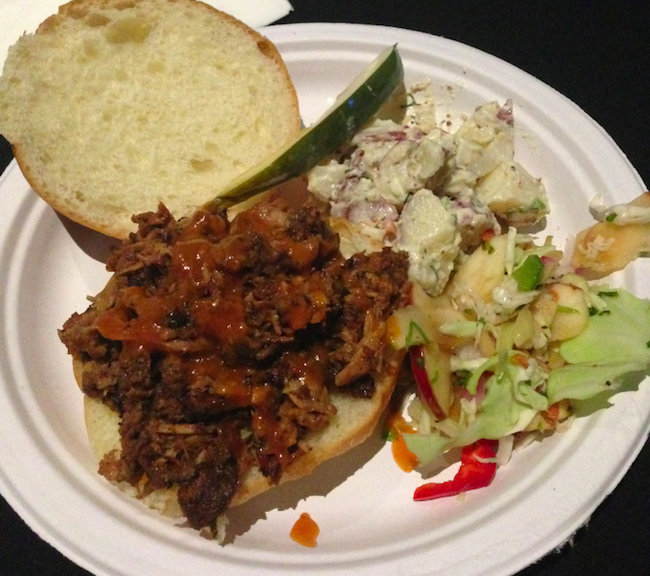 Pure Joy Ice Cream
The heat at the summertime festival was mitigated by the presence of ice cream—an all-natural ice cream made from local ingredients at that. Based in Siloam Springs, Matt and Meghan Feyerabend painstakingly handcraft their ice cream but donate the profits to good causes (currently, the profits from Pure Joy support Weight of Glory Orphan Care). Unique and tantalizing flavors include Sweet Brown Vanilla, Happy Goat and Ginger Peach Sorbet, among others, and the Feyerabends were delighted to provide sample spoons.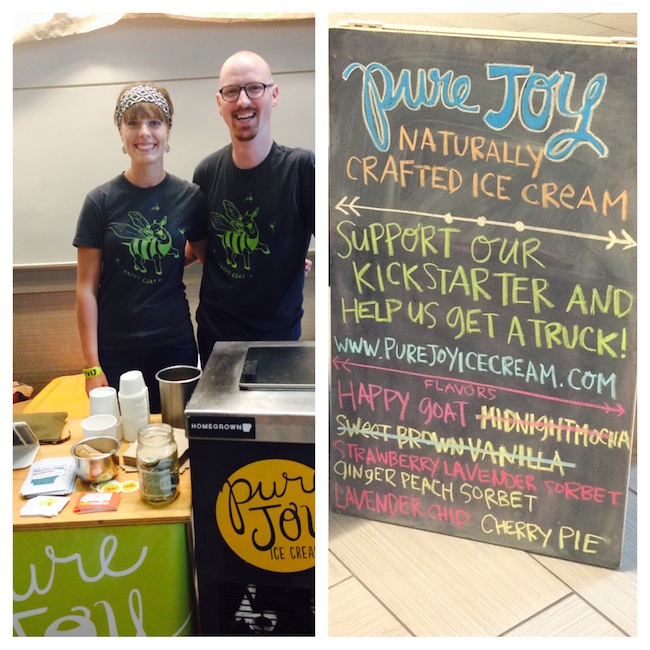 Fayetteville Farmers Market
The Fayetteville Farmers Market is like no other Farmers Market in Arkansas. I was astounded by the size and quality of it. Stalls and tables occupied the entire square–which was beautiful and lush with diversified planted flowers–and spread onto side streets. The market provided fresh produce, meat and eggs, but also fresh cut flower, pottery, clothing and baked goods. Last year, Fayetteville Roots held a cook-off in collaboration with the Farmers Market in which contestants had half an hour to make a meal using items purchased at the Farmers Market.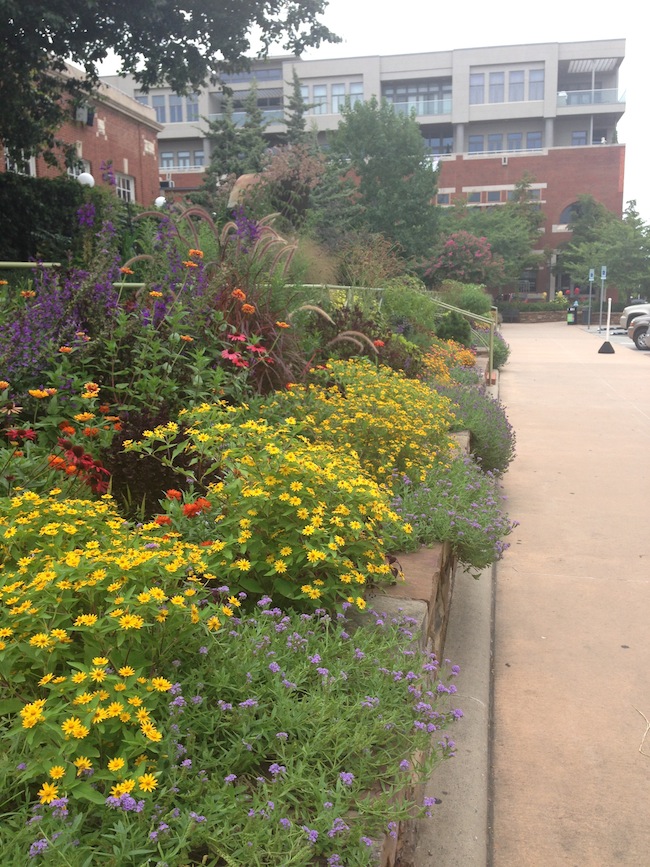 Henna by Hannah
Hannah Ray is a Fayetteville artist who began offering henna tattoos during Farmers Market Saturdays outside The Anchor. We found her set up with a blanket, short table, cushions and design cards that Saturday as we sought breakfast. Hannah has spent a deal of time in India on multiple occasions, which is where she discovered her affinity for henna.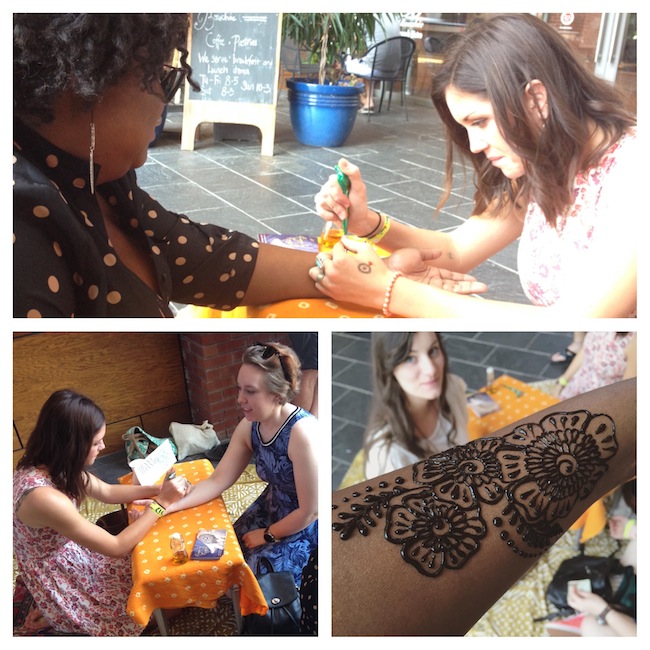 Shops On/Near the Square
While walking around the square we checked out many of the local shops. The Mustache is a store with an array of novelty items, including scarves, mugs, shaving kits and clothing (they carry many Arkansas shirts). Its sister store is The Anchor, which carries household items like dishware, posters, pillows (it sells Gingiber items) soaps and, my favorite, Arkansas shaped cutting boards. We visited quite a few other stores down the side streets, too, including Fox Trot, a beautiful boutique where I found a wrap to keep me warm inside the chilly town center.
Food On/Near the Square
One day we ate a meal down in Hugo's, a lower level burger restaurant that Megan's husband had insisted we visit. My meal was a satisfying Reuben sandwich. We made recurrent visits around the corner to Jammin Java (we even got a frequent sipper card). Sunday we had an excellent brunch at Bordinos (I had a Monte Cristo sandwich) but my favorite meal was cheese pizza at Damgoode Pies.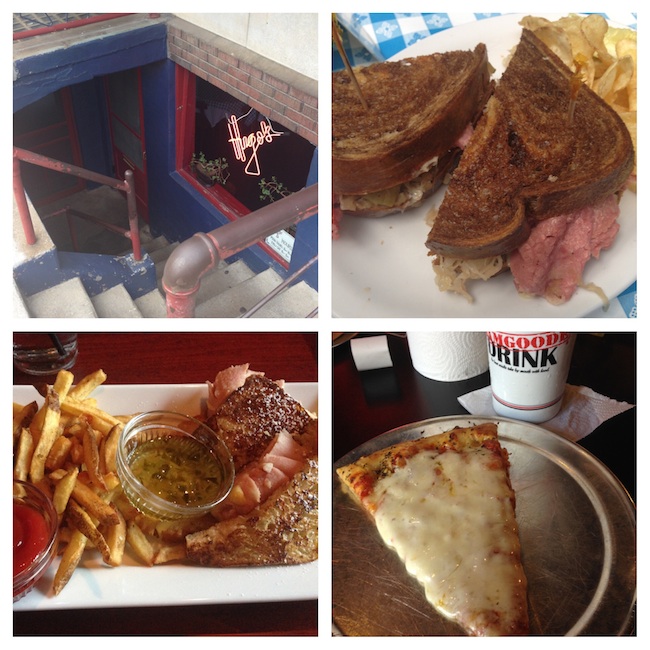 The Razorback Nation Slips 'n Slides
Sunday morning we discovered that Dickson Street had been transformed into a slip 'n slide 1,000 feet long. Megan insisted on trying it. It was Slide the City—an attraction that visits towns to provide a day of water fun. Inner tubes whizzed down the street faster than I could imagine, while those with large goofy floats (swans, slices of pizza) sometimes had trouble sliding. After riding to the bottom of the street we had to slog back up the slope of Dickson Street. The lines were long, but most people seemed to enjoy the anticipation. A woman roaming the ranks alerted everyone that she was about to "call the hogs." I had heard of the Razorback cheer and had seen it inscribed on clothing, signs and cars, but hearing it for the first time in person, suddenly emanating from the hundreds of people around me, was bone chilling the way I've always heard the Rebel Cry described.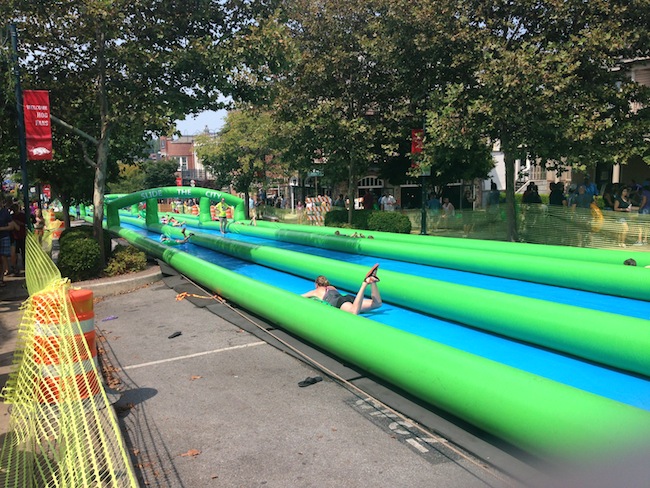 The Value of Fayetteville Roots
What many people acknowledged about the festival is that it afforded the opportunity to see some incredible musicians at a significantly lower price, and with greater intimacy, than at most other venues. For instance, Tiffany had seen the Punch Brothers in concert just a few months prior to the festival and reflected that the expense of that ticket had exceeded the price of a 4 Day VIP pass to see the Punch Brothers, among others, from much closer seats. We also loved running into the musicians, and a photo Tiffany posted on Instagram was regrammed by Sara Watkins.
My friends and I were delighted with the hospitality of the city and our experience at Fayetteville Roots. We vowed to repeat our reunion in a similar manner every year. The 7th annual festival occurs soon, August 25-28. Check out your options to attend and enjoy the festival.