My grandfather used to make miniature ships. I remember him sitting at the breakfast table in my grandparents' 1960s era kitchen, carefully crafting tiny bits of wood, paper, and paint into WWII-era naval ships. My grandfather served in the Navy during WWII, sailing in the South Pacific on a ship named the U.S.S. Swearer. It was on that ship that he survived typhoons and took part in Iwo Jima and Okinawa.
The history of the United States Navy is an integral part of our country, and many Arkansans have served aboard these ships. Navy ships have also carried the names of Arkansas locations into battle and throughout the world. Today we'll remember a few of these Arkansas namesake naval ships, although this is by no means a comprehensive list.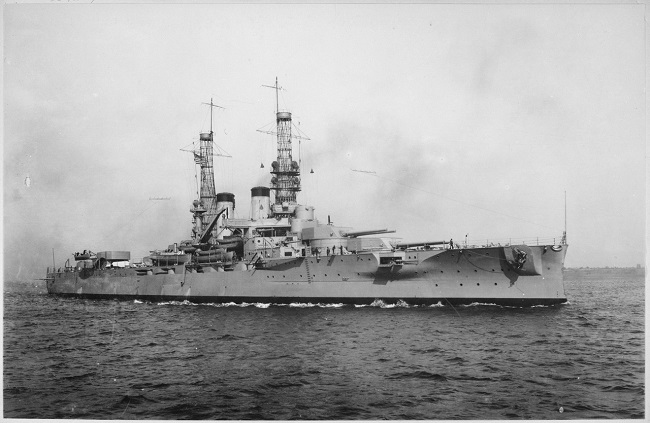 USS Arkansas (BB-33)
Constructed by the New York Shipbuilding Corporation and launched in 1911, she was part of a "fleet review" and toured by President William Howard Taft in 1912. She later served in both of the great wars. During WWI she helped with training activities, in addition to sailing with the British Grand Fleet. And while she didn't see action in the first world war, she was heavily involved in some of the most pivotal battles of WWII. She was part of the naval support during the invasion at Normandy, and later in the invasion of southern France. Afterward, she sailed into the South Pacific where she took part in naval efforts during Iwo Jima and Okinawa. After the war, she was part of the nuclear tests at Bikini Atoll, where she was subsequently sunk by underwater nuclear testing. She now rests at the bottom of a lagoon.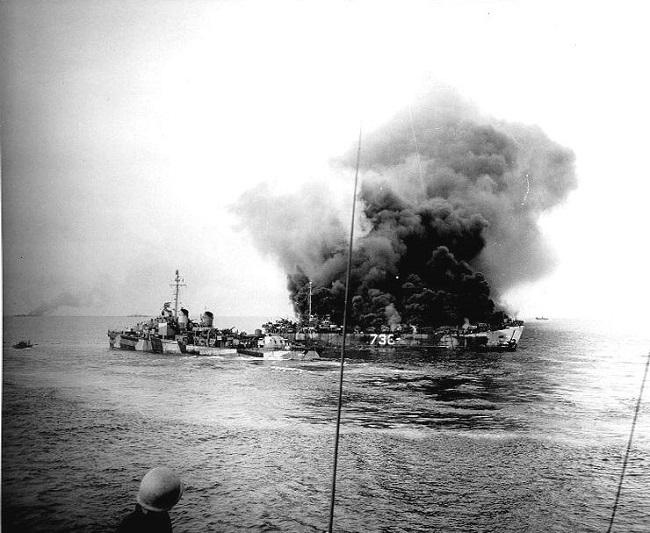 USS Moale
Named after Little Rock's Lieutenant Edward Moale, Jr, this ship's name honors an Arkansas hero who fought in the Spanish-American War. After being commissioned, the USS Moale sailed to the South Pacific as part of a Destroyer Squadron. In December 1944 she was attacked by the Japanese. Three men died and 25 were wounded. After that, she provided naval support for troops at Mangarin Bay in the Philippines, where she sustained damage during a kamikaze attack. There was one fatality and 13 wounded, but she was still able to pick up 88 survivors from other hit, sunk, and embattled ships. She went on to provide support during Iwo Jima and Okinawa. After the Japanese surrender, she spent time conducting operations off the California coast. In 1953 she went on an around-the-world cruise and later spent time as part of a security patrol off the coast of Korea. She would go on to serve as a recovery ship for NASA's Mercury 7 mission, and in 1962 joined in on the blockade during the Cuban Missile Crisis. The USS Moale was decommissioned in 1973.
USS Ouachita (LST-1071)
The USS Ouachita was named after its Arkansas county namesake. Serving primarily as a cargo and passenger transport ship at the end of WWII, she did not see war-time action. Decommissioned at the end of the war, she became part of the Pacific Reserve Fleet. She later carried out exercises off the Atlantic coast and delivered army supplies to Newfoundland. In 1952 she sustained damage off the coast of Labrador from ice due to a "wrong turn" by the Officer on Deck. She was decommissioned in 1956 and struck from the naval register in 1959. It is believed that she, like so many other WWII ships, was scrapped or converted into a barge.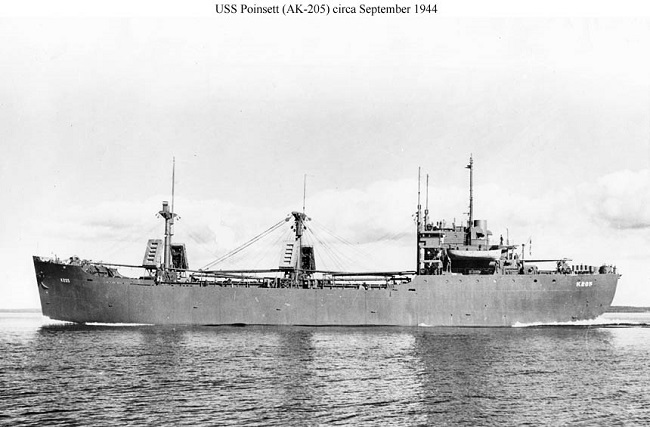 USS Poinsett (AK-205)
Named after Poinsett county, this Alamosa-class cargo ship's history is short but interesting. After shakedown in Galveston, Texas (shakedown is a naval term describing a ship's initial tests after construction), she participated in the invasion of Balikpapan and received a battle star for her role in Borneo. Afterward she sailed to various locations issuing ammunition and fleet clothing. After the war's end, she sailed to the Panama Canal and then Virginia for decommission. Her name was struck from the naval register in 1946, and then she was sold to Norway, where her name was changed to Carina. Later, Norway sold her to the government of South Korea, where her name was once again changed to Masan. According to records, she was scrapped in the late 1970's.
USS Van Buren (PF-42)
Launched in 1943, she joined her sister ship, Ogden, and escorted a merchant tanker to New Guinea. She became part of a task force of aircraft carriers, battleships, cruisers, and destroyers aimed at attacking Japanese defenses in the area. The USS Van Buren escorted numerous convoys during this operation. On June 9th she fired her guns at Japanese troops in the vicinity of Papua, New Guinea. Days later she provided gunfire support near Maffin Village. The Van Buren continued to provide escort to ships in the Philippines until going back to Pearl Harbor in 1945 to serve as a training ship and a later as a weather ship. She received three battle stars for her service. After being decommissioned in 1946, she was sold to a drydock company for scrap.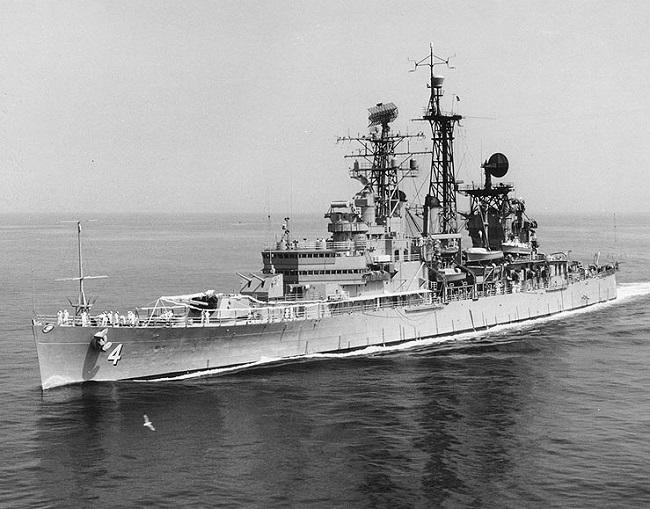 USS Little Rock (CL-92)
Constructed too late to see action during WWII, she was launched in 1944 and retired to the Atlantic Reserve Fleet in 1949. During the 1950's she was rebuilt and converted to a Galveston-class guided missile cruiser. Her career would span the globe. She sailed with the 6th fleet and NATO units and went on peacekeeping missions to Italy, the Mediterranean, and the Middle East. In 1975 she was part of ceremonies for the Suez Canal. In 1976 a casualty occurred in her boiler room, and upon inspection, the need for extensive overhauls and repairs were discovered, and the ship was decommissioned that year. The USS Little Rock is now a museum ship located in Buffalo, NY.
For those interested in seeing Arkansas namesake naval history first hand, the Arkansas Inland Maritime Museum has numerous exhibits for naval history lovers. The tugboat Hoga (recognized for her role in the Pearl Harbor attack), and the USS Razorback submarine are both fascinating tours. And while my grandfather passed away long before I was old enough to be curious about his naval service, I'm lucky that my parents asked the important questions. We have information to pass down to future generations about his experiences. Visiting museums and reading historical facts are important. But we should also ask our elderly veterans questions about their military service so that later we aren't left with story-less miniature ships and unexplained war medals. These ship names are an important and fascinating part of Arkansas history, but the memories of the men who bravely served on them are irreplaceable.