On Sept. 21-24, Fayetteville gets a little louder and a lot more fun. Motorcycle riders from across the country will come to Northwest Arkansas for the largest motorcycle rally in the country benefiting local charities. Last year, over 400,000 people from all 50 states came in for the rally. Whether you're a rider or not, there are countless fun things to do. And if it's enough to draw in people from across the country, you should definitely come to Fayetteville and visit Bikes, Blues and BBQ. There are four full days of events scheduled, but here are 14 things you can do while you're in town.
Get a beard and mustache trim at Flo's Chop Shop. During the rally, the Progressive Insurance booth will pamper you with trims for the men, manicures for the ladies, or boot shines for everyone.
Catch a concert. With two stages going pretty much all night during the rally, you can catch a concert any time. Of course, you'll hear some of the namesake Blues music, along with rock, country, and one of the best 80s tribute hair bands you've ever seen! Don't miss Arkansas native Barret Baber Saturday night.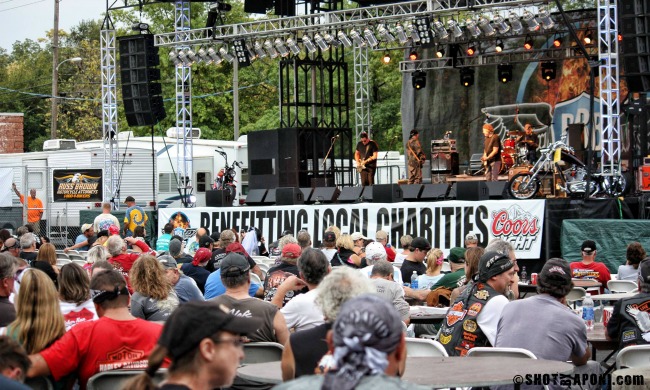 Try to eat as many jalapenos as you can! Whataburger is sponsoring a jalapeno eating contest on Dickson Street at the beer garden. This is the inaugural event, so you can attempt to set the bar for future competitions. This event will take place at 2:00 Friday, Sept. 23.
Take in (or ride in) the Parade of Power. If you're riding a bike, you can join in the fun, or you can watch as bikers make their way from the Washington County Fairgrounds down Dickson Street. The parade starts at 4:00 Saturday, Sept. 24.
Eat BBQ. Even though BBQ comes last in the name of this rally, it's far from an afterthought! There's a BBQ tasting of some of the best grill masters in the country. For just $8 in advance or $10 at the gate, you can taste what the chefs are cooking. The tasting will be Friday night at the Washington County Fairgrounds.
Belt out a karaoke tune. The Bikes, Blues, and BBQ Karaoke contest is the perfect place to try your best Journey impersonation. "Don't Stop Believin'" is a classic!
People watch! As people travel here from all over the U.S., you can meet folks with plenty of unique motorcycles and stories. Even if you just grab a balcony seat at Hog Haus and watch the action, it will be great.
Take a motorcycle ride. If you bring your bike, hit one of the nearby scenic routes. Down Highway 71 or the Pig Trail are popular options. If you don't have a bike, there are demo rides available at Baum Stadium.

Eat pancakes for a cause. On Saturday, you can get all you can eat breakfast benefiting LifeSource. Come hungry! They will have eggs, ham, biscuits and gravy, fruit, coffee and more waiting on you!
Check out vintage cars and bikes. There is both a car show (for those who prefer four wheels) and a vintage bike show where you can see everything from classics to modern bikes and cars.
Drink a brew. The beer garden on Dickson Street will be open throughout the rally for anyone looking for a beverage to quench their thirst.
Take a shuttle ride. OK, this one is more out of convenience and necessity than fun. But it's important to know that as you go from event to event, there are shuttles available to take you from George's on Dickson Street to Baum Stadium every half-hour.
Cheer on the lawn mowers. You read that right. There will be lawn mower pulls at the Washington County Fairgrounds Campground Friday and Saturday evenings at 7 p.m. If you're coming from out of town, you can take in this notably Southern event.
Shop! Vendors will be selling everything from T-Shirts to riding gear and more. You'll find booths at all of the rally areas – Dickson Street, Baum Stadium, Arvest Ball Park and the Washington County Fairgrounds.
No matter what you do at Bikes, Blues and BBQ, it's important to remember what it's all for: charity. Since 2000, this event has raised over $1,300,000 for local nonprofits including the Area Agency on Aging, Boys & Girls club, Single Parent Scholarship Fund, 4-H, Youth Bridge and many more. As you enjoy all of the events, you can take pride in helping the Northwest Arkansas community.
Learn more about Bikes, Blues and BBQ online and make plans to be here for this amazing event.
All photos courtesy of Bikes, Blues and BBQ photographer Aponi Studios.