A different side of Crystal Bridges Museum of American Art emerges as the museum closes and the monthly yoga class, Yoga + Art, commences. Held in the elegant Great Hall, under arched ceilings and with floor-to-ceiling windows overlooking the Crystal Bridges pond, the practice of yoga is aided by the tranquility of the surroundings and the awareness that one is among art. During the winter, the early nightfall causes the illuminated Crystal Bridges campus to appear as though outlined. Empty of visitors, the museum has a pensive mood and feels grander than usual.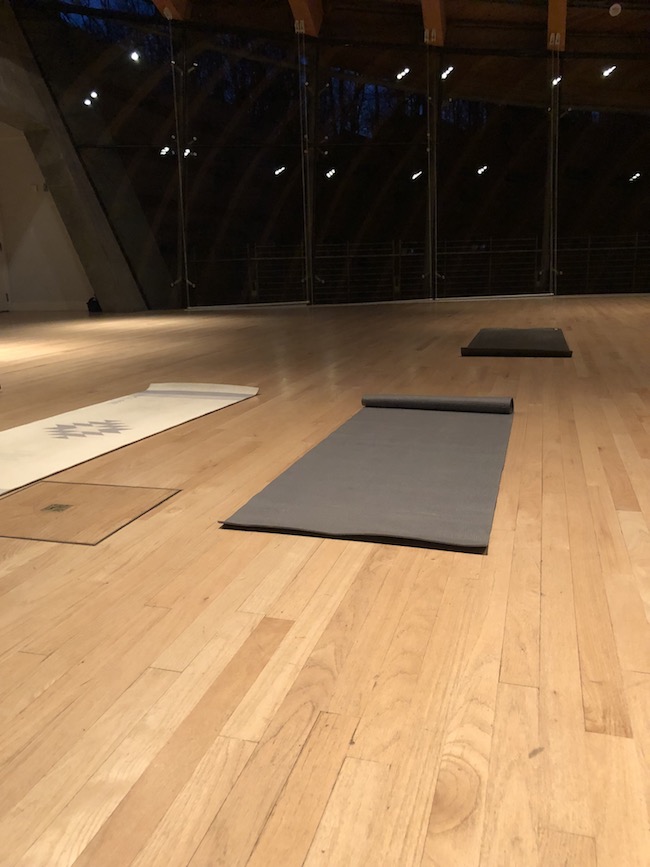 Bentonville's Yoga Story has been directing the course at Crystal Bridges for about three years. In Yoga + Art, the artistry is the yogic poses and the art, explains Yoga Story owner and instructor Lynn Hancock, is the participants themselves. "We are the art. Our bodies are the masterpieces. Our breath, the brush strokes. Each time we come to the mat, it's a different creation. Some practices we want to frame and some, we burn." It's hard to imagine Hancock leading a yoga class worthy of burning, though; she moves the class through poses with enlightenment as to their purpose, explanation as to where the stretching should be felt and suggestion for making the poses more comfortable or challenging.
Beginners and advanced practitioners alike attend. Yoga + Art is for everyone, with nearly 50 individuals attending the first class of 2018 in January. Some attend regularly, while many visit for one class to get a taste or enjoy it as another benefit of Crystal Bridges. Quite a few men occupy the ranks, and the ages of yogis start in the teens and extends beyond retirement age—Hancock even related a story to me of several older women in their 80s spontaneously deciding to extend their museum visit by taking in a yoga class.
At times of good weather and extended daylight, classes are held on the grounds. In April, the class anticipates the inclusion of Tibetan singing bowls to sharpen focus. The next opportunities for Yoga + Art at Crystal Bridges are February 5, March 5 and April 2 at 6 pm. The session is $5 a person or free with a Crystal Bridges membership. Dress in activewear, bring your mat and plan to arrive early to unwind in the relaxing environment before engaging in guided yoga.