Retired after 12 years of service in the Navy, El Dorado native Joel Dollar was looking for something to do. In 2014, he began barbering, opening The Quarterdeck in Mountain Home in 2015 and growing a business based around the concept of a classic barber shop experience, including hot towel treatments and lather made in-house for straight razor shaves. His customers, of whom he has at least 350 loyal regulars, know him as Sailor J. This past March Joel began making cuts by appointment, using Booksy, to better respect the time of his customers and in August The Quarterdeck relocated to a larger space with room to continue to expand and accommodate more staff and customers.

Both the social aspect and the tonsorial art of barbering appealed to Joel when he began: "It has a tradition to it, and I like to meet people." The traditional aspects of a classic barber shop are apparent everywhere in The Quarterdeck, from the red and blue spiraling post to framed old fashioned advertisements for haircuts and products. Added to the mix is a maritime motif, with anchors and ship wheels, an antique map, a cabinet painted with an octopus and plenty of Joel's own U.S. Navy memorabilia. The shop's counters and vanities were handmade by Joel and his family, including wife Anna, also a veteran of the Navy.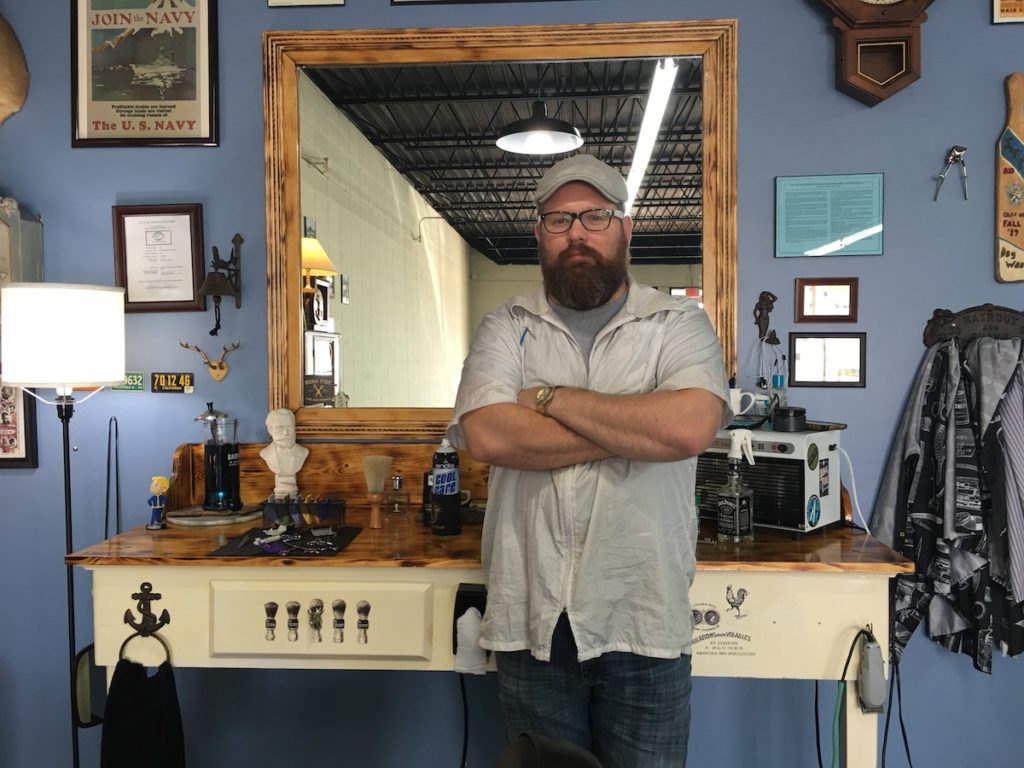 As a family-owned business, The Quarterdeck is invested in its community and seeks to offer more than just a haircut—it offers an experience that is personalized and special. Styles ranging from classic cuts and pomade-encouraged swoops to fades, etchings, hard parts, flat tops and spiking vikings emerge from shapeless hair, transforming the person in a process that is mesmerizing both for the viewer and the barber: Joel enjoys the creativity of his job, explaining, "every person has a good haircut—it's my job to bring it out." He takes professional delight in his work and is proud to provide quality cuts that instill their bearers with confidence.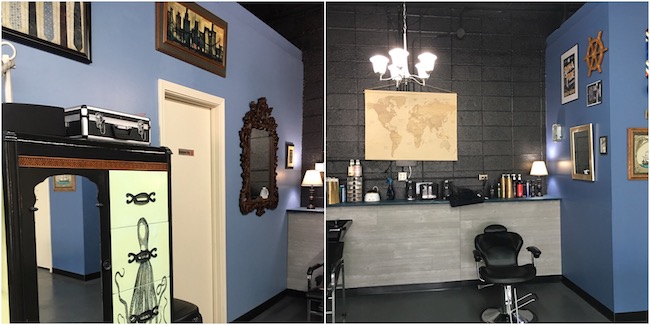 Providing confidence is one reason why The Quarterdeck began offering a day of free back-to-school cuts in 2016. "Kids want to look and feel good going back to school," Joel shares, a sentiment he understands as a father. He also understands the stress back-to-school expenses can put on a parent. Offering free haircuts is his way of giving back to the community. In 2016, it was just Joel and his clipper set, ultimately donating 12 hours of his time to provide cuts to dozens of boys. This year, he was joined by a second barber and delivered tidy cuts for 50 boys.
Back-to-school isn't the only time you'll find Joel donating his services; the retired sailor provides free cuts on Christmas Eve as well. Check out The Quarterdeck in Mountain Home for classic barber shop tradition and a tradition of giving