From where I sat in a coffee shop I could see Jesus. He stood brightly, a head and shoulders above the trees on a tall hilltop, regarding the city of Eureka Springs. I had just driven to see him twice that day—in the afternoon on my way to the 50th Annual Silver Tea at the Crescent Hotel, and then in the evening as the sun was setting. I had seen him, the Christ of the Ozarks, in cold daylight, romantic twilight and pensive nighttime, with recordings of Christmas hymns echoing around the courtyard. The tiniest sliver of a crescent moon hung under his left arm as I stood close to his back, and a star twinkled near his hand. His arms stretched wide for embrace I thought, until I walked around and saw the expression in his hooded eyes—arms stretched wide in surrender, as to the cross.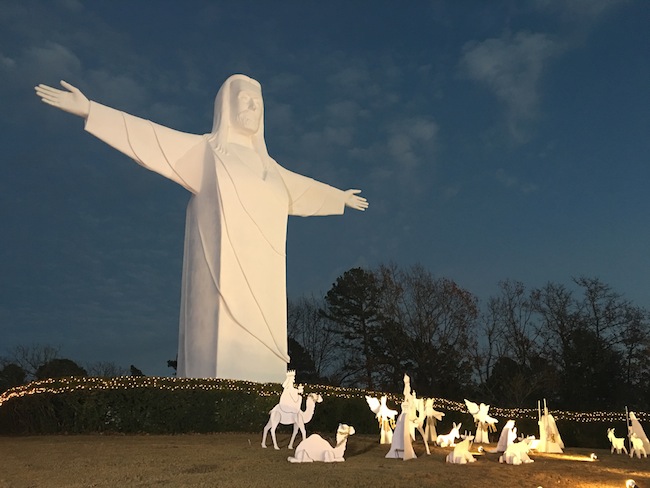 This year marks the 50th Anniversary of the seven-story Christ of the Ozarks statue, which was erected in 1966. It was commissioned by Gerald L. K. Smith and created on-site by Mount Rushmore sculptor Emmet Sullivan in a park run by the nonprofit organization the Great Passion Play. The chief attraction of the park is a play that tells the story of Christ's crucifixion and resurrection in an outdoor amphitheater, employing 150 actors with performances running from May through October. The Great Passion Play has operated since 1968 but closed in 2012 due to bankruptcy, opening again a year later under new ownership.
In addition to the play and statue, the park boasts a tour of the replicated Holy Land, gift shop, section of the Berlin Wall, museums, walking trails and other attractions of a religious nature. During the holidays while the Great Passion Play is in the off-season, the park remains a worthwhile attraction for the drive-through Christmas light display (admission by donation) and the seasonal addition of miniature manger scenes from around the world, with tours to the Holy Land provided with an advance reservation.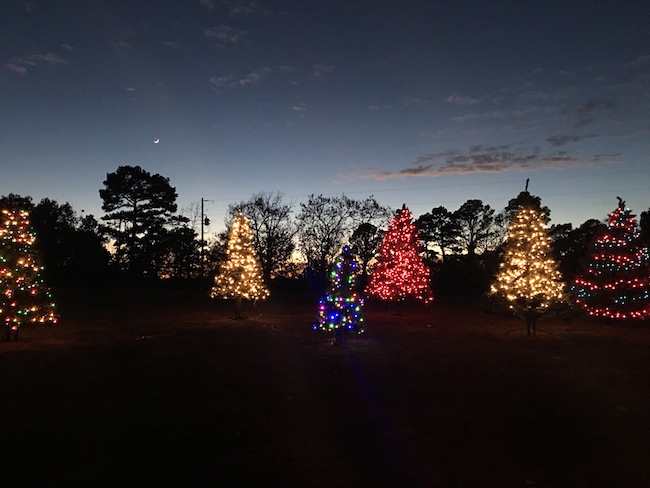 If you'd like to help keep an attraction like this available for the area, make a donation either during a visit or via the website. A $10 tax-deductible donation can sponsor the lighting of the Christ of the Ozarks for one night, with the name of sponsor mentioned on the website and Facebook page; making a donation in a friend or family member's name would be an affordable and special Christmas gift, and driving through a Christmas tree forest to visit the Christ of the Ozarks is an enjoyable holiday pursuit for the family.