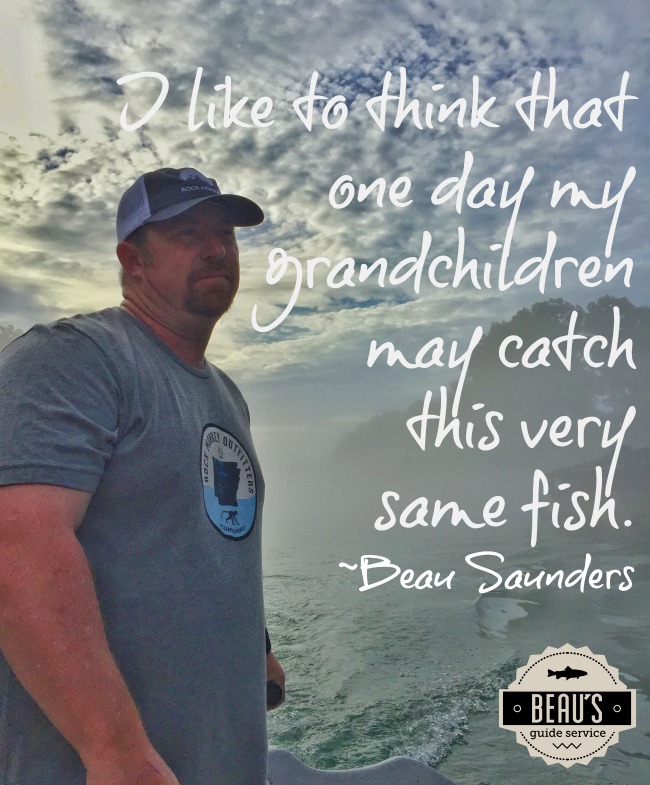 Recreation, conservation, and preservation are driving Beau Saunders to build the business of his dreams as a fishing guide on the Little Red River. My husband and I recently spent a day with Beau of Beau's Guide Service in his "office."
Beau's passion for the water, for fishing, and his dream of passing the gift along to his children and grandchildren is captivating.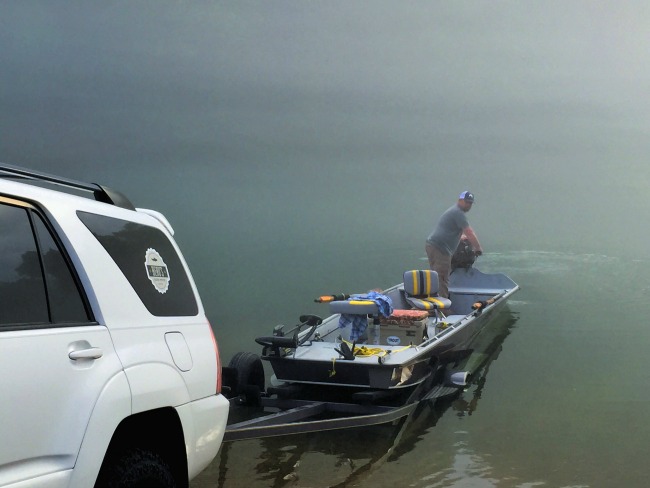 The morning air was cool and crisp but gave us the feeling that it was going to be a scorcher. I was excited but also nervous as we pulled up to meet Beau. It had been years since I had been fishing, and here we were setting out on the water with an expert fisherman. My reservations were diminished the moment we met Beau.
Beau Saunders has been fishing the Little Red for more than 25 years. Beau's Guide Service has been in operation less than a year, but his years of experience on the river make Beau the perfect guide. He greeted us heartily, and I knew immediately that he was there to help make the day both fun and successful.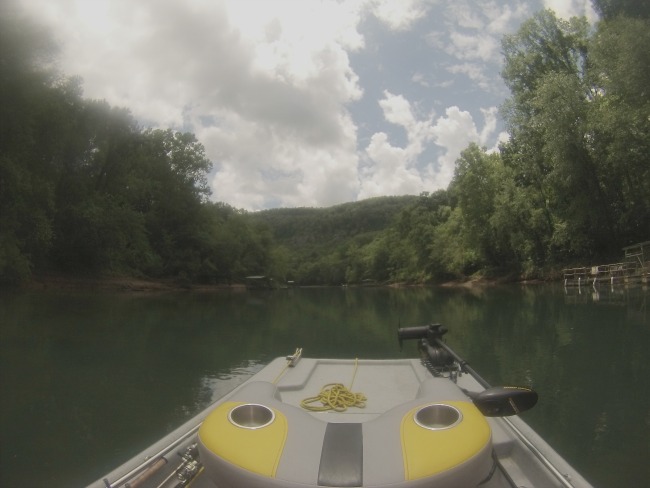 Here is what you can expect during your day with Beau:
Day Before: Beau will call to confirm the weather with you. Beau fishes in all weather, but this day is about you. If you don't want to fish in the rain – then he can be very accommodating, but keep in mind that fishing is often at its best during the rain! Beau will also let you know exactly where you will be meeting to begin your day on the river. The launch point can change depending on the levels of the river.
7:30 a.m. – Beau will meet you at the designated access point. We happened to meet at Lobo Landing near Heber Springs.
7:45 a.m. – After chatting with Beau for a few minutes he will launch the boat, and you will be heading out for your day on the Little Red. Beau took us about 15 minutes up river to his favorite "honey hole." Along the way, we saw a lot of geese, cranes, and even a beautiful button buck with velvety little antlers. Tip: Even if it is hot, you will want a light jacket or sweatshirt in the morning. It is very cool on the river.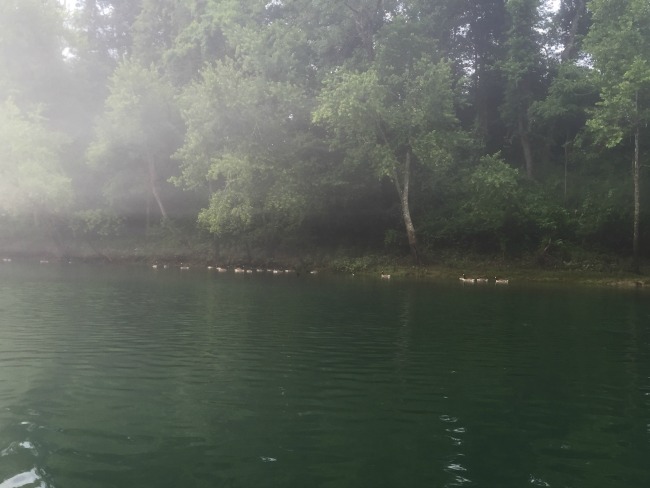 8 a.m. – If need be, Beau will instruct you on the proper fishing technique. Beau is set up to work with all ages and clients of any skill level. Beau is known as a spin fisherman, which means he specializes in artificial bait. He uses a traditional rod and reel with a minnow-style spin bait colored to look like a brown trout. The technique is to cast out, reel back in at a fairly fast pace and land a beautiful fish. Sounds too easy to be true, right?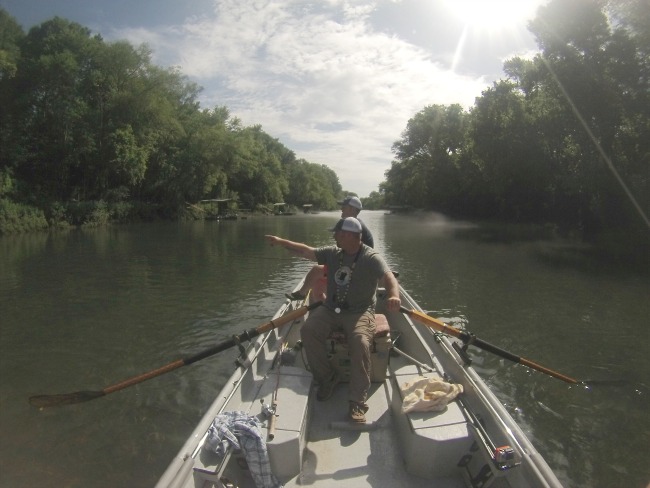 8:15 a.m. – Reel in your first beautiful fish! I told you it was easy! I reeled in my first fish on my fourth or fifth cast – a pretty little rainbow trout. About 5 minutes later my husband got a beautiful brown trout.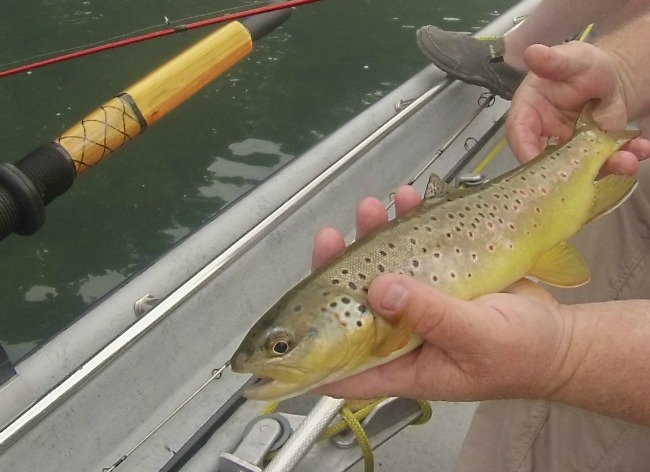 9:30 a.m. – We moved down the river just a little bit to try fishing in some of the more rapid water. The technique as you move through the rapids is to try to get in as many casts as possible. In the rapids, it is cast, click, reel; cast, click reel; cast, click, reel. It is fast paced and fun.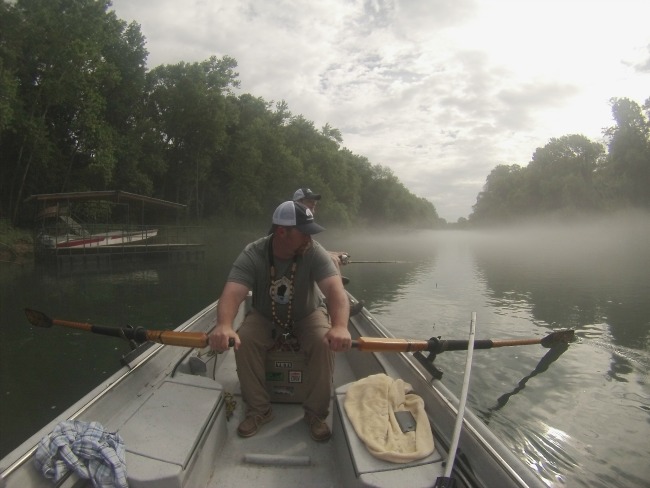 10 a.m. – Snack time! Beau provides snacks and drinks. He had a selection of chips, crackers, Lunchables and several drinks from which to choose. Snacks are included in your trip.
11:30 a.m. – If you are only out for a half day with Beau, this is about the time your trip will be finishing up. If you are spending the whole day with Beau, you will continue fishing, moving around to the spots where Beau knows the fish will be biting. Twenty five years of experience on this river is worth a lot!  Beau also provides lunch for his full day clients.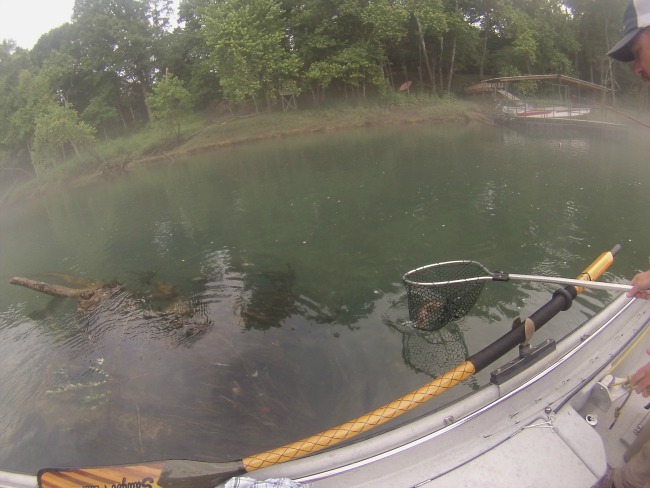 What can you expect during your day on the water?
Beau will be your guide, taking you to the best spots on the Little Red River.
Beau will be your instructor, teaching you the best methods for casting and reeling to ensure that you catch a fish.
Beau will be your housekeeper, cleaning your hook when you snag moss or sticks.
Beau will be your rod and reel caddy, handing you a freshly prepped rod in the event you lose a lure. He wants you to use every second on the water to its fullest.
Beau will be your photographer, snapping shots of you with your latest catch.
Beau will be your cheerleader, praising your biggest catch and encouraging you even when the fish aren't biting.
Tips for a great day of fishing:
Show up 5-10 minutes early. Beau will want you to get a full day of fishing.
Dress in layers. It will likely be quite cool in the morning but once the fog lifts you will get hot and be in the sun.
Bring sunglasses. Beau recommends polarized sunglasses. These will protect your eye but still allow you to see the fish in the water.
Relax and have fun. Some days the fish don't bite well. That is not the fault of Beau and not a reflection of your fishing ability. Some days that's just the way it is. I guess that's why they call it fishing and not catching!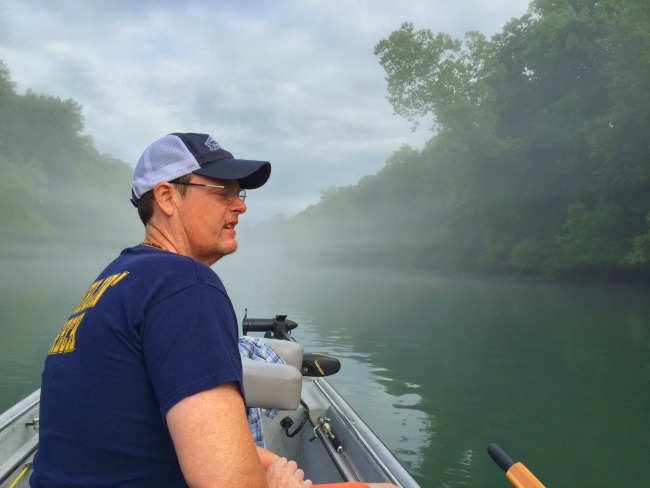 Between my husband and I we caught 10 fish – five browns and five rainbows. (OK, I only caught one, and my husband caught nine. He won't let me forget it!) We also had several that we lost just near the boat. Those brown trout sure put up a good fight!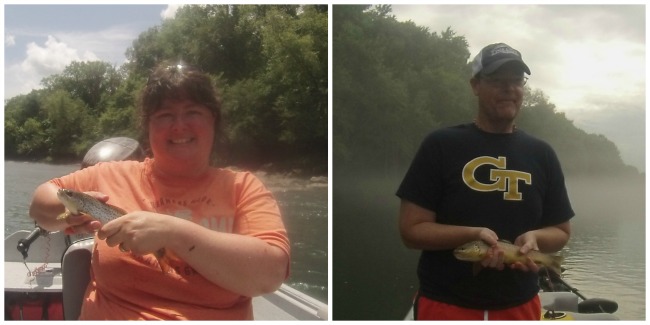 Trout fishing with a guide is the way to go, and Beau's Guide Service is fantastic. Beau has paired with Rock Monkey Outfitters, an up and coming Arkansas outdoor brand, Trophy Anglers Guild, a national trophy fishing club and Measure Net to enhance your experience on the water. Whether you are an experienced angler or new to the water, you will have fun and be successful.
You can find out more about Beau's Guide Service online or on their Facebook page.
Header image courtesy of Mark Fonville Photographic.