The Historic Hillcrest neighborhood started out as a planned development suburb to Little Rock. Now, it finds itself situated in the heart of the capitol city. Hillcrest's 5,000 (give or take) residents are known for their pride in their neighborhood, which has retained much of its charm and feel from when the first homes were built around 1890. When other areas of Little Rock are boasting the addition of more big box stores and franchise restaurants, Hillcrest is a mecca for locally owned, one of a kind shops and eateries.
Shop
Haus Werk is a long-standing Hillcrest shop. Situated at the corner of Kavanaugh and Spruce Street, it features a wide array of eclectic and crafty home décor and furniture. There is also a "room" that features women's and kid's clothing, and another full of décor and gifts for children and babies. Haus Werk is pricey, but it's fun to browse through all the unique items they have there.  You're likely to find something that you can't do without.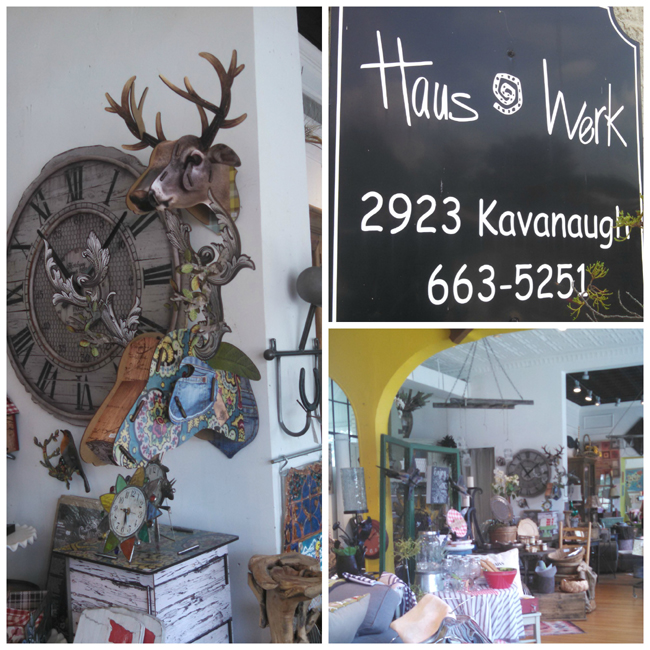 If you're not already hungry, you will be the moment you walk through the doors of HAM – Hillcrest Artisan Meats. This little store smells so good, thanks to the incredible selections you'll find at their meat counter. Their shelves are stocked with locally made jellies and sauces, as well as all the artisan and gourmet ingredients you'll need to bring out your inner foodie. If food prep is not your thing (or you just can't handle the hunger pangs), you can order up a sandwich from their lunch menu and try out all that goodness right there on the spot.  HAM is located at 2807 Kavanaugh Blvd, Suite B.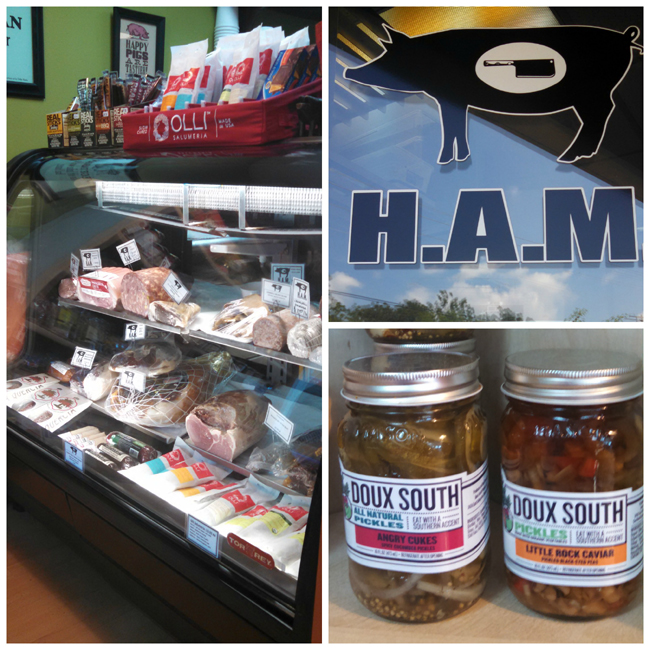 Rhea Drug store at 2801 Kavanaugh always has an interesting array of items on the shelves in their storefront windows, and you'll find more of the same on the inside. There truly is a little bit of everything here: gifts, jewelry, clothing, toys, home décor, and stationary. There's so much to see on each aisle that it's hard to take it all in. Oh, and they're a fully functioning pharmacy as well. You'll find reasonable prices here – enjoy the treasure hunt!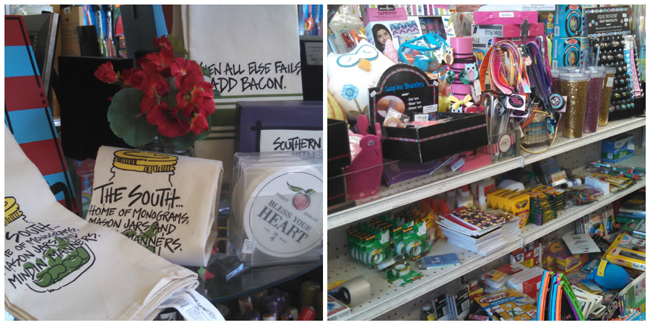 Around the corner at 4523 Woodlawn, you'll find an adorable white house with a gambrel roof. This is the home of the Shops at Woodlawn. They bill themselves as "the ultimate gift shop". The house contains wares from over 16 different vendors who specialize in different things ranging from clothing, furniture, cooking tools, jewelry, art, and more. Their stock is ever-changing, depending on what and when their vendors are buying and selling.
Box Turtle is a Hillcrest favorite. If this is what the inside of a turtle's shell is like, then I want to be a turtle in my next life! At 2616 Kavenaugh, you'll find a two story white house packed full of covet-worthy things. There is jewelry made by local artists and clothing made by local designers, fancy personal care items for both men and women, and art pieces and home décor as well. There are gift items ranging from meaningful to gag. And surprise! The basement is like a whole other store of its own, featuring toys, candy, and gifts for the kiddos.

Hillcrest Junk at 623 Beechwood is a fun little flea market that bills its wares as "Vintage, Used, Retro". Here you'll find clothing, furniture, linens, art, and other items that fall into one of more of those three categories. You'll have to schedule your visit carefully though; they are open Sunday 10 am to 4 pm and Monday and Tuesday from noon to 5 pm.
Other Shopping opportunities in Hillcrest:
The Full Moon – 3625 Kavanaugh
Hocotts Garden Center and Landscaping – 3612 Kavenaugh
Mrs. Polkadot – 611 Beechwood Street
E.Leigh's – 3001 Kavenaugh
Hillcrest Designer Jewelry – 3000 Kavenaugh
Eat
Pantry Crest might be the newest resident in Hillcrest. An off-shoot of The Pantry restaurant located in West Little Rock, Pantry Crest is moving in to the house at 722 N Palm Street (formerly an eatery called The House). They serve food with European influences: the paella and schnitzels are menu favorites. Pantry Crest is dinner only, 4 pm til midnight.
If you're looking for a daytime hangout or lighter lunch fare, stop in to Mylo Coffee Company at 2701 Kavanaugh. Their menu is constantly changing and includes sweet and savory pastries as well as sandwiches, soups, and salads. In addition to all the usual coffee house drinks, you'll also find a selection of beers. Top it all off with hand scooped ice cream from a local creamery.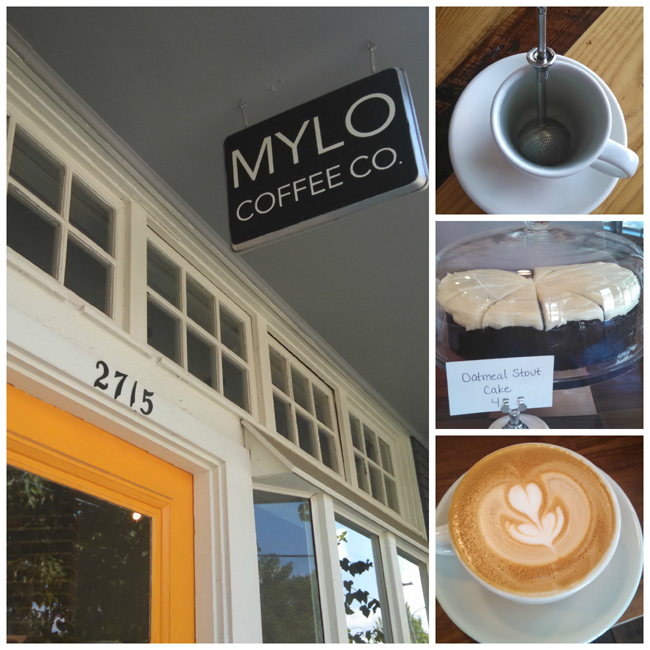 Café Bossa Nova adds to the diversity of food options in Hillcrest with its Brazillian entrees. Chef and owner Rosalia Monroe built the menu with dishes she learned to make in her native country. You'll find an amazing array of unique dishes to try, so plan on more than one visit. Next door is Rosalia's Family Bakery, which offers even more Brazillian treats, plus its own breakfast and lunch menu. In addition to regular breads and sweets, the bakery also offers gluten free, sugar free, and vegan items. Look for the yellow awnings at 2701 Kavanaugh.
kBird, at 611 Beechwood, is one of the few places to get Thai food in Little Rock. Located behind Mrs. Polkadot, kBird is a food truck, owned and operated by the Glasgow family. You'll find curry, pad Thai and fried rice served alongside seasonal specials like mango with coconut sticky rice. You can call ahead to place an order at (501) 352-3549. Menus are posted on Facebook and Twitter each afternoon.
Chao Bachi – 605 Beechwood
US Pizza Company – 2814 Kavanaugh
Kemuri – 2601 Kavanaugh
Events
Hillcrest hosts Harvest Fest every October. The one day event includes activities for kids, street vendors, music and more.
The Hillcrest Farmer's Market happens every Saturday at Pulaski Heights Baptist Church, on the corner of Kavanaugh at Cedar from 7 am to noon.
The First Thursday Shop & Sip is (not surprisingly) held the first Thursday every month. Many of the merchants have sales and specials, and there are often bands playing throughout the neighborhood.
You can spend a morning, a day, or even an entire weekend exploring the Hillcrest neighborhood with all its charm and retail opportunities. You can stay up to date on the newest shops and upcoming events by visiting the Hillcrest Merchants Association website. If you go, bring your big market bag and a good pair of walking shoes!