The Arkansas athletic director knows all too well the Bears' long road ahead.
Arkansas athletic director Jeff Long knows his friend Jim Grobe has a tough row to hoe in Waco, Texas. Grobe recently took over interim head coaching duties in the wake of an investigation into a major scandal ultimately leading to the departures of Baylor University's president, athletic director and head football coach Art Briles. "Whatever details the two investigators from the law firm of Pepper Hamilton discovered were so lurid and damaging that not only did it warrant the dismissal of the most popular coach in the history of the school but the specifics are being kept hidden," the Star-Telegram's Mac Engel wrote.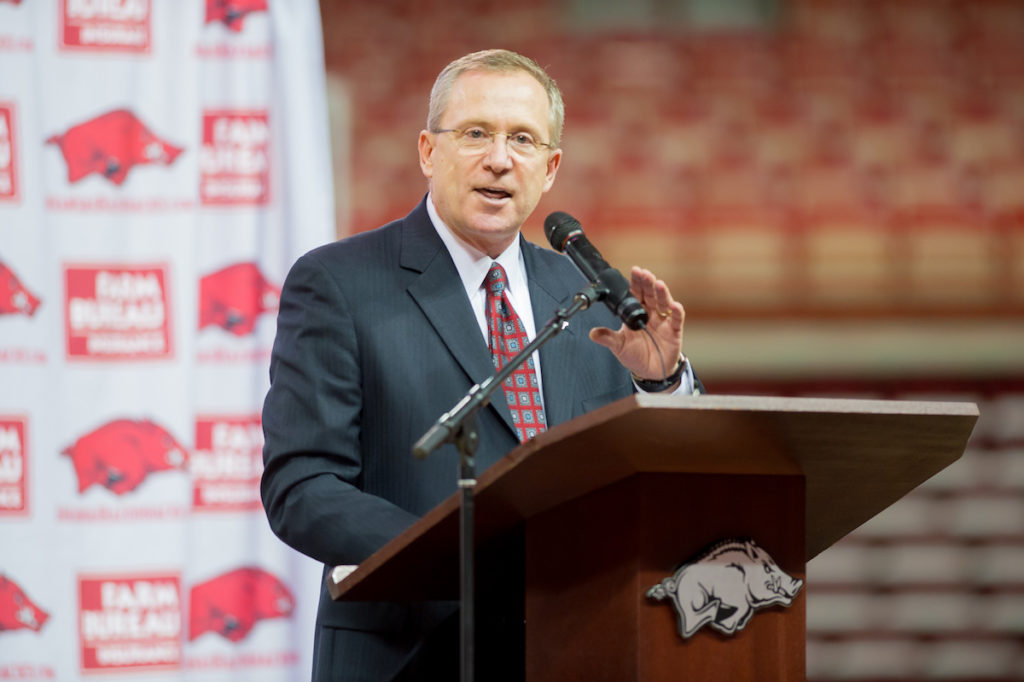 Long can empathize. Four years ago, he had his own scandal to deal with — although the details involving an affair between an employee and former Razorback coach Bobby Petrino, along with an ensuing motorcycle wreck, played out in a much more public fashion. From a competitive and public relations standpoint, Long's resulting hire of Arkansas interim coach John L. Smith was a disaster. The Hogs struggled to win four games all season.
"We fell early in that season, and that caused the whole dynamic — the whole mindset of the team — to change," Long recently recalled on SportsTalk with Bo Mattingly.  Quickly and successfully adjusting to an interim in the months following an abrupt coaching change is "extremely difficult," Long added on that First Security Bank Hotline interview.
"There's a lot of things you can't control in those situations. You can't control the fact the student-athletes know they may be not be playing for the coach who's going to be there for their future, and that causes issues. I think while you might, as an AD and coach, kind of have an idea that it's going to be difficult, because you're going to try to have discipline and accountability in your program. But sometimes young people say, "Well, that's not going to be my coach, so I'm not going to maybe listen as closely or do everything they say… because I'm going to have a different coach in the future."
He added: "Baylor could be different, it's a different situation. Coach Grobe's a good man, and I'm sure he'll do everything he can to keep that team playing at a high level."
Enough of these Texan matters, though.
What does Long think of Arkansas and the job of the man he chose to replace Smith, Bret Bielema? Long shares his thoughts, lightly edited and condensed below, on the state of the Hogs and other hot-button issues like concussions and satellite camps — summer high school football camps which were temporarily banned by the NCAA.
On satellite camps:
Jeff Long: They are recruiting camps. We can call them "satellite camps" — they're recruiting camps. What we've said long ago, that we want recruiting to take place during certain periods, and we see the recruiting camps that are termed satellite camps — it's not about skilled instruction. It's not about teaching young people about the game of football. It's about getting out and branding an institution in an area where they haven't been able to be so successful in recruiting. We just need to make a decision if we want recruiting to take place during the summer. We previously have not.
In men's basketball about 10 years ago, we moved recruiting out of the AAU camps during the summer and we put it back into the high schools. I believe in that. I think recruiting should be based in the high school, the scholastic setting, because there you're dealing with people, you're dealing with teachers and coaches who really care about the young people in a different way than maybe summer coaches do.
At the NCAA and national level, we'll look at these recruiting camps and decide. We may decide as a group that, "Hey, we want recruiting to take place in the summer." We haven't done that in the past, so we need to step back, look at it, take in all the factors, and decide: "Where do we want recruiting to take place?"

On whether the NCAA should have a college football commissioner to help create uniformity in Division I rules:
Jeff Long: Well, I don't think we can have a commissioner. That's different. The NFL has that model, it makes all the sense in the world for them. We've got 128 institutions at the Division I FBS level and 10 different conferences. Even within those conferences, we have differences in missions between institutions, so it's really, really difficult to do that.
I think you see the first step is why there's now an Autonomy 5 group of conferences, because we believe those five conferences have more things alike, even though we can't agree between conferences on key issues. But that's understandable, because we're very different. Each institution is very different.

Bo Mattingly: When you look at the landscape of college football in particular, anything that really concerns you right now?
Jeff Long: The whole concussion issue. We continue to look for ways, and rely on the research to help us there. The exciting thing is, I think research will help us, has already helped us curb the concussion issue. We know so much more now about how to treat it, how to prevent it, and I think technology in helmets and uniforms and things like that will catch up with it as well. I don't think football's a dying sport, as some people think. I think we have enough people interested in the safety going forward that we'll find solutions and we'll make it a safer game.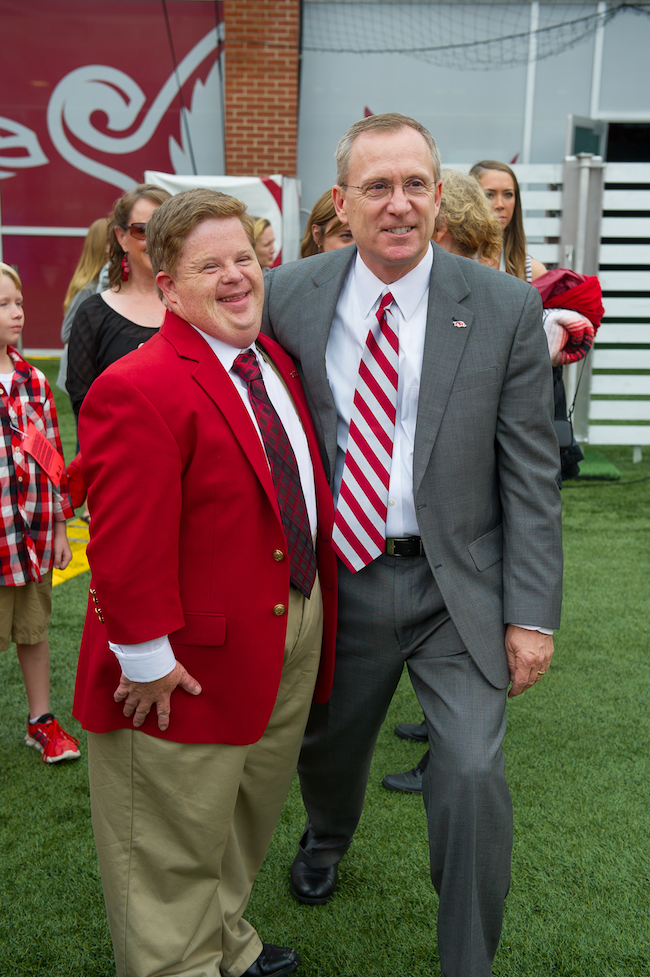 Bo Mattingly: There's so much pressure to win. Every coach in the SEC West is making more than 4 million dollars a year. Everybody knows that, but the number of wins that come with that expectation is enormous. Is it harder than ever to have integrity in college football?
Jeff Long: There's certainly, there's lots of pressure to win in these sports, in our conference, but in other lines of business as well. We see people who choose to not act with integrity. I choose to surround myself with coaches and staff people who are going to act with integrity, so I have little patience with it. It upsets me when we see the lack of integrity rear its ugly head in this conference. It disappoints me. It allows those to point the finger at the SEC and try to paint us all with that brush, so that's disappointing and disheartening.
We need to do a better job. We need to do a better job in this conference, but we need to do a better job in every conference. Conferences aren't immune to this, and there are going to be people that act with a lack of integrity. We're here for the best interest of those young people in our program. Provide an education, prepare them for the rest of their lives. Yes, and compete. I realize the money has gotten huge, and that money, I guess, pushes people to make bad decisions and make bad choices, but you know what? We're going to continue to run our program with the highest of ethical standards.
Our coaches know that. Every person in our department knows that. Now, doesn't mean somebody can't step outside the lines and do something wrong, but my commitment to the folks of Arkansas, the fans of Arkansas, if that happens, we will step up, and we will act accordingly and decisively.
Bo Mattingly: Bret Bielema's going into year four now. Obviously, the expectations will continue to climb for him. I've seen a little attrition, and I'm interested to see the developmental part of his program start to pay off. What do you see?
Jeff Long: You're hitting the nail on the head. I think we've developed, certainly he has, the culture change. He's now got a group of virtually all student-athletes who he's recruited, so from Day 1 they've had those expectations, those issues of accountability, so they're used to that. That's the culture of our program.
It's unusual now for somebody to step out of bounds, do something inappropriate, and you've got a team now that's ready to self-regulate their team, and that makes all the difference in the world, and that's a credit to Bret and his staff, but putting that culture in, staying true to it, not cutting corners when we were 3-8 the opening year. Bret's not used to losing. He's now turned that corner, and we're going to continue to win.
I love going to work every day with Bret Bielema, because his heart's in the right place. He cares about the young people, he has discipline, he has accountability, he has expectations for those young people well beyond the sport of football. They all translate to the sport of football, but they also prepare these young guys for the rest of their lives, so I'm excited about each year going forward with Bret, because I think we have a baseline of competitiveness in our program.
When the things line up and we get the right group of seniors, and people who don't go to NFL stay, and you know what: We're going to have some really incredible years for this program.