Conspiring forces make Moses Kingsley's decision to stay all four years in one place increasingly rare.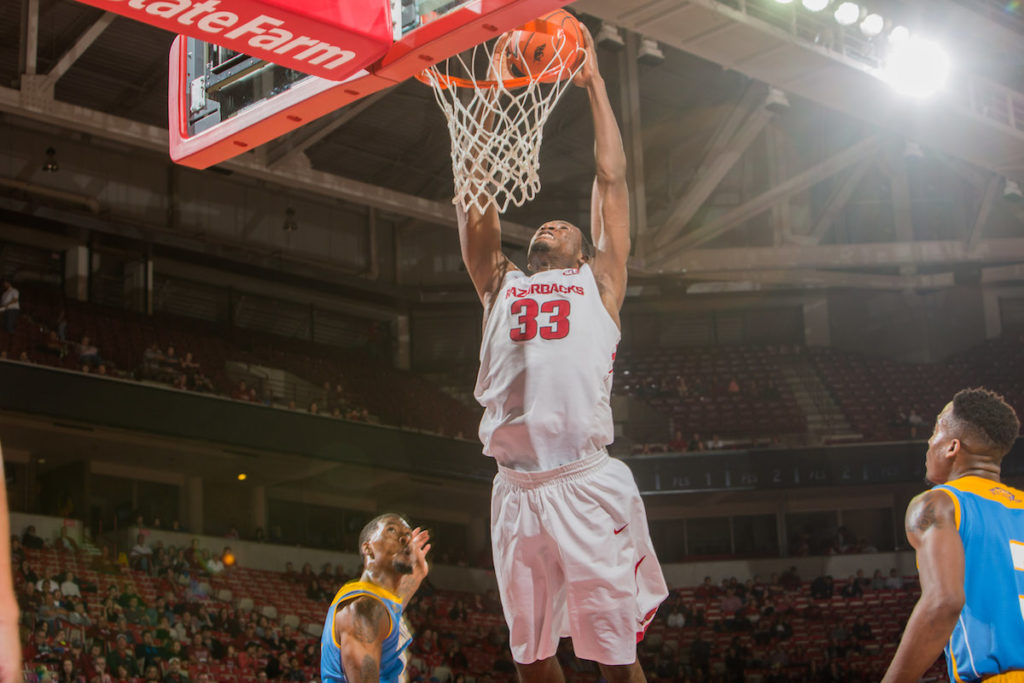 Mike Anderson can thank Kentucky for the loss of who had been his biggest recruit of the past few years. Last November, as no Hog fan wants to be reminded, Bentonville High superstar guard Malik Monk chose Big Blue Nation over his home-state Razorbacks.
And yet, Anderson could also thank Kentucky for indirectly helping him land the recruit who surpassed Monk as the program's most significant. That would be current Hog Moses Kingsley, the 6'9" anchor of the program, a junior all-SEC center who through much of this spring kept Razorback Nation on pins and needles concerning whether would enter the NBA Draft.
The drama ended last week. After receiving lukewarm feedback from NBA personnel, Kingsley announced he would return for his senior season to headline one of the deepest Hog teams this century.
Kingsley's pro hopes had in part rested on his ability to secure an invite to the NBA Draft Combine, a multi-day showcase of skills and abilities in front of pro coaches, general managers, and scouts. But thanks to a new set of NCAA rules, competition for those 63 spots was more fierce than ever. Indeed, every single eligible Kentucky player declared for the draft, and two Wildcat big men underclassmen got invites. This unprecedented surplus played a part in Kingsley failing to get a combine invite, and likely sped up his decision to withdraw from the draft.
In the days following Kingsley's announcement, Anderson praised his star for avoiding rash decisions: "Here's a guy who sat there for two years watching other guys… He just waited his time and when his time came, it just happened for him. I am sure in his mind he was thinking maybe this isn't the place for me, I need to do this or that but he let the process work. He worked hard in practice, he got better, he developed and I think he will carry that same mindset as he goes into his senior year."
The M.O. of "Mo" is proving to be the exception to the rule, though. Talented, promising players who have adopted a more mercenary mindset are increasingly leaving their college programs to explore better opportunities elsewhere.
Even the NCAA itself is helping out. This spring, for the first time, college sports' governing body essentially opened the floodgates on the number of underclassmen who will dip their toes in NBA waters to gauge their draft stock. Underclassmen can now declare for the draft as many times as they want. And, after all the auditions and feedback, they don't have to decide whether to return to college until late May — less than a month from the annual late June draft night.
So, in essence, a player can now declare for the draft and then choose to return to school multiple times over the course of his college career so long as he doesn't hire an agent. This means there is little downside to declaring and getting free professional feedback. For this reason, in future years, expect a Kingsley-ian waiting game to play out with more Razorback basketball stars. It should surprise no one if Daryl Macon and Jaylen Barford, two of the Hogs' two recruits for this upcoming season, declare for the draft come spring 2017. NBA scouts already praise both guards as legit prospects whom they will closely follow this winter, according to Hawgs Illustrated insider Dudley Dawson and Bill Ingram, director of the Arkansas Hawks AAU basketball program.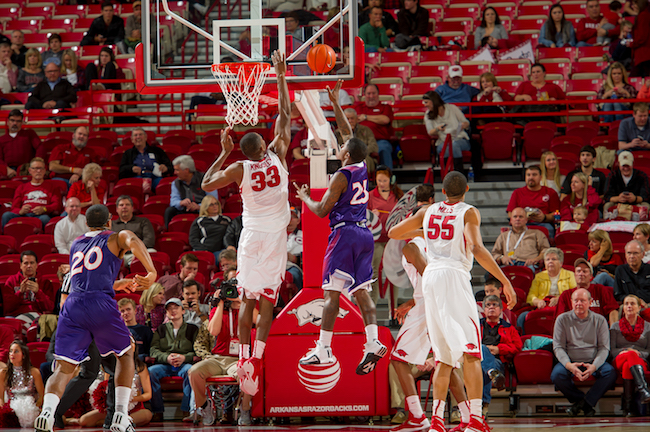 The prospect of more money isn't the only growing disruptive force in today's college basketball landscape. The promise of more playing time elsewhere is shaking things up as well.
In the last two years alone, around 1550 Division I players have transferred programs. Not all transfer to seek more floor time, but that is a common factor behind the reasons. Hardly any program is exempt from this trend including Arkansas, which has lost guards Nick Babb and Jimmy Whitt to transfer over the same span of time. Both left after freshmen years in which they sparingly played. Whitt's departure is the bigger blow, given he was a top 70 player nationally, played more minutes and flashed more potential.
All the same, Whitt wasn't guaranteed to make a bigger splash as a sophomore. Significant minutes will go to Top 5 national JUCO players Macon and Barford (who by himself averaged 26.6 points, nearly seven rebounds and six assists last season). Plus, Anderson already has more experienced returning guards in Manuale Watkins, Anton Beard and Dusty Hannahs, himself a transfer from Texas Tech. Expect Beard to bounce back after a down season and for Hannahs to raise his overall game to all-SEC heights. Jaylen Barford says Whitt "would have helped probably, but with him leaving I guess we'll cover that spot by playing a couple more guys. I think our backcourt should be in full effect, really. I think we'll show a lot of people next year."
Barford, like Anderson, is excited Kingsley will return for a final campaign. They know Arkansas' potentially stellar backcourt now has a potentially stellar frontcourt to match. At a press conference last week Anderson pointed out the specific areas where Kingsley needs to improve to be a stronger candidate for first round of the 2017 NBA Draft: better passing out of double teams, better consistency and conditioning in late game situations, more explosive in finishing around the rim, more accurate free throw shooting. "If he improves even half of what he did from his sophomore to junior year, people better watch out. We're going to have a very special year."
In the recent past, top Razorback "recruits" — whether high schoolers making college choices or college underclassmen deciding whether to go pro or not  — have almost always decided what's in their best long-term NBA interests is not what's in the best interests of Hog fans'.
Not so with Kingsley. Because he stood out from the pack, the Razorback basketball program is poised to again do the same.