But Mike Anderson's signature style never relied purely on tempo, anyway.
The Arkansas men's basketball team has a new twist on an old marketing slogan.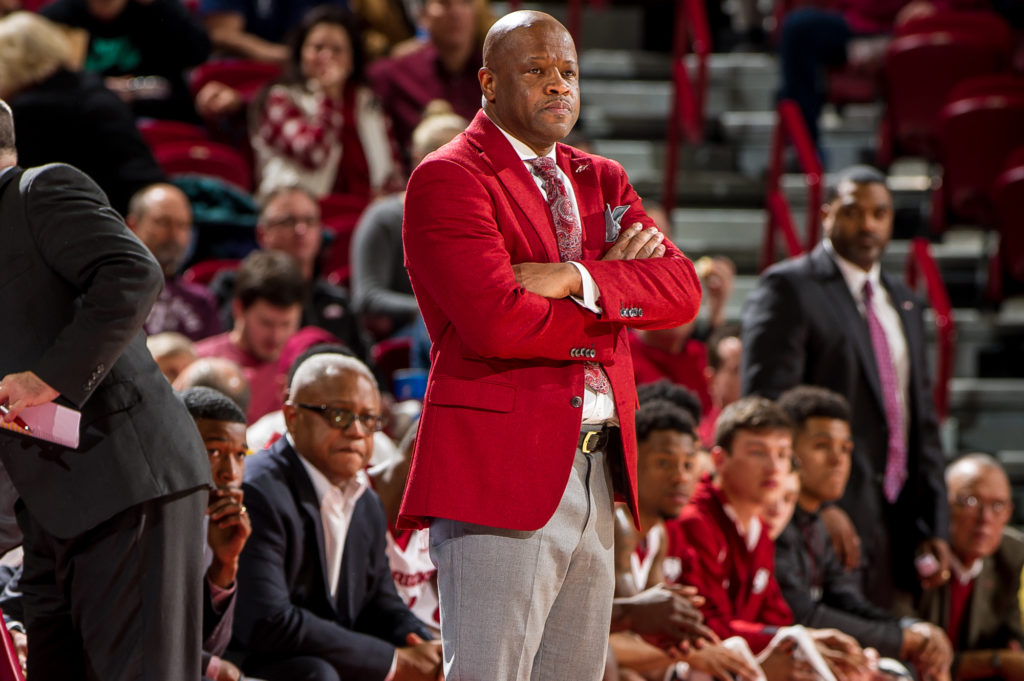 At the very top of the program's Website, "THE #FASTEST40 JUST GOT FASTER" proclaims itself louder than a Bret Bielema brag. This motto dovetails with a new season ticket package the athletic department sells, sure, but it also symbolizes the hopes many Razorback fans have for this season.
This year, basketball coach Mike Anderson unleashes a deep roster of athletic, explosive players who appear better suited to run opponents off the floor than any of his five previous Arkansas teams.
So far, though, that hasn't been the case. The 2016-17 Razorbacks are No. 95 in the nation in "pace factor," an estimate of the number of possessions in a 40-minute game. More offensive possessions equals a higher rating and an overall higher pace of play.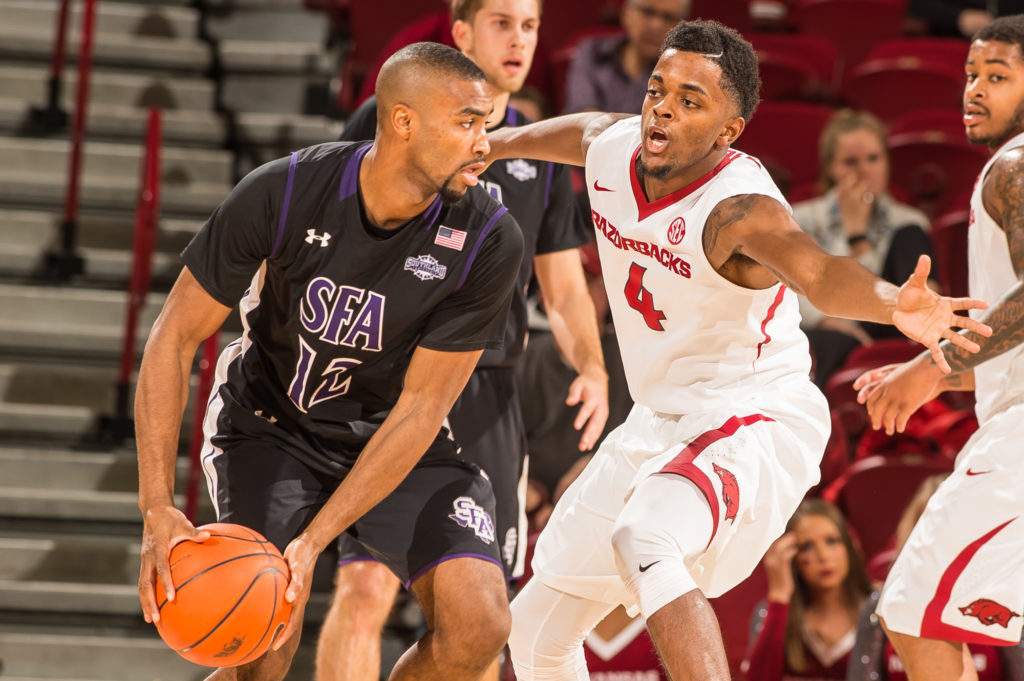 Despite an influx of aggressive, confident guards and wings, these Hogs (4-1) are playing at a slower pace than last year's team (ranked No. 78). Furthermore, the tempo has taken a nosedive from the Bobby Portis-led 2014-15 team, which finished No. 12 in pace.
If anything, it seems, the #FASTEST40 just got slower.
A deeper examination of the signature styles of Anderson, and that of his mentor Nolan Richardson, however, shows fast tempo isn't their be-all, end-all. "These coaches value mental agility and quick hands just as much as foot speed," says SEC Network analyst Pat Bradley.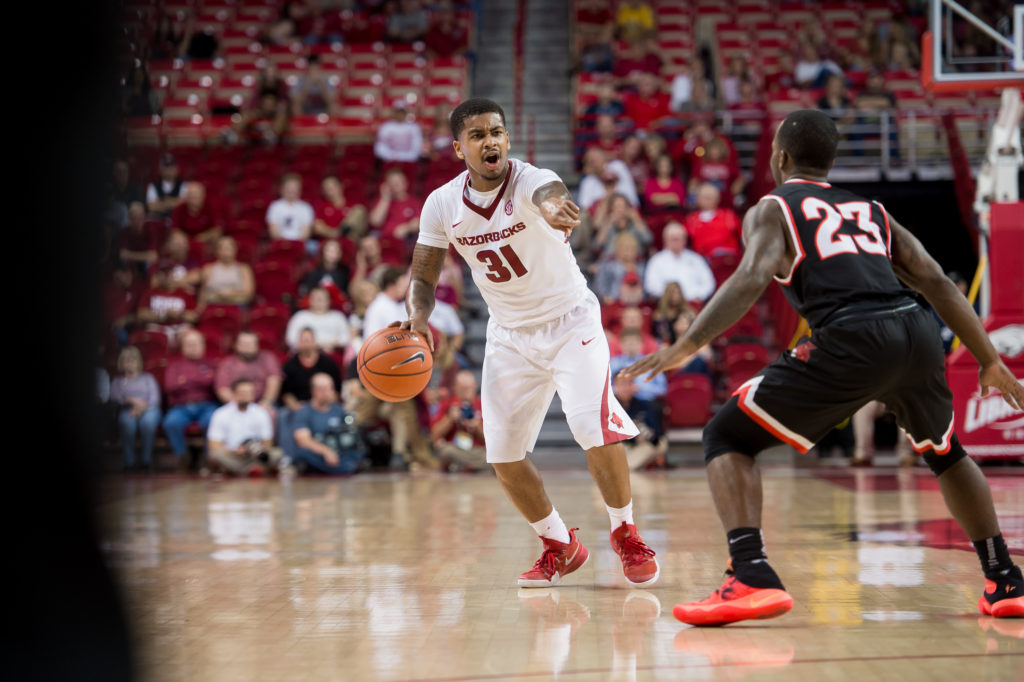 After starring for the Razorbacks in the late 1990s, Bradley knows both coaches well. He played in Richardson's "40 Minutes of Hell" system when Anderson was Richardson's assistant. Anderson's "Fastest 40" is an offshoot of Richardson's system.
"When you look back at the '40 Minutes of Hell' teams, he didn't have Olympic-type athletes. He had guys with great hands and a quick understanding of how to start the break," says Bradley, also a sports radio co-host on The Zone (103.7 FM The Buzz). "It's not how fast you run or high you jump, it's how quickly you think," he tells me. "It has a lot to do with how quickly you get the ball out of your hands and how quickly you get to your position. It's a lot less about foot speed than hand speed and keeping your head up."
Some of this team's seven newcomers, especially highly touted guards Daryl Macon and Jalyn Barford, are used to systems where they had to dominate the ball for their teams to win. Now, though, they must learn to trust each other, says Bradley. "It's probably one of the most terrifying things for players as talented as Macon and Barford to give up the ball. Believing they will give it up and get it back in the position where they're gonna be the best."
Through much of the first six , the newcomers have struggled to cut down their dribbling and play the game as Anderson expects. The results are occasionally ugly. The team has nearly as many turnovers as assists, and it produced a 25-point clunker of a first half on the road against Minnesota last week.
Generating steals is another vital part of Anderson's system. Steals crank up the pace of play while creating extra possessions. Bradley thinks to create a true culture of havoc, a defensive leader must emerge who heads full-court presses and inspires teammates to defend harder.
In Nolan's day, he points to guards like Corey Beck, Clint McDaniel and his teammate Kareem Reid as takers of that mantle. He believes for this team two veteran players — Manny Watkins and Anton Beard — can fulfill the same role. "I think Anton has got to put that as his priority, to realize his most important role for this team is to be that dog defensively."
Even Richardson's half-court defenses were tenacious, Bradley recalls. "If we were playing a half-court zone defense, we were coming after you. We were gonna scratch you, claw you, drool on you."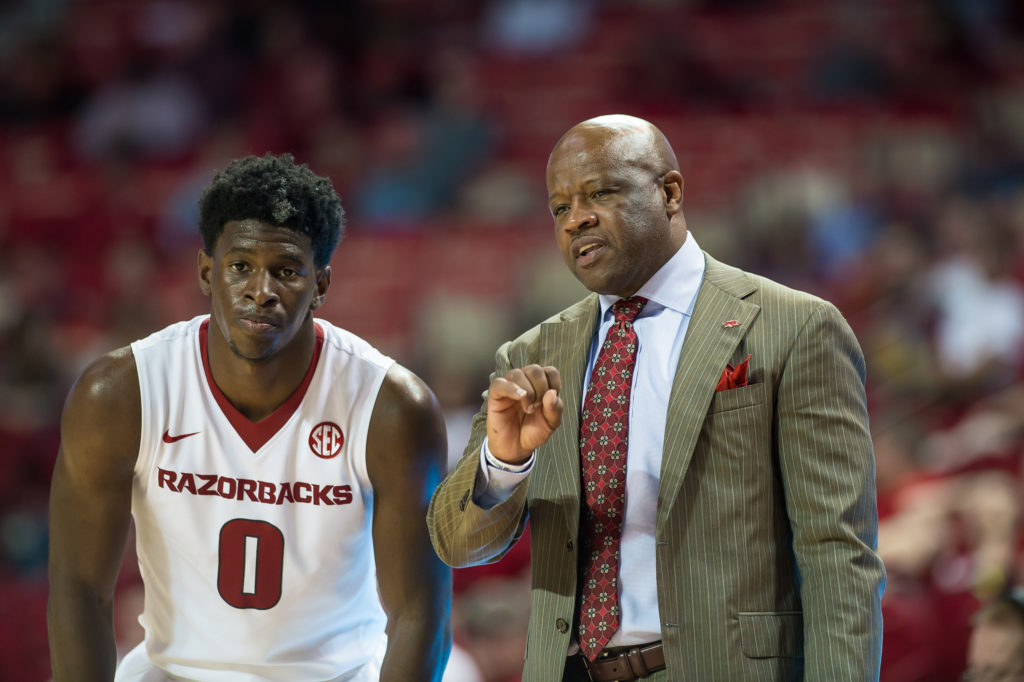 Mike Anderson has shown more willingness to slow the pace of play than Richardson ever did. So, his teams more often find themselves in half-court defensive situations. Here, when guarding the perimeter against today's bevy of three-point sharpshooters, mental agility and rapid, constant communication are more important than raw hustle and lateral quickness.
Nowadays, teams which master ways to prevent opponents from heating up from beyond the arc are more likely to win titles.  Jimmy Carter, who covers basketball for WholeHogSports.com, writes: "This roster was supposed to be better-suited, at the very least athletically, to guard the perimeter. But overeager, undisciplined closeouts, poor communication and plain being beaten have led to more breakdowns than Anderson can be content with."
Carter then shows an example of miscommunication leading to a wide-open three-pointer in the Hogs' Nov. 28 game against Mount St. Mary's, a single-win team. Such snafus are a reason why Arkansas hasn't blown out many "cupcake" foes by larger margins at home. And why Minnesota made nine of 15 three-point attempts en route to beating Arkansas by 14 points.
Bradley thinks many of these issues will soon be resolved. He believes the young Hogs are learning from their mistakes, and that Arkansas's All-SEC center Moses Kingsley will improve his shot after a rough season start.
Bradley expects significant improvement over the next couple of weeks starting with the Hogs' 78-62 home win against Stephen F. Austin Thursday night. Bradley predicts Arkansas will finish second to Kentucky in conference play with 22 or 23 wins. That's a far cry from national prognosticators like Sports Illustrated's Dan Greene who predict Arkansas will finish No. 6 in the SEC with a .500 record.
A No. 2 finish would guarantee Arkansas's second NCAA Tournament berth in three years.
Bradley adds: "Mike Anderson will get it done."
Photos courtesy of Razorback Communications.