On a cold January night, horse trailers lined the parking lot at Harper Stadium in Fort Smith. Families gathered to saddle horses, make travel plans and watch practice. This dedication is to a 39-year-old tradition of the Old Fort Days Dandies. Girls ages 10-20 from around the area meet here weekly to practice routines, improve horsemanship and serve their community. The Dandies are a unique group. Morgan Davis, a 16-year-old Dandie, summed it up, "We're a group of Christian high-school girls who square dance on horses. How cool is that?" While that is cool, the Dandies are much more than that. They serve as goodwill ambassadors for the Old Fort Days Rodeo, and they take their job very seriously.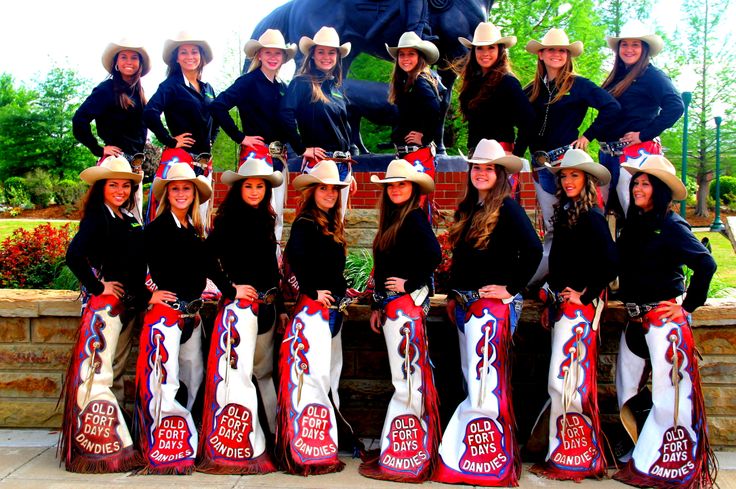 What originated as a group of pivot setters for the Grand Entry for the Old Fort Days Rodeo (meaning they carried in sponsor flags while the riders come out) has grown into a prestigious group that is active both in the national rodeo circuit and in the local community.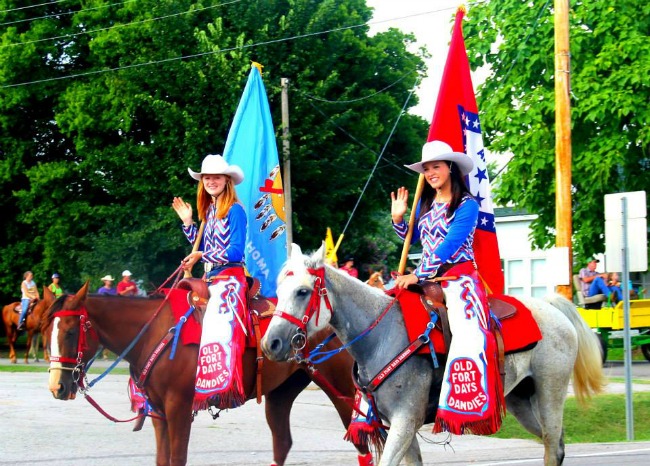 To become a Dandie, girls ages 13-20 must first go through a rigorous threefold tryout. Girls are interviewed to learn about their personality, moral standing and their character. They are also judged on horsemanship and horse conformation. Girls are expected to withhold the standards of the Dandies, which include keeping a good GPA, having good moral standards, and even being conscious of what they post on social media. They also attend Fellowship of Christian Athlete meetings together as a group. They are dedicated to representing the program well. As Morgan explained, "I have a Dandies sticker on my horse trailer. I'm a Dandie wherever I go."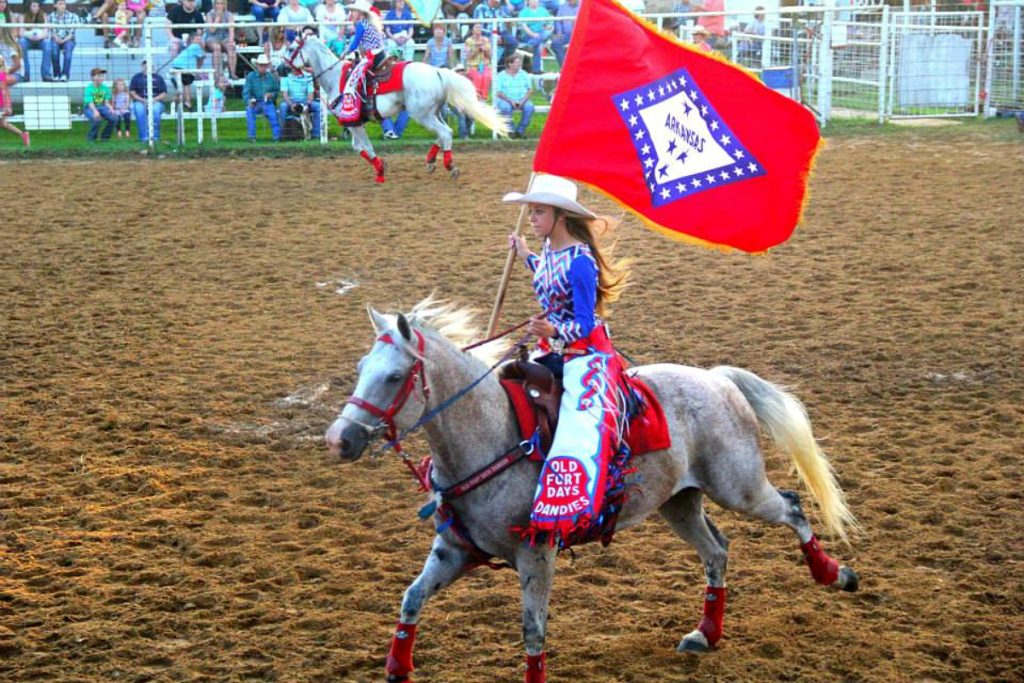 For younger girls, they have a Junior Dandies program where girls ages 10-12 can learn the fundamentals of horsemanship and begin their journey to being Senior Dandies someday. Everyone starts somewhere. Girls don't have to be experts to join. Morgan explained, "When I first started, I didn't know how to ride. I showed up with my bit upside down. But they were so helpful and made me into a great rider."
The team travels as a group to rodeos, parades and events across the country. Previously, they've been to Colorado, Texas, Oklahoma, Indiana, and more riding in parades and performing their signature routine – a square dance on horseback with a live caller. It really is amazing to see.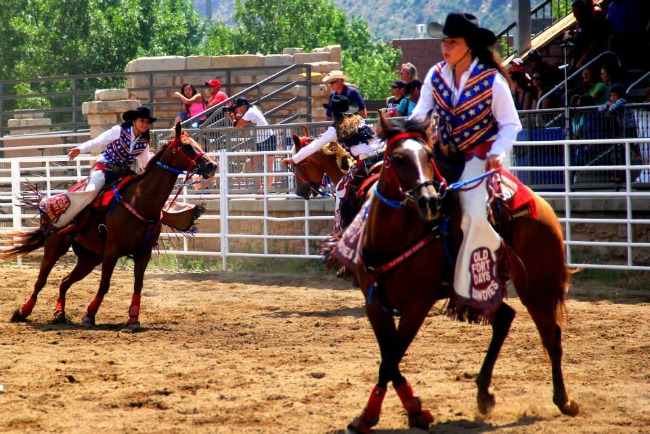 It's not your grandma's square dance. Dandie Harlie Hightower, 14, said, "The routine takes 16 girls (and 16 horses) and lasts 7-8 minutes." During it, the Dandies ride knee-to-knee, holding hands on horses going at full gallop speed. You'll gasp and hold your breath as they zoom by each other. To learn the intricate routines, they practice up to six hours a week. If you can imagine, they not only have to train their horse to do the intricate routines, but also to have full trust in each other.
All that practice and travel makes them less like teammates and more like family. Morgan explains, "Everybody is very dedicated. Siblings, coaches, callers, parents, grandparents – they're all out here whether it's 30 degrees or the heat of summer. We're a big family." They displayed that on the cold January night when I came to practice. It was a chilly 34 degrees, but families, coaches and callers had shown up in full-force. They were quick to offer me a blanket to sit on, a pair of gloves, and even offered me a spare pair of coveralls. I can see where these girls get their strong character. These are good people.
While riding horses is what brought them together, the Dandies take their goodwill ambassador title seriously, doing a lot of community service. They assist with the Super Kids Rodeo, giving horse rides to children with special needs. At Christmastime, they visited area nursing homes and sang carols to residents.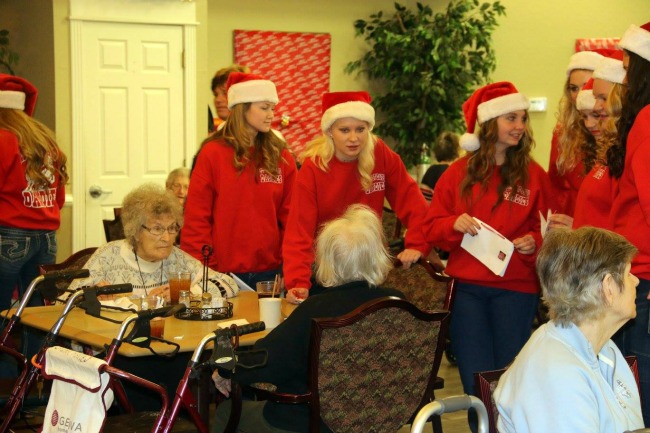 They also honor veterans with their military tribute. Paying respect to the armed forces was particularly special for Morgan. "My sister is in the Air Force, and I got to carry the Air Force flag. When she saw pictures of me, she was so proud. It's awesome to be a part of that."During their military tribute, they shoot fireworks from their horses. Yes, you read that right. Harlie said, "It takes a lot of work to break your horse to do that."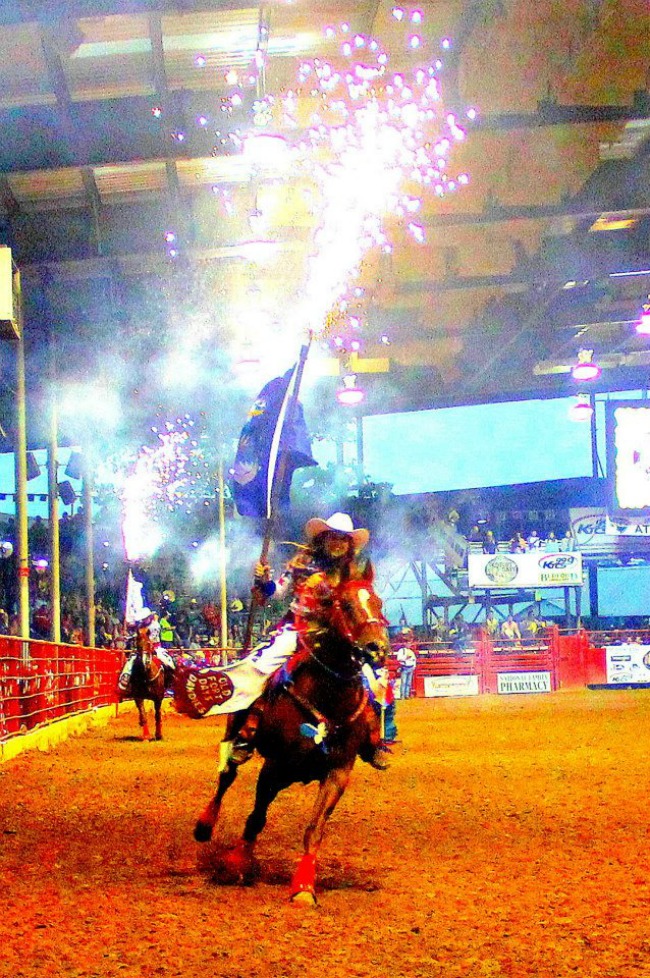 Many of these girls have wanted to be Dandies for a long time. Harlie recalls, "I've been coming to the rodeo all my life. I've wanted to be a Dandie since I was 3. I remember meeting them, and they signed my big blue cowboy hat." Now she gets to inspire others. "I love little girls at the Rodeo. A lot of them look up to you."
To see the Old Fort Days Dandies, come to the Old Fort Days Rodeo in Fort Smith, May 25-30. You can also catch them at rodeos, showdeos, and other events around the area. Or book them to come to your event! They are "have horse, will travel."
They are currently looking for a travel sponsor so they can fill up their next season. In addition, they are having a fundraiser where you can support the Dandies – come to their chili supper at 6 p.m. January 23 at Kay Rodgers Expo in Fort Smith. They'll have a silent and live auction, live music and door prizes!
The Old Fort Dandies are a true Arkansas gem. They represent their home rodeo, Fort Smith and our state well.