Back in college, an old friend used to say that everyone – adults included – should be required to spend 15 minutes a day with the wind in their hair, feet in the air, riding back and forth on a swing.
Her theory was that after a 15-minute swing session, no one could be sad, upset, or stressed out about anything. Now, there's a new place in Fayetteville to put that theory to the test.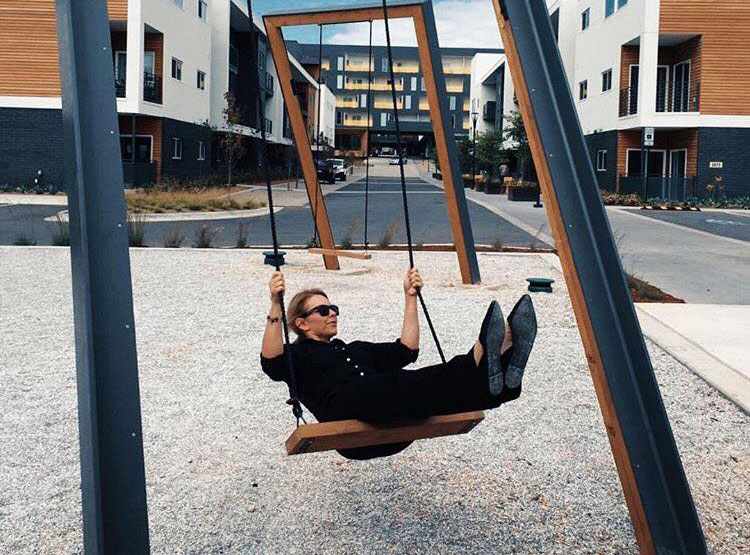 Fayetteville artist Craig Colorusso, in partnership with local fabrication studio Modus Shop, and Uptown Apartments + Shops, recently installed three adult-sized "sound swings" on the Uptown property, near Mud Creek Trail.
Colorusso said he was approached to create something for the project after Sarah King, marketing and community outreach officer for Specialized Real Estate Group, saw one of his installations at a recent show at Art Center of the Ozarks.
"Sarah saw my work and liked it, and told her boss Jeremy Hudson about it, and they asked me to come up with something for Uptown," Colorusso said.
The artist came up with several concepts for the development, but the idea for the sound swings immediately resonated with King.
"I've always had a connection with swings," King said. "I just love them. There is something so joyful and freeing about them."
The swings are part playground equipment, part art installation because, in addition to working the way you'd expect swings to work, they also play an elaborate musical composition created by the artist.
Each swing plays a different part of Colorusso's composition that, if played simultaneously from start to finish, would last 55 days.
The tones, however, likely aren't played to line up perfectly, meaning that each experience on the swings and the accompanying music they hear is unique for the user.
Colorusso, a trained musician-turned artist, designed the swings and the accompanying music so that no matter what order the notes are played, they sound good together. The tones, he said, are intended to enhance the feeling of flight you get when you're on a swing.
Colorusso said he hasn't personally been on a swing in years, but he's been spending more time around them lately.
Continue Reading at Fayetteville Flyer