I was visiting my sister Rachel's house last summer when I received some heart-breaking news. She had just moved into her new house, and I was surrounded by the chaos of furniture and boxes when I got a sad phone call. I sat down on the sofa and began to cry my eyes out.
I was successfully trying to stifle my sobs, but Rachel's dogs overheard me anyway. Frank, a pit-boxer mix with a head the size of Thor's hammer, clattered through the boxes piled in his way and jumped up beside me, wrapping himself around me like a giant pool floaty. Phoebe, Rachel's tiny long-haired dachshund, jumped into my lap like a tiny Russian cat-ballerina, gazed deeply into my eyes, and then gave my right eyeball a concise and perfunctory lick.
There was literal dog-tongue-human-eye-contact.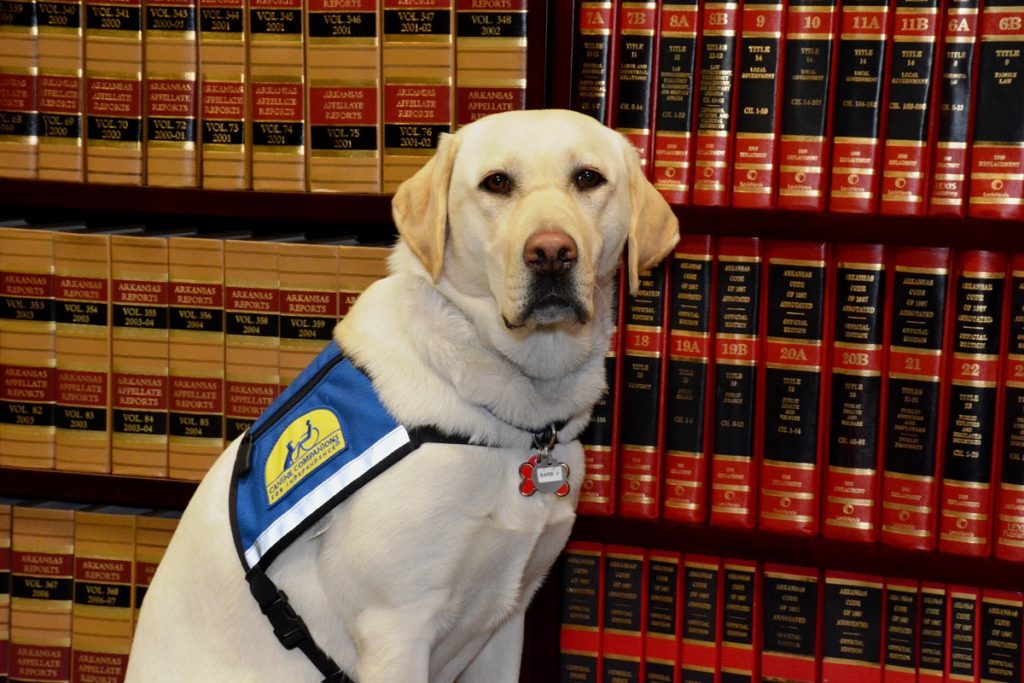 Was that my preferred mode of empathy and comfort? No. I prefer my eyeballs lick-free. I would have appreciated a nuzzle or a lick to the hand. But anyone who knows dachshunds knows that you get what you get, and you should probably say thank you.
I began to laugh and my tears began to dry up.
To say that dogs are comforting creatures is an understatement.  So, it only makes sense to utilize dogs and their special empathetic abilities in a courtroom setting where victims can use the extra support and comfort.
Susan Bradshaw, Victim/Witness Coordinator with the 20th Judicial District Prosecuting Attorney's Office, first heard about Courthouse Dogs from an email she received from the Prosecutor Coordinators Office. She was eventually put into contact with The Courthouse Dog Foundation and applied for a facility dog from Canine Companions for Independence based in Santa Rosa, CA. Canine Companions is the largest non-profit provider of assistance dogs and is recognized worldwide for the excellence of its dogs.
And so, entered Barb, the Faulkner County Courthouse dog. Barb is a yellow lab/golden retriever and according to Susan, she is friendly, enjoys her job, and has a huge soft spot for children.
"When Barb is at work with her vest on she's stoic and still and quiet. She won't even chase a ball – people have tried. She just looks at them like 'I'm working here.' But the moment the vest comes off, she's playful and running and chasing balls. She has the biggest heart for kids. She's happy to see adults, she sniffs their shoes and lets them pet her. But if a child walks in, Barb's whole body wiggles and her tail wags. She's always most excited to see children."
Barb definitely knows when it's time to work and when it's time to play. She is professionally trained and knows over 40 specialized commands.  And thanks to The Courthouse Dogs Child Witness Support Act (enacted in 2015), child witnesses or victims may be assisted by certified facility dogs.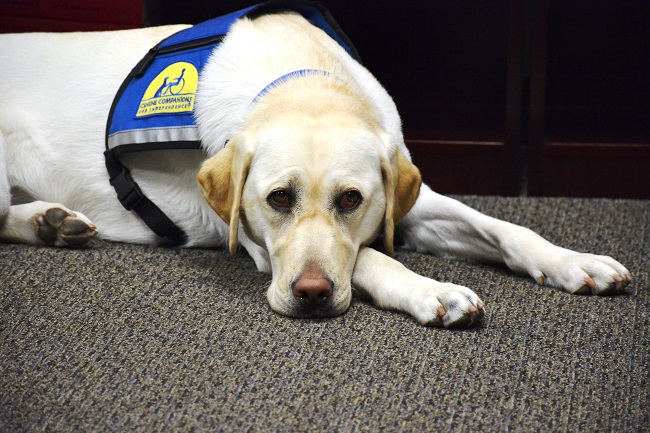 "We deal with a lot of sad and stressful situations, and Barb definitely does a good job of calming people in distress," Susan adds.
Acquiring a courthouse dog wasn't as easy as one might think. Susan traveled a great distance to find Barb and complete training with her.
"The problem is there aren't assistant dog organizations in this area. The vast majority are in the west. I had to travel to Oceanside, CA to Canine Companions for Independence. It's a long way to go to get a dog, but it's worth it. They're one of the best organizations."
Susan often wishes other courts had easier access to canine courtroom assistance.
"I would like to start a foundation where organizations can apply for funding, that can be overseen for the state, so money isn't an issue, especially for smaller jurisdictions. The more stumbling blocks that are taken out of the way, the easier it would be to get dogs in this state, whether for courts, or human development centers, or individuals with disabilities."
Barb will be three in February, and when she's not at work she's at home with Susan.
"She's just like most dogs. She loves to eat and play. But when she's wearing her vest she has her purpose, and she's all business."
And while my sister's dogs are not, by any means, service dog material (Phoebe likes to perch on Frank's back like a parrot no matter how much anyone instructs her not to), I believe dogs are a testament to a level of love that transcends human affection. While we so often hold our love back, and keep our feelings guarded, dogs are happy to love, happy to give, and driven to interact.
I have always adhered to the oft-quoted Will Rogers sentiment, "If there are no dogs in heaven, then when I die I want to go where they went."
I can't think of anyone I'd rather have to go through life with, whether on the sofa or in a courtroom, than a dog.