In the 1850s, a Fort Smith man known to be an abolitionist was attacked and lynched in view of his wife, who was also brutalized, and three young sons. A blood pact made between the boys demanded vengeance for their parents by killing the three men responsible…
At least, that's the story as Alma writer David Banks was told by his grandmother, Edna Reed. "The story my granny told was about my grandfather's father," Banks reveals. "The first time I heard the story I was about 17 or 18. My grandfather had just died. Granny was getting pretty old, and we were afraid all those stories were going to be lost, so my dad interviewed her. From the minute I heard that story I wanted to somehow be a part of it." Banks' affinity for his family's story spurred him into writing. He has enjoyed composing poems and short stories, but the story of Fort Whiskey was his constant ambition. He spent three years handwriting the 248-page book, which is largely a work of fiction rooted in truth.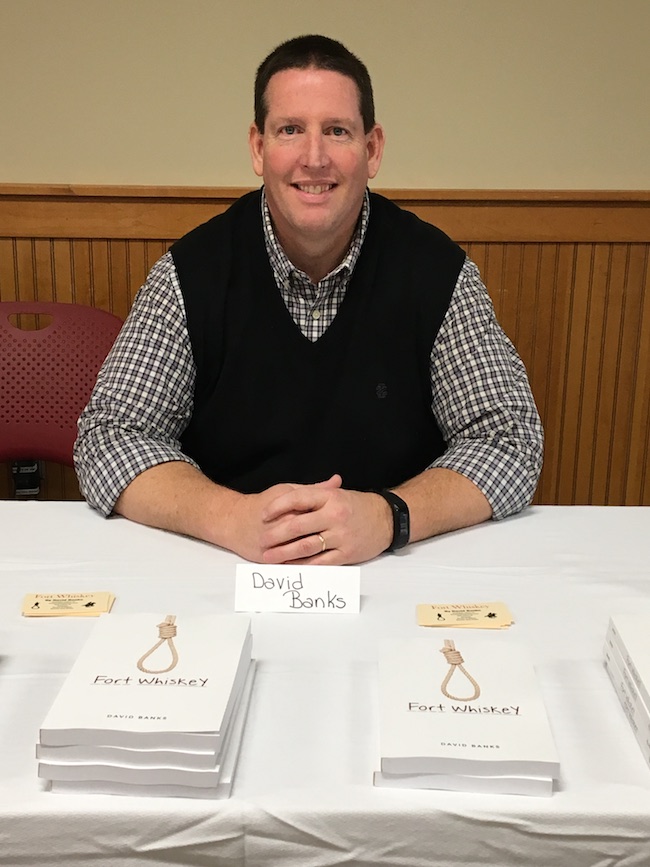 The story centers on the youngest of the three brothers, Willis Reed. After fighting for the Union in some of the Civil War's most notorious battles, he is forced to reckon with his haunting past, a chore he refers to as "the dirty business in Arkansas," before he can seek a peaceful future. His two older brothers are eager to claim their vengeance: "they were neither Confederates nor Unionists, nor even Americans, for that matter. They were Reeds, orphans of circumstance, and the lust for revenge consumed them both."
The plot for revenge is complicated by a young man's faith, the love of a good woman, the dedication of a marshal to honoring the law, the involvement of the army in local affairs, the villainy of a Lavaca plantation owner and an ill-advised trespass into Oklahoma Cherokee territory. While the story of Fort Whiskey is arresting for its truth, featuring compelling characters and written with a wry narrative and comfortable diction, the book also provides a fascinating glimpse into Arkansas Civil War and Restoration history. "I didn't want it to read like a typical Western," Banks shares about his creative process. "It's more of a time period story. I wanted people who don't read Westerns to be able to pick up and read it."
Much of the story is set in Fort Smith, before the time of its infamous Hanging Judge. The city was then known by the epithet "Fort Whiskey" for its many saloons. "Fort Smith didn't have a lot of industry. They didn't have a lot going on but the saloon business," says Banks, who has much of his information from a local historian and university professor. As Fort Smith just celebrated its bicentennial, this is an excellent time to learn more about the city.
David Banks teaches in the Alma school system, volunteers with the Alma Fire Department and serves as a minister for the Rena Road church of Christ. He lives in Alma with his wife of 26 years, Dona, with whom he has three daughters. Apart from writing and studying history, Banks enjoys golfing and crafting ballpoint pens. He is hard at work on his second novel, which he is calling Mordecai's Crossing. Fort Whiskey is available through Amazon.
Photos provided by David Banks