During a season known for giving and sharing, the Stewart family's special form of Christmas generosity almost knows no bounds.
They have made a gift of their east Fayetteville home and acre-and-a-half lot, located at 4229 E. Wyman Road, by building a truly vibrant Christmas light display that they open free to the public nightly from 5:30 to 10 p.m. through Jan. 1st.
"It's a little bit hard to explain how it happened," Carlin Stewart said recently while mingling with visitors to the display on a chilly night. "We moved here in 2003, and we were excited to decorate the house for Christmas. We had lights on the house and one inflatable. It was really a pretty small start. But we added more and more each year, and this is the result."
This season the display features more 370,000 lights and an estimated 250 inflatable Christmas-themed displays. Together the lights and decorations, which feature a bevy of familiar cartoon characters, creates a wondrous sight sure to bring a sparkle to the eyes of children of all ages.
"Honestly, we're not quite sure how many inflatables we have," Kim Stewart said. "We had a little girl tell us this year that she counted 250. We're taking her word for it."
The Stewarts have access to a handy field for parking, but with 5,000 to 6,000 visitors viewing the lights on Fridays and Saturdays and 1,000 to 1,500 on weeknights, the Stewarts suggest arriving early and carpooling if possible.
"It can get a little hectic, particularly on the weekends, but with a little patience everyone can have a good time," Stewart said. "I think the lights keep most everyone in a good mood."
The latest feature added is a Christmas train large enough for entire families to take a short tour of the enchanted wonderland of lights, sights and sounds.
"We love the train," Kim Stewart, Carlin's wife, said. "It's such a fun addition. Trains and Christmas just seem to go together. It was a big investment, around $20,000, but it's worth it when you see the smile and joy it brings to the kids.
"It's a very safe ride. Parents can get on with their children, and the train is geared to stop if one of the doors on the cars opens while the ride is going on. But yes, it's been very popular this year."
Rides on the train are $1 per person or $3 for a family of five to offset the cost of the purchase of the train.
"It's free to come out and enjoy the lights," said Stewart, who with four teenage and preteen children understands the cost of entertainment for a family. "We charge for the train to defray the cost of the train and its upkeep, but it's only a dollar. We're not out to make money off of it. We just enjoy sharing with the community."
Santa Claus is on hand each night to greet visitors and to pose for photos. There are also candy-cane striped boxes located around the display for children to deposit letters to Santa. Santa replies to all letters that include a return address.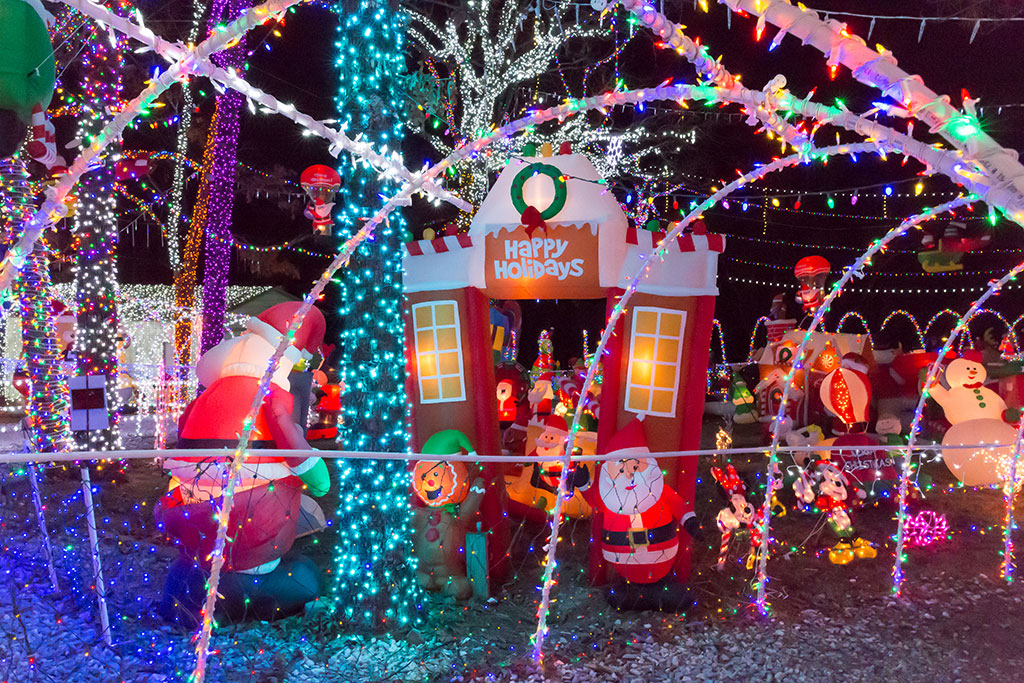 "Yes, we're lucky to have ol' Santa here each night," Kim Stewart said. "He'll even be here for Christmas Eve and Christmas Day."
Continue Reading at Fayetteville Flyer