Our family has a special China connection. My sister and her husband, Rebecca and Jon Mize, lived there for seven years. They fell in love with the Chinese people, and it never ceases to amuse me when I picture my sister with her Dolly-Parton-esque hair making her way around China while speaking Mandarin. She taught English at a university, which likely created a small army of Chinese students who went out into the world mimicking her southern drawl. But she loved it there, and our family loved seeing her thrive in the Chinese culture.
Despite the number of years she lived in China, I never remembered to request she bring me a paper lantern. I have always coveted the traditional ones, with beautiful red silk and painted flowers. In fact, right now as I look around my small office with dark purple walls, a Chinese lantern would fit just perfectly. But as it turns out, I have another opportunity to experience the beauty of Chinese lanterns, and so do you.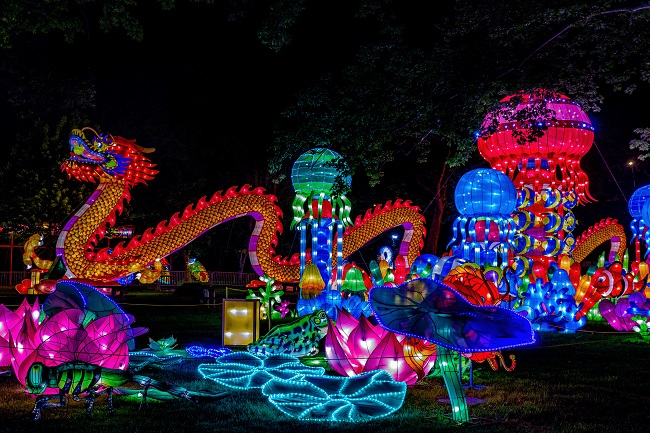 Photo courtesy of Tianyu Arts & Culture, Inc.
The history of Chinese lanterns stretches back to the Eastern Han Dynasty between the years 25-220, and soon it will be coming to Arkansas. The Arkansas Chinese Lantern Festival will be held at the Arkansas State Fairgrounds from December 8th through January 14th. And while the beauty of lanterns needs no explanation, the history of this rich aspect of Chinese culture is worth exploring.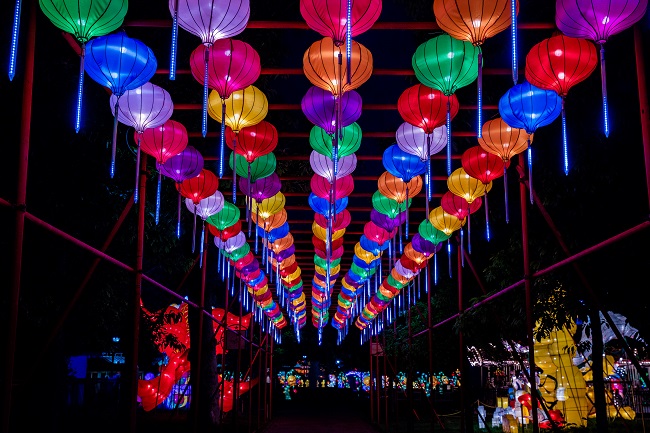 Photo courtesy of Tianyu Arts & Culture, Inc.
Chinese lanterns were originally crafted with paper and silk, adorned with paintings, paper-cutting, and materials ranging from bamboo to metal. Originally, they were used by Buddhist monks, who utilized them in their worship on the 12th day of the first lunar month. Later, Emperor Liu Zhuang decided to spread his own Buddhist faith, and ordered the inhabitants of the imperial palace to light lanterns in a festival worshipping Buddha. As time went on, the Chinese people began to use lanterns not just for religion, but in many different celebrations. The glowing lights symbolized a prosperous and powerful China. These lamps were also used for lighting before the introduction of gas or electricity into Chinese society.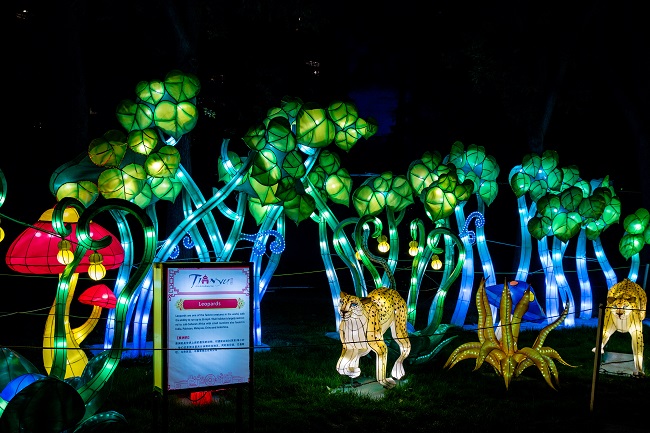 Photo courtesy of Tianyu Arts & Culture, Inc.
The primary color for Chinese lanterns, red, symbolizes good fortune. There are many different kinds of shapes and styles, stretching back to early historical times. The Baby's Bottom lanterns are usually seen in Christmas lights. Rolling Paper lanterns are often seen in eating establishments. The Tomato Light lantern is the traditional kind that I wish had requested from my sister's travels. The Crystal Magic lantern is known for its geometric shape, and the Buddha's Gastronomy lantern is extra-large and used to decorate holy places and festivals. Some lanterns are decorated with riddles, and the person who solves the riddles wins a prize. Palace lanterns were traditionally adorned with silk or glass with dragons or phoenix images painted onto them.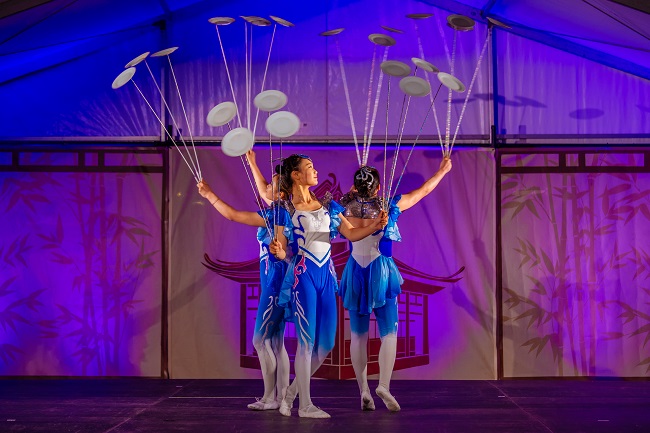 Photo courtesy of Tianyu Arts & Culture, Inc.
The Arkansas Chinese Lantern Festival is an exciting opportunity for Arkansans to experience the beauty of Chinese lanterns and culture. Visitors will see more than 30 sets of large lantern-displays, with more than a thousand LED light components. The Arkansas State Fairgrounds will be glowing with beautiful displays, and stage performances will range from acrobats to traditional folk-art demonstrations. There will be two shows nightly, at 6:30 and 8:00. Chinese handicraft demonstrations will be available, in addition to a marketplace for Chinese souvenirs (which could be an excellent opportunity for those of us wishing to decorate our own homes with a paper lantern or two). Chinese and American food will also be available. Be sure to visit arkansaslanternfest.com for more information, and to purchase tickets for what will be a beautiful and entertaining event this Arkansas holiday season.