This past weekend we had the opportunity to visit a small English village right here in Northwest Arkansas. We took a step back in time to the year 1537 in the small village of Crossroads. Her Royal Highness Marie de Guise was on her way to marry King James V of Scotland. She'd stopped along her journey for the annual Renaissance Faire of the Ozarks.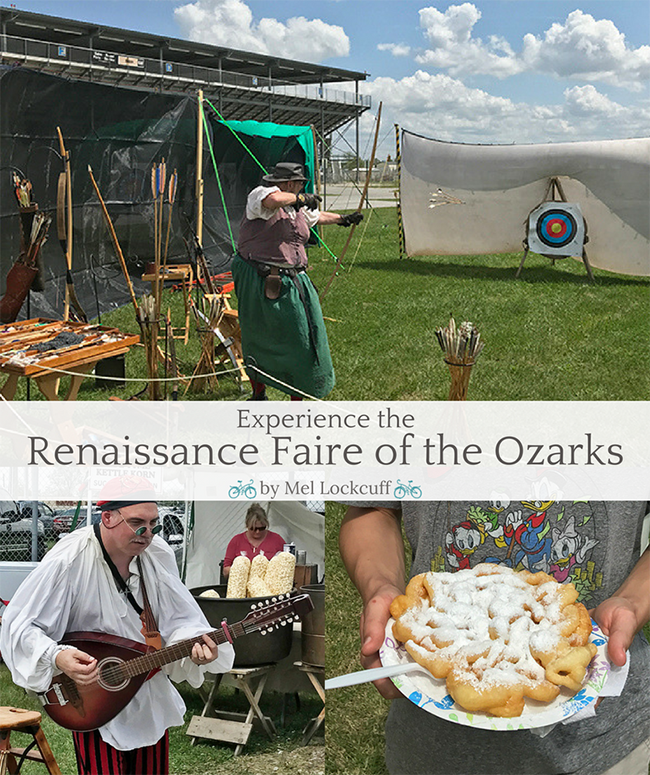 It was to be a weekend of artisans, craftsmanship, entertainment, and great feasting.
Food of the Renaissance Faire 
As soon as we entered the gate, there was a variety of food to choose from. We opted to wait until we were leaving to grab a few tasty treats, one being a funnel cake. They had all sorts of flavors to choose from, but we went with traditional which did not disappoint.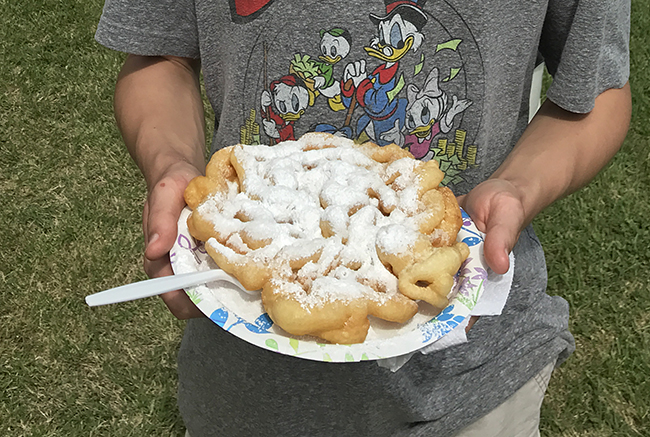 Other options included turkey legs, sausage sandwiches, giant bags of kettle corn, and big vats of root beer.
Artisans, Craftsmanship, and Merchants
As we walked around the Faire, there were numerous tents selling all sorts of wares. We stopped to admire a bracket full of swords.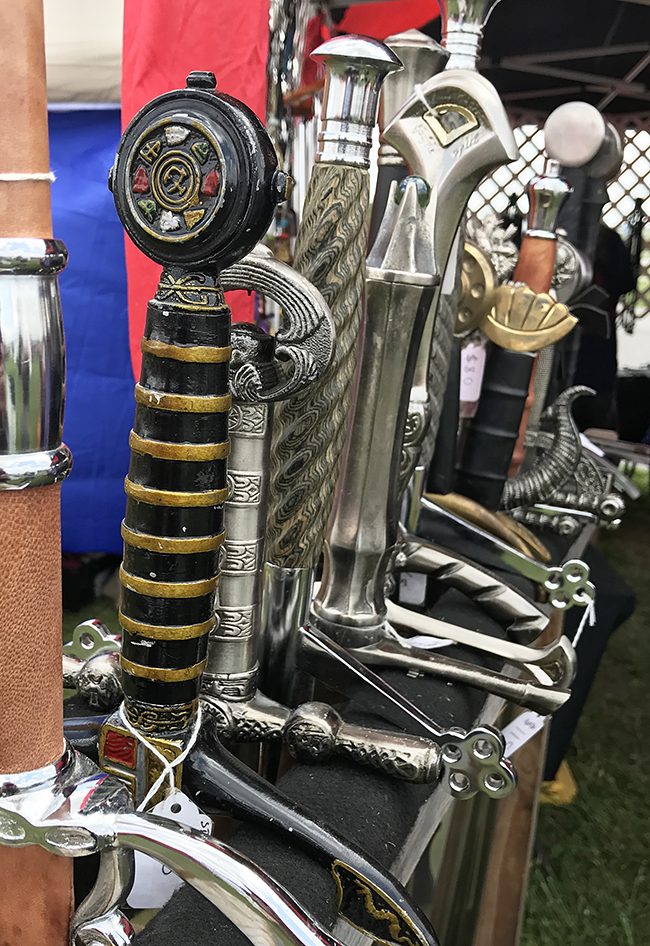 Jaden also found a rack of wooden weapons for kids, things like swords, hatchets, and slingshots; he, of course, picked a slingshot, and has been entertained ever since.
There were tents selling apparel, both Renaissance and Steampunk themed apparel. One tent was filled to the gills with alligator heads and other interesting things that looked as though they were ready for some magic potion.
I think what I enjoyed most about our walk around the various tents were the craftsmen working on their crafts.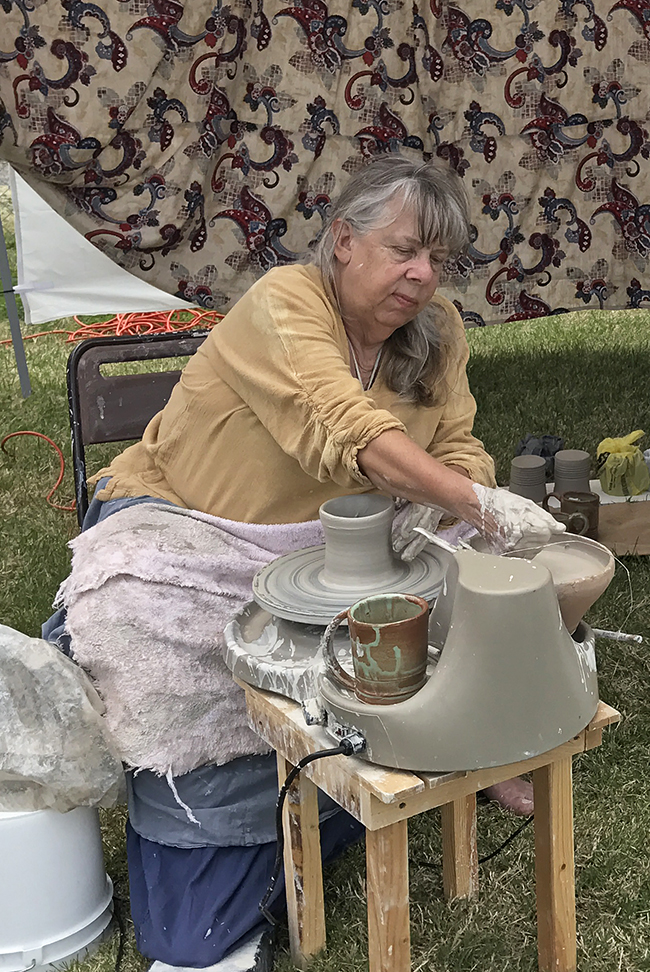 One woman shaped pottery. Another man brought pictures to life with his pen. Another man had a tent full of all sorts of things made from horns. Yet another artisan crafted delicate pieces of jewelry. Walk around the corner, and you never knew what you might see next. All of the artisans were dressed in period garb, as well.
Entertainment
As far as entertainment goes, we'd read there was to be jousting. We were a bit disappointed to find out they weren't going to be jousting, at least while we were there. However, walk around and you'd likely see hands-on games, with the actors drawing in visitors to the games.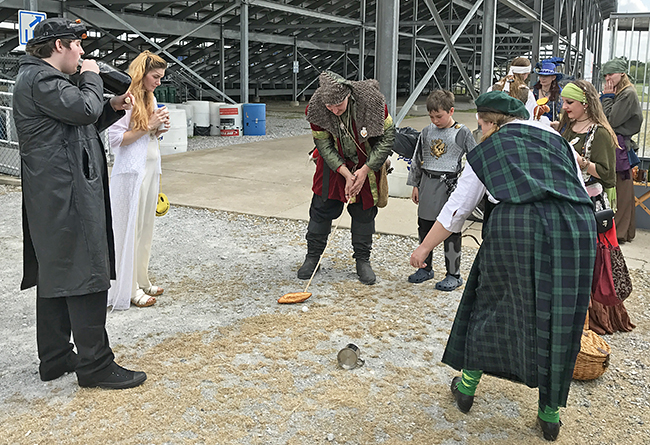 Walk around the corner, and you may find a sword fight. You might enjoy a musician's skill at the bagpipes or a performing singer.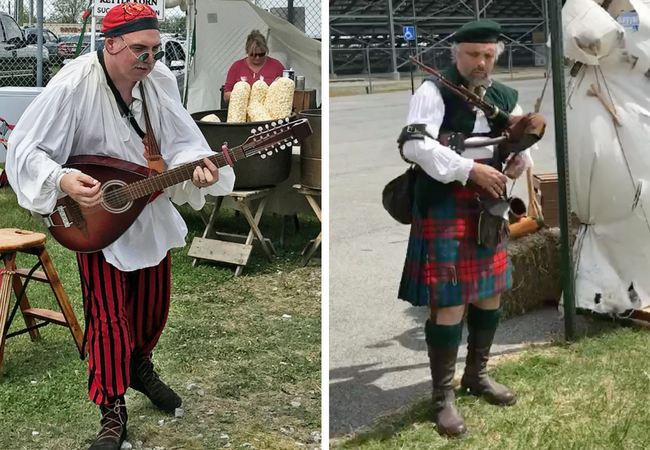 We also enjoyed the archery range where visitors could try their hand at shooting arrows at a target and watch demos of the same. Demonstrations were given with longbows and crossbows.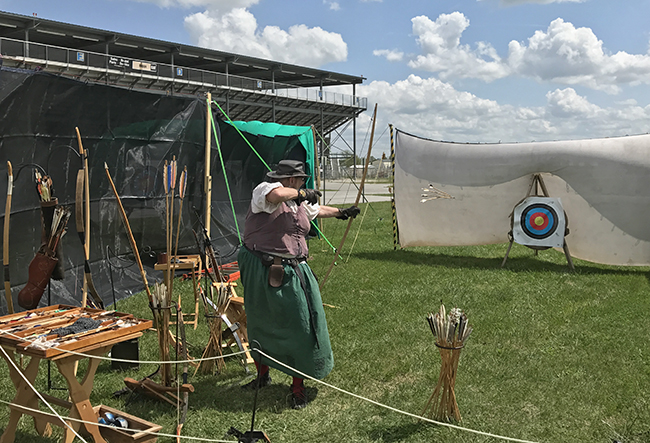 Details to Know Before You Go Next Year
To gain admission to the Renaissance Faire, tickets are required. 1-day admission is $11 for adults and $5.50 for kids ages 5-12. Senior Citizen and Military admission is $5.50, as well. Children 4 and under are free. 2-day passes are also available.
Bathrooms are readily available, as the Faire is held at the Rodeo of the Ozarks Grounds in Springdale. Food and drink are not allowed, though you may bring 1 water bottle per person into the Faire.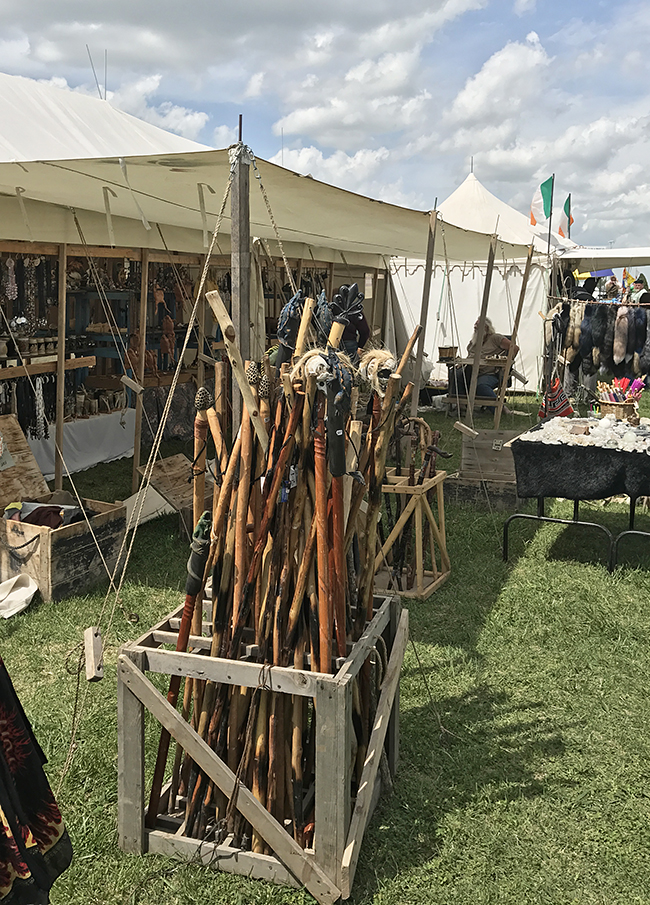 While we enjoyed ourselves, we were at first a bit disappointed when we left. We could have waited around for what they called the Whack a Knight competition, but we decided to head out before it started.  Admission seemed steep for the hour or so we spent at the Faire (because it really only took a short time to walk through everything there was to see, and most of that was artisans selling their wares).
However, I do want to say this… I've since found out that every single penny goes to performers, the venue, and the community. The cast is comprised of young actors and professionals who volunteer. And I will say they are very enthusiastic and enjoy what they do. It really was an experience, and if you want the experience, the cost is worth it. While it wasn't our particular cup of tea, it might be yours. Many people really enjoy the Renaissance Faire, so I encourage you to give it a try for yourself and see what you think. In turn, you'll be supporting your local community.
You can learn more about Renaissance Faire of the Ozarks and find out when it will be held next year by following them on Facebook.