There are so many reasons to celebrate with a sweet treat. Whether it's a birthday, anniversary, holiday, or just an after school pick-me-up, these Arkansas candy shops have something to fit the bill. They're making and selling amazing goodies across the state. Visit one on your next trip, or contact them for special orders that are locally made with love this holiday season.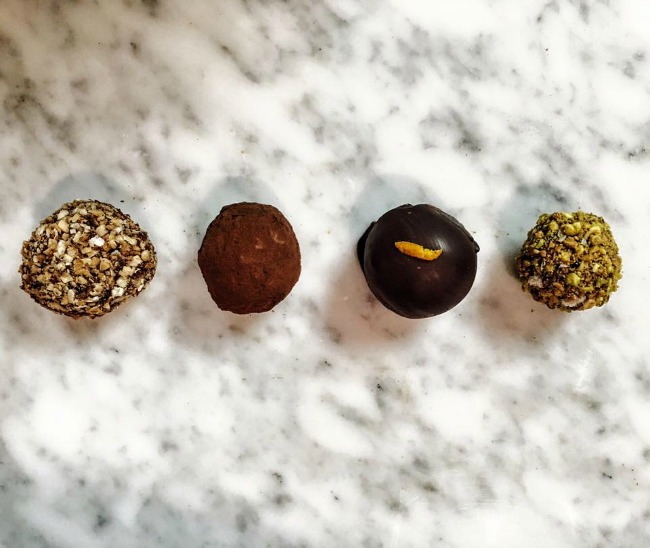 Hello Cocoa in Fayetteville. While these chocolates can be found at retailers across the state and even across the country, visiting their headquarters in Fayetteville is something special. They make chocolate "bean to bar," meaning they source and produce the chocolate. They produce two signature bars, a 57% dark chocolate with beans from Uganda and a 74% dark chocolate with beans from Venezuela. They also create seasonal bars and truffles, like these yummy bites.
Sweet Spot Candy Shop in Mountain Home. You can get tons of different candy here – from wrapped "old school" candy like Zotz and Goo Goos, to candy bouquet gifts, and even salt water taffy! But a highlight of a visit here includes making your own mix from their bulk candy bins. Keep your eyes peeled for specialty candies like their chocolate covered bacon!
Keller's Candies in Gravette. For over three generations, they've been creating tasty treats. While there is no current store front, you can find out where they will be on their Facebook page. You'll find them at events, Farmer's Markers, and taking special orders for their amazing handmade soft caramels, pecan clusters, fudge, and more.
Two Dumb Dames Fudge Factory in Eureka Springs.  Tucked onto Main Street in Eureka Springs, you'll find a heavenly store full of homemade fudge, chocolate bark, divinity, and some of the best chocolate candy apples you've ever tasted. If you're ordering fudge, check out their flavor samplers which will get you six delicious flavors of their smooth fudge.
Ozark Candies and Nuts in North Little Rock. While they're known mostly for their roasted nuts (don't miss the chipotle roasted cashews!), I'm including them here because they do make some awesome chocolate covered goodies like chocolate double dipped peanuts and sweet treats like cinnamon roasted pecans. For something sweet, salty and crunch (the perfect combo!) grab a handful of their mixes.
Juanita's Candy Kitchen in Arkadelphia. This Arkansas institution has been making their signature peanut brittle since 1974. It's crunchy and sweet and can be found all over the state in their infamous white tubs. However, it's never better than it is fresh from the kitchen! While most people know and love the thin, crispy peanut brittle, branch out and try the other varieties- pecan and cashew!
Martin Greer's Candies in Garfield/Gateway. This family uses recipes dating back to the Civil War to make old-fashioned candies. One of their signature items are called "Tempters" (aptly named!). These are caramels dropped on pecans and dipped in milk chocolate. Fans also come from all over to take home some of their delicious pecan and almond bark featuring thin, smooth chocolate or their chocolate dipped orange peels.
The Chocolate Choo Choo in Paragould. This is a slice of chocolate heaven. Many people come in for their over 350 types of candy including bulk jelly beans and unique gummies, but their signature is their assortment of cream and butter fudge made in-house daily. My favorite flavor is their chewy praline fudge with a sweet caramel swirl, but you may fall in love with their caramel coconut or Neapolitan varieties!
Colonial Candy Corner in Hot Springs. While this shop doesn't make any treats in-house, it's a unique local shop specializing in retro and nostalgic candy. You'll find lollipops as big as your head, dozens of flavors of taffy, and bin after bin of sweet bites. It's not to be missed on your next trip to the Spa City.
Kopper Kettle Candies in Van Buren. Candy is still made the old-fashioned way at their shop in Van Buren (with a satellite store in Fort Smith as well). Since 1925, they've been creating amazing chocolate creations. Fans love their seasonal treats including chocolate covered strawberries, chocolate bunnies, Karamel apples (the cinnamon sugar is my favorite!), and giant candy canes available on Black Friday! Stop in to pick out your candies from their glass cases including truffles, haystacks and more!
Is your sweet tooth begging for a bite of something delicious now? Go find some Arkansas-made candies and see what makes the Natural State so sweet.