Days are growing longer, and the weather is starting to heat up. This can only mean one thing… It's ice cream time. Summer is all about ice cream, or so my boys think anyway.
One of our favorite things to do is head to our favorite local dive for a malt, a shake or a cone. We usually end up ordering the same thing because we have our favorite treats.
This summer I'd like to shake it up a little and visit some different ice cream shops in all of our travels around the Natural State. So I made a little list. I added a few of our favorite hot spots for scrumptious ice cream, and I asked a few friends where they like to go for the best ice cream Arkansas has to offer.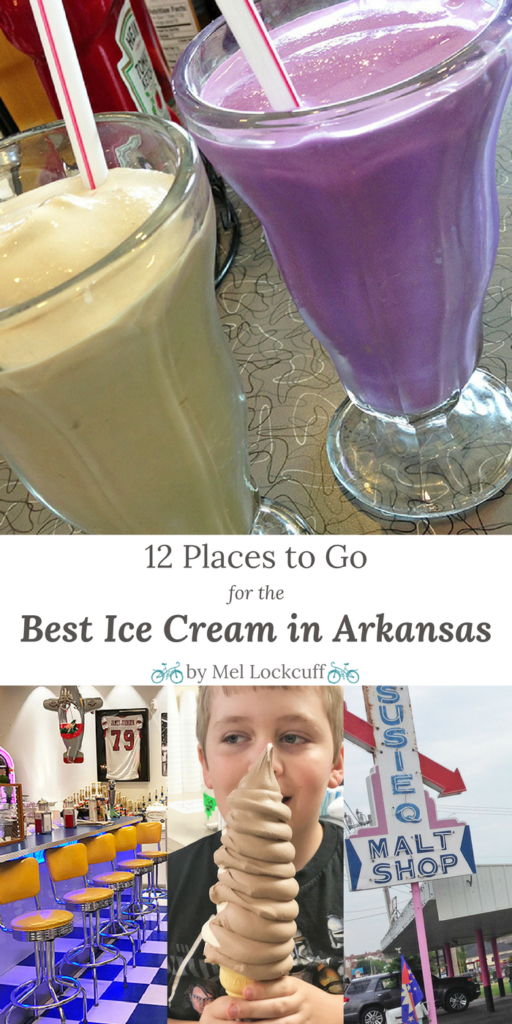 The list is below, alphabetized by town. Be warned: This list is full of cold, creamy, tempting deliciousness! Enjoy!
Benton
6406 Congo Rd.
501-794-3929
Sunday: 12 p.m. to 8 p.m.; Tuesday thru Saturday: 11 a.m. to 8 p.m.
They offer burgers, ice cream and shaved ice. Grab a shake or malt, a sundae, banana split or your favorite cone!
Bentonville
105 N. Main St.
479-273-1329
Sunday: 12 p.m. to 9 p.m.; Monday thru Thursday: 8 a.m. to 9 p.m.; Friday thru Saturday: 8 a.m. to 10 p.m.
This is such a fun place to enjoy a frozen treat in a retro atmosphere. You'll find bottled drinks (including Cheerwine), sundaes, the Sam's Club Banana Pudding Shake, fizzy treats and so much more. Plus, they're located on the Bentonville Square, so you can take in the sights while you're there.
Ice Cream Delights
Eureka Springs
597 Magnetic Dr.
479-981-0465
Thursday thru Monday: 10:30 a.m. to 4 p.m.
You'll find all sorts of treats in this ice cream shop, including apple dumplings, blackberry cobbler, sundaes, malts and more.
Eureka Springs
2049 East Van Buren
479-253-5357
Sunday thru Saturday: 11:45 a.m. to 11 p.m.
The Big Dipper serves both Yarnell's and Blue Bell ice cream; they serve hand-dipped ice cream, low-fat yogurt and sugar-free ice cream. You'll find malts, shakes, floats, banana splits, old fashioned sodas, shaved ice and more. I'll take the Peach and Blackberry Cobbler with Ice Cream, please!
Fayetteville
372 West Dickson (in the Shulertown Food Truck Court)
Tuesday thru Wednesday: 12 p.m. to 10 p.m.; Thursday thru Saturday: 12 p.m. to 11 p.m.
Burton's is a premium soft serve food truck. They offer sweet, salty and spicy ice cream treats. You can get a plain soft serve cone (including twist), or you can spice it up a little by getting, say, the Michael Jackson. The Michael Jackson is a twist ice cream cone with the vanilla side rolled in crushed Oreos and the chocolate side rolled in crushed Nilla Wafers. They have all sorts of wonderful concoctions on the menu, and I'm thinking my boys would absolutely love a trip to Burton's.
Fort Smith
2304 Rogers Ave.
Sunday thru Saturday: 10 a.m. to 9 p.m.
They offer homemade ice cream, fresh fruit popsicles and refreshing fruit water.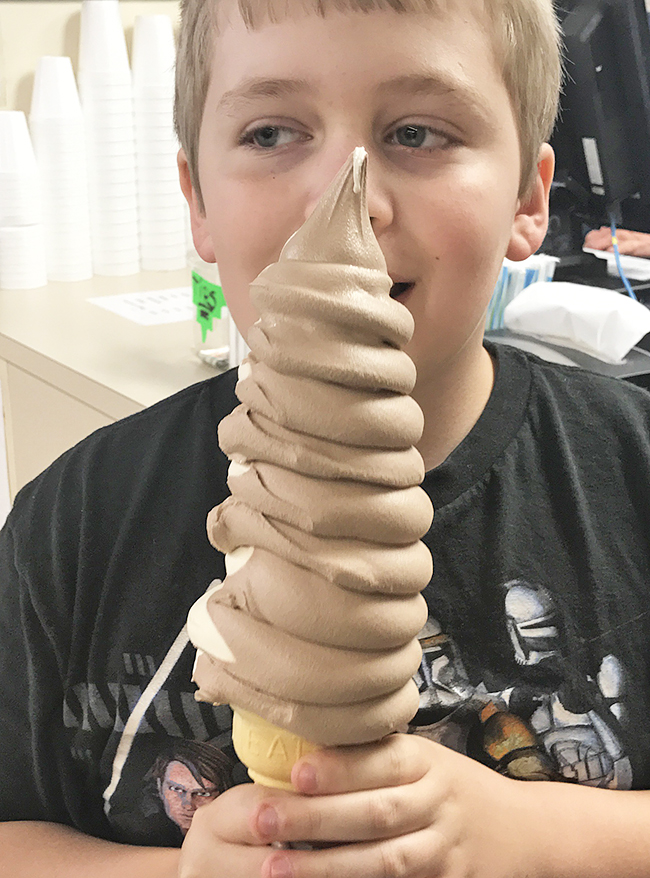 Garfield
18440 Marshall St.
479-359-1303
Sunday thru Saturday: 6 a.m. to 9 p.m.
Don't let the fact that this looks like any ordinary gas station fool you. Short Stop Grill is always busy, and they are the home of the giant ice cream cone. They're not kidding when they say giant. If you're looking for a small cone, order smaller than small, that's all I'm saying. It's one of the few places you can still get a twist cone. Yum!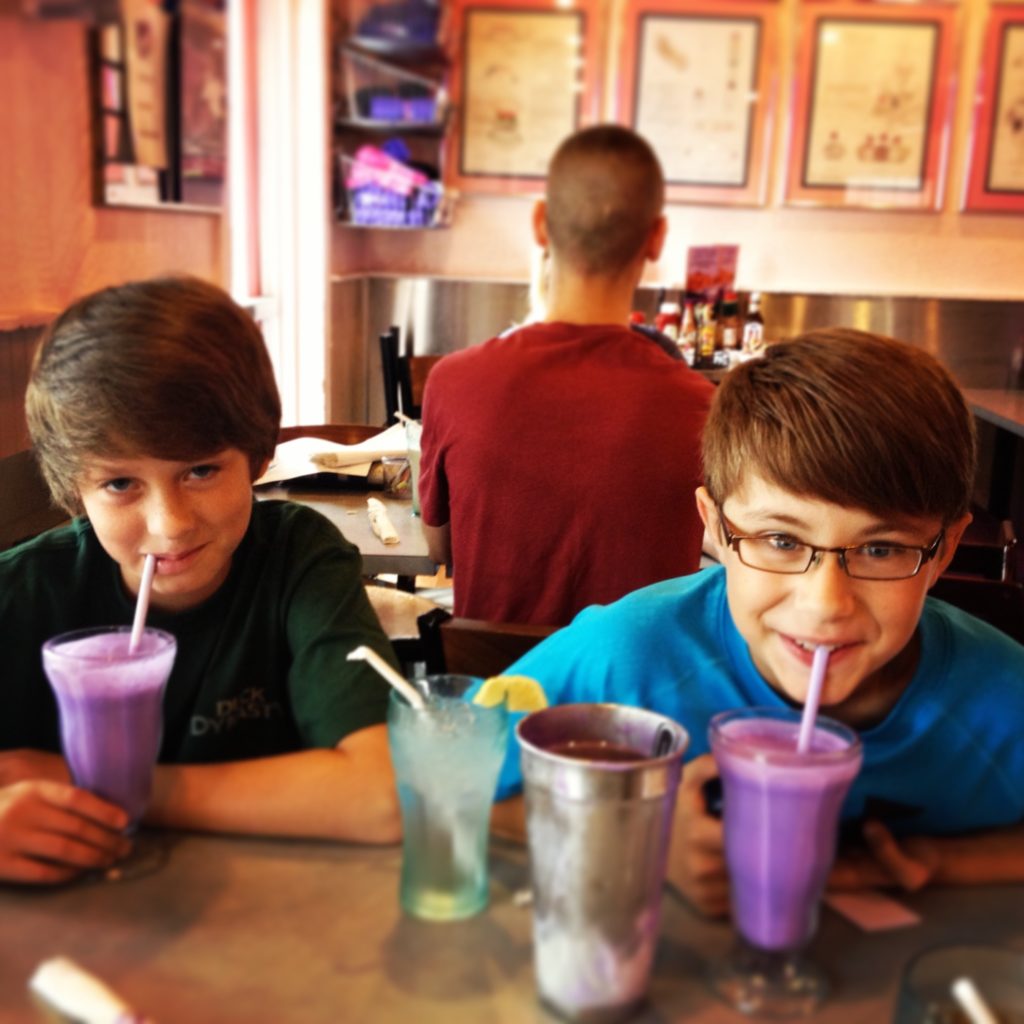 Conway, Hot Springs & Little Rock
Sunday thru Thursday: 11 a.m. to 9 p.m.; Friday thru Saturday: 11 a.m. to 10 p.m.
With The Purple Cow, you get a diner and soda fountain experience. Their cornerstone treat is their hand-dipped purple vanilla shake. You can enjoy shakes and malts (including loaded shakes), a root beer float, the Elvis Milkshake, ice cream sodas, a banana split and so much more.
Little Rock
1423 Main St.
501-396-9609
Sunday: 10 a.m. to 5 p.m.; Tuesday thru Friday: 11 a.m. to 6 p.m.; Saturday: 11 a.m. to 5 p.m.
Experience the thrill of an actual soda fountain inside The Green Corner Store & Soda Fountain. Just a few of their signature flavors include Fresh Mint Chip, Buttermilk, Double Vanilla and Orange Creme Fraiche. Their ice cream is made from scratch, using fresh seasonal ingredients. They even make their own gluten-free cones, fizzy sodas, ice cream sandwiches and more.
North Little Rock
5508 J.F.K. Blvd.
501-753-5407
Sunday: 12 p.m. to 10 p.m.; Monday thru Thursday: 11 a.m. to 10 p.m.; Friday thru Saturday: 11 a.m. to 11 p.m.
ScoopDog was founded in 1999 and is a family operation. It's a frozen custard and hot dog stand. You'll find delectable treats like Concretes, Sundaes, Cows (a blended float), Take Home Quarts, Pure Beef Hot Dogs, and more. I'm a little curious myself to see what their Junkyard Dog Concrete is all about.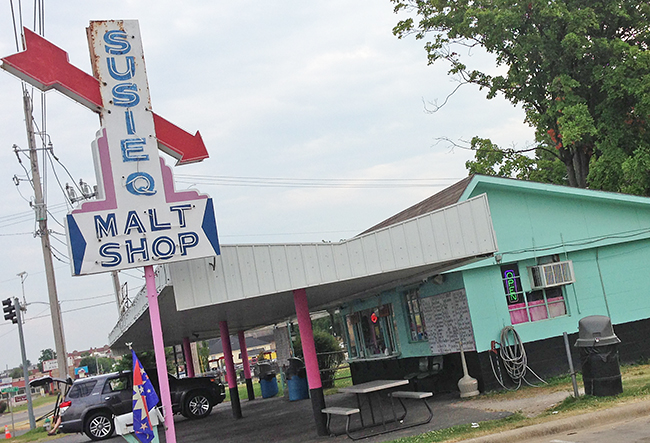 Rogers
612 N. 2nd St.
479-631-6258
Monday thru Thursday: 10:30 a.m. to 8 p.m.; Friday thru Saturday: 10:30 to 9 p.m.
Susie Q's has been one of our favorite spots since we moved to Arkansas. Their cheesecake malts (and shakes) are the best! My favorite treat is the Strawberry Cheesecake Malt (Raspberry Cheesecake is great too). Now, they may try to tell you that cheesecake and malt don't go together very well, but pay no mind. Order it anyway. Your taste buds will thank you.
Siloam Springs
Hours vary.
108 North Broadway St.
Pure Joy was originally started as a fundraiser for an adopting family, and they use their profits to help with orphan care. Using locally sourced ingredients, Pure Joy Ice Cream and Sorbet can be found at various restaurants, grocery stores, ice cream shops, and Farmers Markets in Northwest Arkansas; I hear tell there's soon to be a Pure Joy ice cream shop in Siloam Springs, as well. Flavors include Happy Goat, Midnight Mocha, Cookie Crumble, Sweet Brown Vanilla and more.
I don't know about you, but I think my boys and I have our "work" cut out for us this summer sleuthing out a few of these ice cream shops. Hooray for ice cream!
Note: This information is from our own travels, from Arkansas friends and details from business websites; if in doubt, please contact the business itself to verify hours and information.