Dannie's Cafe is in the boondocks on a patched-up black-top county road in Southwest Arkansas. And, the food? Well, the food is so good that people are flocking to the middle of nowhere from all over. One customer even flies his helicopter and lands in the field behind the cafe just for the food. Yes, the food is really that good. Not only is the food that good, the Chef, Bob Long and his wife, the owner, Flora, have a really good story to tell.
I signed up for one of Chef Bob's monthly cooking classes, I'll admit mainly for the food, but I also wanted to tell you their story. The story begins in a gourmet restaurant located in a 100-year-old renovated barn in Shover Springs, just a few miles outside of Hope.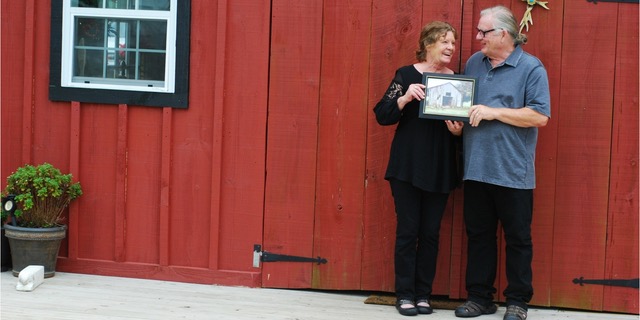 "Baking is a science, cooking is an art." Chef Bob instructed our group of nine foodies, who all eagerly arrived early for the class. Eager? Who am I kidding? We were all giddy. Most of us had eaten at Dannie's Cafe and had a good idea what was coming.
In 2013, Bob and Flora moved to Hempstead County from upstate New York after retirement, returning to Flora's family farm. But, I'm getting ahead of myself, their back-story is just as savory as the food they serve.
Flora graduated from Hope High School in 1959 and immediately set out on a train for Manhattan, New York. She lived in Soho for two years and worked cataloging art at the Metropolitan Museum of Art. She attended New York University and completed a Ph.D. in English Literature, which eventually led her to professorships at Cornell University, as well as Syracuse University. During her career, Flora also taught English in Mexico, France and China. Of her career experiences, Flora reminisced, "I always learned more than I taught."
Bob's early life was not dull fare. After achieving degrees in math and engineering from Youngstown State University in Ohio, he worked for General Motors where he explained, "The company got their very first computer and looked at the youngest person on staff, me, and said 'You learn how to use it,' and that's how I got into the field of I.T. [information technology] and became a computer geek." Bob continued his career with Philips Electronic Company in Syracuse, New York, where he met Flora. During his time in New York he was able to pursue a passion for cooking that he had enjoyed since his childhood, and in his spare time, attended the Miette Culinary Studio, in Greenwich Village, New York City.
Bob and Flora met in Syracuse later in life, on Christmas Eve. Bob is the chef, but he is quick to tell you "Flora is the owner." I asked if Flora is also a chef and she chuckled and said, "no," but then they went on to explain that she was married for over 30 years to a Sicilian and between the two, she makes the best Italian fare.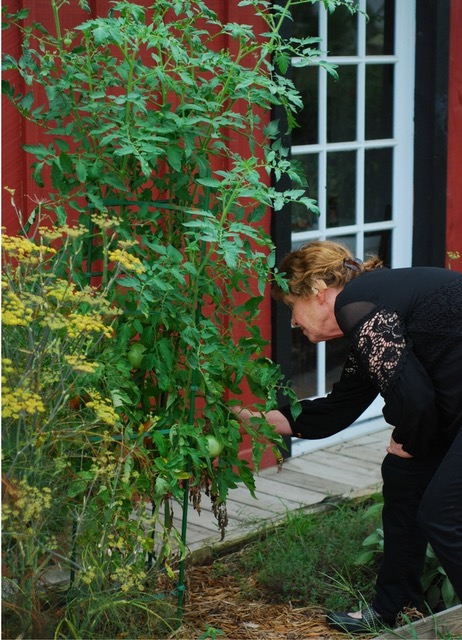 The cafe is named for Flora's brother who has died. Flora explained, "My brother, Dannie Flesher, was a record producer in Chicago for Wax Trax Records. We would all meet back here [at the family farm] and we all worked together to make improvements and maintain the place. It seemed pretentious to name it Bob's, or Flora's Cafe so we decided to honor my brother."
Dannie's Cafe menu is unlike anything you're likely to find on a patched-up county road in Arkansas. Items like full rack of New Zealand lamb marinated in a curry sauce, Chilean sea bass with bacon and leek ragout, and prime black-Angus ribeye steak.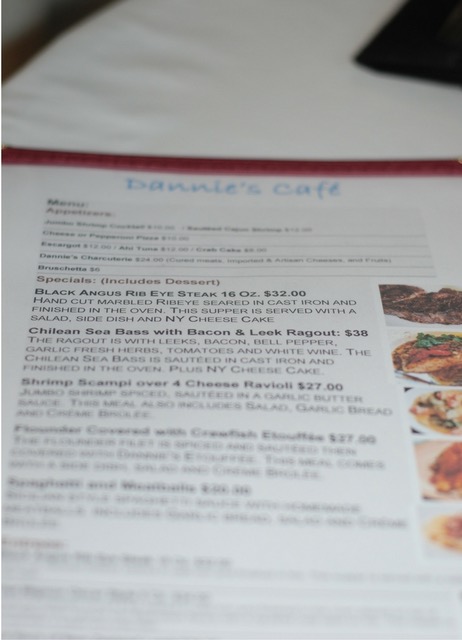 Chef Bob conducts cooking classes twice a month. The class is hands-on. We tasted various vinegars and olive oils from around the world. Chef Bob encouraged us to find the flavors we liked the best. The menu for our class included French potatoes, chocolate mousse, asparagus and bearnaise sauce, crab cakes, bread dipping sauce, salad dressing and steaks or salmon. The best part was, we got to eat everything we cooked.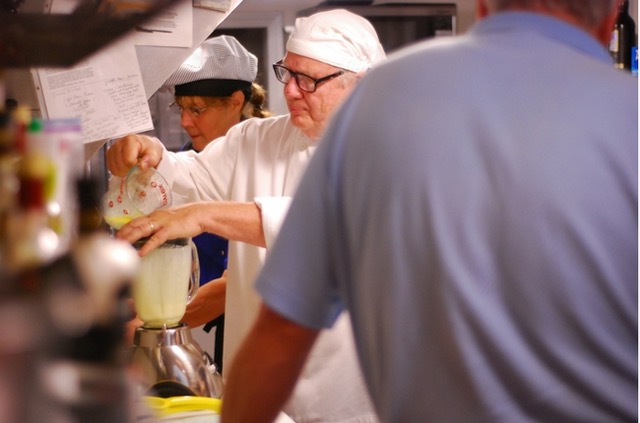 We learned the trick to a good bearnaise sauce, but you'll have to take the class to learn for yourself, we were sworn to secrecy.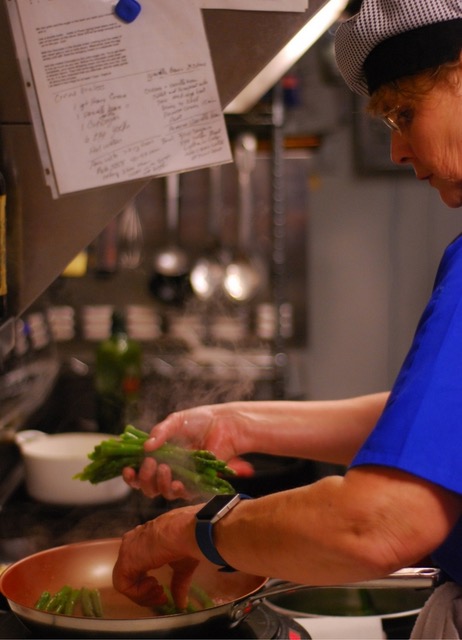 A tip about asparagus, Chef Bob recommends cutting the stems at the first point where they are crisp, then blanching. He swears it will keep its bright green color and stay fresh in the fridge much longer.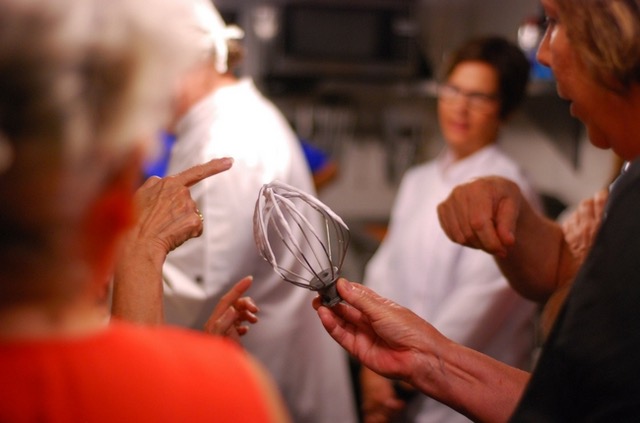 Tasting from the beater while making chocolate mousse, it doesn't hurt to live a little.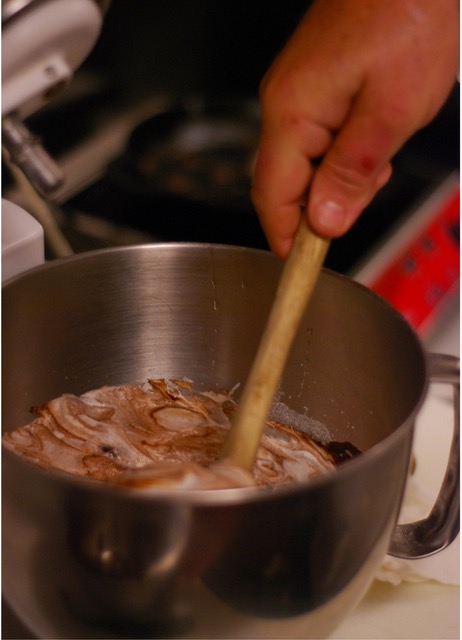 Folding high quality melted chocolate into the makings of a perfect chocolate mousse, or a mousse-terpiece.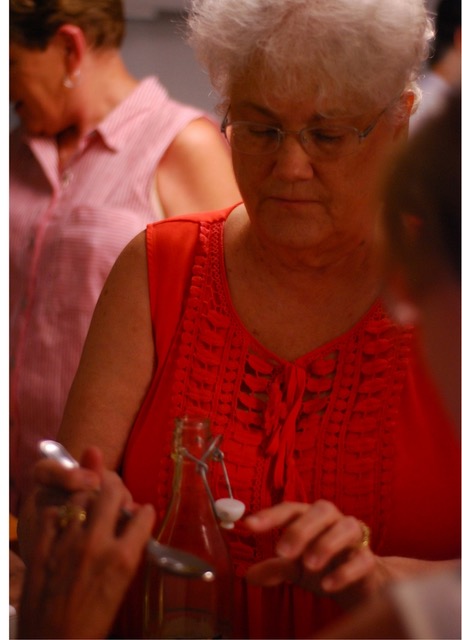 Tasting olive oils; no, they don't all taste the same.
"A good steak only needs salt and pepper."-Chef Bob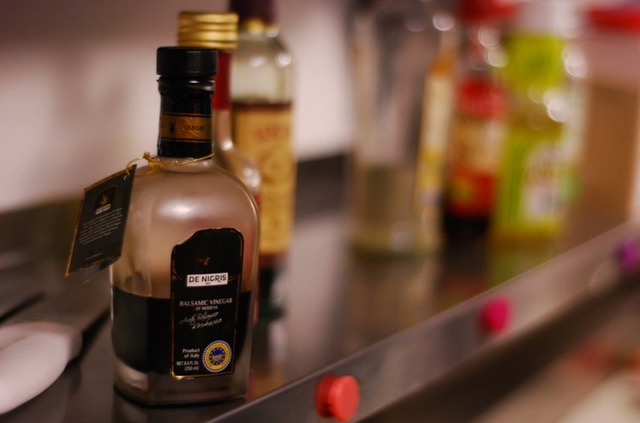 Various vinegars, with my personal favorite in the foreground.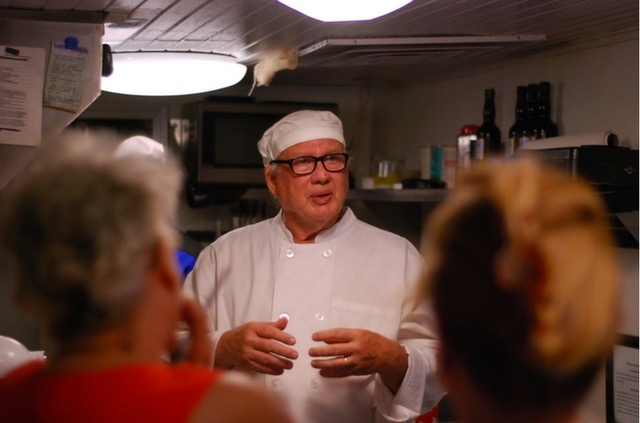 Chef Bob teaching us the culinary arts.
My recommendation is to drive, walk, bike, hike or fly your helicopter to Shover Springs. Whatever you do, go to Dannie's Cafe. Get there early, visit with Bob and Flora, and tell them I sent you.