After scooping ice cream for the past five years inside The Green Corner Store, popular Loblolly Creamery recently opened its own space right next door. The new shop, located along Main Street in Little Rock's SoMa neighborhood, is already a big hit among locals. For owner Sally Mengel, the time was right for such a move.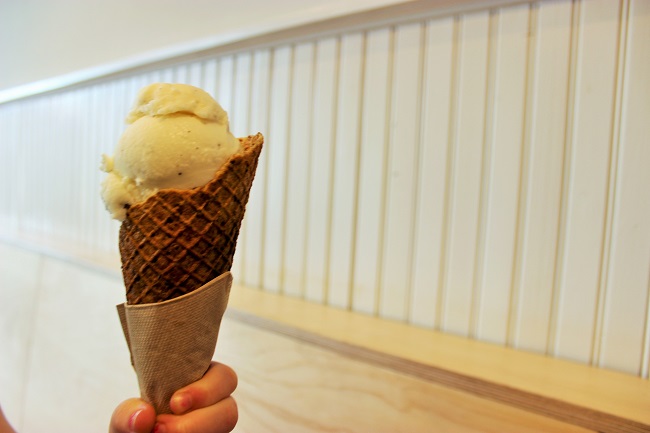 "This year we were noticing that we didn't have enough seating space and room to grow our menu at the soda fountain. The Green Corner Store also wanted to expand their services and offerings.  When the space next door to the store became available, it seemed like the perfect opportunity. It was an easy move since it is right next door. Now with the new storefront, we are able to serve even more ice cream flavors, have more seating, increase our hours, and expand our menu offerings," says Mengel.
If the giant, screaming ice cream cone sign doesn't draw you into the new space, the thought of eating from a selection of 32 ice cream flavors will certainly do so. Inside the shop's long case, you'll find anything from signature flavors like Salted Caramel and Fresh Mint Chip to seasonals like Peach Buttermilk and Campfire S'Mores. There are even dairy-free and vegan options available and Loblolly offers house-made, gluten-free and vegan waffle cones. In the mood for milkshakes, root beer floats, and warm brownie sundaes? Loblolly has those, too, and it's all served up in a beautiful, minimalist setting with expansive windows looking out onto Main Street and the SoMa neighborhood which Loblolly is proud to call home.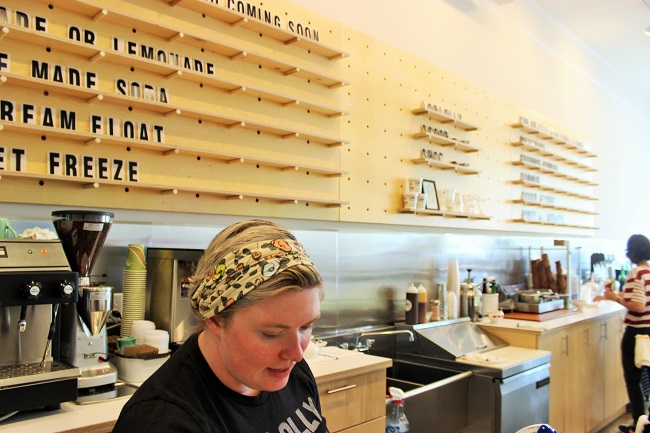 "Loblolly has been part of the SoMa neighborhood for five years now. We have enjoyed watching South Main grow. It is a very supportive community of small-business owners and local food eaters," says Mengel.
With a new home, a fantastically delicious product, and outside temperatures reaching the mid-90's, these are good times for the folks at Loblolly Creamery.
Says Mengel, "The response to the new scoop shop has been really positive. There has been a mix of the Loblolly neighbors, friends, return customers, new comers, and tourists that have enjoyed the shop."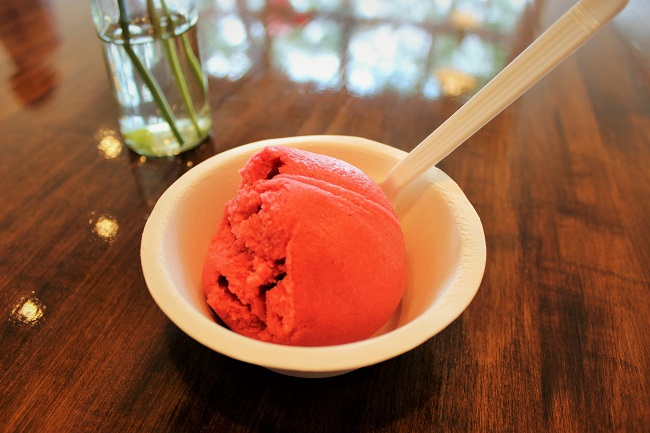 If you've tried Loblolly's ice cream before, then you know why it's such a hit. If not, it might be time to find out what all of the fuss is about. Your biggest problem might be deciding which flavor to get.
Contact Information
1423 Main Street in Little Rock
501-396-9609
Current Hours: Tuesday-Saturday 11 a.m-9 p.m; Sunday & Monday 11 a.m.-6 p.m.
Did You Know?
The Loblolly Scoop Shop offers in-house baked goods like fudgy brownies, cookies, and French macarons, along with new offerings of Mountain Bird Coffee and espresso. You can even try the wildly popular ice cream flight, which includes eight sample scoops of your choice. For larger groups, Lobllolly has a back room available for reserving or renting.
Keep an Eye Out For…
Happy Hour Special: Buy one mini scoop, get one mini scoop free from 6-9 p.m.