In the Wal-Mart-centric town of Bentonville, the imaginative Tusk & Trotter American Brasserie, a gastropub featuring a range of upscale versions of regional dishes at an affordable price, proves an excellent addition to the dining landscape. Housed in what was formerly the personal office of Sam Walton, the space is comfortably intimate, decorated with a reclaimed and rustic motif that parallels the traditional nature of the meal items. Tusk & Trotter is owned by Sarah and Rob Nelson, Bentonville natives with a passion for serving locally sourced, regionally and seasonally appropriate meals.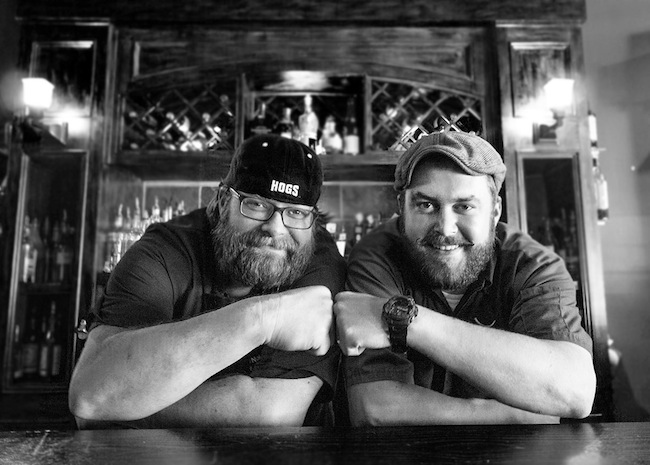 Traditional Ozark meals featured smoked trout and walleye, pork, ham and bacon, wild turkey and deer, and utilized nuts, berries, roots and greens. Many in Arkansas can remember growing up eating persimmon and poke. Appearing alongside the hearty traditional Ozark fare are modern Southern concept foods like fried pies, fried chicken and waffles, pork skins and crawfish—all served with French flair. Rob, as executive chef, brings years of classical French culinary training to the tables of his patrons, having attended both Le Marmiton Cooking School and Universite du Vin in Sousse la Rousse. Yet for all the classical French training, Chef Rob considers his food "American fork art," both traditional and regionally appropriate. The creative dishes are made from food raised locally, and pair well with a variety of microbrew beers or martinis and bloody marys, Tusk & Trotter's specialty, skillfully mixed by the resident mixologist Scott Baker.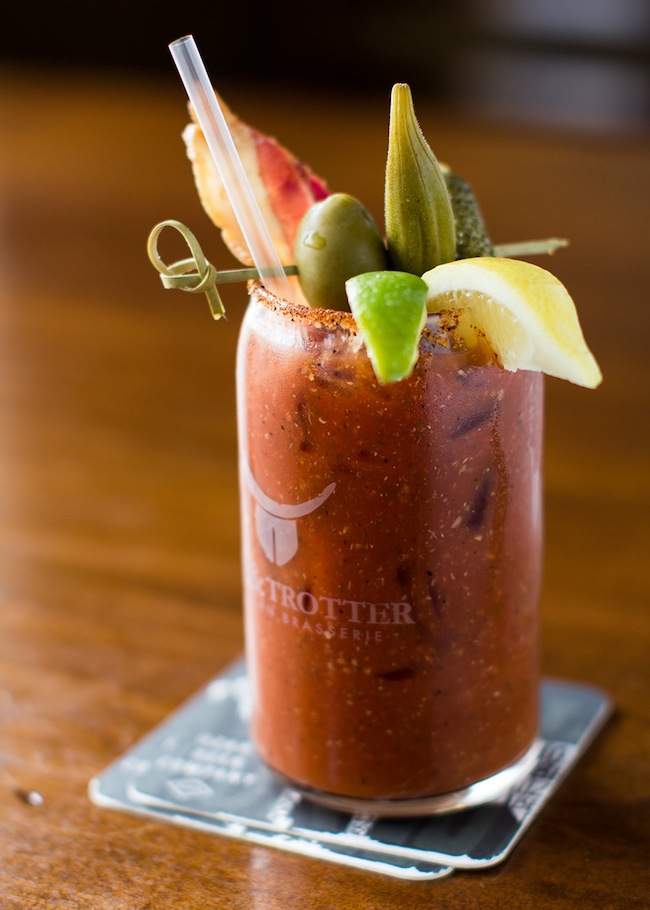 On a recent trip to Bentonville, my appetite peaked after time spent strolling the Crystal Bridges art trail. My husband and I headed to downtown Bentonville as dusk was beginning to fall and the street lamps were brightening. Girls dressed for yoga class walked down the sidewalk. We were meeting our friend Tim from Texas; this was his first time in Bentonville, and he was enjoying the town. Television monitors around the bar broadcast sports events. A painting of the butcher's cuts depicted on a pig covered a full wall. A discombobulated painting of a steampunk-looking gentleman regarded me from three separate frames, reminding me of a portrait from the Harry Potter world.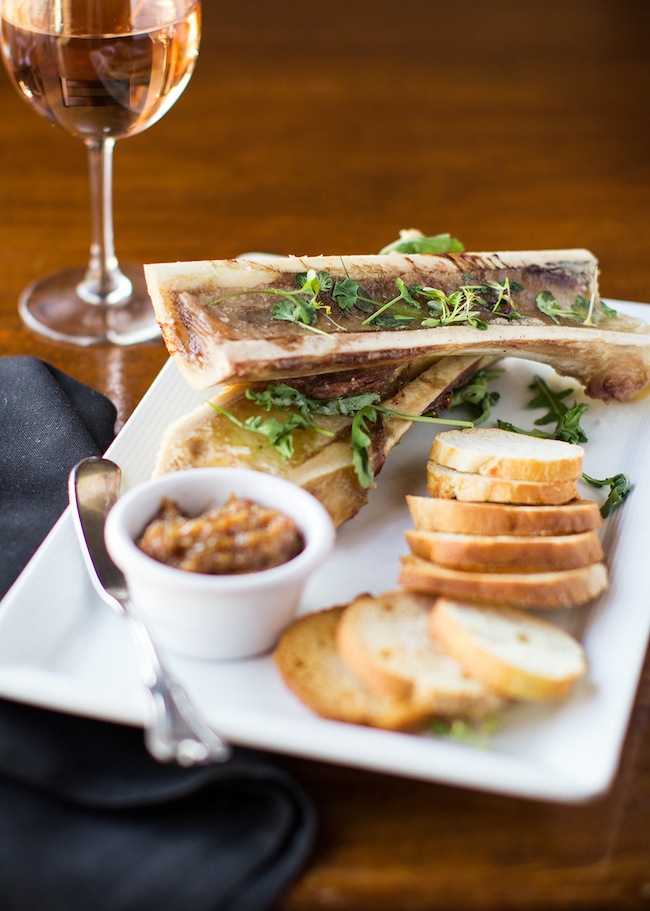 We ordered risotto balls and spicy pork skins for appetizers. The risotto balls, fried spheres of packed rice, herbs and sausage, were moist and full of flavor. The pork skins, though not a favorite snack of mine, were also quite good. For my meal, I enjoyed an Ozark Meat Pie, a medley of tender vegetable and meat flavors with a delicate pastry crust. The dish included a roasted pork bone and crostini with which to eat the marrow as a spread. A cup of Peasant Soup accompanied my meal. For dessert, we had fried apple pies with ice cream. We were very comfortable catching up with our friend Tim as we ate and enjoyed each item from the beautiful presentation to the complementary flavors. It was evident from each dish the pride Chef Rob and his staff take in preparing meals.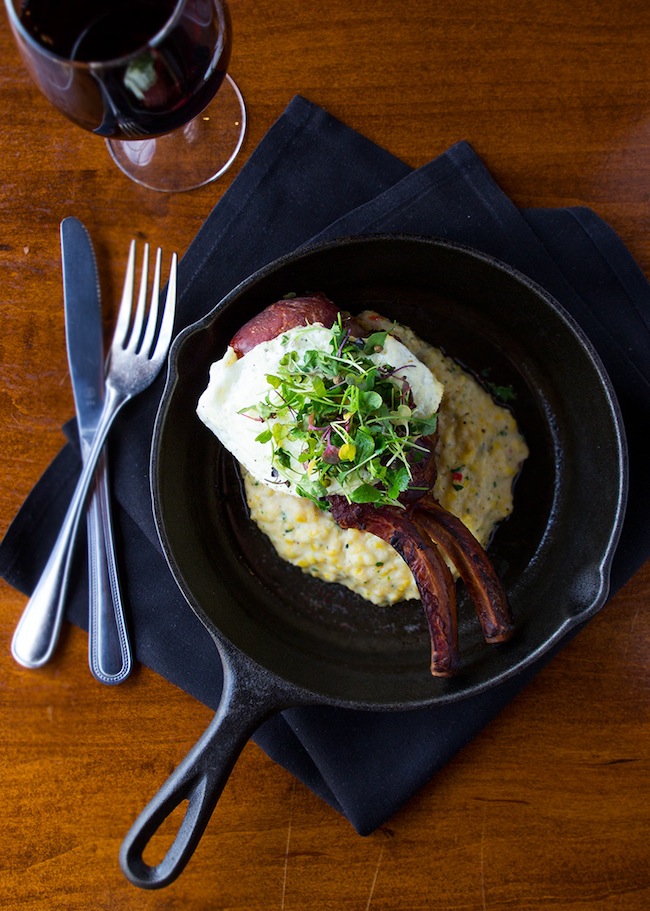 Tusk & Trotter not only serves excellent food, but also provides opportunities for diners to learn about their food. For example, Chef Rob collaborated with Little Rock chef Matthew Bell during Fayetteville Roots, the celebrated music and food festival. At other times this summer, two dining experiences were available: during the Chef's Table event, Chef Rob hosted a tête-à-tête meal with a small party of diners as he explored an exciting menu exclusive to the evening. This allowed diners to appreciate the finesse and expertise with which Chef Rob crafts meals. With the more casual Farm to Fork meal, local farmers and ranchers partnered with Tusk & Trotter to provide a paradigm of what it means to serve food produced locally. Guests at this event interacted with the men and women responsible for raising their food. For a more recent event, Bites & Beers has been drawing like-minded sports and brew fans to enjoy Thursday night football with the tasty accompaniment of "pub bites," each for $5 or less. Bites & Beers will continue for the duration of NFL season.
Chef Rob, mixologist Scott and the staff of Tusk & Trotter are even recognized for their excellence in New York City by the James Beard House, part of the James Beard Foundation for supporting culinary arts. Tusk & Trotter occasionally has held fundraisers to benefit the James Beard Foundation, and this year the restaurant has been honored with an invitation to prepare a meal at the Beard House for a New Year's Eve dining celebration. In a fundraiser Oct. 1, Chef Rob and Scott will give local diners the opportunity to sample the food and drinks they will be preparing that evening as well as help support their work.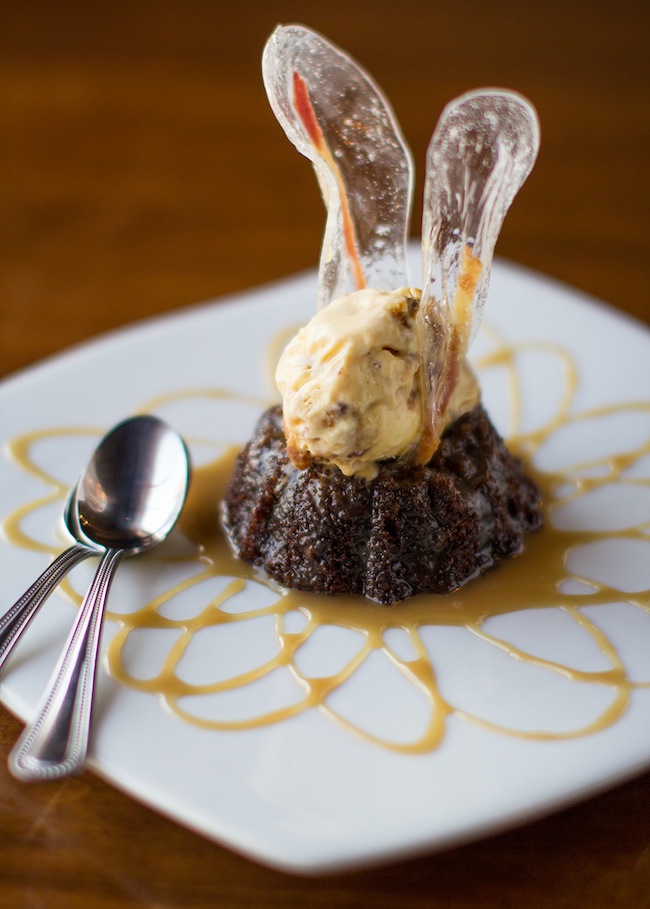 Diners who appreciate culturally historic ambiance and a creative authentic approach to regional dishes should plan to enjoy a meal at the charmingly rustic Tusk & Trotter. It's a good follow-up act to a day at Crystal Bridges or the Amazeum. The restaurant, which just celebrated its fifth anniversary in June, serves brunch, lunch and dinner and remains open until 9:30 p.m. (9 p.m. Sunday and 11 p.m. Friday and Saturday) to provide ample opportunity for a convenient visit. Call 479-268-4494 to place a reservation or inquire about upcoming special dining experiences, or simply trot over for a meal guaranteed to exceed basic "pub grub" expectations.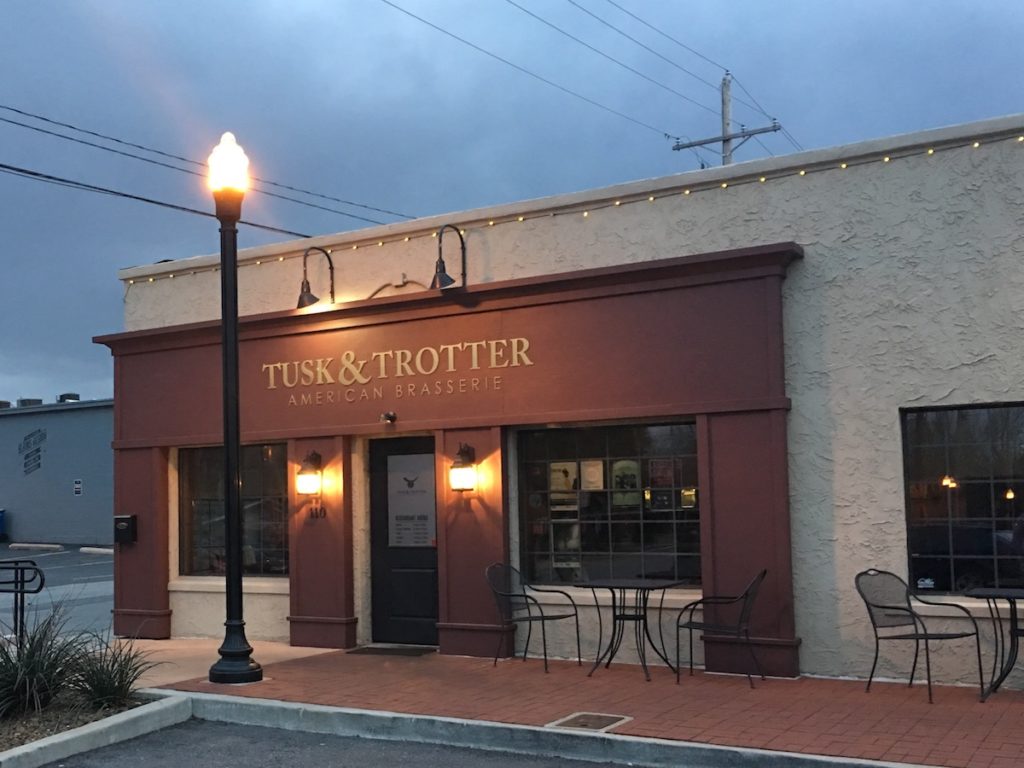 Banner photo by author. Other photos provided courtesy of Tusk & Trotter