After a long, cold and wet winter, it's finally strawberry season! Here in Arkansas, we start counting down the days until strawberry season long before the berries are ready. I have heard talk in my circles about the availability of the fruit. Everyone has been politely badgering the local farmers, "WHEN will they be ready?"
Why? Because they are SO GOOD! A fresh Arkansas strawberry is a good enough reason to tell all of your out of state friends that they should relocate to Arkansas for permanent residency. 
My family has been looking forward to the fresh berries ever since the first warm day of the year because my kids know that for Arkansas strawberries to grow sweet, it needs to be warm and sunny. When we finally got word the strawberries were ready, I thought it would be fun to have our own holiday and call it Strawberry Day.
STRAWBERRY DAY 
We began our observance of Strawberry Day as any other holiday; to celebrate it, you have to learn the history. So, I took the opportunity to give the kids a short history lesson on the strawberry industry in Arkansas as part of our special holiday while we were on our way to get our berries.
In the early 1900s, Arkansas was becoming popular for strawberries. But only certain towns that were strategically located close to a railroad could profit from selling them. Because strawberries have a short peak time after they are picked, they needed to be transported and sold quickly.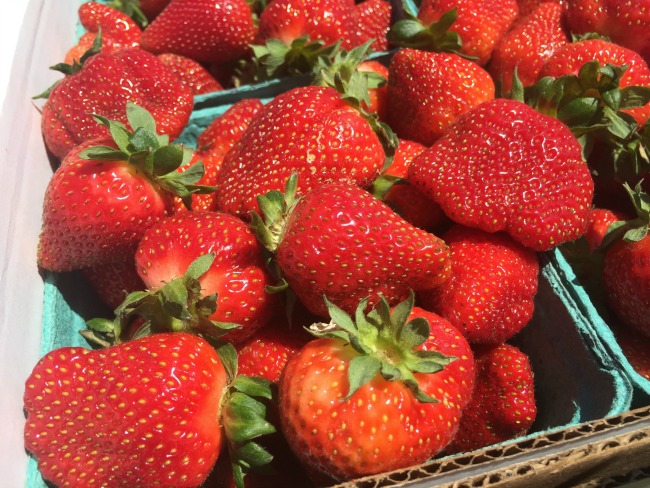 Towns along the current highway 167/67 were able to benefit from this most, especially McRae and Bald Knob because of their proximity to the railroad. Many others towns in White County were also becoming major producers of strawberries. There was a short window in the 1930s when the strawberry production in Arkansas was increasing due to the ability to transport via refrigerated trucks. But the exportation of Arkansas strawberries to other states was short lived and started to decline in the 1950s.
The growing season in Arkansas for strawberries is only about six weeks. There are warmer climates in the United States that have a 6-month growing season for strawberries, and those locations ended up dominating the strawberry trade in exports. That doesn't mean that Arkansas doesn't have the best berries! Local sales of Arkansas strawberries has been thriving since the 1950s. Even today, 90% of Arkansas strawberries are sold in the local markets. This leads me back to our Strawberry Day where we took advantage of the local pickings.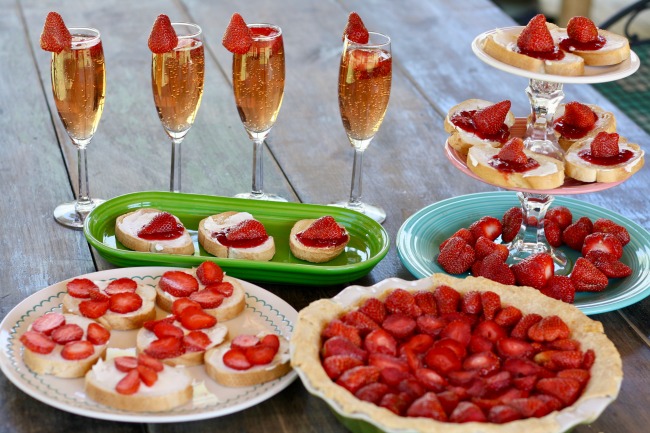 After our history lesson, we ventured to buy a flat of strawberries from our favorite local farmer.  The flat we purchased was picked an hour before we bought them. It doesn't get much fresher than that. 
The flat didn't last two days at my house.
For Strawberry Day, we made a strawberry pie, strawberry sandwiches, strawberry punch, homemade strawberry jam and ate more than our fair share of fresh strawberries for breakfast, lunch and dinner. Once our bellies were full, we made it a special afternoon by doing a strawberry craft. We then snuggled up with a strawberry book from our local Arkansas library.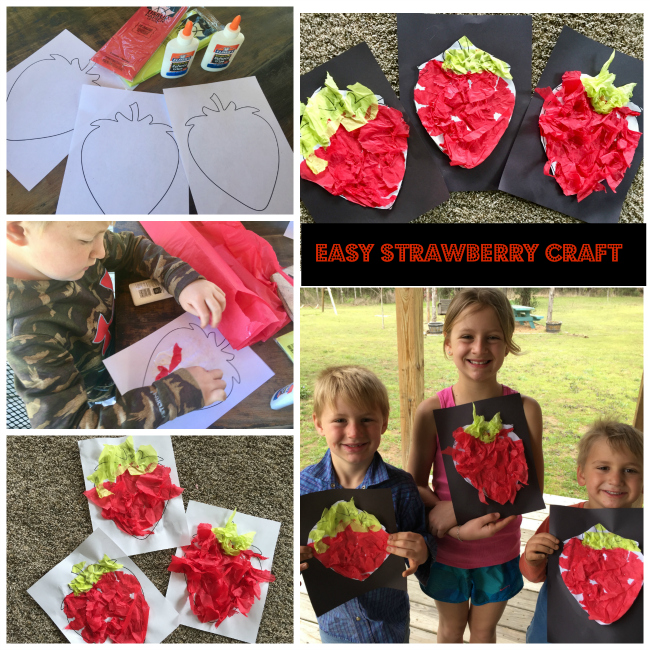 Fresh strawberry pie is my favorite springtime dessert. You can't go wrong with fresh berries in a flaky pie crust. They are easy to make, a delight to serve and they always please the crowd.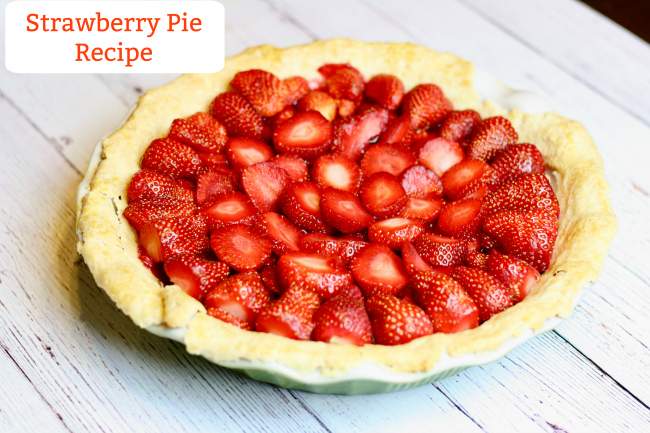 Strawberry Pie Recipe
Ingredients
1 Pie Crust (Homemade or Store Bought)
5 Cups Fresh Strawberries (hulled)
1 Cup Sugar
3 Tablespoons Corn Starch
1/2 Cup Strawberry flavored gelatin powder
1 Cup Water
Instructions
Bake pie crust as directed. Let pie crust cool completely.
Slice two cups of fresh strawberries and layer in the bottom of the cooled pie crust and set aside.
Crush 2 additional cups of strawberries.
In a saucepan combine 2 cups crushed strawberries, cornstarch, water, strawberry gelatin powder, and sugar. Bring to a boil, constantly stirring until it thickens. Turn off the heat and set aside to let the mixture cool completely.
Pour the strawberry/gelatin mixture on top of the fresh strawberries in the pie crust.
Top with 1 cup of fresh strawberries either halved or sliced depending on your preference for eating and aesthetics.
Refrigerate for at least 3 hours.
Serve with a dollop of whip cream if desired!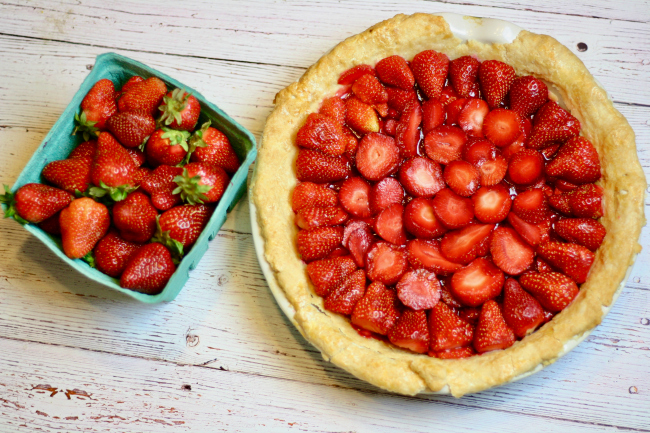 If you are not a cook or don't feel like making a strawberry pie, then I HIGHLY recommend grabbing some friends and taking the trip to the Bulldog Restaurant in Bald Knob for their famous strawberry shortcake or heading to Wild Sweet Williams for a strawberry scone. YUM!
If you want to pick your own berries, then CLICK HERE for a list of places to pick strawberries in Arkansas.