One of the best ways to beat the heat is to get in the water. We have so many options here in Arkansas: lakes, rivers, pools — but some of the most fun spots are splash parks and aquatic centers. Since they are smaller than water parks, they are usually free or admission is cheaper. There are many splash pads and aquatic centers scattered around the state, so there's one near you for a fun day in the sun.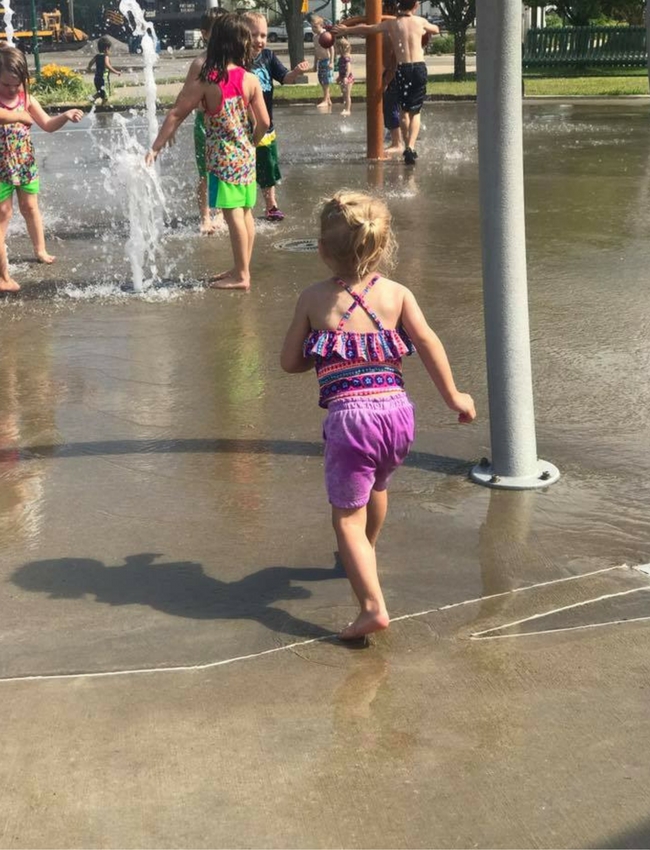 Here are 20 places to splash around this summer:
War Memorial Park in Little Rock — The splash park has a natural look and almost feels like you're playing in a creek. There's also a slide for adventurers.
Arkadelphia Aquatic Park — Slides, a shallow kid's area, plenty of shaded areas and a concession stand make this a fun spot to spend the day. Admission is $6 or you can buy a 10 visit pass for $50.
Alma Aquatic Park — The park is part of the Alma City park, so you can take advantage of playgrounds when you're ready to get out of the water. The water play area includes plenty of slides and exciting features. Admission is $2 for 3 and under, $5 for ages 4-10, and $10 for 11 and up. 65 and older get in free.
Dunkin-Wall Water Park in Manila — Slides, a diving board, kid's area and pool are great for splashing, and there's a concession stand for when you work up an appetite. Admission is $5 for kids and adults.
Martin Luther King Park in Fort Smith — This splash pad features a lot of exciting features include sprayers, buckets that fill and dump water and water-spraying arches to play underneath. It's free to visit.
Tyndall Park in Benton — There's fun in and out of the water. Softball fields, tennis courts, basketball courts, a skate park and the splash pad mean you can play here all day long.
Compass Park in Fort Smith — Along with the traditional spouts shooting up from the ground, there's a spinning fountain that adds to the fun. At night, the park lights up with fun colors!
Rogers Aquatic Center — After the normal daytime splashing and floating in the lazy river, they host regular Park after Dark theme parties. Admission for Rogers residents is $8 for those under 48" and $12 for those above, and non-residents will pay $10 for below 48" and $15 above. Those under 36" are free, and seniors are $8.
Peabody Splash Pad at River Market Park in Little Rock — The splash pad was created using natural stones giving kids a place to play and splash that looks like the nearby river.
Lawrence Plaza in Bentonville — Open mid-May to mid-September, the splash park fountains provide a break from the summer heat. The fountains are fun as they shoot in different directions and turn on and off for surprise splashes.
Jordan Park in Monticello — This fenced-in splash pad sprays water in every direction and also has a covered pavilion for when you need a break from the sun.
Bishop Park in Bryant — Packing a two-for-one punch, there's an indoor/outdoor aquatic facility and a splash pad. In the aquatic center, you can take swim lessons, Aqua Zumba classes, and mom and me swim classes. Admission is $4 for youth and seniors and $6 for adults.
Parker Park in Jonesboro — Jump and dance through the water in this fenced splash park. It's free to visit!
Batesville Community Center and Aquatics Park — As an indoor/outdoor aquatics center, you can visit no matter the weather. The outdoor area includes a fun lazy river so you can float while the kids play on the slides and in the pool.
Irma Belcher Park in Osceola — This large aquatic park provides plenty of room for kids to play in the fountains. Water features include spraying arches, filling buckets and other exciting fountains.
Springdale Aquatic Center — There's a large pool, a shallow kids area, slides and spring boards. There is some covered seating and also lounge chairs in the sun. Admission is $3 for ages 0-3, $4 for 5 and older, or get a pass for $80 that gives you 25 visits.
Paragould Community Center and Aquatic Park — With an indoor pool and outdoor water park, there's always fun to be had in Paragould. The water park has slides and a shallow splash area for all-ages excitement. Admission is $5.
Cabot Aquatic Park — Swim, slide, splash, and play and then grab lunch at the full-service concession stand. Admission for 48" and above is $8, 48" and below is $7. There's no charge for infants under 1 year of age. Seniors are $7, and they offer $1 off each admission for the military.
Clarksville Aquatic Center — This water park features a splash pad, lazy river, slides, and cabanas. If the weather drives you inside, the indoor pool keeps the fun going with diving boards and a competition-size pool. Admission is $7 for ages 3-54, $5 for infant to 2 or over 55.
Allen Park in Jonesboro — Along with a skate park, bocce ball, playgrounds and tennis court, this park boasts a fun spray ground with arches to play under and benches for the parents to sit and watch.
A few tips before you go:
Remember swim diapers for the kiddos. Most pools and parks have rules requiring them.
Don't forget sunscreen! The Arkansas sun can get intense.
If you're going to a splash park, wear proper footwear. Something non-slip that can get wet is important. Many require shoes and won't allow kids to play barefoot.
Leave Fido at home. Pets are typically not allowed at these facilities.
Remind your kids of safety rules: no running (wet concrete can get slippery) and not to drink the water. The water at splash parks is often reused and isn't safe for drinking.
Which parks are on your summer fun list? Is there another park or splash pad that you love to visit? We'd love to hear about more places to splash around!