On a beautiful day in September, my brother-in-law went for hike along the Ozark Highlands Trail. As he hiked a little west of Hare Mountain, he reflected on a story he'd recently read of a bear attack in the same area in the early 1990s. When two deer sprang out of a thicket, it startled him, but my brother-in-law is an experienced hiker and he continued solo down the trail. He saw the bear when it was only 25 yards away. The bear bolted, crashing through the forest and panting loudly. My brother-in-law's heart raced at his first encounter with an Arkansas black bear.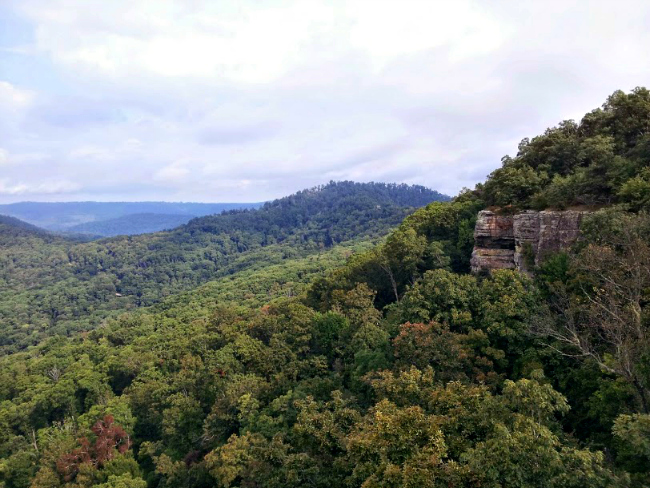 Arkansas was once known as the Bear State with pre-settlement estimates of up to 50,000 bears across the mostly wooded wilderness. The black bears in Arkansas loved the steep mountains covered in hickory and oak trees, the rugged hollows and the abundant water sources. Once settlers arrived and began to clear and farm the land, suitable bear habitat became scarce. Settlers also hunted bear for meat, bear fat and bear hides. The number of bears dropped drastically throughout the state. In the 1930s it was estimated Arkansas had only fifty black bears left. The Bear State was in danger of losing an animal that had anchored the ecosystem for thousands of years.
The Arkansas Game and Fish Commission (AGFC) stepped in to save Arkansas black bears. In the late 1950s and throughout the 1960s, the AGFC imported over 250 black bears to reinvigorate the state's population. Bear hunting was officially banned in 1927 and that ban continued until 1980. The repopulation of black bears in the state is one of the greatest successes in wildlife management in Arkansas.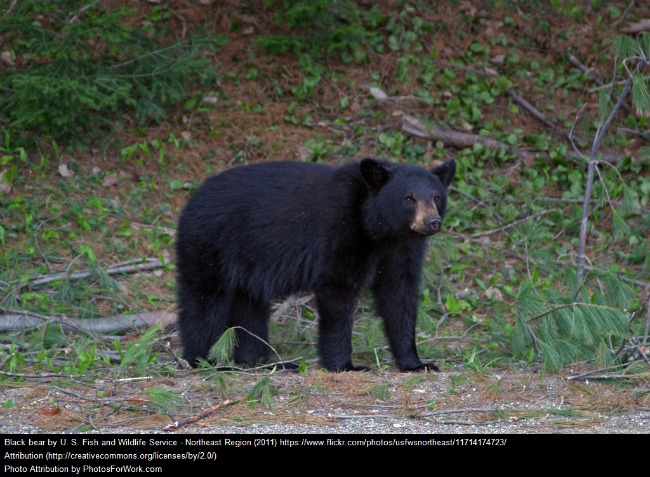 Black bears are the smallest bears in the U.S., and despite the name, not all black bears are completely black. Some can be various shades of brown or have white markings on the chest. Females rarely weigh more than 300 pounds, but mature males can reach 600 – 700 pounds. Bears are solitary creatures and most will flee from humans, like the bear my brother-in-law encountered. However, as the bear population stabilizes, with the latest estimate between 4,000 and 5,000 bears statewide, an encounter grows more likely.
Clay Newcomb hunted his first black bear in Arkansas in 2001. As he approached the animal, it struck him that he knew hardly anything about it. Since then, Newcomb has made it his mission to understand the Arkansas black bear. He founded the Arkansas Black Bear Association in 2010 and seeks to provide information, education and resources to hunters and anyone interested in preserving and sustaining the black bear population. Newcomb views the bears as one of our state's most valuable resources.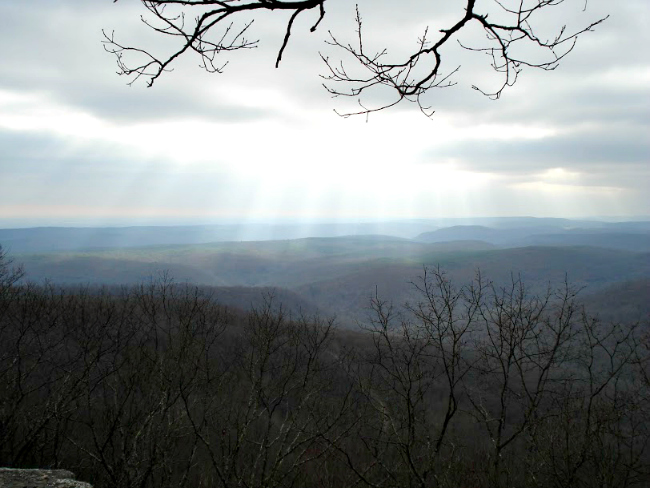 Whether you're interested in hunting bears or simply spotting one, you can find black bears in Arkansas in three main areas: the Ozark Highlands area, the Ouachita National Forest, and the lower White River basin. Bears love isolated, rugged territory, and the Ozark Highlands and the Ouachita Mountains and National Forest are prime territory for bears to forage for some of their favorite foods – acorns, hickory nuts and berries. The bear population in the White River Basin is known as an isolated population, cut off from other bears in the state.
Bear hunting is closely monitored by the Arkansas Game and Fish Commission and the state is divided into seven hunting zones with specific dates for hunting in each zone. The AGFC currently allows about ten percent of the bear population to be hunted each year to stabilize and maintain a healthy population. If you're interested in bear hunting, contact the Arkansas Game and Fish Commission and find further resources at the Arkansas Black Bear Association.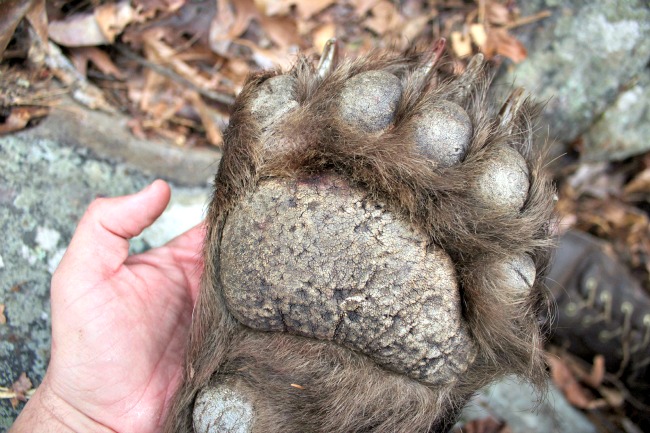 If you're not a hunter, but you'd like to see a black bear, hiking or driving in remote locations are your best bet. The Ozark Highlands Trail and its adjacent trail systems could offer an opportunity to see a bear. A drive along the Talimena National Scenic Byway, which cuts through the Ouachita National Forest, could also offer a quick glimpse of a bear crossing the road. However, most bears fear human contact and the most likely glimpse of a bear will be its hindquarters as it retreats into the wilderness. Bears are more active in late spring, summer and fall, but they aren't true hibernators over the winter. On warm winter days, bears may occasionally be found outside their dens looking for a mid-winter's snack.
Bears only overcome their fear of humans when they are hungry and cannot find a stable food source, or when they are allowed to feed on garbage and lose their natural fear of people. Each spring, a handful of bear sightings are reported in towns around Arkansas. These are generally young black bears who have recently been kicked out of their mothers' dens and are searching for easy meals. The best way to minimize black bear encounters in towns or campsites is to properly dispose of garbage, placing it in containers and not leaving it outside overnight. If you spot a bear in town, do not approach it and call your local law enforcement and report the sighting to the AGFC.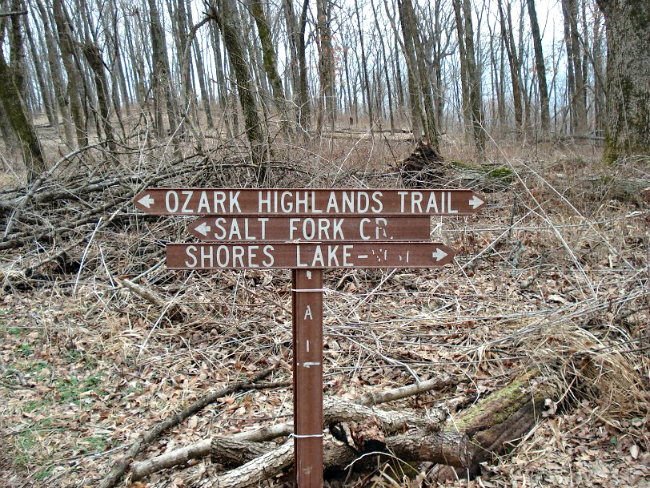 Hikers, hunters and campers in the Ozarks, Ouachitas and White River Basin should always take steps to keep food inaccessible to bears, either by locking it in car trunks or hanging food out of reach of bears and away from tent sites. Hikers should travel in groups of two or more and make noise to deter bears. Singing is a great way to let bears know you're coming down the trail and have a little fun, too.
If you do spot a bear in Arkansas, know that we're lucky to have black bears back in the Bear State. Then take a deep breath to still your pounding heart.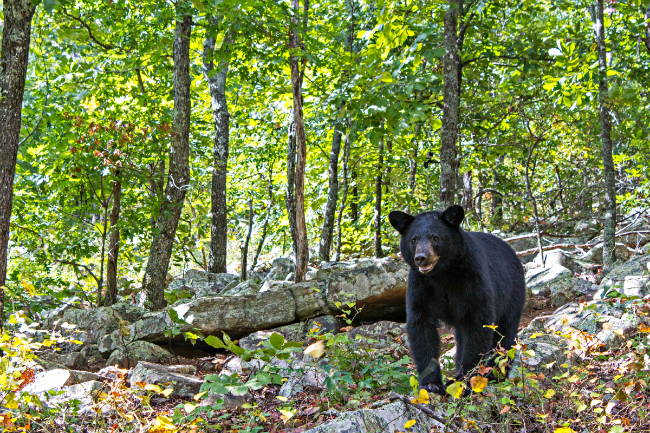 More information on Arkansas Black Bears:
Hunting
Arkansas Game and Fish Commission 
Arkansas Black Bear Association 
Hiking/Camping
Ozark Highlands Trail
Ouachita and Ozark National Forests 
Arkansas State Parks – Backpacking in Bear Country 
General Information and Social Media
The Encyclopedia of Arkansas History and Culture – Black Bears
Talimena National Scenic Byway 
White River National Wildlife Refuge – Friends Facebook page
Arkansas Game and Fish Commission Facebook page
Photo Credits: Ouachita Bear, Black Bear Paw – Clay Newcomb of arbear.org.
Arkansas landscapes – Doug Mitchell, used with permission.