Improvisational Theater, or "Improv," is a performance style that can trace its roots back to early Greek and Roman theatrical performances. They, in turn, influenced Italian commedia dell'arte in the 16th through 18th centuries, which featured scenes that were highly improvised by an ensemble of actors, but based on stock situations, characters, and even repeated lines of dialogue.
All forms of improvisational theater involve the performers creating a scene together without rehearsing, without a script and with a minimal storyline to create something cohesive and (hopefully) entertaining for the audience. Because the scene on stage is created in the moment, no two shows are alike – even when the same performers or topic are being utilized. The unpredictable nature of the form is part of the fun, both for audiences and performers.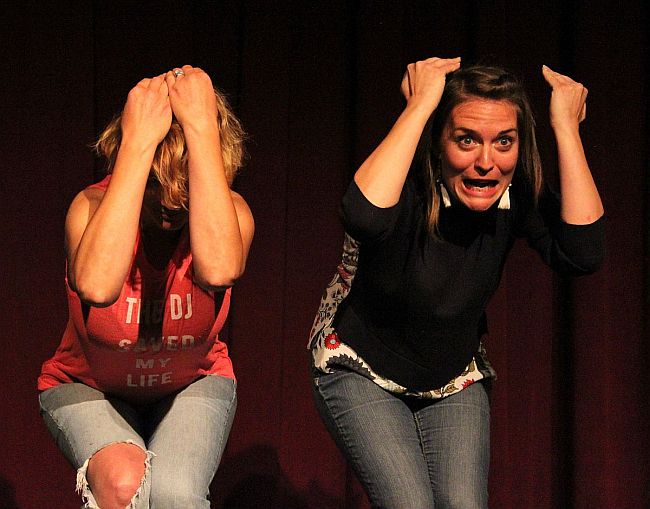 Image courtesy of Indigo Anderson-Moore.
Today, some of our favorite comedians are known for their highly improvisational style, and the structure of our favorite television sitcoms are often based on techniques that were developed in the 1950s by pioneers in the form. Improv ensembles are found in cities around the country performing for audiences at dinner theaters, in schools, and even corporate events. Perhaps the most famous of these is Second City in Chicago. In their ensembles, dozens of actors and comedians who paved the way for modern performers got their start. People like Gilda Radner, John Belushi and Bill Murray helped introduce this "new" style of comedy to the American public and paved the way for some of our modern favorites like Stephen Colbert, Tina Fey and Amy Poehler.
Here in Arkansas, there are several established groups performing improv in a variety of venues.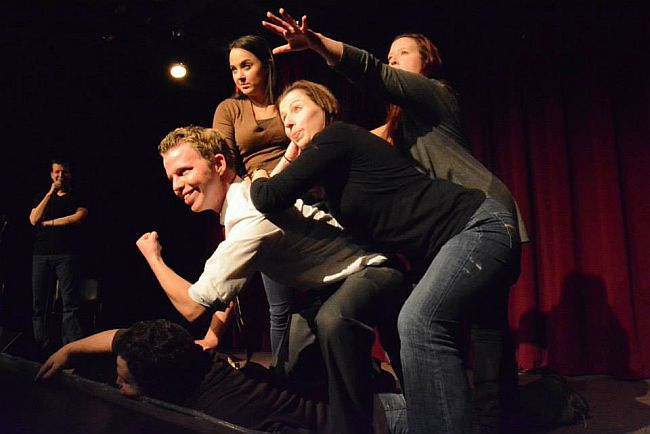 Image courtesy of Indigo Anderson-Moore.
In North Little Rock, Improv Little Rock takes the stage weekly in a performance called The Joint Venture at, and you guessed it – The Joint. They also try out new ideas in a late-night show once a month, and occasionally reappear at their original home, at The PUBLIC Theatre in Little Rock.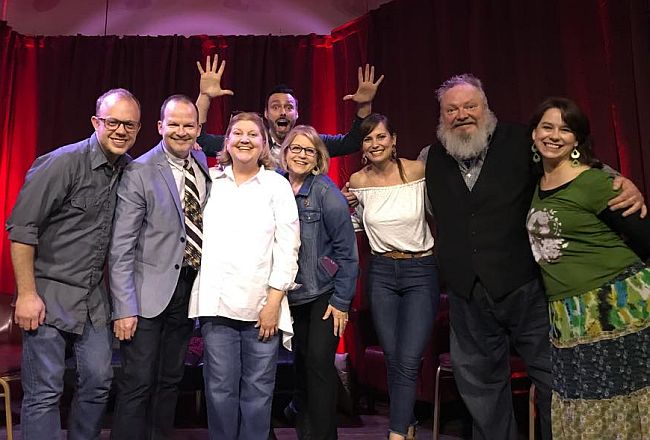 Image courtesy Phunbags Comedy Improv.
Phunbags Comedy Improv, based in Fayetteville, uses short-form improv and games to entertain, with bonus punches of sketch comedy, multimedia and music performances. Their 8-person ensemble has singers, writers and actors with decades of improv experience who keep audiences' funny bones tingling. They are available for hire as well and are a popular group at corporate and fundraisers in the area. Connect with them on Facebook to keep up with their performance schedule.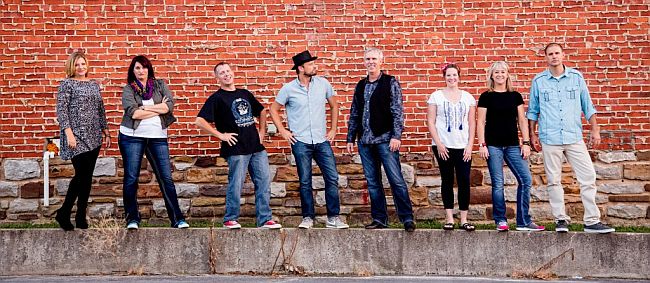 Photo courtesy Sock Monkey Improv.
Another NWA group, Sock Monkey Improv, also specializes in short-form comedic games and skits similar to those you might be familiar with from the popular television show, Whose Line Is It Anyway? They perform locally, and also offer workshops and hire out for company team-building programs.
In addition to the opportunities to watch improv, some community theaters and schools allow curious fans to learn and participate. Recently, Theatre Squared in Fayetteville hosted a weeklong workshop taught by visiting instructors from Second City. Participants were led through exercises, critiqued on their skills, and taught the science behind the art, which, if done right, looks much easier than it actually is. Check your local theater camp and class schedules to find out what is available near you.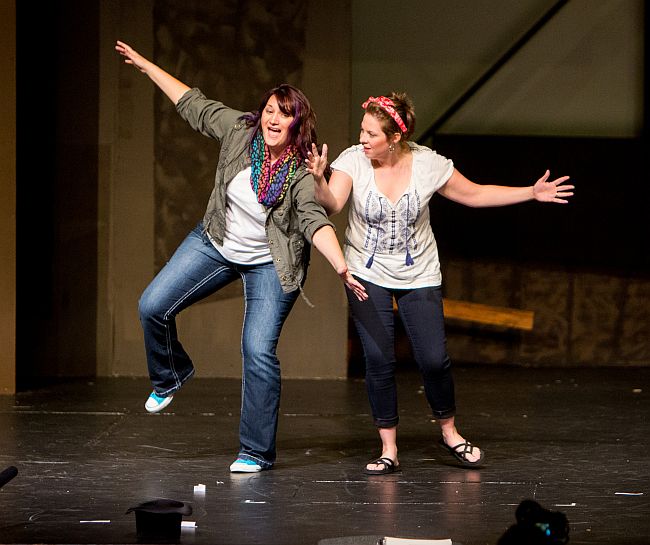 Photo courtesy Sock Monkey Improv.
But improv is not just for nightclubs and parties. The science of improv led Stacey Mason, co-founder of Sidebar Improv and Sock Monkey Improv, to build a curriculum that she shares with clients through her company, The Improv Lab. She believes improv can help individuals build skills like trust, collaboration, problem-solving, and working without a script, in addition to knowing when to employ a leadership role, and when to shift to what she calls "followership." When employed by someone with practice, these skills can cross over from the stage to the strategy team.
Whether you're interested in watching people make fools of themselves or would like to join in the hilarity, improv provides. Arkansas is the Natural State, and what is more natural than making people laugh? For local actors – there's nothing better.