The Razorbacks are famous across Arkansas and beyond. Many sports fans know and love the woo pig sooie cheer. Since 1910, the University of Arkansas has used the razorback as its mascot after football coach Hugo Bezdek proclaimed the team played like a "wild band of razorback hogs." It was a strange thing to compare the players to, but in Arkansas, wild hogs have a history much longer than the Arkansas Razorback mascot.
Pigs are not native to the United States. They arrived with the first settlers and some escaped as early settlers pushed west through the U.S. The explorer Hernando de Soto is credited with first introducing wild boars into Arkansas. Domestic pigs that escaped their owners bred with the wild hogs already established in the south and the modern day razorback was born.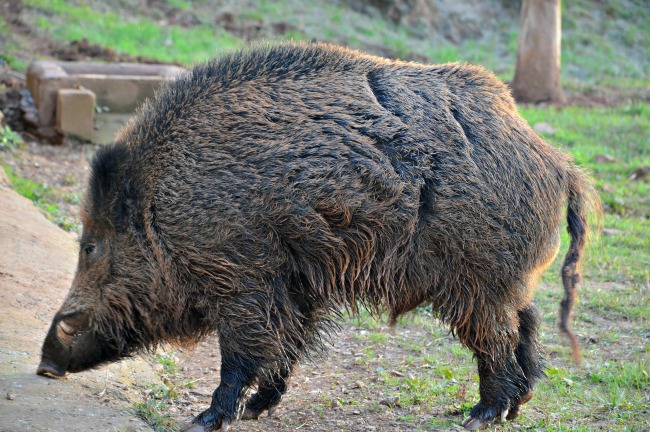 Although playing like a wild band of razorbacks may be ideal for a sports team, in reality, razorbacks are incredibly destructive and a nuisance across the U.S. In Arkansas, reports of wild hog activity continue to increase. In 1988, feral pigs inhabited only southern Arkansas. By 2009, their range expanded north and includes nearly every county in the state. In 2015, a rough estimate put the number of wild hogs in Arkansas at 200,000.
Wild razorbacks in Arkansas aren't cardinal and white. Instead, they're most commonly black in color with bristly hair and oversized heads. Boars can grow up to five feet in length and weigh up to 300 pounds. Males also grow those long, sharp tusks.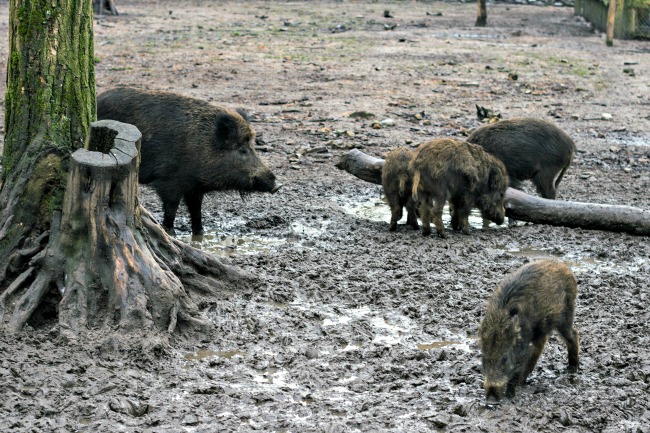 Wild hogs are considered an invasive species because of their behavior. They have an amazing ability to root up the ground in search of food. Pigs are omnivores, so nearly everything that crosses their path can be eaten, from vegetables to worms and bugs, to crops of Arkansas soybeans, rice and wheat. Wild hogs travel in "sounders," groups of sows and their piglets, which can sometimes span several generations. On average, sows have 1.5 litters a year, with 5-6 piglets in each litter. Imagine a sounder of pigs with three sows and all their piglets tearing into a field. They can badly damage crops, property and equipment in a short period of time.
Wallowing is another behavior that damages the land wild pigs inhabit. Pigs create shallow holes near water sources and return to them to roll in the mud. This destroys the natural habitat and also pollutes the water source. Feral hogs are also carriers of Brucellosis, a disease that can be transferred to humans through direct contact with the hogs or contact with bodily discharges.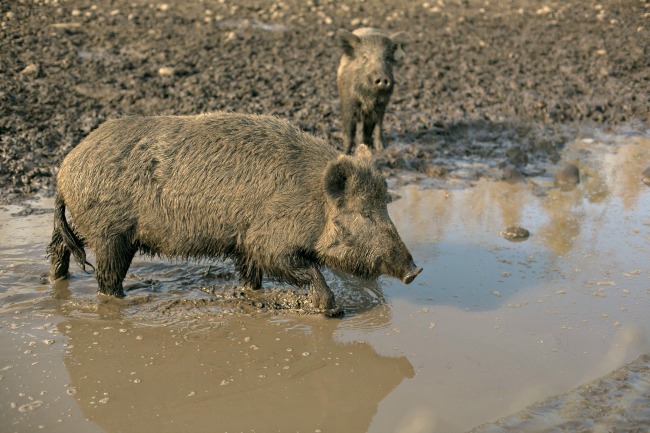 Since wild hogs avoid human contact, for the most part, you're not likely to see one during the day. There are signs that can point to a wild hog problem in your area. Wild hog tracks resemble goat or sheep hoof prints but are rounder in appearance. You'll often see other signs along with or before tracks. Rooted land is a key indication. The land will be turned over as if tilled. Rooting can occur anywhere, from lawns to fields to creek bottoms. Wallows may be present if you're near a water source. Finally, wild hogs often scratch themselves against trees, which will leave large worn patches in the bark.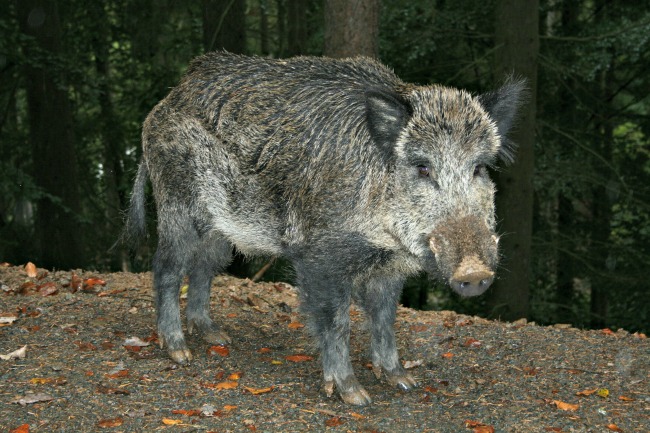 So what can we do with these unwanted razorbacks? Feral hogs are notoriously hard to eradicate.  They reproduce rapidly and once a pig grows beyond 10 to 15 pounds, it has no natural predators to control the population. Pigs are also one of the smartest animals around. Wild hogs are active at night and will adjust their behavior if they feel threatened. Hunting and killing single pigs is an ineffective strategy for population control. It alerts the rest of the pigs in that sounder of potential danger and the group adapts to avoid future threats in that area.
Trapping entire groups of wild pigs seems to be the best way to gain a measure of control over the population. The University of Arkansas extension office has published a guide on how to create your own feral hog traps. Trapping a sounder takes time and patience, but you don't want to leave pigs out of the group. You can also contact the Arkansas Game and Fish Commission for advice on how to handle a feral hog problem.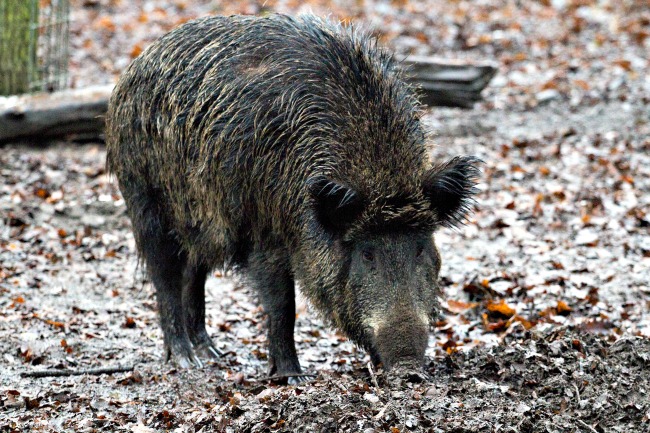 Despite its inefficiency at overall hog population control, hunting wild hogs is legal any time of year on privately owned land in Arkansas with the landowner's permission. It is illegal to transport live wild hogs anywhere in Arkansas. Hunting wild hogs on public land is a little more complicated, but hunters can check the guidelines on the Arkansas Game and Fish Commission website to understand when wild hogs can be hunted.
If you happen to glimpse a wild hog, don't call it. Save the woo pig sooies for game day instead. To learn more about feral hogs, visit the University of Arkansas Extension Service website.