Weekends just got a little bit more exciting in Downtown Jonesboro. Families, couples and small groups have been gathering and going head-to-head to see who can reign supreme when it comes to the age-old pastime, game night. The Fainting Goat Board Room opened at 314 Main Street, Suite A in November and invites everyone to come in, pull up a chair and enjoy an evening playing one of over 200 board games available in their library. Whether you prefer traditional games like Monopoly and Trivial Pursuit or current popular titles like Exploding Kittens and Lift It, there is something for everyone.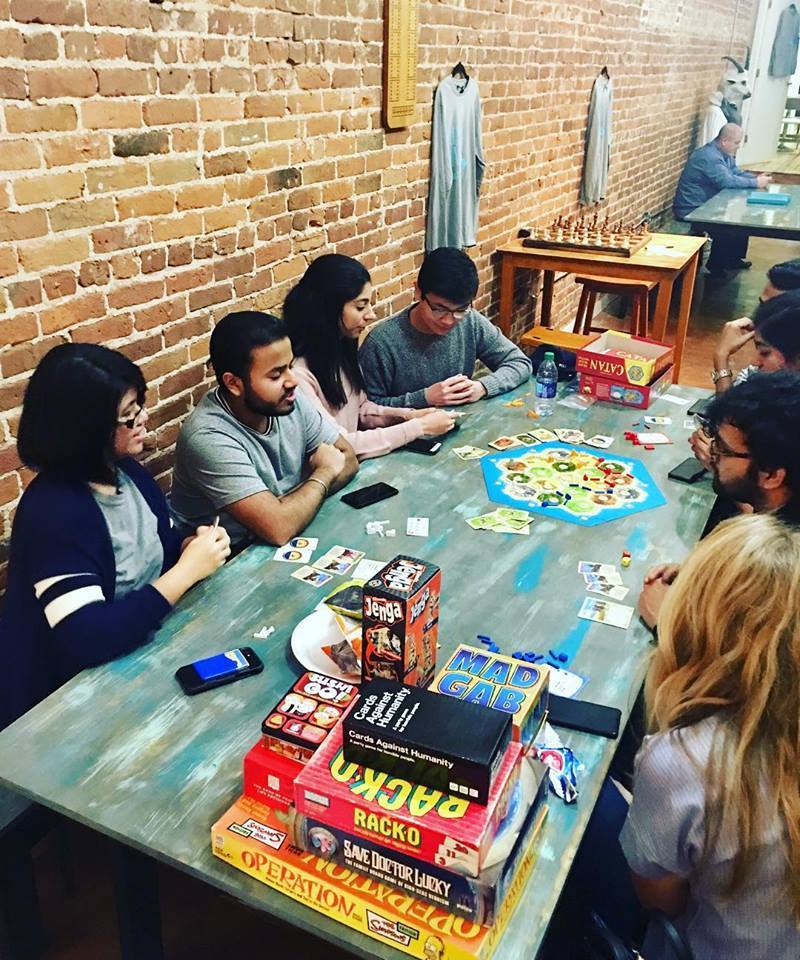 Audrey and Rodney Poff, who also publish Jonesboro Occasions, have loved watching Downtown Jonesboro grow. With the addition of many new restaurants and bars, the area has become a hub of dining activity but lacked a fun experience that would bring people downtown and encourage them to linger a little longer.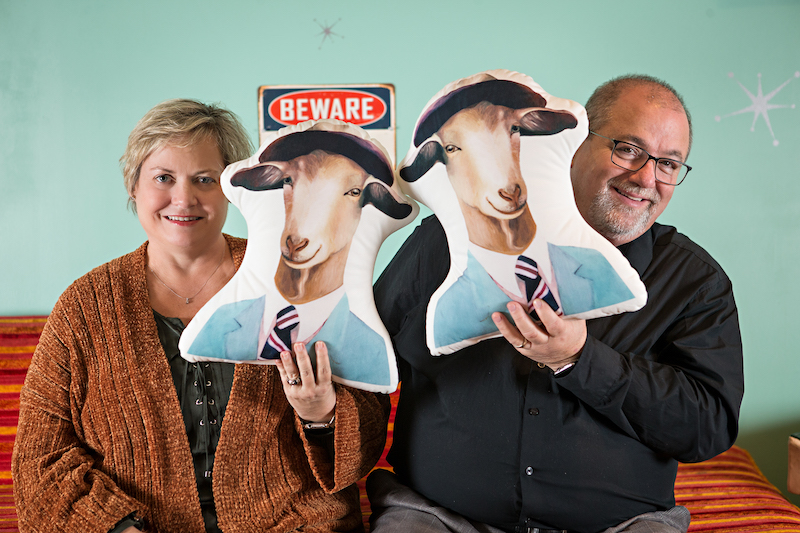 While visiting Guthrie, Oklahoma, the Poffs came across a board game cafe called The Boarding House. The cafe, which opened in 2016 and is currently for sale by its owners, left such an impression on the Poffs that it became a significant influence while designing The Fainting Goat Board Room. According to Audrey, "It had a retro, cozy feel. People could come in and play games, and it sort of felt like you were in your living room or at a friend's house."
The Fainting Goat Board Room is designed to encourage people to kick back and relax and enjoy an evening with friends.
"For my generation, it was common for parents to have people over to play board games. That doesn't happen as often nowadays due to work and other obligations. Really, there are a lot of reasons that people don't have company. [The Fainting Goat Board Room] makes it easier to meet someone because you don't have the responsibility of getting ready for company. You can leave when you're done and don't run the risk of people overstaying their welcome."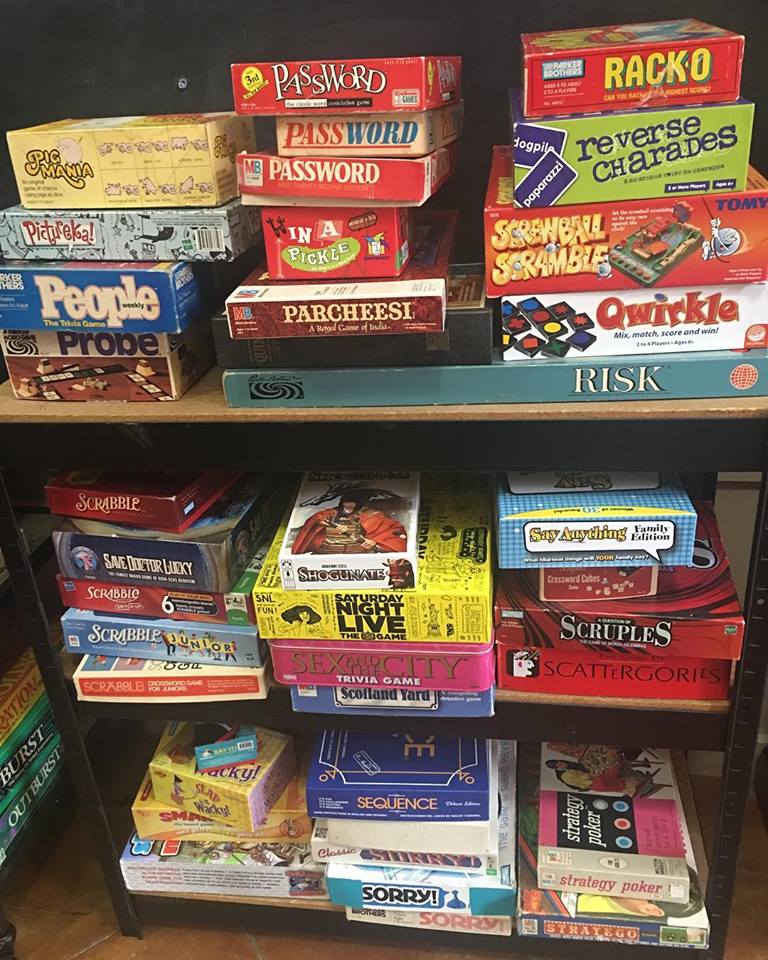 Audrey Poff's favorite game is a newer one called Lift it! Players have to construct a building using a crane that is either held in their hands or attached to their head depending on the cards they draw. Exploding Kittens is a fast-paced game that recently gained a lot of attention. For customers who also love older games, they have everything from vintage Risk to chess and a game from the 1950s called Bas-Ket. The Fainting Goat also allows people to relive a bit of their youth.
"It's funny to watch people come in and choose games. Many will choose something from childhood. It instantly takes them back to a certain time. A happy time. Once people finish playing an old favorite, we try to encourage people to try games they have never played before."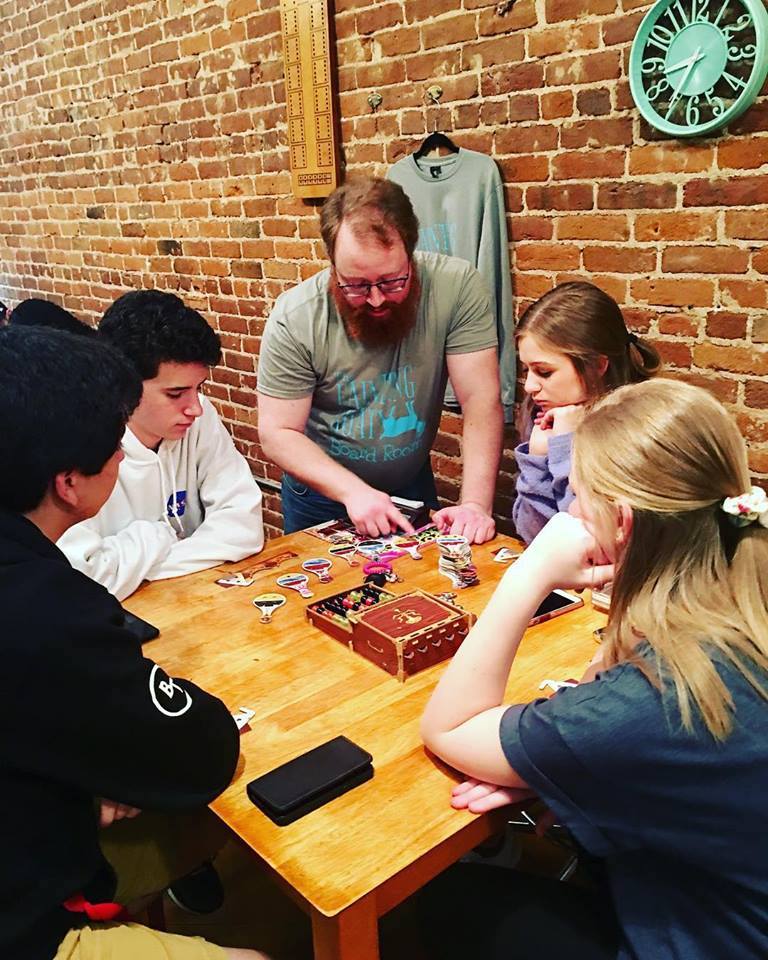 This is often made possible by a customer who regularly volunteers as a "game master." Jim Essman attended a group game night at the Fainting Goat shortly after it opened. He enjoyed it so much and has such a love for board games that he can regularly be found hanging out in the space Friday and Saturday evenings offering game suggestions and helping people get started when they select a new game. Sometimes the most intimidating thing about a new game is figuring out the rules, and Essman is there to offer his knowledge and assistance.
The Fainting Goat draws an eclectic mix of people. While the majority of patrons are college students, the Poffs have hosted groups of teens, families and even people in their 80s. Groups commonly come into play games for an hour or two before or after eating in one of the downtown restaurants. They also rent the space for parties but try to schedule that outside of regular business hours because their space is currently limited.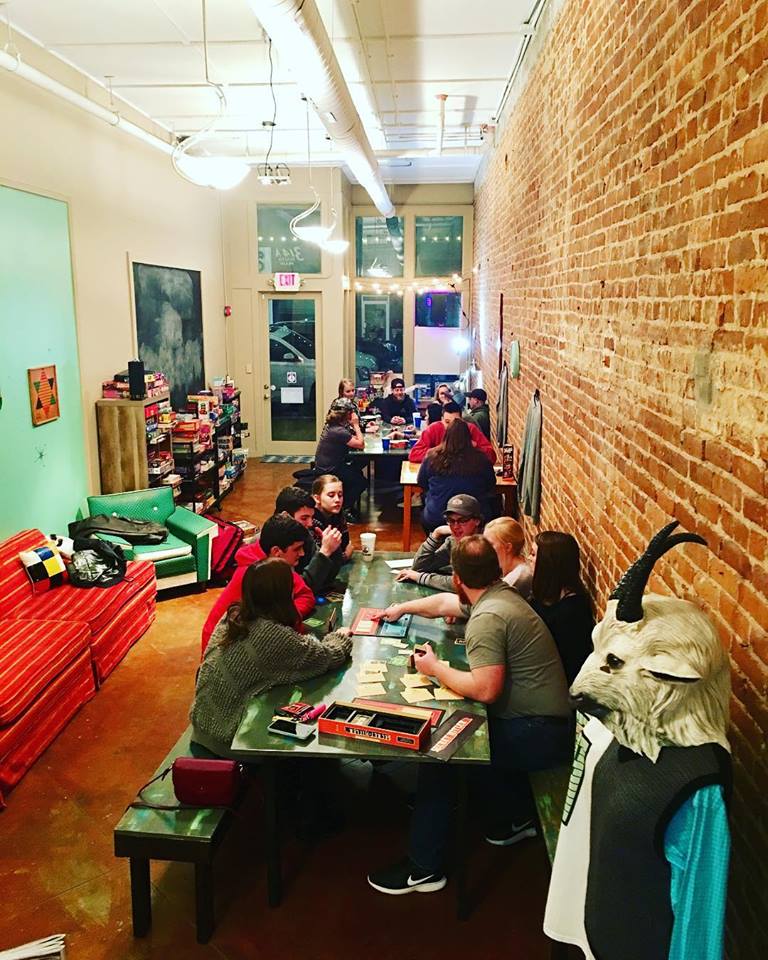 Even though the board game industry has exploded over the last few years, games can be an expensive investment, and as Poff mentioned, a lot of people don't have in-home game parties anymore. The Fainting Goat not only provides people a place to play but their extensive library allows people to "try before they buy." Poff has seen people fall in love with a game and order it from their phone before they leave.
The Fainting Goat Board Room recently leased an adjacent space and hopes to expand the game room soon. Moving into spring and summer, they plan to extend their hours, expand their library and provide more playing spaces. They even hope to start hosting board game tournaments such as Chess Clock Jenga where participants not only have to keep the tower from toppling but face the added challenge of racing against the clock.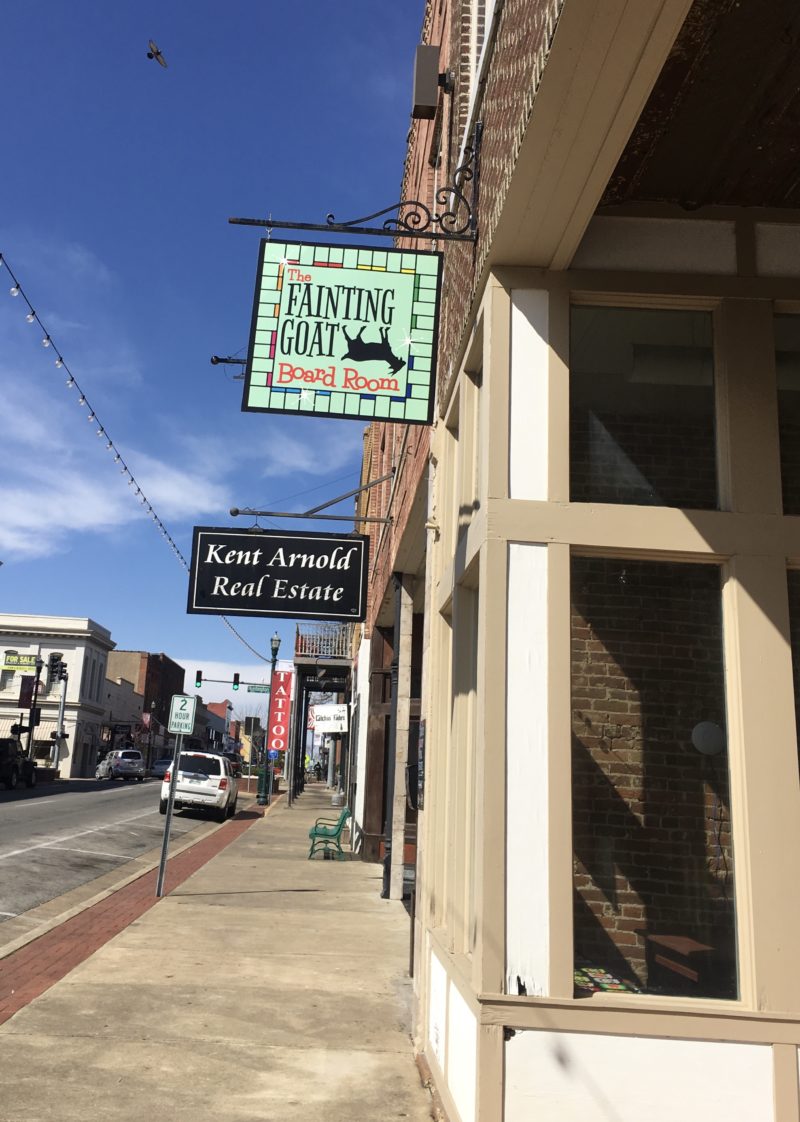 Photo courtesy of Blake Harmon.
And what about the name? The Poffs wanted something fun that tied into the local history and to Arkansas State University and chose "fainting goat" as a nod to former football coach Blake Anderson and a trick play call he made in a 2014 game against Miami. Booker Mays grabs his chest and falls to the ground in an attempt to throw off the offensive line. Although the "Fainting Goat Technique" was ultimately unsuccessful, it gained a lot of media attention and made for an excellent name for the Board Room.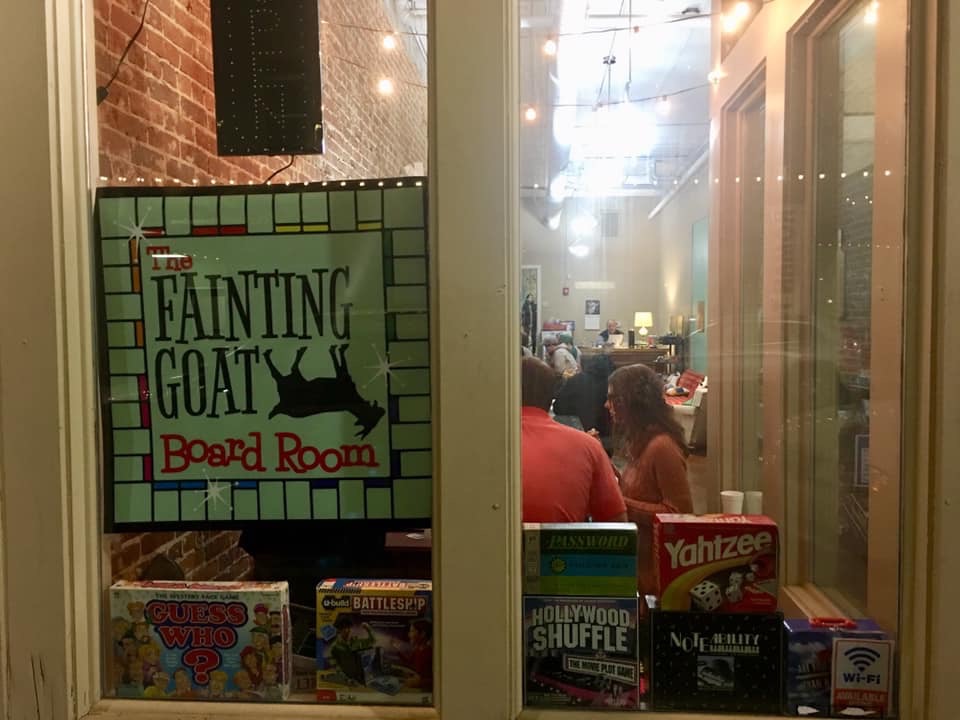 The Fainting Goat Board Room is currently open Friday and Saturday evenings. They will be expanding their hours soon, so be sure to follow them on Facebook for up-to-date information.
All photos provided by The Fainting Goat Board Room unless otherwise noted.