One of the best dressed weekends of the year is coming up next month in northwest Arkansas.
NWA Fashion Week is set to host their third year of spring fashion shows coming up April 3-6 at various locations in Bentonville.
For those who aren't familiar, NWA Fashion Week is a project of the non-profit organization The Arkansas Arts and Fashion Forum, with a mission to highlight fashion trends, support local brands, to provide a creative outlet for designers, and to celebrate Northwest Arkansas' fashion culture.
In recent years, NWA Fashion Week has focused on putting on two events each year in Northwest Arkansas – a spring show in Bentonville, and a fall show in Fayetteville.
This year, the spring show will kick off with a Pecha Kucha event scheduled for 7-9 p.m. on Wednesday, April 3 on the Walker Landing at Crystal Bridges Museum of American Art. The event will feature brief presentations from fashion industry insiders, including Dr. Lance Cheramie (University of Arkansas), Shaul Cohen (Jordache), Zach Freeze (Walmart, Inc.), and Alyssa Bird (Regenerous Designs). The event is free to attend and open to the public.
The fashion shows will kick off on Thursday, April 4 this year with a bridal fashion show at 21C Museum Hotel in downtown Bentonville. The Thursday show will feature looks from four local wedding boutiques, as well as designers Amy Johnson, Ashley Little, and Alicia Crayton. Tickets to the bridal show range from $35-$50.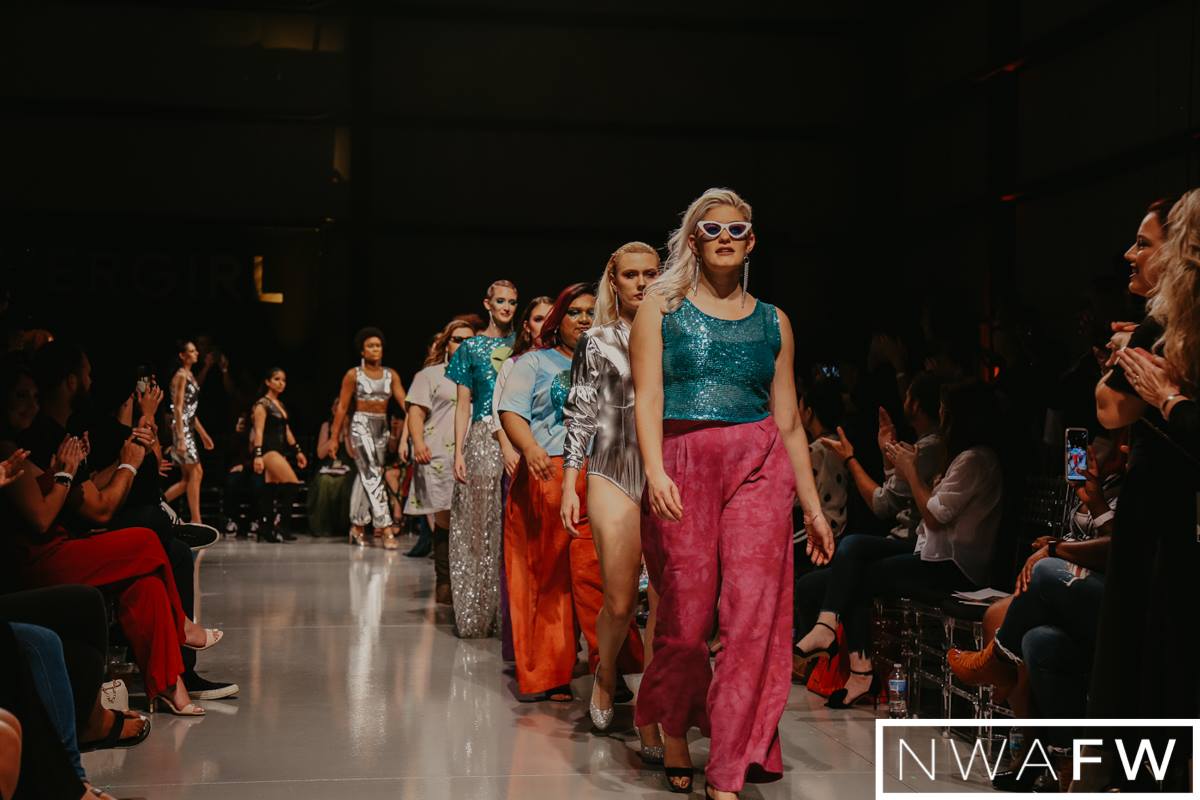 NWA Fashion Week / Courtesy
Also on Thursday night this year, a fashion show showcasing activewear will take place from 6:30 p.m. – 10 p.m. at The Record, also in downtown Bentonville. The Friday show will feature a host of local, regional, and national activewear brands, including 22nd Element, Bearded Goat Apparel, lululemon, Rapha, and others. Tickets to the activewear show range from $45-$120.
The Friday night show on April 5 this year will feature "ready to wear" fashions created for everyday lifestyle. The show will feature looks from a host of local boutiques, as well as designers Big Sister Apparel, Darcy apparel, Ethwes, and Ruby Ru. This show will take place at 7 p.m. at The Record, and tickets range from $50-$200.
On Saturday, April 6, NWA Fashion Week will host an avant-garde show they are calling their "most experimental and creative runway yet." The show will feature designers from Arkansas and Oklahoma creating cutting-edge creative apparel. Designers include A'Lyece Lenae, Ashton Hall, Basana Chhetri, Bizarre Couture, Eclection, Ellen Elaine, Nicole Simone, Regenerous Designs, Robbie's Era, Rosie Rose, Samantha's Garden, and The R Gene.
In addition to the runway shows, NWA Fashion Week will also host a few other events, including a meet and greet with designer Rosie Rose and chat about her Spring 2018 collection on view in the Arvest lobby on Friday, April 5. After the event, Rosie's gowns will be on display through May 10.
Also, educational speaker event featuring Gabrielle Korn, Editor in Chief of Nylon, at 2 p.m. on Saturday, April 6 at Haxton Road Studios. According to the event description, "attendees will hear about what it's like to run one of the hippest digital brands around and participate in a group activity to envision our very own fashion magazine for NWA."
For more information about NWA Fashion Week, or to purchase tickets to the individual shows associated with the spring event, visit nwafw.com.
Continue Reading at Fayetteville Flyer