December may be Santa's big scene, but it takes all year for him to get ready for the big day. He's got to organize the Reindeer Games, build toys, plus he's busy making a list and checking it twice. And rumor has it that Santa and Mrs. Claus like to head someplace tropical for at least a few days during the offseason. Bringing toys to good little girls and boys all over the world is a big task, and Santa can't do it alone, which is how Joe King and his wife Deanie got started helping Santa.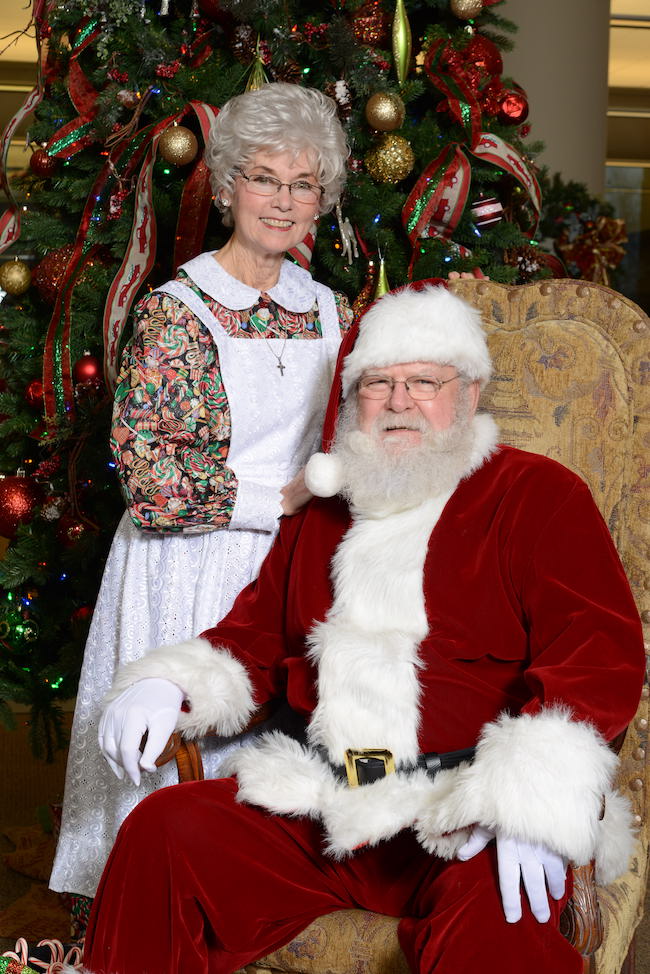 Sure, Santa's got the elves who are great at building toys and checking up on kids to make sure they are behaving and listening to their teachers and parents. But we all know that elves can also be a little mischievous. Elves tend to get in the silliest of situations, so when it comes to making sure the requests of children everywhere don't get mixed up, Santa needs some helpers that are a little bit more like himself.
Every year Santa selects some special individuals who have the true Christmas spirit to communicate to children on his behalf. With the help of a little Christmas magic, these hand-selected helpers don red suits and beards and become Santas for just a little while. The Santa you see at the mall or the bank or riding the float in the local parade is no less 'real' than the Santa who comes down your chimney on Christmas Eve. These Santas (and sometimes Mrs. Clauses) go through special training led by the Big Guy himself so that they can interact with children to collect their wishes and make sure each child's wish gets recorded correctly.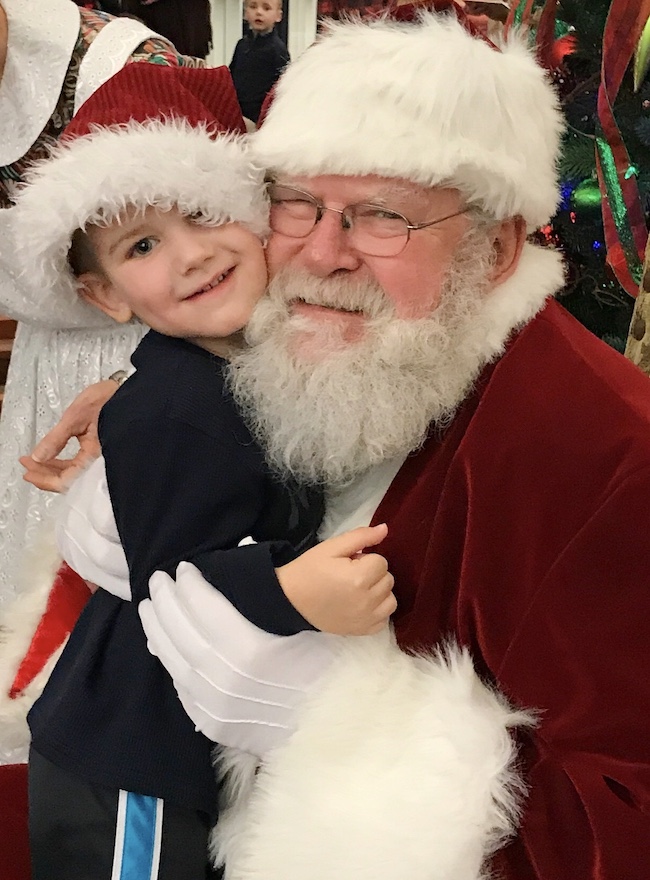 Braxton Forman, age 4, joyfully tells Santa that he hopes for a train this Christmas. Braxton's brother, Lewis, age 2 (not pictured), was also excited to meet Santa.
Santa's vetting process for his helpers is extensive, and he doesn't select just anybody. The individuals he chooses have a deep love for Christmas and an unwavering belief in Santa himself. When Santa first met Joe King, he was looking for someone to help with an event in the Greenbrier School District. King, himself a schoolteacher at the time, felt honored when Santa asked him to don that suit and collect Christmas wishes from the school children.
Unfortunately, Santa came to King later than he had intended and time was short, so King had to rent a suit since it was much too late to have one tailored specifically for him. When King arrived at the school and went to put on the rented suit, he discovered it hadn't been cleaned and was covered in another man's sweat. King looked into his heart and found enough Christmas joy to get through the event — sweaty suit and all.
Although the sweaty suit was memorable, seeing the joy and the excitement in the children was magical enough that King continued to help Santa at the Greenbrier events. King returned the next year in a custom suit designed by Kathy Alspaugh, an amazing seamstress who served as a room-mom in Deanie King's kindergarten classroom. The suit bears a tag that says, "Made especially for Santa because I believe."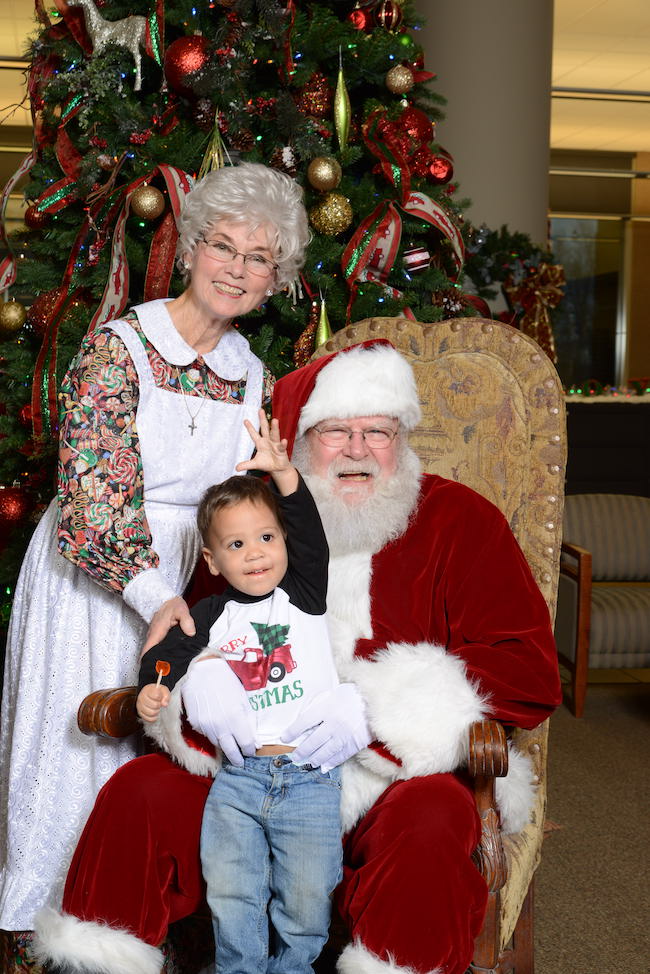 George Kohl, 2, was a little apprehensive at first (though you can't tell from his expression) but finally agreed to have his picture made.
Deanie King stood on the sidelines for the first 8-10 years of her husband's gig as Santa's appointed helper, but that didn't mean she wasn't his biggest fan and supporter. In fact, Deanie has been supporting Joe since they were kids and first began calling him her boyfriend when she was 12, and he was 14. The high school sweethearts have four children, nine grandchildren, one great-grandchild and will soon celebrate 54 years of marriage.
About 21 years ago, Santa made a special trip down from the North Pole to discuss a new arrangement with King. Santa hoped King would continue serving as his helper but hoped that Deanie would join him as Mrs. Claus. Santa's years of experience had taught him that although he gets all the credit, his success is really the work of the Missus. Santa knew that Deanie King could add a whole new level of support and success to King's job as one of Santa's official helpers. Deanie graciously accepted, and the rest is history.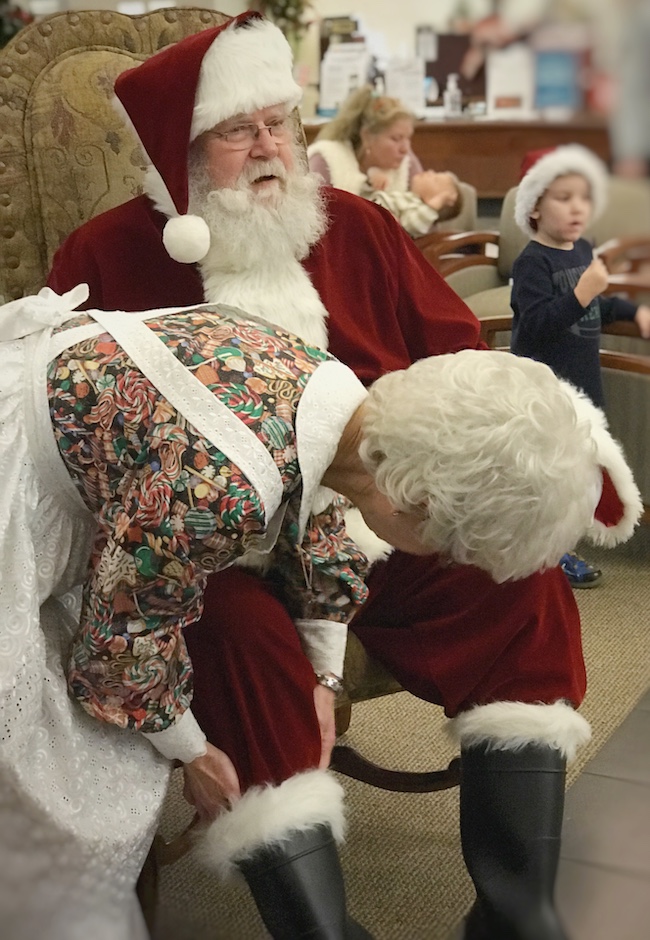 Joe King will be the first to tell you that Deanie is the reason many of their events run so smoothly. She fluffs his beard, straightens his boots and makes sure his chair and the stool for the kids are both right where they need to be. She also comforts the children and is the one to whom kids who aren't quite sure about Santa will gravitate. Kid's aren't usually scared of Santa, but they can sense the pressure of the situation, and that itself creates a bit of fear. Deanie is often the one who helps the shy and cautious children to relax and enjoy the moment. Well, except for one young boy who had big plans for seeing Santa and wasn't too fond of someone else getting in the way. King told me the little boy said, "Who's that lady?" When he was told she was Mrs. Claus, his response was, "Make her leave!"
The couple has participated in events all over the state at schools, holiday parties, with the UCA Symphony and Dazzle Days in Conway. They got their start with First Security Bank 21 years ago when they appeared in the lobby of the Downtown Conway branch. They have continued to appear at First Security Bank events all over central Arkansas ever since.
The Kings have had to cut back a bit over the last few years, but they continue to go strong. They have limited their appearances due to some health issues but plan to continue until it's no longer fun and both Joe and Deanie don't foresee the fun ending anytime soon.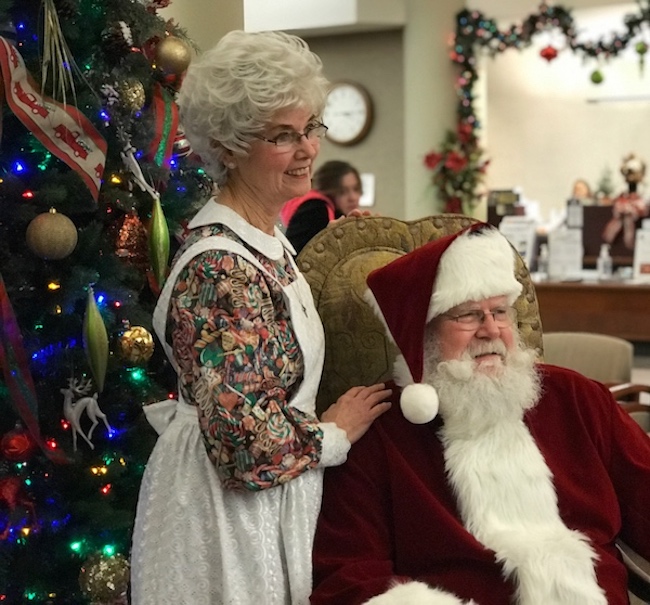 Santa and Mrs. Claus still have several appearances scheduled at various First Security Bank branches around central Arkansas. Check out the list of events here and stop by with your child and get a free picture courtesy of First Security Bank.
Santa's schedule usually fills up by July, so if you are interested in securing the Kings for an event in 2019, they suggest you contact them early at arksanta@gmail.com.