It's cold outside, and all of us love a good bowl of soup, so I thought it would be a perfect time to share with you this Christmas Tortellini Soup recipe.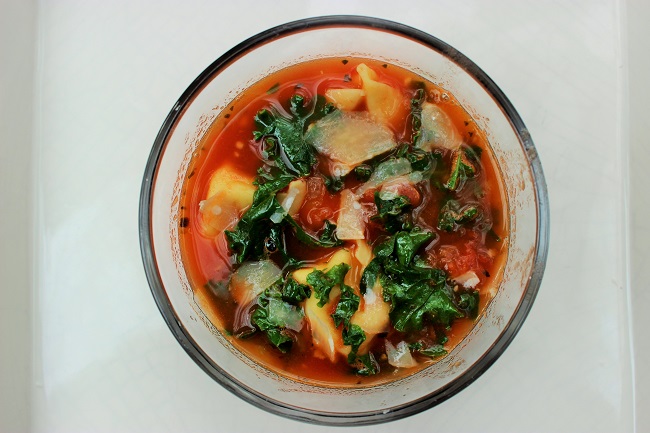 Why is it specific to Christmas? I'm guessing because of the spinach's vibrant green color combined with the deep red tomato-based broth. Add to that each bite of cheese tortellini, which kind of looks like little gifts scattered throughout, and you've got yourself a wonderful Christmas-theme soup.
Oh, and did I mention this is the perfect soup to make the night before, so after you're done opening presents, it will be ready to go after 10-15 minutes of reheating on the stove?
Click on the recipe and give it a good once-over, but you'll also probably want to follow a few of these suggestions:
1. The recipe calls for spinach, but I used kale. I had no real reason behind this decision, other than the fresh kale looked really good at the grocery store. Basically, use any green you prefer, and if you hate all greens, feel free to substitute with diced zucchini or squash. You can even add some diced carrots as well, although that would take away from the Christmas colors just a tad.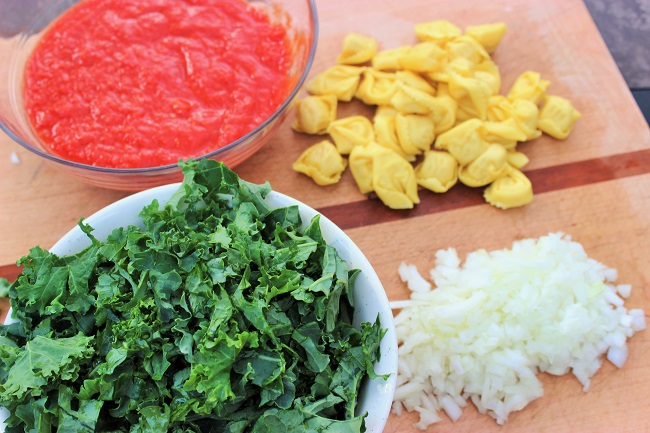 2. If you do decide to use kale, please make sure to trim the leaves from the stems. The stems can have an unpleasant texture, especially in soups.
3. For my version, I opted for bacon over pancetta. Again, no real reason here, other than I typically have a package of bacon in the refrigerator and didn't feel like purchasing pancetta. If you're looking for good bacon, I recommend either Wright's or Petit Jean.
4. One more note on the kale. When you're chopping it up, don't be scared by the large amount that three bunches yield. It will cook down quite a bit.     
5. The recipe says to boil the tortellini in a separate pot. In my opinion, this is pointless. Just have everything in the one pot ready to go and when you have 3-5 minutes left, add the pasta and boil. I'm a huge fan of one-pot cooking. Hey, it means less to clean up afterward.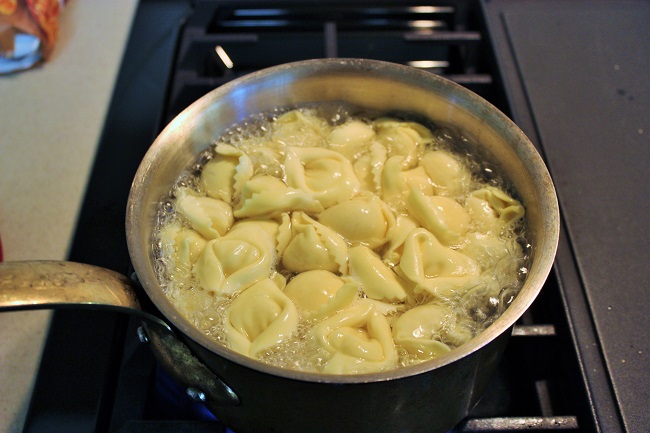 7. Regarding the tortellini, there are usually a few pre-made options near the cheese section of your local grocery store, and they're pretty tasty. I know not many of us have the time and energy to make tortellini from scratch. If you do, go for it. If not, we have some pre-made, affordable options.
6. Don't be stingy with the Parmesan at the end. It adds such a nice, salty flavor to the soup and elevates the presentation. Feel free to shave or grate the cheese.
This soup proved to be a hit with the family and may even show up on December 25 in the Shalin household. The tortellini give it a heartiness that makes this soup feel more like a meal and the slight acidity of the crushed tomatoes balanced with the salty bacon and Parmesan is spot-on.