Located in Little Rock's Hillcrest neighborhood, Kemuri is an upscale Japanese restaurant with a sleek, beautiful interior, serving up visually tantalizing food to match.
"It is a fusion bistro applying techniques and ingredients inspired by Japanese cooking. We focus on presenting most of our items to reflect the original nature and flavor profiles," says general manager Manjeev de Mel.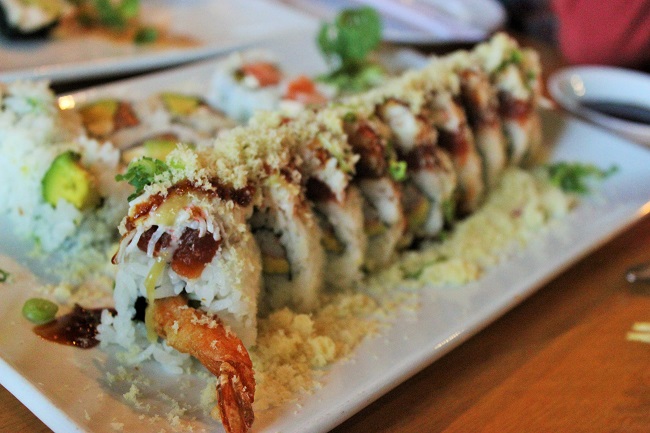 While presentation is important, taste always rules supreme, and much of Kemuri's menu is a hit. The restaurant is open for lunch and brunch services, but I typically favor being there during dinner hours when the chic setting is lit up by the sushi bar and an enormous fish tank that casts a glow throughout the restaurant.
With such an expansive menu, it's really difficult to decide what to order.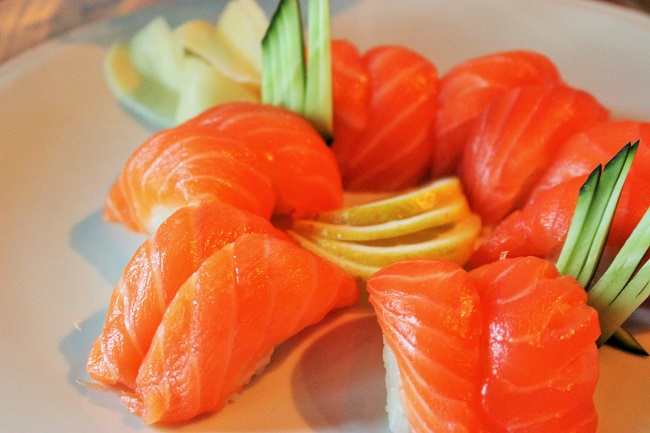 "Diners usually go for the 'Kemuri Experience,' which is a lite appetizer, something from the sushi menu, a hot entree, and one of our signature desserts," says de Mel.
Start off your meal with an order of Ahi Tuna Tacos or an appetizer of Yellow Tail, the latter of which comprised of thin slices of fish with jalapeño, Sriracha, and yuzu soy. The former is tiny, crispy, ahi-filled tacos that are as cute as they are delicious and make for a perfect meal-starter.
As for the sushi?
You can't go wrong with a few pieces of the soft, buttery sake (salmon) nigiri. For something a bit more extravagant, one of Kemuri's massive rolls always hits the spot. My favorites include the Austin Roll (hamachi, avocado, crispy shallots, and zest), The Crazy Monkey (tempura shrimp, spicy crab avocado, and masago aioli), and Spicy Girl (spicy tuna, crabstick, avocado, salmon).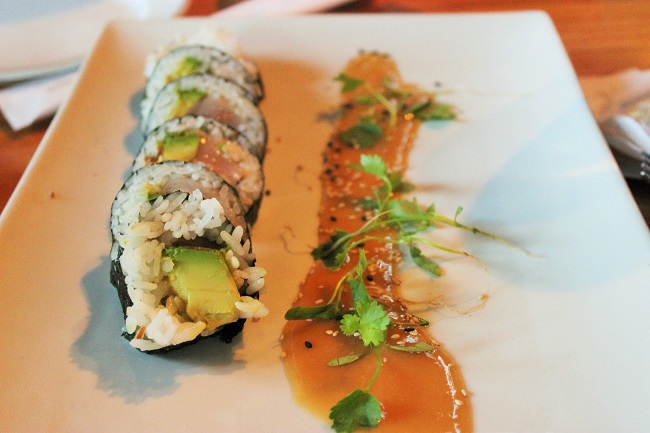 On the hot side of the menu, the restaurant offers grilled items like shishito peppers and bacon wrapped cherry tomatoes, along with a variety of entrees such as Miso Glazed Black Cod, Beef Tenderloin with baby bok choy, tempura onion rings, and sautéed mushrooms, ramen bowls, drunken noodles, and bibimbap, a popular Korean dish with coconut jasmine rice, fried egg, mushrooms, kimchi, vegetables and either pork belly, chicken, or meatballs. The aforementioned beef tenderloin is one of the better steak dishes in town, which is no surprise, given that Kemuri is under the same ownership as the iconic Arthur's Prime Steakhouse.
Good luck if you have room for dessert. I rarely make it that far. If you do, the Cappuccino Jar is a nice way to end the meal.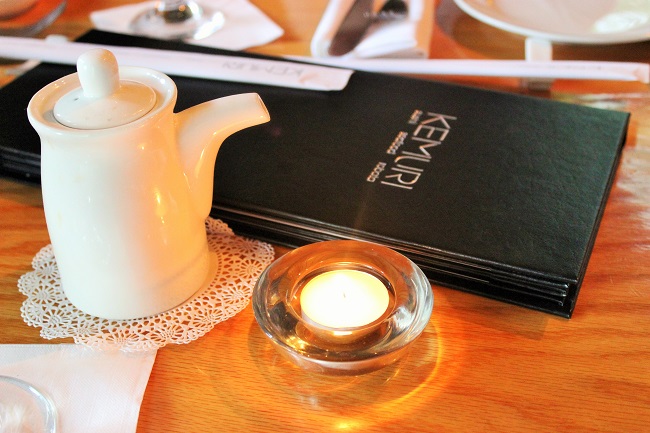 Did You Know?
Kemuri offers a brunch service on Sunday from 11 a.m.-2:30 p.m. with items like Chocolate Cappuccino Pancakes, Green Tea Pancakes, French toast, and eggs Benedict with Soft Shell Crab, along with a great Bloody Mary and mimosa bar.
It's Special
Happy Hour is on Monday-Friday from 4:30 p.m.-6 p.m. and includes appetizer and drink specials. Kemuri also offers a weekly, off-the-menu featured item at dinner.
Kemuri
2601 Kavanaugh Blvd (Little Rock)
501-660-4100
Hours:
Monday-Thursday 11 a.m.-2 p.m. & 4:30 p.m.-9:30 p.m.
Friday 11 a.m.-2 p.m. & 4:30 p.m.-10:30 p.m.
Saturday 4:30 p.m.-10:30 p.m.
Sunday 11 a.m.-2:30 p.m. & 4:30 p.m.-9 p.m.