There are certain must-have recipes in my cooking arsenal. At the top of this list is a surefire roasted chicken that I tend to break out for easy, quick "Monday night" meals. I consider this to be a cooking staple, so I wanted to share with you this No-Fail Roast Chicken with Lemon and Garlic recipe.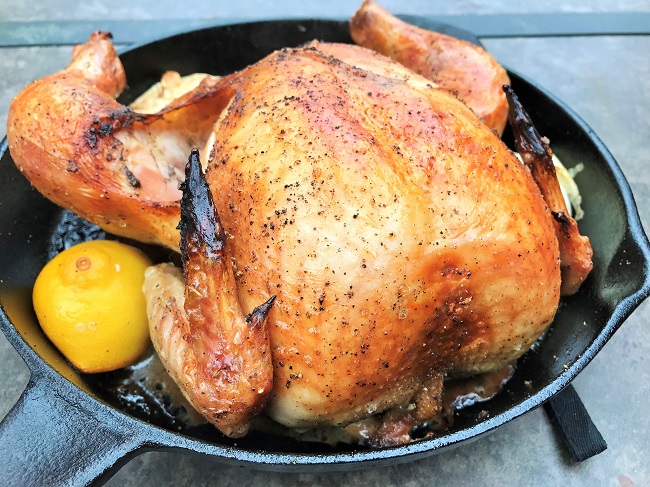 As you'll see, this recipe is simple, requires only a few, easy-to-find ingredients, and can be paired with just about any side item. I'll always encourage you to use local ingredients as much as possible as I did with a chicken from Grass Roots Farmers' Cooperative.
Click on the recipe and give it a good once-over, but you'll also probably want to follow a few of these suggestions:
1. First and foremost, I'm a big believer in brining whole chickens before the cooking process begins, so I highly recommend finding a recipe. Here's a no-frills one I've used a hundred times, and it never disappoints.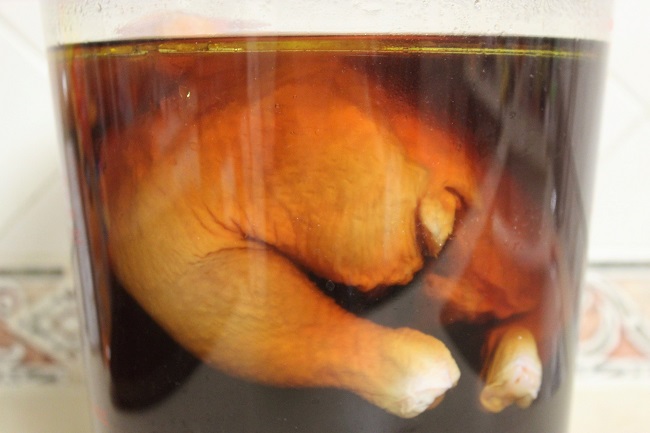 2. Please use a cast iron skillet for this recipe. If you don't have one, just plunk down $20-$30 and get this kitchen necessity. I promise it will be one of the best cooking investments you ever make. I use my skillet at least 5-7 times per week and am only sorry I don't own more than one.
3. Make sure the exterior of the chicken is completely dry before applying the olive oil. And yes, I opted to use olive oil rather than the butter. It was just a personal preference, so feel free to use whichever one you prefer.
4. The directions suggest making an incision between the leg and breast. Do it! This really helps with letting you know when the chicken is actually done.
5. I'm a firm believer in that you can never have too much garlic. Let's not get too crazy, but if you want to add another head of garlic into the skillet, especially if you have the room, go for it. The same can be said for the lemon, although too much lemon can be overwhelming for some folks.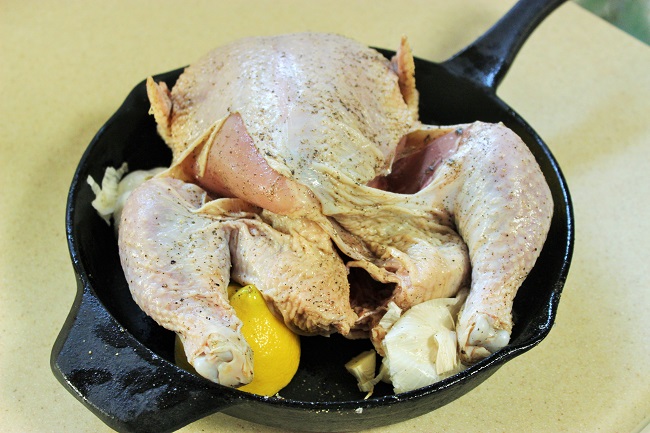 6. Definitely check the chicken after 45 minutes. I let my bird roast for a full hour. The size of the bird and varying oven temperatures make a difference, so you'll want to keep an eye on things after the 45-minute mark.
7. Do you love lemon? If so, I suggest squeezing one of the roasted lemon halves over the entire bird after the cooking process.
8. Finally, make sure to let the chicken rest a few minutes before cutting into it.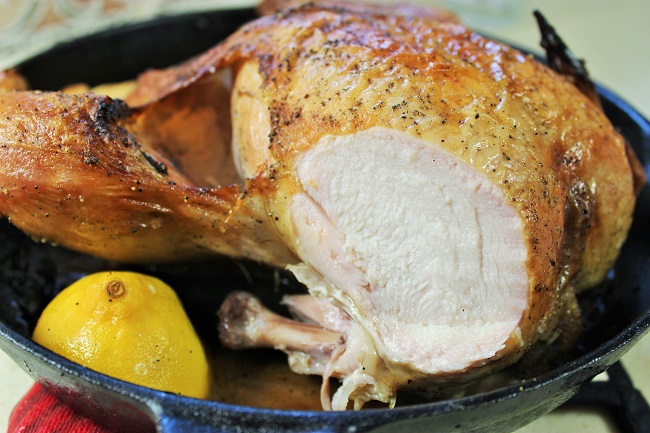 The result was a wonderfully juicy chicken that the entire family enjoyed. The prep time was about ten minutes, and it only needed to cook for one hour. But remember, brining is important, so I highly recommend taking the time to do so. It makes a huge difference and helps ensure moist, tender, and flavorful meat.
Just pair the chicken with a side of mashed potatoes and sautéed spinach and you'll have a perfect Monday night meal.