Look up and you will see people of all ages perched high up in the trees walking a cable, scaling a net, swinging from rope to rope, then zipping to the ground below. Loco Ropes in Mountain View, Arkansas boasts Arkansas' first treetop adventure course and what an adventure it is.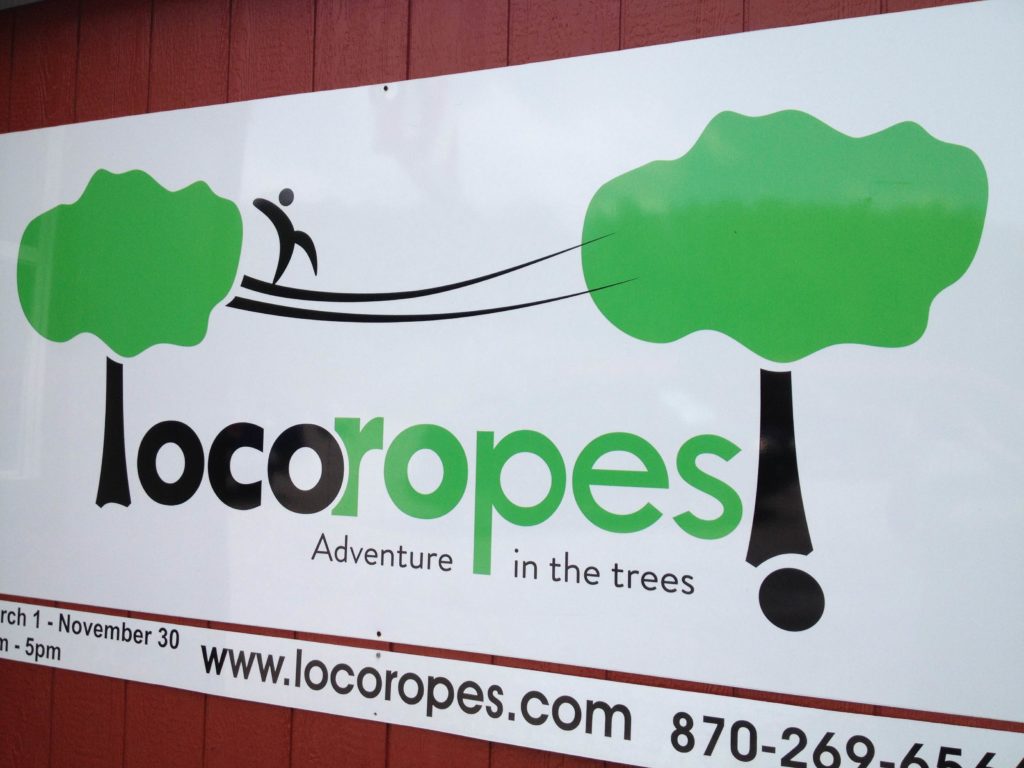 Unsure of my abilities to play spider-man in the trees, I wet my feet to the whole treetop experience in November of 2012 when we headed north on a cool, crisp fall day to try our hand at the Loco Ropes Tower Adventures. The Tower Adventures are available on a walk-up basis and include the Flying Pig Zip Line, the HotShot FreeFall, and Planks Peak Climbing Wall.  Priced at $7.50 per experience (with quantity pricing available) the Tower Adventures provide a ton of family fun.I challenged myself to complete the 30′ HotShot FreeFall and after standing on the edge for what seemed like hours, shaking like a leaf, I finally stepped off and laughed the whole way down to the gentle landing below.According to the
Loco Ropes
mission statement they strive to provide a place where we can encourage ourselves and others to complete a challenging and exhilarating physical adventure, with the result of being a stronger person for it. As I lay on the ground looking up at where I had just been standing only moments ago I felt strong and accomplished.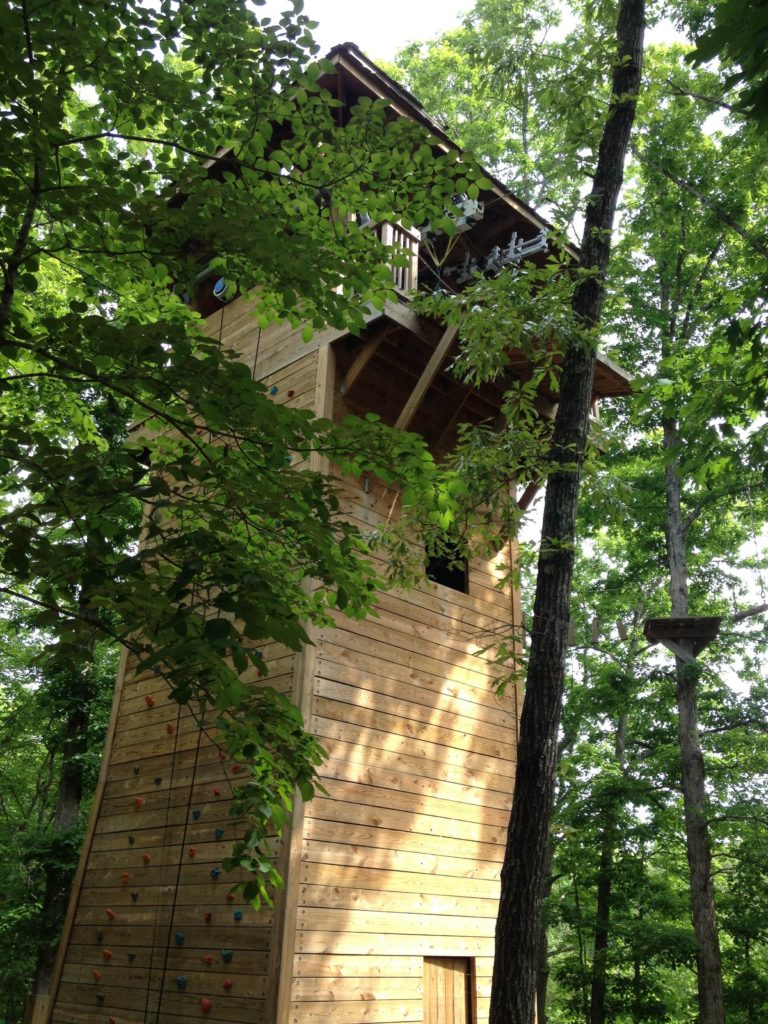 Last weekend my husband and I, along with two of our friends, headed up to Mountain View with a goal of completing at least one of the three Treetop Adventure lines.  We called a few days in advance to book our time and chose the "Line 1 – May Upgrade" option.  This option allowed us to lock in a time slot for line one and gave us the option to upgrade to include lines 2 and 3 on-site at a discounted price.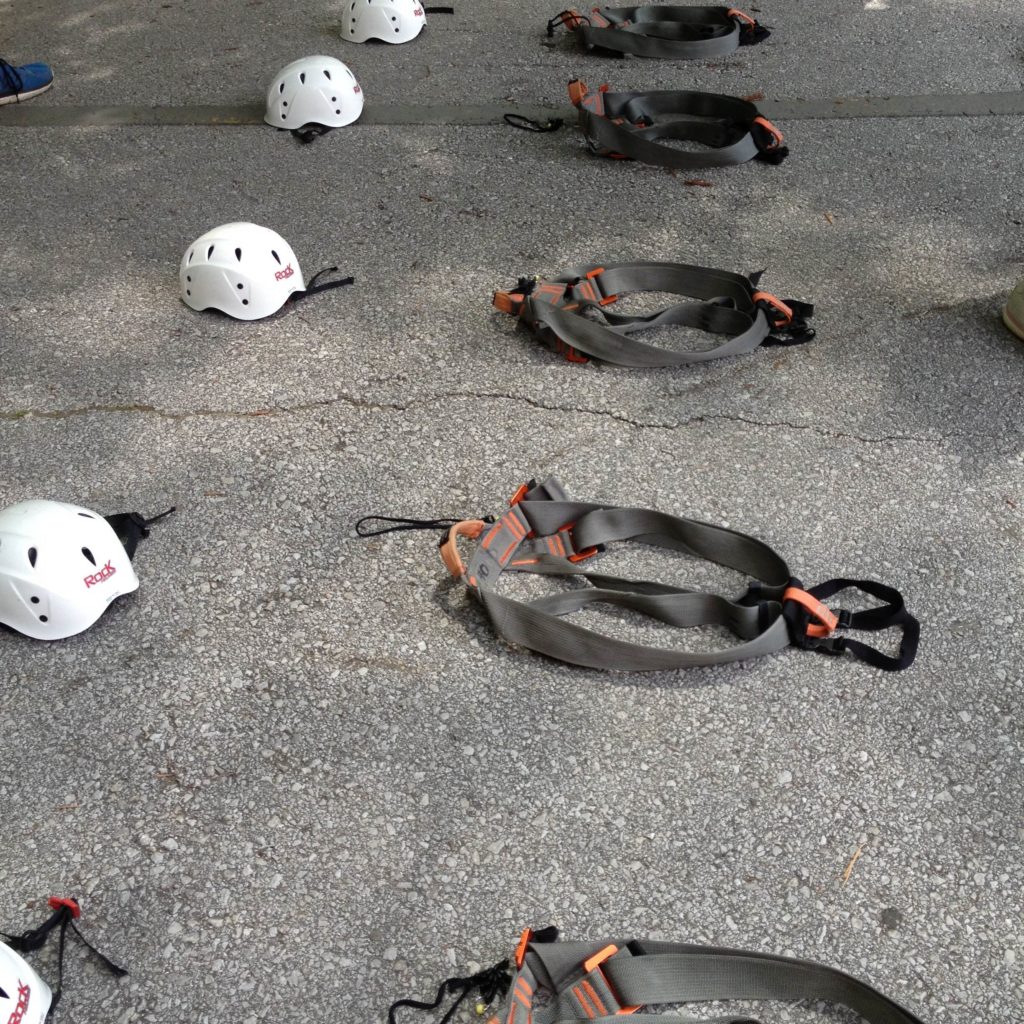 When we arrived the course was already starting to fill up so we were really glad we had made a reservation.  A group that came in shortly after us didn't have a reservation and was having to wait about an hour to get on the course.  They were trying out some of the Tower Adventures while they waited.Upon checking in at the desk, we filled out some paperwork, got fitted for our harnesses, and took part in a brief training program, led by one of the many knowledgable staff members, that taught us how to maneuver through the course.  About 20 minutes later we were on our way to our first Treetop Adventure.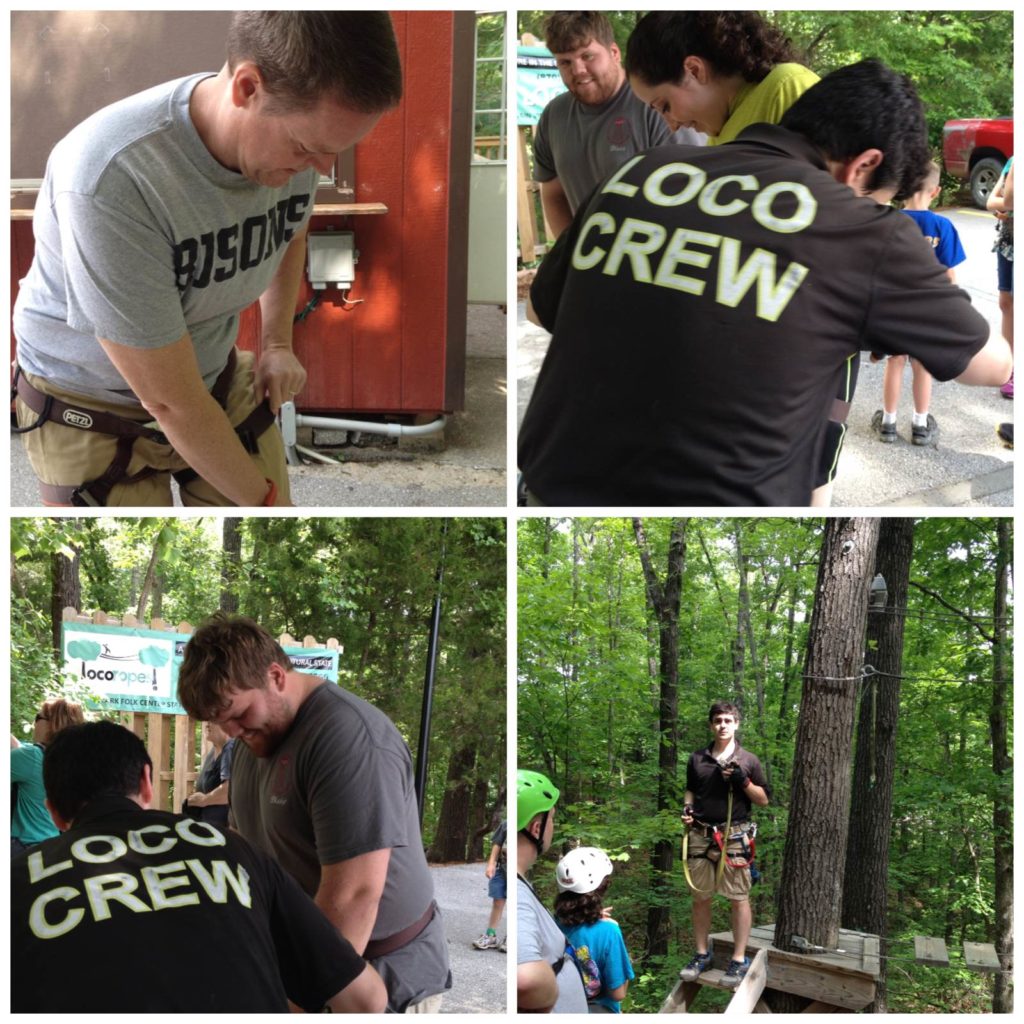 Line 1, the short line, begins simply enough by challenging you to cross a log beam about 20′ in the air.  As you reach each new tree the path to the next seems just a bit more difficult.  Course challenges included a variety of cable crossings, rope bridges, and thin, widely spaced boards.I am no daredevil. In fact, I have a slight fear of heights as does my husband.  We've always made it a priority to try new adventures and we weren't about to let our fear get in the way. Going with friends can really help you conquer your fears. The four of us encouraged and helped each other through the course.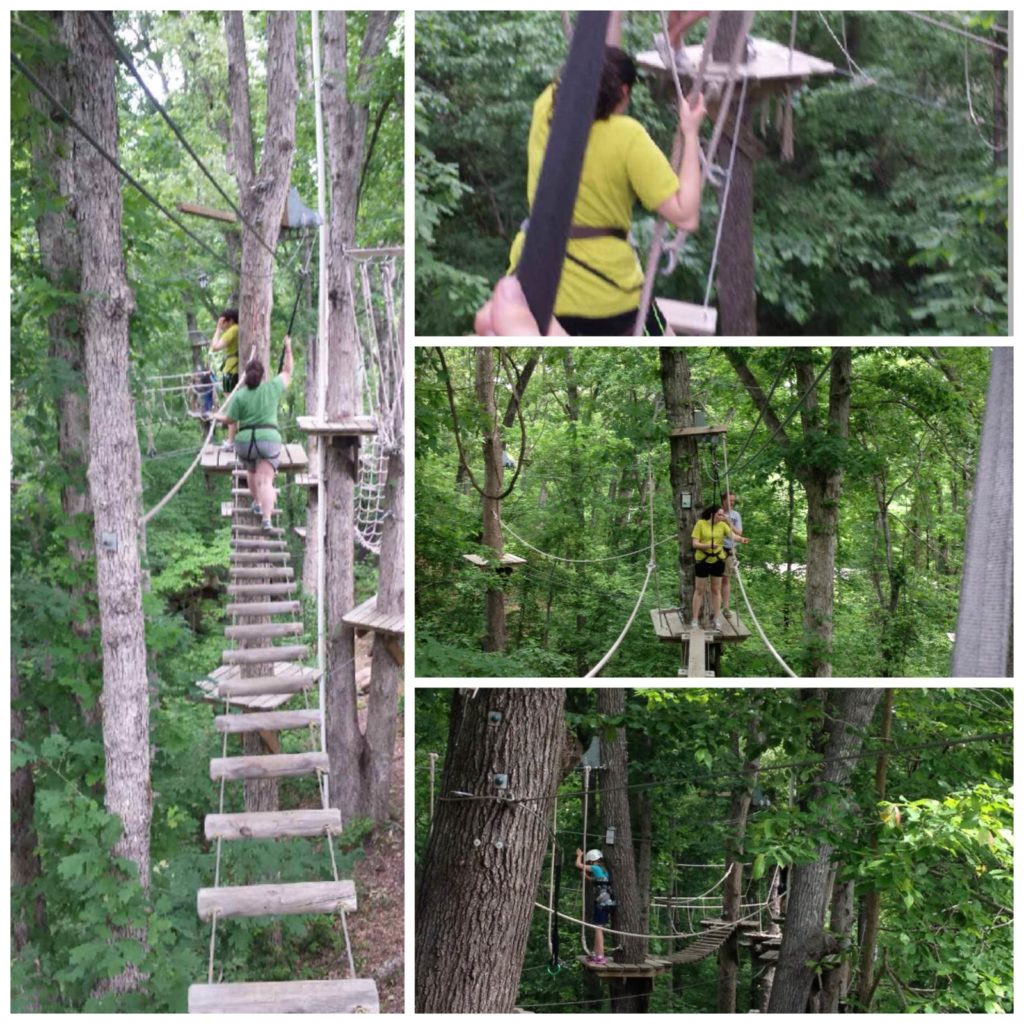 It took us around 45 minutes to maneuver through the course and the reward at the end was zip-lining through the trees to the ground below.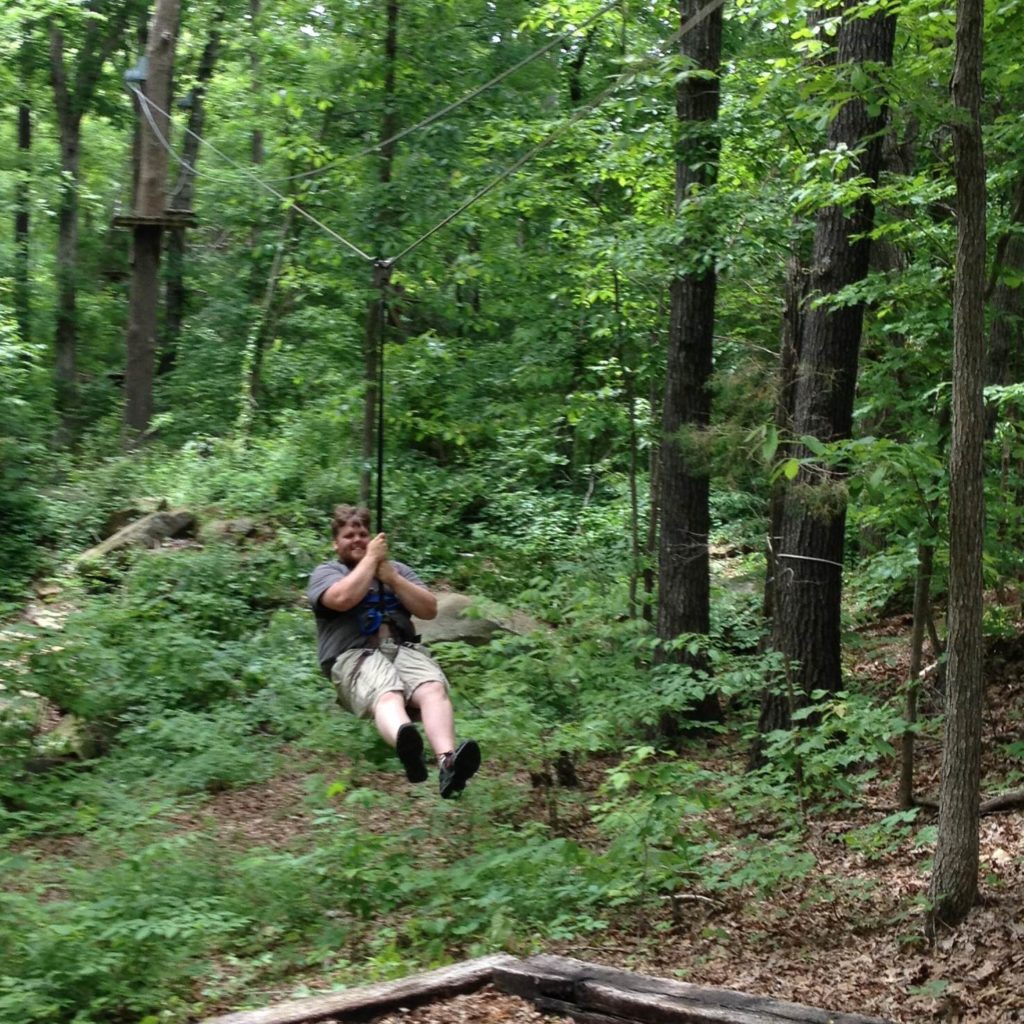 Upon completing the course we had the option to upgrade and add lines 2 and 3 because we had purchased the "may upgrade" package.  We aren't spring chickens anymore so we opted not to upgrade and instead chose to add a few of the tower adventures before heading off to a picnic lunch.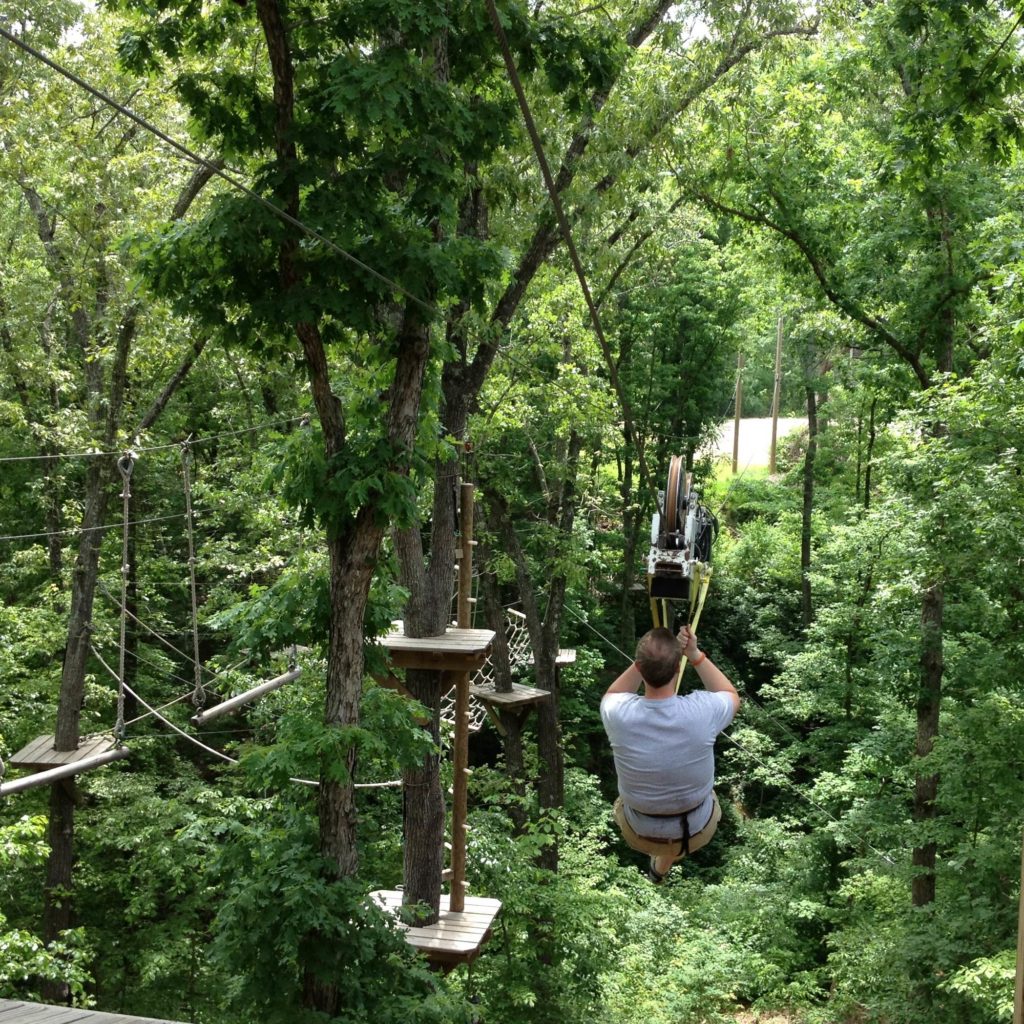 Loco Ropes
is a family run business and both Bob and Judy Cox, the owners, were on site and were welcoming and checking in on each of the visitors. Additionally, the hired staff is fun, friendly, and knowledgeable.  They are there to encourage you along and to even come to your rescue if you get stuck or too afraid to continue on.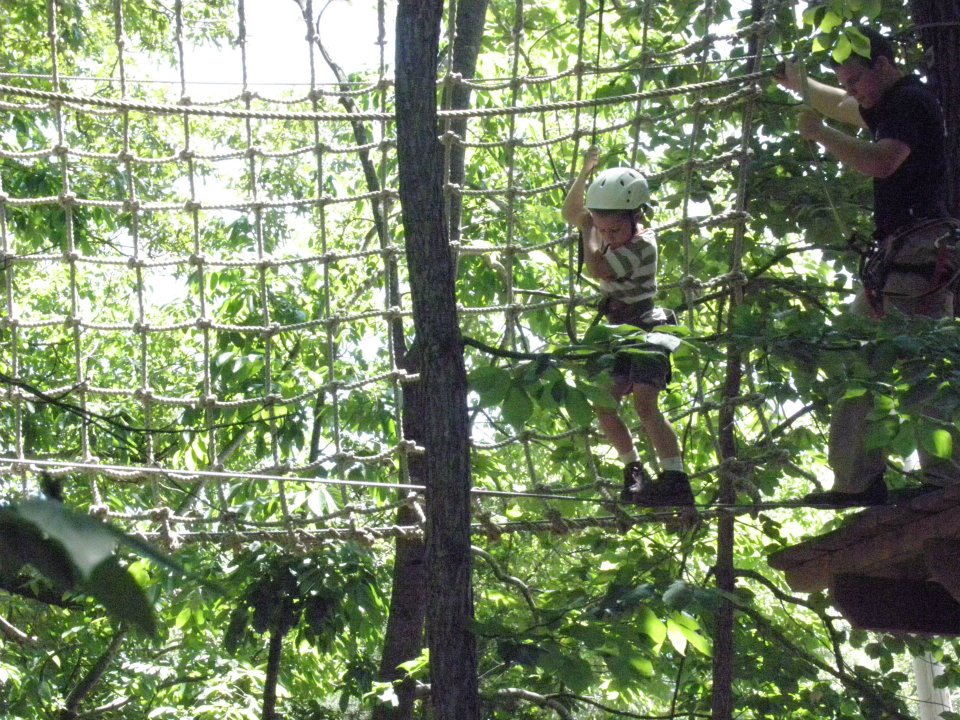 Although,
Loco Ropes
isn't intended for toddlers, it is the perfect activity for families with school aged children and teens.  It's even perfect for thirty or forty-somethings like myself and my husband.  Head on up to Mountain View and GO LOCO in the trees!