Lake June in Stamps, Arkansas is known to many as simply "the pond." Her banks have played host to countless picnics, reunions, church and community gatherings. Her waters have gifted many children with their first big catch and washed away the sins of Christian believers for well over 100 years. Maya Angelou, Stamps' most notable resident even wrote about "the pond" 13 times in her world-renowned literature. Lake June may be known as "the pond" but she is more than just a pond to residents of Stamps, and her recent revitalization was long overdue.
The History of Lake June
A dam formed Lake June in the 1880s as a working mill pond for the Bodcaw Lumber Company. Logs would be dumped from trains and then floated across the pond to the mill until the company was dissolved in 1917.
In 1943, the pond was sold to the city of Stamps and became a municipal lake that has been enjoyed by residents of Stamps for decades. In 1956, the city deeded the surface rights of what became known as Lake June to the Arkansas Game and Fish Commission (AGFC), which began to stock the lake helping to turn it into a popular recreational fishing area.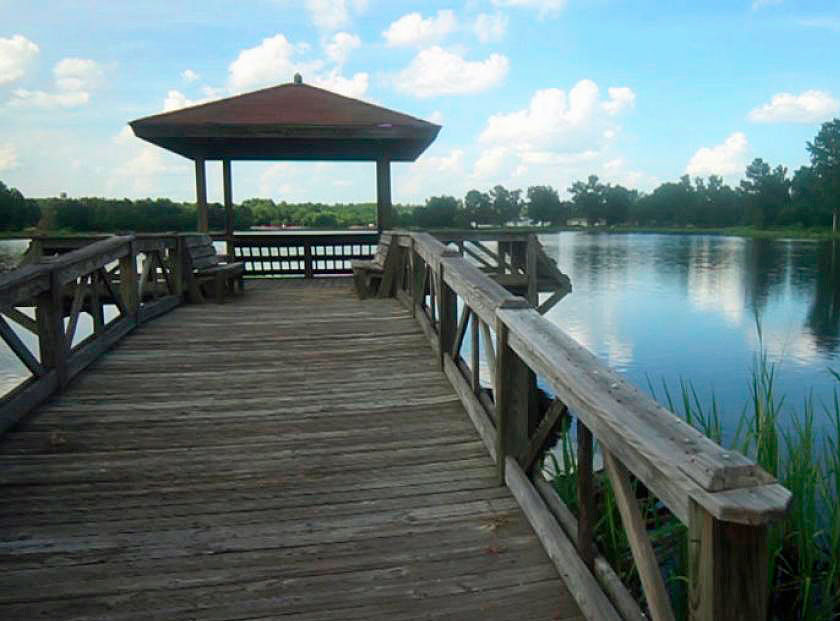 Photo by Sharla Orren
Maya Angelou, renowned poet, singer and civil rights activist spent much of her childhood in Stamps. When Angelou died on May 28, 2014, at the age of 86, residents of Stamps felt a profound loss and mourned her deeply. That October, the city held a ceremony dedicating the city park and Lake June to Angelou's memory.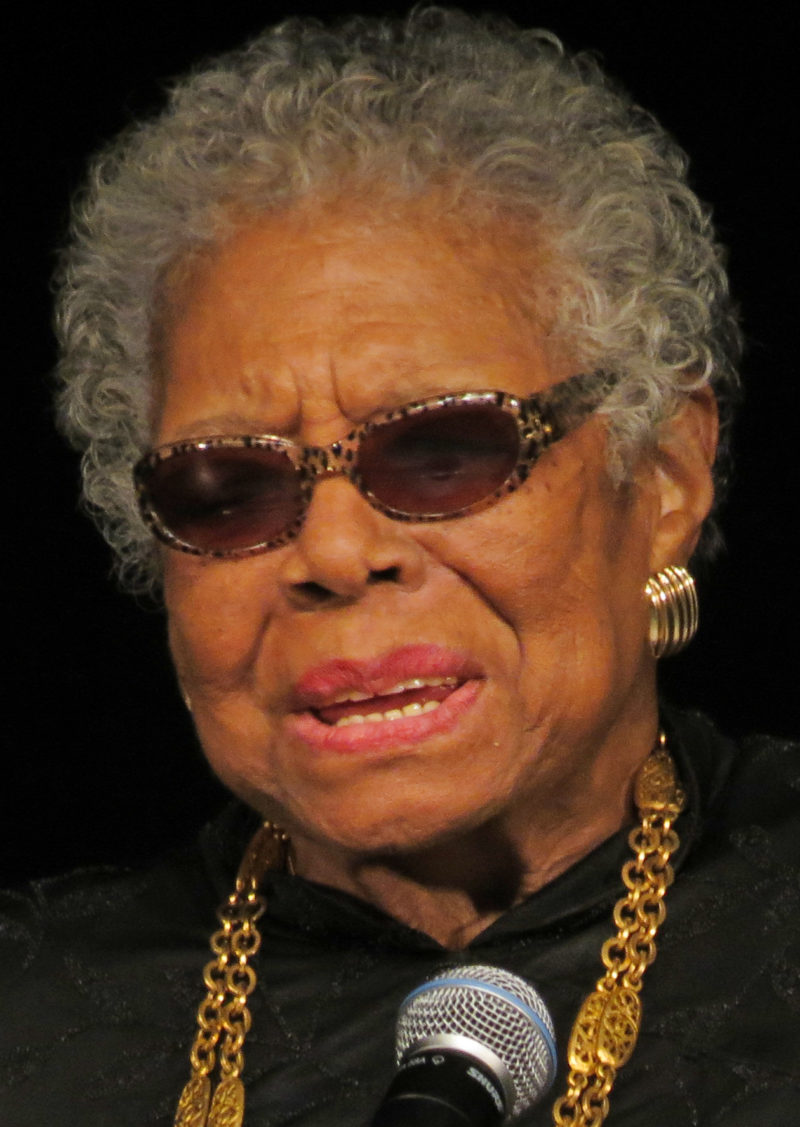 Angelou in 2013. Photo by York College verified as cc-by-2.0.
In 2017, the Arkansas Historic Preservation Program nominated Lake June to the Arkansas Register of Historic Places because of its significance in the community. The application stated, "Lake June has made significant contributions to our region's settlement, development, growth, economy, recreation, religion, and regional identity." It continued to point out, "From its utilitarian beginning and into our modern era, Lake June has served many purposes and played many roles. It has been a swimming hole, a recreational fishing lake, a church baptistery, a park, a fire suppression tool, a place of reflection, a sanctuary, and of course a log processing center for an economic powerhouse." The lake was officially added to the register on December 6, 2017.
Time Takes Its Toll
Nearly 140 years of usage led Lake June to need significant repairs for people to keep enjoying her beauty and abundance. The primary concern was the lakes spillway, which was damaged due to flooding in 2014, and an aging water control systems made it difficult for the lake to remain water-filled during long periods of dry weather. Additional problems were being caused by a buildup of sediment and vegetation along the lake's shorelines that was making it difficult for boats to get within 10-20 yards of the bank and for shore anglers to fish effectively.
In 2016, the decision was made to drain the lake and begin a three-year renovation process that would repair the spillway, replace the water control structure, rejuvenate the fish habitats, make the lake more easily accessible in hopes of providing another 140 years of enjoyment to the residents of Stamps.
Preparing the Lake
Preparing a lake for draining takes more work than just opening the dam and letting the water flow out. Although the accumulation of silt and vegetation were making it difficult to fish, especially for shoreline anglers, Lake June still had a healthy population of fish.
The draining process was expected to flush most of the fish through the open spillway or cause them to be trapped in small pools of water. To prevent a large amount of waste, AGFC removed all fishing limits on the lake for 120 days before draining.
Part of Lake June's popularity is its abundance of fish as a food source. People often fish the lake to provide food for their families, and this gave the city the opportunity to allow its residents to stock up ahead of the lake being drained while also preventing a senseless loss of fish.
The Revitalization Process
Although there were several setbacks in the draining process, once the lake was empty AGFC was able to get a better sense of the work that needed to be done. I spoke with Aaron Kern, District 6 Fisheries Management Biologist with AGFC, who provided the following information about the tasks that were completed to revitalize Lake June.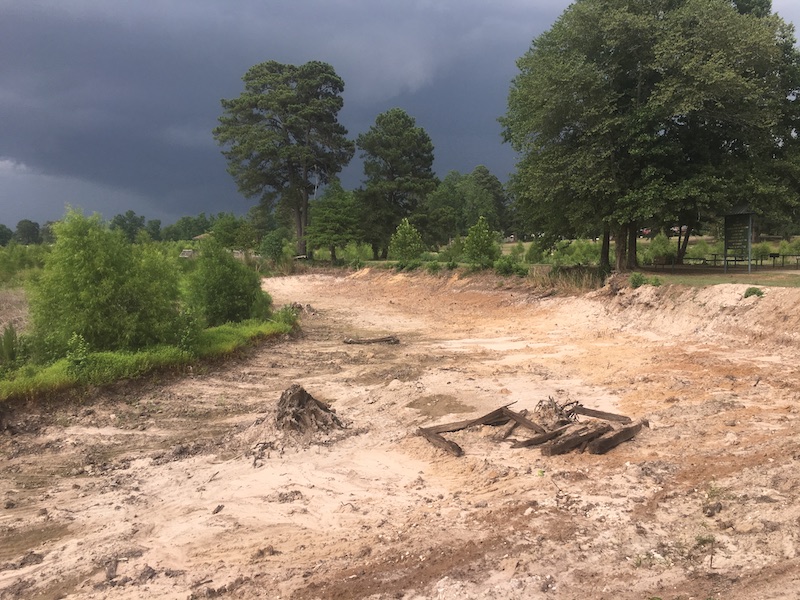 Shoreline Deepening
Shoreline Deepening: Silt had accumulated to the height of the shoreline, and the wedge of sediment we removed. The deepened shoreline areas are now about as deep as the main lake basin, which will significantly improve fish habitat and reduce problematic aquatic vegetation. In all, AGFC deepened 186,000 square feet at several locations, which improved nearly a mile of shoreline around the lake.
Pea Gravel Spawning Beds: A 2×6 frame is constructed, and vegetation fabric is added to keep vegetation from growing up, and then pea gravel added and leveled. Pea gravel is a much more suitable spawning habitat than silt. AGFC built nine beds like this all around the lake, which created 6300 square feet of spawning habitat.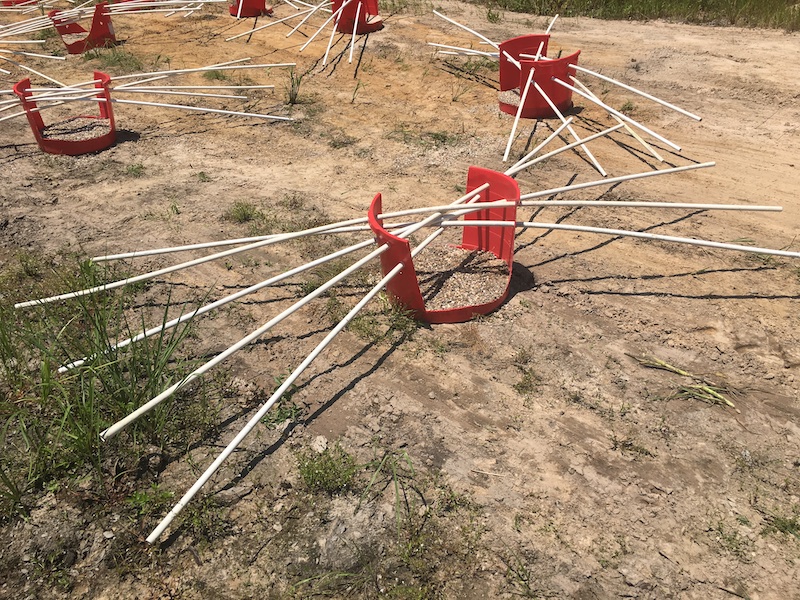 Modular Spawning Pods, designed by Aaron Kern.
Modular Spawning Pods: Designed by Kern, these are constructed of cattle feed tubs with two sides cut out, and about 4 inches of pea gravel in the bottoms. Sticks of PVC are added to provide some habitat complexity. AGFC made three beds paired with similar-sized pea gravel beds and are planning to conduct a study to detect differences in fish use between the two spawning habitat types.   
Pallet Structures: Pallets create a very cost effective fish habitat, as pallets can be found for free and cinder blocks and rope are inexpensive. AGFC has several sources of free pallets, and place these structures in several other lakes to improve fish habitat. AGFC placed 65 of these structures along the old creek channel, creating four artificial reefs. Several variations were made around the lake to provide a variety of habitat styles.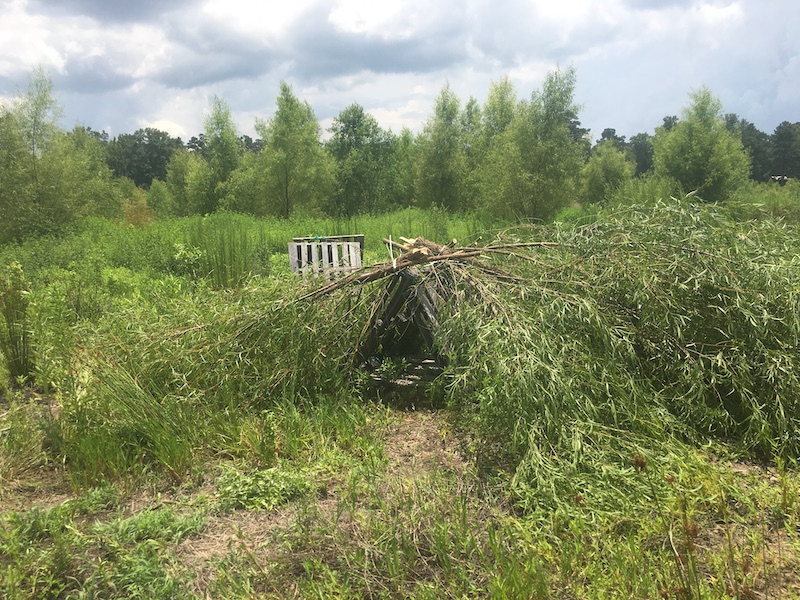 Willow Tree Pallet Pyramids
Willow Tree Pallet Pyramids: Pallet pyramids with willow trees attached to it increases the complexity of the habitat, and gives the fish a choice of habitat. AGFC cut and attached 100 willow trees to 20 of the pallet pyramids.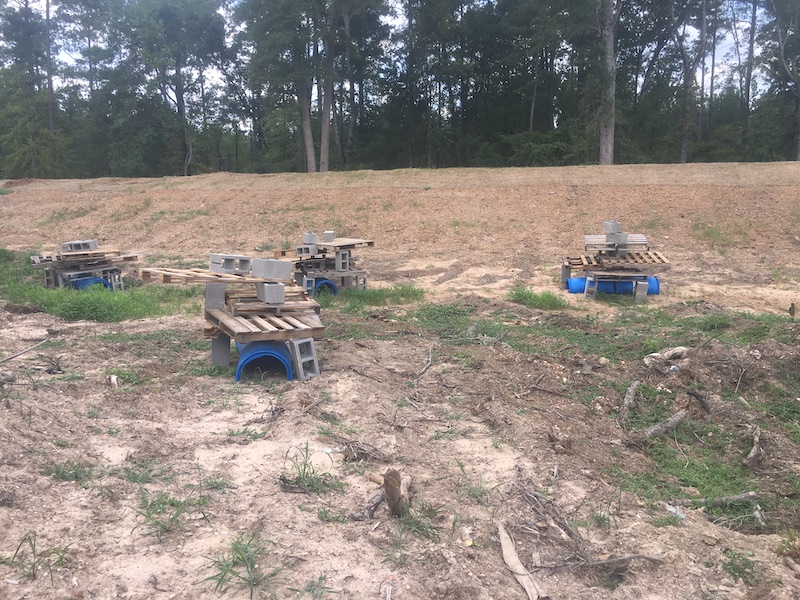 Catfish Clubhouse
"Catfish Clubhouse": Channel Catfish are cavity spawners, and adding plastic drum halves below the pallet structures provide their preferred spawning habitat. The drums were purchased from Grapette and contained food-grade material, so they are safe to use in the lake. AGFC built 25 of these clubhouses, scattered around the lake in groups of four to six.
"Pallet Stack": A Pallet Stack is just a Catfish Clubhouse without the barrels. AGFC placed 11 of these structures in front of a bridge that basically cuts the lake in half. After rainstorms, there is a current flowing through the bridge, and these should provide ideal places for sportfish to use as ambush points to grab food items drifting by in the current. In turn, they should also be ideal ambush points for anglers. Fish will use these year-round and without any current, but AGFC believes they will be particularly useful when there is current.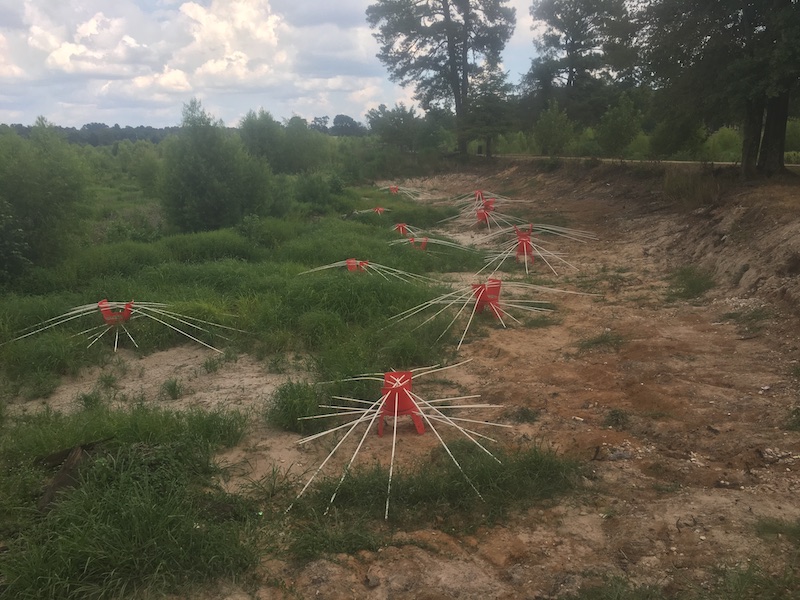 Double-Decker Spawning Pods
"Double-Decker Spawning Pods": AGFC District 6 Fisheries Supervisor, Andrew Yung, took a spawning pod, then turned a tub upside down underneath it. They then attached 10′ PVC sticks on the bottom tub and 20′ PVC sticks on the top tub thus creating artificial brush piles with spawning habitat right in the center. AGFC built 13 of these structures and is interested to see how fish use this habitat moving forward.
Log Pile Habitats: The final type of habitat created in Lake June was to craft log piles using trees found on site. Some of this material came from the shoreline deepening, which uncovered saw-logs and cypress stumps that had been buried for decades. AGFC also encountered many dead or dying trees along the shoreline that Mayor Davis permitted them to rip out and place in the lake, which is a win-win for everybody. Finally, the levee reconstruction required that AGFC remove a bunch of trees from the backside of the old levee. They created many log piles all around the lake using these recycled materials.
GPS waypoints for habitat locations will be available for download through the AGFC website at https://www.agfc.com/en/fishing/where-fish/fish-attractors/.
A Cooperative Project
The Lake June project was not just an Arkansas Game and Fish Commission project but a cooperative project between AGFC, the city of Stamps, Lafayette County and the people of the community who use Lake June. The collaboration allowed the project to be completed nearly a year ahead of schedule and the lake was dedicated in a ceremony held on October 12, 2018.
Stamps is a small community of only about 1200 people, but nearly all have used Lake June at some point. Mayor Brenda Davis was elected in 2017 and is excited about what these changes mean for the community of Stamps.
"[Lake June] is in an area that is just beautiful and the community utilizes it well. People use it for family reunions, picnics, fishing derbies and more. The community loves this lake, and we are just proud of it."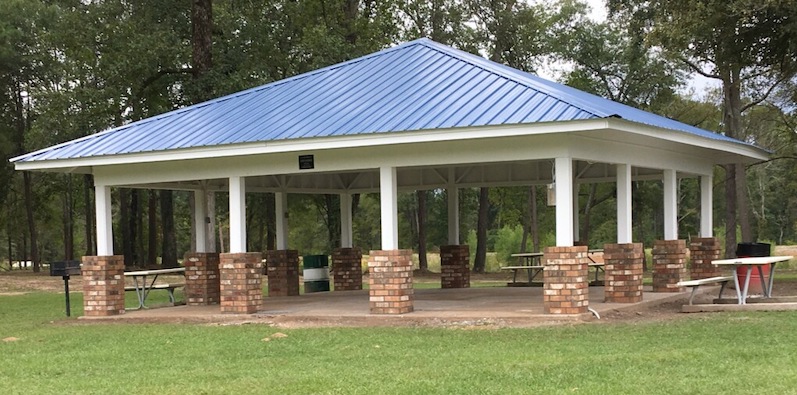 Photo of pavilion courtesy of Mayor Brenda Davis.
In fact, one community member even donated around $5,000 to assist with the renovation of the pavilion. But, the improvements won't stop there. The Mayor is working with other city officials to clean some of the banks around the lake and lighting has been added to several areas of the park. Mayor Davis has also applied for a grant on behalf of the city which, if funded, will help provide funding to add even more lighting and other security measures around the lake and park.
Mayor Davis also hopes to eventually replace several Black history monuments stolen from the complex in late 2017. The items taken included a wooden placard bearing Maya Angelou's name and a bronze bust honoring three Black men who served in the state legislature after the Civil War.
The Future of Lake June
When the gates of the dam were initially closed following completion of the project, there were some issues with the spillway that prevented the lake from refilling as expected. In late January, the construction crews returned to address the issue. As of early February, Lake June is finally filling nicely, and AGFC will begin stocking the lake with a variety of fish to build up the habitat and create a lake that is viable for recreational fishing. As a thank you to the community for their patience with the project, catchable (approximately 1 pound) Channel Catfish have been stocked, and anglers may begin harvesting up to five catfish daily. All other fish will temporarily remain catch and release only to protect them as their populations re-establish.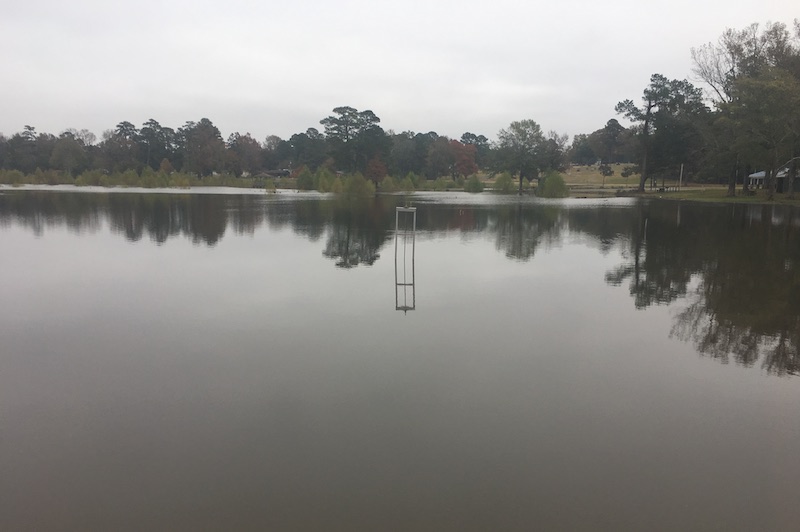 AGFC will monitor the fish populations closely and intend to expand limits and increase the species of harvestable fish as populations grow and reach a point where they can sustain harvest. When all is said and done, Lake June is expected to maintain healthy, fishable populations of Channel Catfish, Largemouth Bass, Bluegill, Redear Sunfish, and Black Crappie.
Arron Kern with AGFC went on to say, "This has been an interesting project. Lake June is a central component of the community of Stamps as well as surrounding areas. Opportunities like this to fully renovate a lake for a community don't come around very often, so we were glad to be a part of the process. The most important aspect is that Lake June now has modern, safe and fully functional levee and spillway infrastructure. However, we are expecting the fishery at Lake June to be very productive due to our habitat improvements. Lake June not only provides aesthetic/relaxation value but is also a place where people can catch a meal of fish without having to drive far. While providing easily-accessible and greatly improved shore-fishing opportunities was an important component of our renovation approach, there are substantially improved opportunities for boat anglers that wish to fish offshore. We made it a focus to keep all anglers in mind and provide something for everybody."
Special thanks to Aaron Kern and Andy Yung with AGFC to providing their knowledge and expertise to make this article possible. A similar project is currently underway on Lake Poinsett in Harrisburg, Arkansas. Lake Poinsett was drained during the fall of 2017 and is set to reopen in 2020. You can read more about the Lake Poinsett by clicking here.
Photos provided by Aaron Kern unless otherwise noted.