Summer days call for a different way of life, a different pace, and more opportunities to enjoy our beautiful state. From poolside barbecues to kids running around yards with popsicles dripping down their arms, to (hopefully) more time off work, the warm months and longer days present great opportunities to explore Arkansas. And while we all have our "go to" locations, there is an abundance of places to visit and explore. Today we'll list a few of those "out of the way" Arkansas gems, but there are hundreds beyond this list.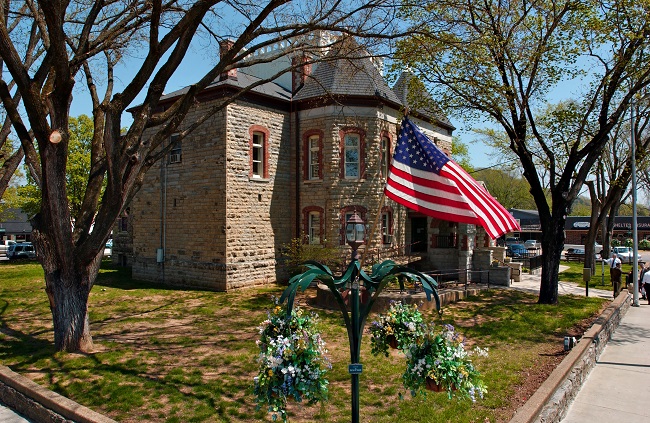 Courtesy of Arkansas Department of Parks and Tourism
Marion County Courthouse
A stunning building that looks like a cross between a Victorian fantasy and a medieval fortress, this Yellville courthouse was built in 1944. Its history is closely linked with fires, as four previous courthouses on the same location all burned down (the first by Union soldiers, the last in 1943 by an arsonist eager to destroy incriminating evidence inside the courthouse). The current courthouse design was created in 1944 and closely based on the previous courthouse, a mix of Queen Anne, Art Deco, and a gothic, quirky aesthetic all its own. Added to the National Register of Historic Places in 1994, it's always been fascinating to me that in the early 1930s, Yellville's city government was comprised of all women (a feat unheard of in any other Arkansas location at the time). These ladies were a progressive group and apparently put a stop to livestock running around inside the city limits. To find out more about Yellville's unique courthouse, and the fascinating history of the town itself, visit the Chamber of Commerce website here: http://www.yellville.com/HISTORY.html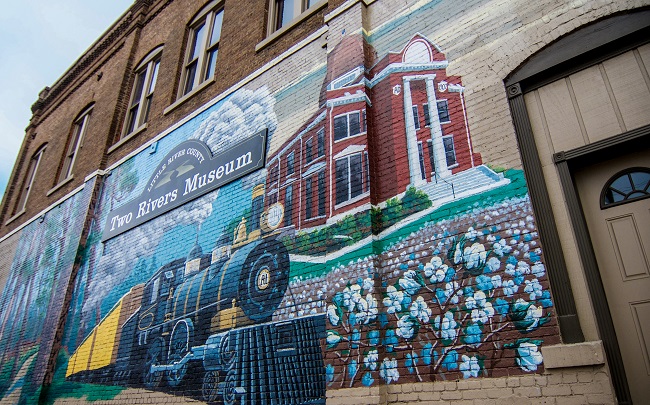 Courtesy of Arkansas Department of Parks and Tourism
Two Rivers Museum
A fascinating museum with a hometown feel, the Two Rivers Museum is located in a 100-year-old building in the Ashdown Historic District. Visitors will find displays and artifacts from Ashdown's early residents, and the universally familiar themes of hardworking farmers, doctors and workers who made Arkansas what she is today. There is a horse-drawn hearse and a portable wooden embalming table on display, in addition to military displays honoring artifacts from World War I and World War II. There is also a display honoring Henry Kaufman, the founder of Kaufman Seeds. A German-Jewish immigrant, Kaufman fled Italy days before he was to be deported back to Nazi Germany and created a thriving farm-based business here in Arkansas. To find out more about the Two Rivers Museum, visit their Facebook page here: https://www.facebook.com/TwoRiversMuseum/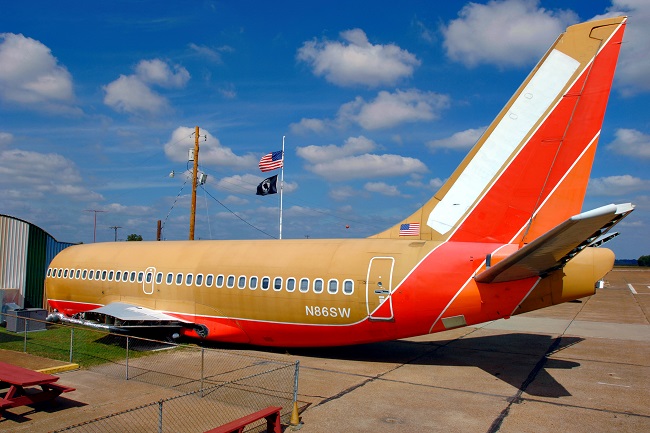 Courtesy of Arkansas Department of Parks and Tourism
Parachute Inn
The last time my daughter and I had airplane food while traveling, it consisted of $20 worth of old cheese and a handful of nuts and stale crackers. Luckily, here in Arkansas, we have the option of boarding a plane and dining on delicious food. Located in Walnut Ridge, the Parachute Inn offers southern food in the comfort of a retired Boeing 737. Located next to the terminal at the Walnut Ridge Regional Airport, patrons can experience dining in a write-home-about-it unique environment. To find out more about the restaurant and their hours of operation, check out their website here: http://parachuteinn.business.site/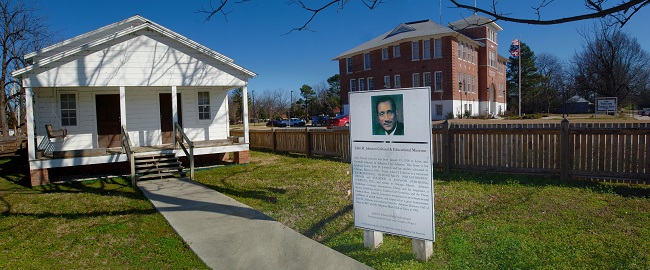 Courtesy of Arkansas Department of Parks and Tourism
John H. Johnson's Home
A third-generation descendant of slaves, John Harold Johnson was born in Arkansas City in 1918. He would go on to become the owner of Johnson Publishing Company. He launched Ebony and Jet magazines and monumentally changed the publishing landscape for African Americans. Johnson's father died when he was a young boy, and his mother, a cook in a levee camp, remarried his stepfather. During this time in Arkansas history, African Americans had no educational opportunities past the eighth grade. Johnson left the state and attended high school in Chicago. He eventually married, raised two children, and became the leader of a publishing empire, influencing public perception and addressing racial discrimination. Johnson was named one of Forbes 400 richest Americans and served as a special United States ambassador for Presidents John F. Kennedy and Lyndon B. Johnson. Johnson's original boyhood home collapsed when being moved to its current site. The current replica was created and now serves as a museum honoring the Arkansas native media mogul. Admission is free, and visitors can pick up a key at the Desha County Courthouse reception desk. For more information call 870-877-2426.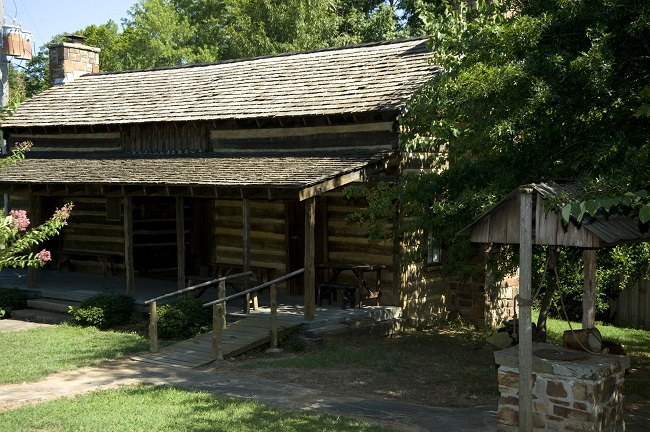 Courtesy of Arkansas Department of Parks and Tourism
Historic Greenwood
The Old Jail Museum and the Vineyard Cabin are the cornerstones of the Greenwood Historic District, located near the square. The Old Jail was constructed out of stone quarried from Backbone Mountain and was built with thick walls and four cells. Scratches and marks made by inmates can still be seen on the stone walls. According to local legend, one escapee got out, walked to the jailer's house and allegedly announced, "I just can't stand the snakes anymore." This sturdy building survived a fire in 1922 and a tornado in 1968. The Vineyard Cabin was constructed in the mid-1800s. It was built by a schoolteacher William Blaylock. Upon his marriage (and in no doubt a quest for more space), Blaylock added a dogtrot and an extra room. Originally located outside the city, it was moved to its current location in 1996. A Coal Miner's Memorial Park is also nearby, commemorating miners and the coal mining history of the county. Visitors will also find an old barn and a one-room schoolhouse. Be sure to check out the museum's website for more information and to plan your own trip: http://www.greenwoodmuseumonline.com/
My father once took us on a day trip to Salem, Arkansas. While there, we visited the lot where my great-grandparent's house once stood, and we found my grandmother's name written in concrete at the old high school. It was an entire day dedicated, primarily, to an old crumbling sidewalk and the forgotten names etched into it. These are the Arkansas trips that stay with me, the sentimental day trips, old jails, lunches in a plane, and historic birthplaces of media moguls. These out-of-the-way day journeys are an important part of what makes our state such a magical place to live.