This year's big game includes former Razorbacks Trey Flowers, Bret Bielema, Brandon Allen and others.
For most of the 21st century, quarterback Tom Brady, his coach and the New England Patriots have ruled the NFL. Their dynasty has come in multiple parts, though.
Chapter I kicked off 17 years ago in a close Super Bowl XXXVI win against the Rams. The latest chapter of three straight Super Bowl appearances, partly fueled by a group of former Razorbacks, again involves the Rams. The Patriots and Rams will play in Super Bowl LIII this Sunday night.
Trey Flowers
The Hog playing the largest role in these new-look Patriots' dominance is Trey Flowers. The defensive end broke through on the national stage two years ago with 2.5 sacks in a Super Bowl win against Atlanta.
He's only improved since then.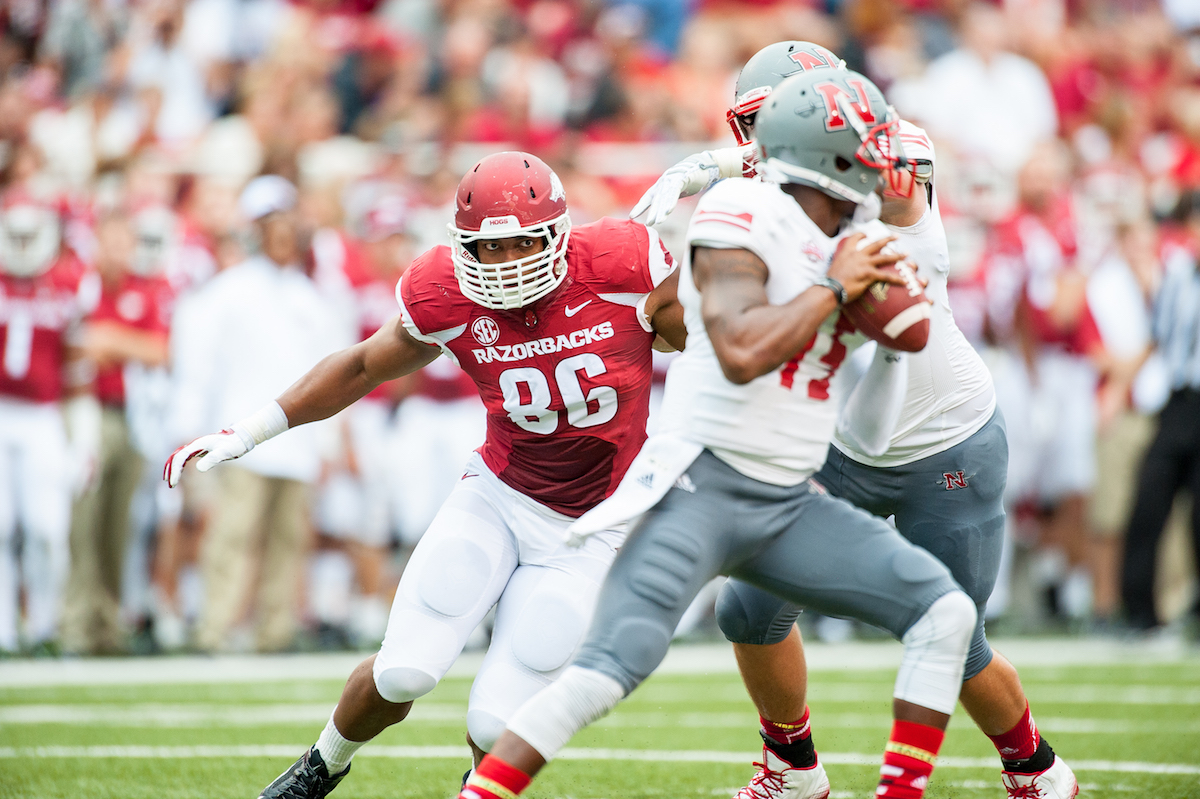 This season, Flowers has tallied 7.5 sacks, 22 quarterback hits and 33 hurries — good enough to be rated by Pro Football Focus as the NFL's third best edge defender. That same outlet named Flowers as a second-team All-Pro.
"Nobody works harder than Trey," Patriots head coach Bill Belichick said. "His toughness, his durability, his consistency, and his ability to play the running game and play it in different positions — you don't see a lot of guys on the defensive line [do that] but he's done it well."
Flowers has done it so well, in fact, that's he in line for a huge payday this spring when his four-year contract expires. If he gets the franchise tag for defensive ends, he projects to make more than $17 million.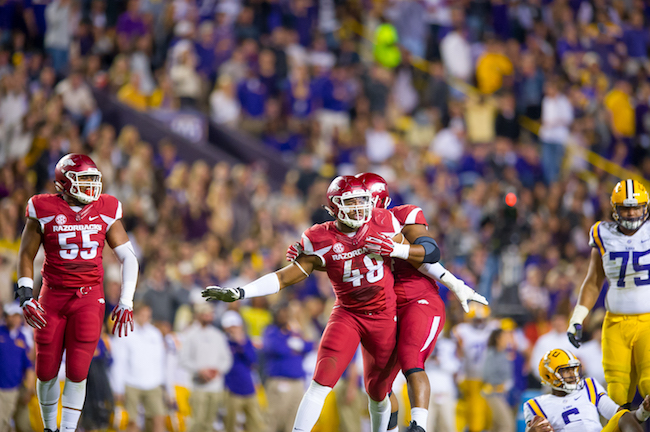 Deatrich Wise, Jr.
Joining Flowers on the Patriots' defensive line is the younger Deatrich Wise, Jr. As teammates at Arkansas, they had what Wise described to NBC Sports as an "older brother type relationship." The mentoring has continued in New England. Wise, in his second NFL season, tallied 4.5 sacks, 30 tackles and 16 quarterback hits — similar numbers to his rookie year.
An ankle injury has kept him out of the playoffs so far, but Wise may return for the Super Bowl.
The Patriots could use him. His position coach Brendan Daly told 247 Sports this year Wise has gotten much better at learning "to press the blocker while he's locating the ball, maintaining good pad level and playing good team defense… by helping to cancel gaps with the blocker's body and then get off once the ball carrier commits."
Bret Bielema
Daly isn't the only defensive-minded Patriots coach focusing on scheming for the Rams. Bret Bielema, who coached Flowers and Wise at Arkansas, is now on the New England staff as a consultant to Bill Belichick.
In stark contrast to his more bombastic days as Arkansas' head coach, Bielema's been fairly mum on details about his new gig. But Belichick provided some details this fall on the Boston radio station "98.5 The Sports Hub." He said Bielema focuses on helping the defensive ends and tackles. "He's also been somebody that I've used and has helped me with some overall head-coaching-type responsibilities — planning and team management and things like that," Belichick added.
Bielema, reportedly, has claimed he'll be promoted to the New England defensive coordinator job after the Super Bowl. If so, the pay raise would be good news for Arkansas. The more the Patriots pay him, the less Arkansas must pay him through the end of 2020, according to his UA coaching buyout clause.
Other former Razorback players will also be part of the Super Bowl, though they likely won't have on-field roles.
Cody Hollister
For sure, Cody Hollister won't.
Hollister, a former Arkansas wide receiver, spent the 2017 season on New England's practice squad. Entering this season, he underwent back surgery that sidelined for the entire 2018 season.
It didn't hamper his singing voice, however. Hollister recently brought a particularly sassy sportscaster to tears with a soulful rendition of Ed Sheeran's "I See Fire."
Dan Skipper
The final Razorback Patriot also happens to be the tallest player in the NFL: 6'10" Dan Skipper. The offensive lineman joined New England's practice squad a few weeks ago after suiting up for Denver in the regular season.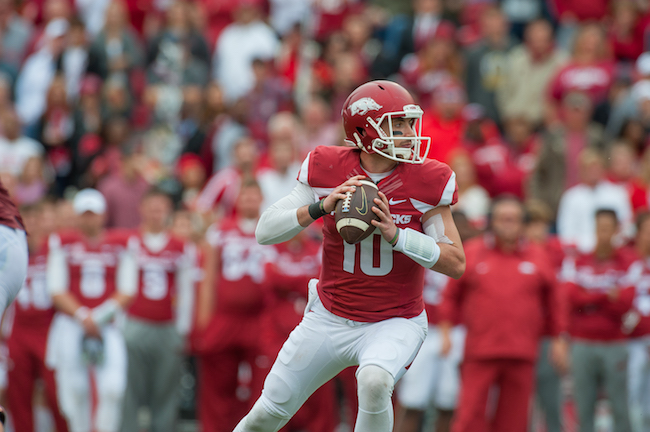 What about the Los Angeles Rams?
Brandon Allen
Brandon Allen is the Rams' lone Arkansas representative. One of the most prolific passers in Hogs history, Allen has yet to take a regular season snap in his three NFL seasons. That's not getting the Fayetteville native down, though.
On the sideline and in the film room, Allen is soaking up everything he can from Sean McVay, the Rams' 33-year-old head coaching prodigy. In many ways, McVay represents the future of the NFL. His sophisticated, explosive offense portends where the league is headed.
Brandon Allen is charged with helping McVay and the Rams' young starting quarterback, Jared Goff, prepare to knock off the elder statesmen from New England.
If they do, a Rams-Patriots Super Bowl could again usher in a new NFL dynasty.
Photos courtesy of Razorback Communications Dept.