When William Mitchell enrolled in a fencing club, it was a way to keep him occupied while his mother attended night classes for her master's degree. Those first early lessons in the late 1970s took hold, though. When William moved to Arkansas so his mother could teach at UALR (then Little Rock University), he met Robert Scranton, who taught fencing at the university and the Arkansas Fencers Club in Little Rock. Bob Scranton was a professional Fencing Master. When he died in 2004, it left a void in the fencing community in Arkansas. William and a core group of about 10 fencers decided to revive the club in the form of the Central Arkansas Fencing Club.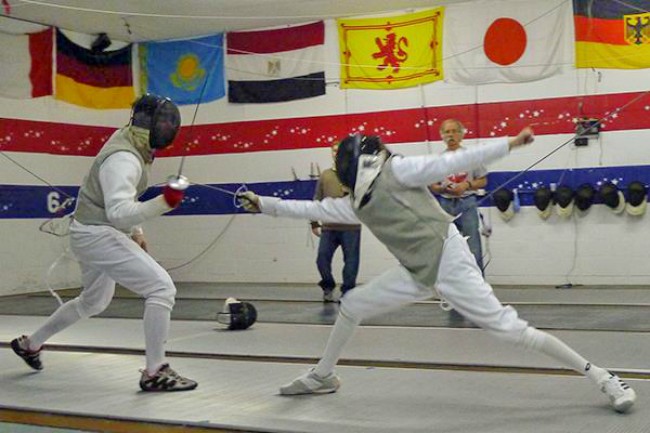 "Fencing is a very social activity," William says. The Central Arkansas Fencing Club is a recreational club with a focus on introducing people to the sport and connecting those who already fence. They offer beginning courses twice a year, and intermediate courses for those who would like to continue with the sport.
Fencing originated in Europe as a refined version of combat often used to settle a duel. It began to gain popularity in the U.S. around 1900. Fencing also became an Olympic sport, with foil and sabre both part of the first Olympics in 1896. In 1900, épée was added. These three types of fencing are distinguished by the weapon and the target areas of the body where an attacker can score points.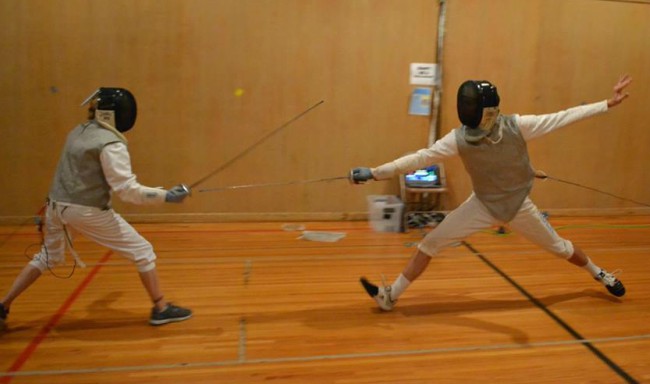 At Central Arkansas Fencing Club, all beginners start with foil fencing. In foil, only the vest of a competitor is the target, making it the most difficult of the three disciplines. William says they purposefully teach aspects first. A beginner can expect to only learn footwork for the first few lessons. Fencers engage each other on a fencing strip, which is 14 meters long and 1.5 to 2 meters wide.
Footwork is the foundation of fencing. "You have to be able to advance and retreat on the strip," William emphasizes. To keep it fun for the younger fencers, the club adds in games like "Jacque Says," a fencing version of Simon Says. By the 4th lesson, beginners can expect to hold a weapon and by the 8th lesson, they'll start learning how to attack and parry. The club always holds an end-of-the-class tournament to allow the beginner students the opportunity to use the skills they've learned and have some fun.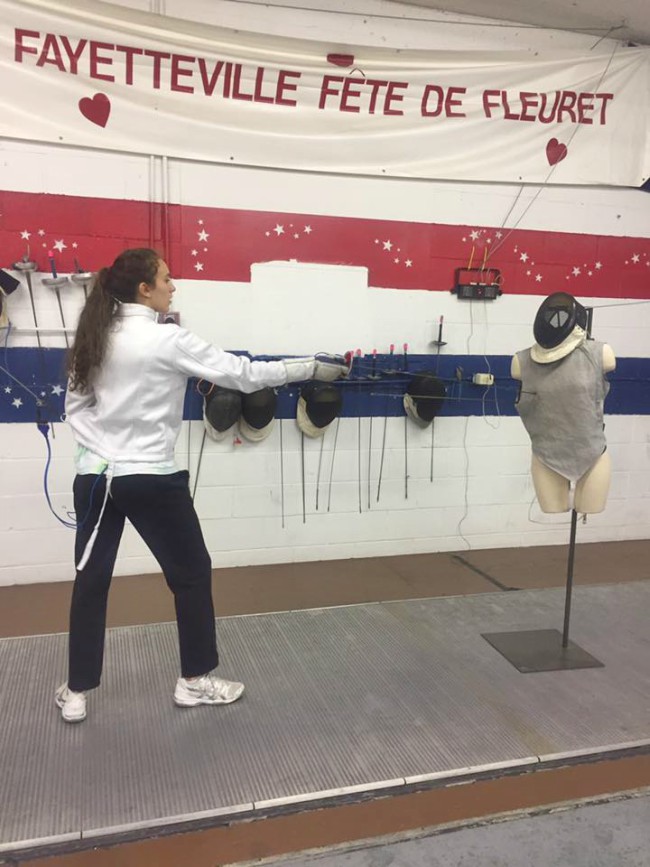 Intermediate classes are also held throughout the year at Central Arkansas Fencing Club. Those who continue beyond the beginner classes can expect to continue with more advanced footwork and also learn how to use the strip to their advantage. Above all, William says they try to keep the atmosphere fun and relaxed. He stresses it's a great sport for kids to get involved in.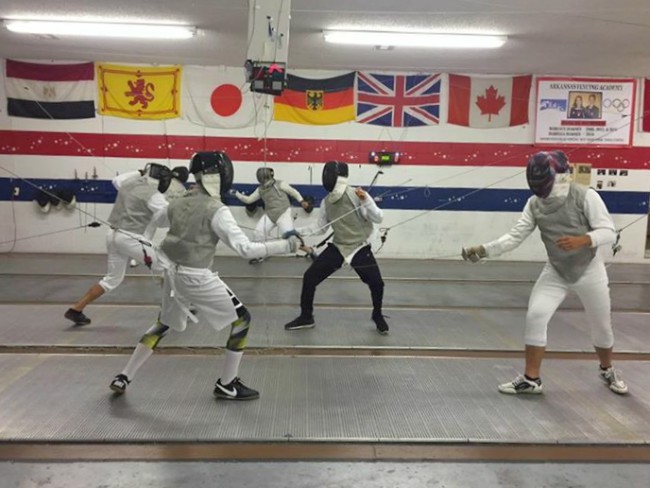 Nadia Tucha, a coach with the Fayetteville Fencing Club, agrees. She started fencing as a child in Sofia, Bulgaria. Her mother was a national fencing champion, a member of the Bulgarian National Foil fencing team and also a fencing coach. Nadia spent 15 years on the Bulgarian International Team traveling all over the world to compete. When she moved to Northwest Arkansas 15 years ago, she joined the Fayetteville Fencing Club as a coach.
The Fayetteville club is located inside the Arkansas Fencing Academy in Springdale. The club offers beginning classes every six to eight weeks. Though beginning classes are popular, the club also emphasizes competition. They often travel to clubs in Texas, Oklahoma and Kansas to compete. Nadia says national events are held all over the country and provide plenty of opportunities for all ages and skill levels to compete. The Fayetteville Fencing Club is the home of two Olympians, Margaux and Isabella Isaksen. The Fayetteville natives learned how to fence at the club before becoming pentathletes and moving to Colorado Springs to train at the Olympic campus.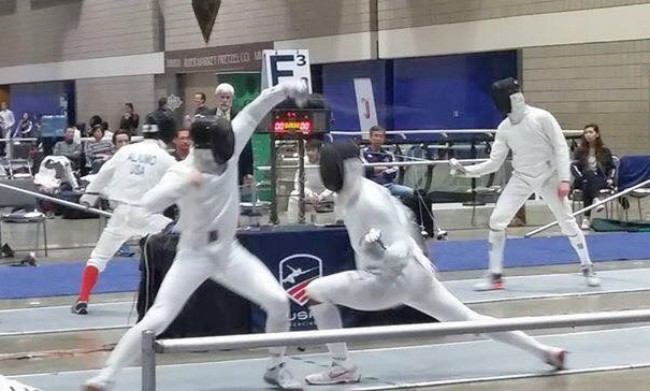 The majority of fencers at the Fayetteville club are 12-19 years old, but Nadia stresses that adults can learn how to fence, too. "Fencing is an individual sport that you can practice your whole life. It's so addicting and unique. It's a workout for your whole body."
Some of the top reasons for people of any age to try fencing are related to fitness. The sport develops flexibility, muscle strength and improves hand-eye coordination. It also increases reaction time. According to Nadia, the tip of the fencing weapon is the second fastest moving object in sport. Don't be scared off by that fact. Both Fayetteville Fencing Club and Central Arkansas Fencing Club provide all the equipment a beginner needs to learn how to fence safely.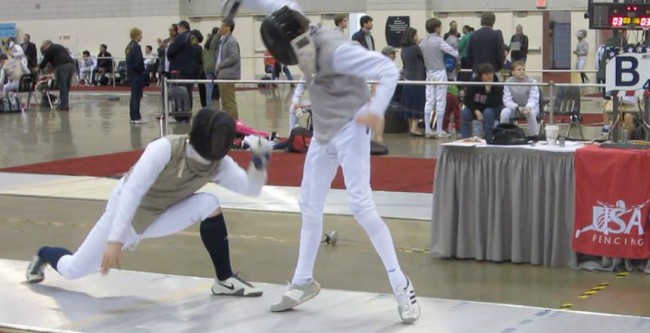 Find out more about Central Arkansas Fencing Academy at cafencing.com and on their Facebook page, Central Arkansas Fencing Club. In Northwest Arkansas, check out ArkansasFencingAcademy.com and find out more on Facebook at the Arkansas Fencing Academy.
Whether you want to try a unique activity or find an individual sport that also provides social opportunities, both clubs encourage interested people to check out their "salles", or clubs, and see what fencing is all about.
Photos are from Central Arkansas Fencing Club and Fayetteville Fencing Club and used with permission.