This past Saturday, dignitaries from around the football world gathered at Bud Walton Arena to celebrate the life of Frank Broyles, the longtime Razorbacks head football coach and athletic director. Former players like Ken Hatfield and Jerry Jones spoke about what Broyles, who died August 14, meant to them to a crowd including Hogs head coach Bret Bielema and three current and former SEC commissioners. In all, it was a fitting punctuation to the most influential sports figure in our state's history.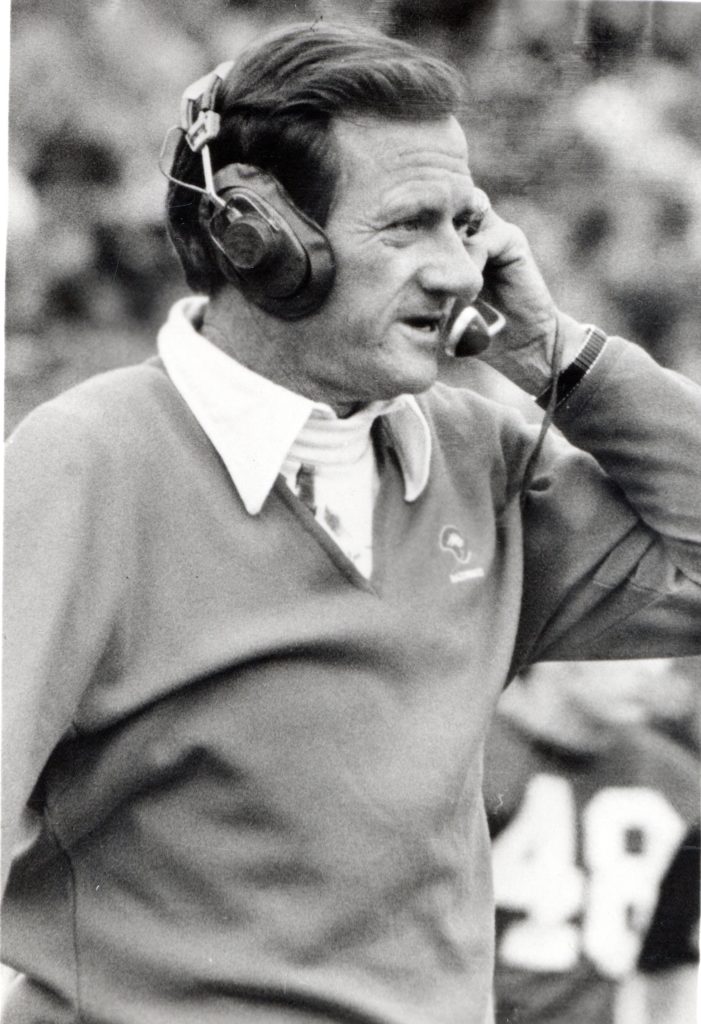 None of it would have happened, however, were it not for the faith of John Barnhill.
Barnhill, the Razorbacks' athletic director in the mid-1900s, hired Broyles in December 1957. Barnhill stuck with him even as the losses mounted to start that first season—eventually hitting six in a row. "I was so low my chin scraped the floor, [but] Barnie always went out of his way to try to pick me up," Broyles recalled in his memoir Hog Wild. "He'd say 'Frank, your team is playing good and they're getting better. You're doing a good job and don't get discouraged." Barnhill even called Broyles' parents and his wife, Barbara, Broyles wrote. He'd say "Barbara, don't you let Frank get discouraged. Don't you get discouraged, and don't you let Frank."
The Razorbacks rallied to finish the 1958 season with four wins in a row. Barnhill rewarded him with a raise on his $15,000 per year, four-year contract and a $150,000 life insurance policy, Broyles recalled.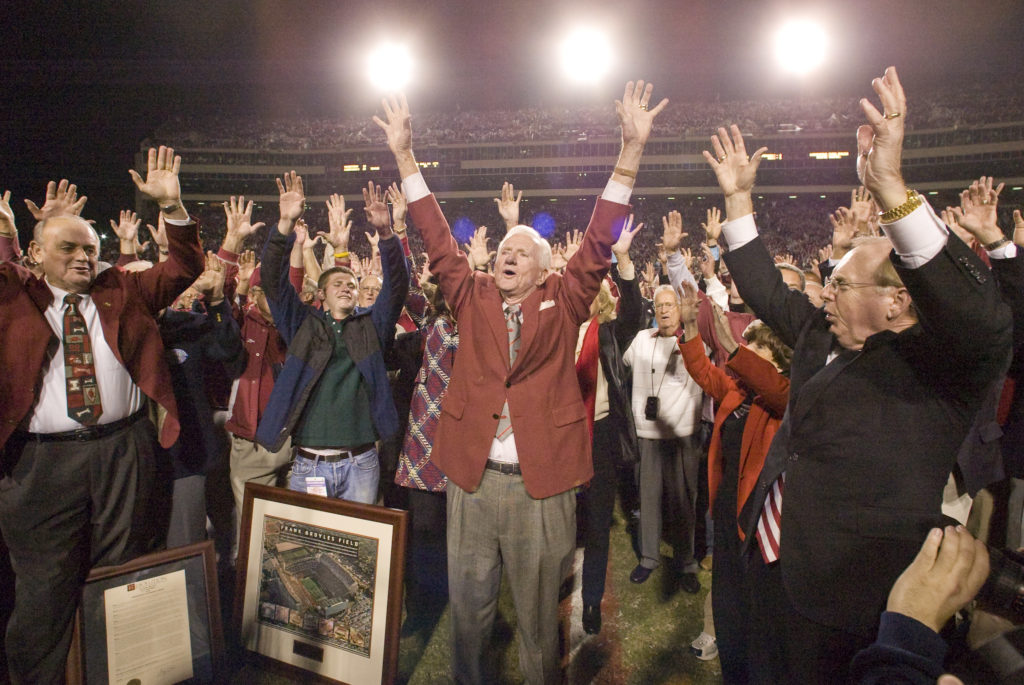 Strong finishes would become a hallmark of Broyles' first Razorback teams. Indeed, the Hogs didn't lose a single November game between 1958 through 1962, a period in which Arkansas also won back-to-back-to-back SWC championships. Harold Horton, who played defensive back on those teams, says the strong finishes were a direct result of Broyles' ability to inspire belief in overcoming struggle. "There were a lot of players who quit under the Broyles regime, because of what they put us through, mainly in the off-season," Horton told me. "We'd climb the rope, walk the overhead ladder, do chin ups, different types of agility drills. It wasn't anything for someone to be throwing up back there at the end of the line."
Horton added: "He taught so many of us how to not only work but go beyond that hurt or that pain when you don't think you can go any further." No doubt, Broyles was in turn inspired by Barnhill. Barnhill had suffered from multiple sclerosis since the 1940s—he quit coaching football in 1949 because of the neurodegenerative condition—but Broyles didn't recall him complaining once. Indeed, Barnhill refused to use a cane and insisted on keeping his regular office hours. "He was the most unselfish man I've ever known, and we'll miss him very much," Broyles told the Arkansas Democrat in 1973 after Barnhill died.
Their relationship at Arkansas lasted 15 years. The relationship between Bielema and his athletic director, Jeff Long, has so far lasted nearly a third of that span. The two relationships share some similarities. Bielema, for instance, also suffered a very rocky first season, going in 3-9 in 2013. He then seemed to be following Broyles lead in creating Hog teams that finished seasons strong, going 5-3 in November games in 2014 and 2015. In February 2015, Long rewarded him with a contract extension and raise, bumping Bielema's pay up from $3.2 million to $4 million for the following season.
Both Bielema and Broyles have emphasized finishing games strong as well. "We were taught to win the fourth quarter," Horton recalled, and Bielema's staff preaches a similar message. Their mantra didn't bear fruit last season, however. The Hogs were tied or ahead at halftime of 10 of their 13 games, but still ended up losing six of them. They allowed 100 more second-half points than they scored and essentially collapsed at the end of their last two games.
Will this kind of sputtering prove to be a pattern or exception?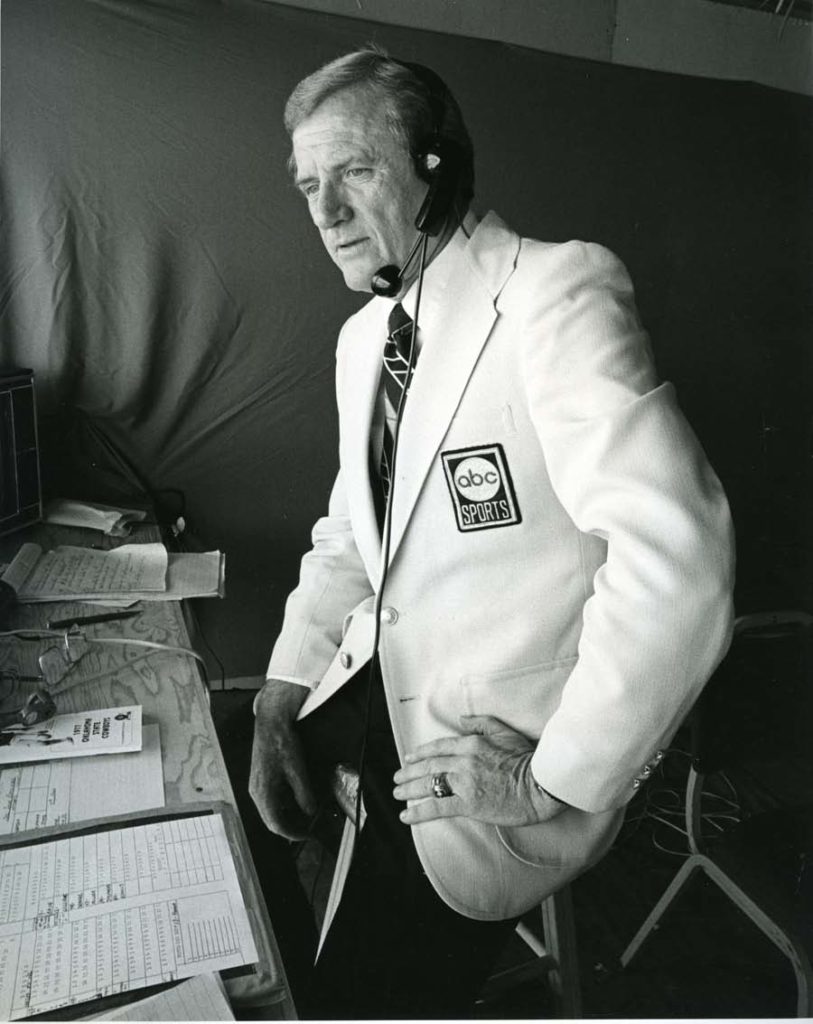 Jeff Long has already shown more faith in Bielema to start winning big longer than Barnhill had to with Broyles. Of course, considering Bielema has a $15.4 million buyout clause through 2018, he also has far more invested into his head coach. This summer, Long said: "The leader is more than just winning games—and I know some fans don't wanna hear that. Trust me, it doesn't mean we aren't competing with every fiber of our being to win in the toughest conference and the toughest division in that conference. But when you look at what Bret's doing, we're building a program that's built on an outstanding foundation."
It shouldn't be forgotten that the SWC into which Broyles stepped during the late 1950s was, top to bottom, less competitive than today's SEC. He also arrived in a state which, frankly, didn't have the same expectations for championships modern Hog fans do. Until that point, after all, the Hogs had won only two SWC titles since 1936. The program was a national afterthought, and Barnhill didn't speak publicly about the goal of winning national championships.
His main concern was simply making sure the athletic department didn't run out of money. "Barnie believed you had to win your first three games to sustain interest and assure your ticket sales," Broyles recalled in Hog Wild. "Win your first three, split the last eight, and that's 7-4 and probably a bowl bid."
Nowadays, Long and Bielema operate in front of Arkansas fans with heightened expectations. Rest assured, if Arkansas "only" wins seven or eight games this season, thousands of fans will be calling for Bielema's head. But there is, of course, a good reason that the program's standard of success changed in these past 55 years.
That reason was on full display at Bud Walton Arena last Saturday.
Evin Demirel has written about local sports for the likes of Whole Hog Sports and the Daily Beast. His Ken Hatfield-endorsed new book, African-American Athletes in Arkansas: Muhammad Ali's Tour, Black Razorbacks and Other Forgotten Stories, released this summer.